4 Reasons the AERO Ceramic Iron is a Must-Have
Make your ironing experience better with the new, state-of-the-art Sunbeam® AERO Ceramic Iron. Exclusive dimpled soleplate design, along with channeling technology, provide maximum steam output and smoother glide across fabrics for quicker, easier ironing. Consider these four reasons to own this unique and innovative iron:
1. Performance
Advanced channeling technology outputs five times more steam coverage for easier wrinkle removal, maximum diffusion and better results. Steam is evenly and consistently distributed across the fabric to deliver a 27 percent smoother glide.You can guarantee a wrinkle-free finish each time with a dimpled ceramic soleplate that reduces friction between the soleplate and the fabric itself for seamless ironing.
With an impressive 1600 watts of power, steam and heat are generated quickly and effortlessly to create a professional-looking finish to your garments. In addition, you can use the extra Shot of Steam® feature for extra stubborn wrinkles and vertical shot of steam to freshen up hanging garments or use for draperies and upholstery.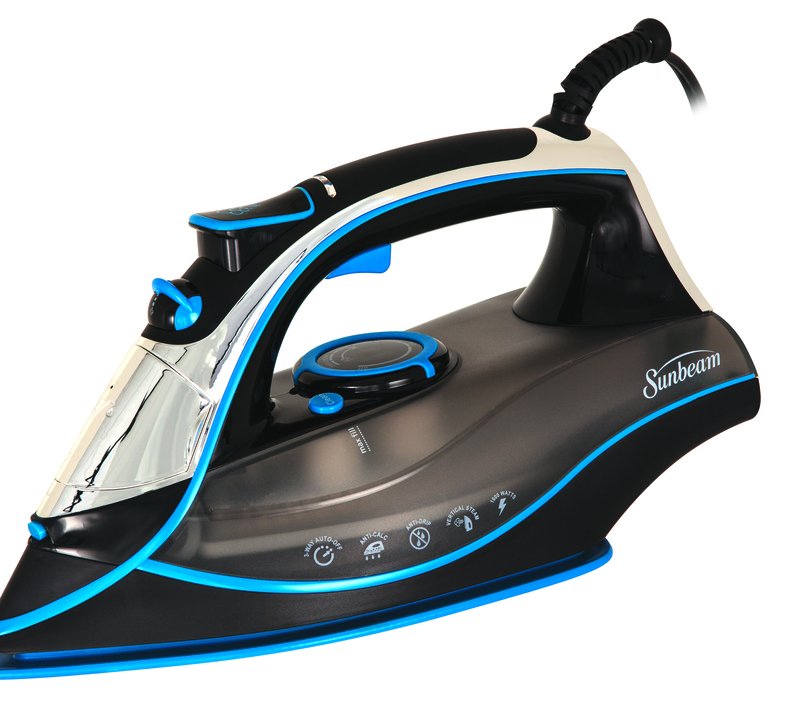 2. Convenience
For each dress, linen shirt or pair of slacks that needs pressing you can be assured of crisp seams, perfect cuffs and smooth lapels every time. Both fabric-temperature and steam settings can be adjusted for a variety of fabrics and the Spray Mist® trigger disperses a light water mist to work out even the deepest of wrinkles. Plus, the durable PTFE and PFOA free ceramic soleplate is scratch-resistant and generates less static, making it ideal for synthetics and delicate garments.
3. Time
Zip through ironing tasks, whether it's a single garment for an important meeting or a week's wardrobe for the family. With five times more steam and 27 percent smoother glide (*when compared to Sunbeam® stainless steel soleplate iron GCSBSP-2010), you can press garments in no time. This iron's anti-drip feature enables mess-free ironing, which also saves time and makes your ironing experience easier, getting your clothes looking perfect in a matter of moments.
4. Sensible
Best of all, if you have to rush out, the 3-Way Motion Smart technology automatically turns off the iron when in an improper position or left unattended, putting your mind at ease. It's also equipped with a self-cleaning, anti-calcium system that helps eliminate build-up. This inner permanent filter extends the life of your iron, keeps its performance up and ensures your Sunbeam® AERO Ceramic Iron is in tip-top shape for whenever you need it.