GoHeat™ USB Powered Heating Pad, Gray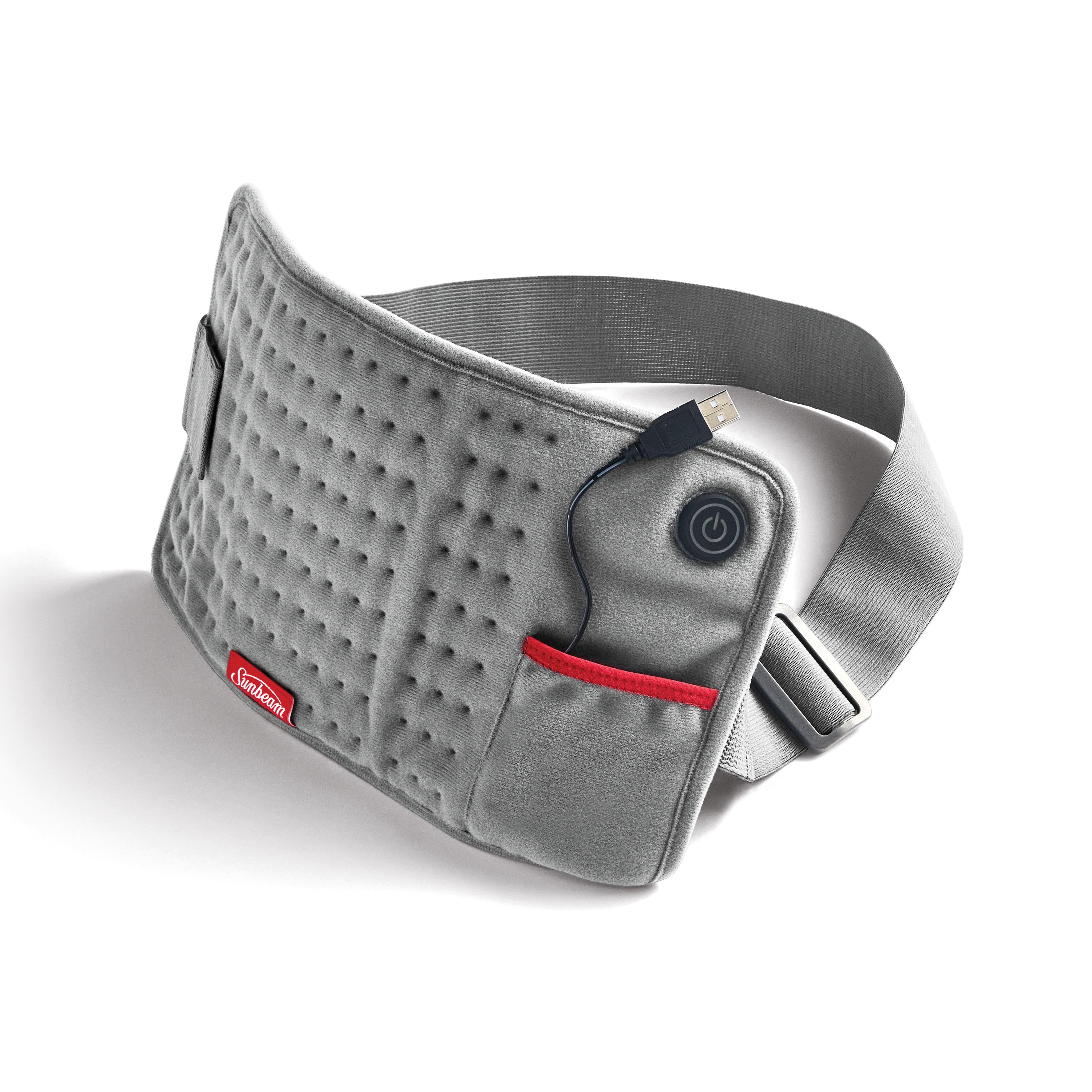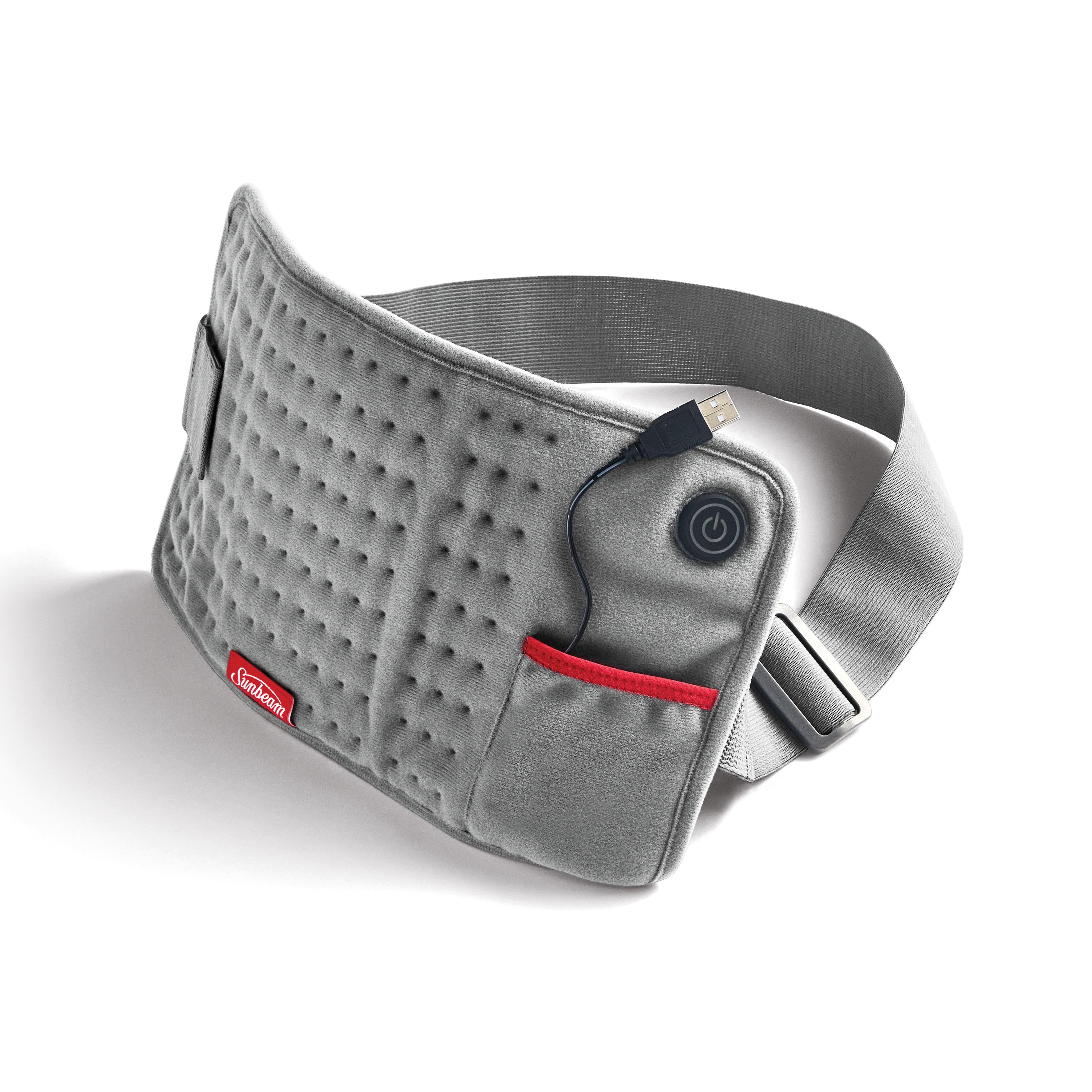 GoHeat™ USB Powered Heating Pad, Gray
Final Sale: may not be returned or exchanged
Final Sale: may not be returned or exchanged
Product Details
Description
The Sunbeam® GoHeat™ USB Powered Heating Pad allows you to choose your power source* for pain relief on the go. The compact heating pad uses a type A USB connector that is compatible with Your Own power bank, computer, car USB port, or wall adapter (not included). The 58-inch extension cord allows you to move freely and go cordless by connecting to Your Own power bank (not included) and placing it into the integrated pocket. The 12.5 x 7.5-inch flexible pad neatly rolls to fit into small bags and purses. A 55-inch adjustable strap brings secure, targeted heat therapy to your back, arms, legs, or shoulders, and 3 heat settings offer customized treatment. The Micromink pad and adjustable strap are fully machine washable for easy care—just disconnect from extension cord and power source. Pad must be connected to power source at all times during heat therapy treatment. *For optimal heat performance, use a 2A power source
Pain Relief On the Go: Compact heating pad plugs in anywhere with its USB connector or converts to cordless using Your Own power bank
Plug in Anywhere: USB connector allows you to plug into Your Own power source such as a computer, USB wall adapter, car USB port, or power bank (power source not included)
Convert to Cordless to Move Freely: Transform to a cordless heating pad by connecting to Your Own power bank (not included) and storing in the integrated pocket
Compact to Take Anywhere: 12.5 x 7.5-inch pad neatly rolls to fit into small bags and purses
Hands-Free Heat Therapy: Adjustable strap (up to 55 inches) keeps pad in place on back, arms, legs, or shoulders
Convenient Features: Customize treatment with 3 heat settings and 2-hour auto-shutoff; luxurious Micromink pad is machine washable
Must Be Connected to Power Source: Pad does not charge and must be connected at all times to a power source (2A power source for optimal heat performance)
Specifications
Dimensions:

12.5 x 7.5-inch

Power Source:

2A Current Output Power Source
Care & Maintenance
Machine-washable pad and strap
WASHING INSTRUCTIONS DO NOT DRY CLEAN! DO NOT USE BLEACH! DO NOT USE WRINGER! DO NOT IRON! 1. Disconnect USB Cord from power source and/or USB Extender. DO NOT PULL BY THE CORD. DO NOT WASH USB EXTENDER OR USB WALL ADAPTER (included with Model 2101). Note: Remove any power source that may have been placed in the Integrated Pocket during use. Set it aside, and DO NOT WASH it. 2. Tuck USB Cord into Integrated Pocket to protect it during the wash cycle. 3. Machine wash pad in cold water on gentle cycle, or hand wash. Tumble dry on low heat, and remove promptly from dryer, or drape to air dry. 4. Ensure pad and USB Cord are completely dry prior to use.
Product Disclaimer
This product must be used in accordance with the Important Safety Instructions found within the Instruction Booklet.
Warranty
1 year limited warranty
Where to Buy
The following link will take you to a site outside of Sunbeam.
Rated

3

out of

5
by
Juffowup
from
Not as convenient as I thought it would be
Pros: Build quality is excellent, straps keep the pad secure and well-positioned wherever you need to place it, material used is soft and comfortable to wear for extended periods of time. Cons: I thought this heating pad would have something like a USB-charged battery pack on it so you could be more mobile, but the pad actually requires you to be tethered via a cable to a USB port. Apparently there is a "cordless" version of this product that is powered off a rechargeable battery, so I'm not sure who would prefer being stuck next to a USB port in order to have a functional heating pad. This pad also never seemed to get anywhere near hot enough - the instructions state to make sure your USB port provides 2A of power and to use it on "maximum" heat, but I tried it on multiple 2A USB ports on maximum heat settings and could never get it to be hot enough.
Date published: 2021-02-05
Rated

5

out of

5
by
MichiganMom
from
So convenient and easy to use!
I have been using this in my car to help with occasional back pain. I love how convenient it is to just attach to a USB port and have heat in less than a minute. The heat is not too hot, but warm and very soothing. There are three settings, but none get too hot for me. I love that the power button changes colors from green to orange to red to indicate which of the three levels of heat you are using. I turn it on and select the heat before wrapping it around my waist it because it is impossible to see the heat level when the button is on my lower back. The Velcro strap is adjustable and stretchy, but would start to feel really tight on an area with a circumference greater than 50". The only thing that I don't like is that you need to be plugged in to power for this to work. Overall I am so happy with this heating pad and have recommended it to several friends.
Date published: 2021-02-13
Rated

1

out of

5
by
DianneH
from
Ughh
I was so excited when I seen this laying on the shelf and it was the last GoHeat in stock. I was skeptic of the price($29.99) but I'm desperate. I got home opened the box and it had 1 grey GoHeat pad with a 3"-4" cord out the pocket and no other extension cord(58") now I gotta buy that cord,i know the cords are cheap but I really needed this tonight(5-12-21).. sorry but I can't recommend what I can't try yet..
Date published: 2021-05-13
Rated

5

out of

5
by
Cee Jay
from
Great Product
I love my Sunbean Goheat heating pad. I use it a couple of times a day. It's small enough to fold up and carry in a small bag. I suffer from back pain and arthritis and it really helps with relief. I love that it has (3) heating options, from low to high, It does get really hot on Red (high). It very simple to use, the straps are adjustable, and plugs into a USB port. I would recommend this to anyone.
Date published: 2021-02-11
Rated

5

out of

5
by
wjm0720
from
Heat on the go!
Sunbeam GO HEAT USB powered heating pad is awesome! Instead of being inactive as with an electric heat pad, this one can be charged by USB using your computer, USB wall adapter, power bank or a Type A USB port. The strap is adjustable and the cord is 58" in length. It even can provide most heat by spraying fabric with water. There are 3 heat settings. I would highly recommend this product!
Date published: 2021-02-12
Rated

1

out of

5
by
Yellow123
from
Not hot enough
I bought this product through Amazon last month, I used it through the USB power and found that the heat is extremely low even turned to the highest level. I don't even want to buy a power bank for it which may spend more money for such non-used product. Can you tell how can I return the product which I want to try the goheat cordless heat pad which comes with battery instead.
Date published: 2021-11-17
Rated

4

out of

5
by
Dlewis728
from
Great for cramps
I love my heating pad. During my cycle nothing works better than this. I did use it with the wet option but I cant really feel a difference. It's also good for my sore and tight muscles after exercising. I took away one star because it has to be plugged up while using and that's limiting to an extent. However when I have to use it, I really dont want to move anyway.
Date published: 2021-02-16
Rated

4

out of

5
by
TuffCookie
from
Super convenient
This heating pad replaced my old heating pad which I have had for as long as I can remember. I loved the idea of it being cordless. Sometimes when I am feeling terrible, I don't have the energy to get up and fuss with plugging in the pad. Where my outlet is in relation to my bed makes plugging anything in a total nightmare. I loved that this will charge on my laptop. I didn't love that it has to stay plugged in to my laptop (or an adapter on the wall) in order to work. I wish you could simply charge it up and then recharge as needed. It's not enough to not recommend this, however. It's compact and you could even take it in your car or while traveling as long as there is access to a USB port. It's easy to put on and adjustable. It's an amazing product that heats up quickly and I love that I can take this with me anywhere. Truly a game-changer. This can be adjusted to heat many different parts of the body as well.
Date published: 2021-02-04
Rated

5

out of

5
by
Trennie6
from
Convenient
The Sunbeam GoHeat USB Powered Heating Pad is just what the doctor ordered. Just coming off a vehicle accident, this heating pad was great to strap the arm and not having to hold it is very convenient. It can fit just about anywhere. The last great thing is that you can bring it with you everywhere! Use it in the car or store it in your suit case to have on a get away
Date published: 2021-02-13
Rated

4

out of

5
by
Kira1024
from
Nice little heating pad for work
I threw out my back a month ago and while I wouldn't loved to just lay in bed at home, I still had a job to do. I got this heating pad and was able to bring it to my office and plug it right into my computer. This was much easier than using a long extension cord to plug into an outlet. The heat worked well, didn't get too hot and my back eventually went back to normal!
Date published: 2021-03-09
Rated

4

out of

5
by
lugnutiam
from
A must for traveling!
This heating pad has been a lifesaver for me recently. I have had lower back issues off and on for years and do a lot of traveling, so it has been a great help to me. It has a long cord which makes it ideal for use in the car and it heats up quickly. I will say however it doesn't get as hot as a regular electric heating pad, but for how I use it, it's great!
Date published: 2021-02-03
Rated

5

out of

5
by
lagunabldr
from
Feels Great!
So pleased with my new GoHeat heating pad. I happen to have a USB port on my big comfy chair so I leave the pad at my chair and turn it on when I sit there. It heats up fast and has three levels. For such a small unit it has a lot of power and heats my entire lower back area which feels so great. The material is very soft and the pad is very light. Good job!
Date published: 2021-02-03
Rated

5

out of

5
by
Ozzi
from
Great Product!
What I love most about this heating pad is that it gives me freedom to move around! I use heating pads a lot, but have always been stuck sitting on the couch or in bed with one. This cordless one provides me relief and freedom while I chase my toddler around, vacuum, do laundry, wash dishes, and I can even drive in the car through a drive thru with it on.
Date published: 2021-02-03
Rated

3

out of

5
by
geochic77
from
I like the idea of this heating pad
While I like the idea of this heating pad, there are a couple of issues that may present problems. The first is that the elastic belt is not likely to fit obese people without some sort of extender which is not included. The second problem is the cause for the greatest concern because the high heat setting will get uncomfortably hot through clothing.
Date published: 2021-02-08
Rated

5

out of

5
by
amydj79
from
Heat on the Go
This product came into my life at the perfect time. I have been experiencing terrible back spasms that hit me at random times throughout the day. Being able to add soothing heat to my back, while still having the freedom to move around, is a game changer. It has made my pain more manageable without having to take medication. Highly recommend!
Date published: 2021-02-19
Rated

5

out of

5
by
Steelers Fan
from
Compact and useful
I commute 50 miles each way to work 5 days a week. After working all day, on my drive home I use this heating pad on my lower back. It's perfect for me in this situation, also my wife recently used it while we went on a road trip. She said it was great for what she used it for and worked perfectly. I would definitely recommend this product.
Date published: 2021-02-11
Rated

5

out of

5
by
BarbM
from
Exciting Technology
I received a Sunbeam GoHeat USB Powered Heating Pad from TryIt. It's been great to use at home. I can't wait to try it at the office, in the car, and while camping. I want to get a new powerbank so that I can use it while walking. My sciatica has been bothering me and I think this could be a great relief for when I'm sitting or walking.
Date published: 2021-02-07
Rated

5

out of

5
by
sjkingfl
from
Heating Pad on the Go
I've had back surgery and I love watching my kids play sports, but long hours on bleachers and/or portable chairs is really hard on my back. This is the perfect solution to keep my back loose and it's so easy to use with my portable cell charger. Long weekend tournaments or car rides aren't nearly as stressful now! Just what I needed!!
Date published: 2021-02-09
Rated

5

out of

5
by
gesssh
from
Where have you been all my life??
What a great product - leave it to old reliable Sunbeam to come up with this! Heating pads have always been incredibly effective, both in relieving pain and promoting healing, but you needed to be stationary when using one. With the GoHeat pad, you can now make use of the product in all types of situations - walking and driving included. USB powered, so when you're not moving around you can connect of course to a wall adapter or your computer for instance. The real difference here though is that when you're on the move, the unit can connect to a portable power source (you'll need to provide that yourself) that can be carried in the integrated pocket on the pad. Comes with a 58" cord, so even when plugged into a stationary source you'll have some limited mobility. My favorite feature? You can spray the pad fabric with water, in order to produce moist heat (in my opinion the most effective) and the pad itself is machine washable. Love this!
Date published: 2021-02-06
Rated

4

out of

5
by
JEB612
from
Nice heating pad!
I really like the Sunbeam GoHeat USB Powered Heating Pad. The strap works great to keep the pad in the correct place. I used it with my laptop and it did a great job. It can also be used with a wall adapter or power bank which would be great for traveling. It also has a moist heat option. I just wish the cord was a little longer.
Date published: 2021-02-08
Rated

5

out of

5
by
Jhcb1848
from
Much needed relief!
I suffer from back pain and sitting is a car for long times doesn't help. I am so glad I found this heating pad. It has a usb that i can plug into my car. It wraps around your body and it stays in place. There are multiple heat settings and an auto shut off after a couple of hours. This will definitely help on long drives.
Date published: 2021-02-16
Rated

4

out of

5
by
RNS1
from
Very handy
The heating pad works well, whether directly connected to USB power source, or if connected using the USB extender cord. The fastener strap is very handy as it keeps the heating pad in place when shifting body position. For my liking, the pad itself could be a bit larger, and the high heat setting could product more warmth
Date published: 2021-02-03
Rated

5

out of

5
by
Bcooper81
from
Perfect for sore muscles
I loved the concept of this heating pad because when I am substitute teaching there are times during my breaks I need to have a heating pad. I love that this uses USB to warm up because I can plug it in. My favorite part is being able to use a power bank to make it warm so I can be on the go with it. Perfect for anyone.
Date published: 2021-02-02
Rated

5

out of

5
by
Chicnvone
from
Wow a portable heating pad I love it!
A very unique battery-pack operated, plush heating pad from Sunbeam GoHeat. This gadget has many benefits including portable, lightweight and easy to use. So convenient I can now use a heating pad on the go not just at home. It can be used anywhere on the body using the flexible & adjustable strap which holds in place with velcro making it discrete and easy to wear around my stomach or lower back for aches and pains. Since it's lightweight it fits easily under my sweater or coat. I also use it to keep me warm while walking the dog on chilly mornings. You can use any 2A power bank which provides 3 heat settings and it has a small pocket to hold it in place. There is also an extender cord which makes it convenient when using while on the computer it will fit into any USB port. Another huge benefit that sets it apart from old-style heating pads is that it is machine washable! I love this portable heat therapy pad It's compact size (12" x 7.5") makes it easy to use anywhere!
Date published: 2021-02-17
Rated

5

out of

5
by
MumSons
from
Great heating pad for entire family!
I needed a new heating pad for my sore calves from running. But then my daughter started using it for her sore shoulders from lacrosse whole watching TV. And then my husband started using it for his sore back from sitting at his desk all day. Super easy for our entire family to use because it is so portable.
Date published: 2021-02-26
Rated

5

out of

5
by
Kherod
from
Great Product
If you're an outdoor lover, then the Sunbeam GoHeat USB Powered Heating Pad should be on your must-have accessory. Use it on the back, shoulders, and even sore muscles. It also helps with cramps, joint pain, and arthritis. The fabric is of great quality that feels of a soft blanket. I highly recommend.
Date published: 2021-02-03
Rated

4

out of

5
by
Jason L
from
Nice Easy to Use Heating Pad
Works great for heating an isolated area...If you are a little larger then you will want to get a bigger size. Starts to heat up pretty quickly after being plugged in, but I think it could be a little hotter for my tastes. That being said, I have been referred to as a Phoenix by my wife and I tend to like things warmer than most people. Still, it feels nice on my back as a type this. I was able to plug it into my computer USB port to have it work, but my wife got an error message when she tried to plug it into her computer. I have an HP, she has a Lenovo. So depending on what computer you have, it may or may not work. The cord that comes with it is long enough to reach the plugs in our house, but be advised it is only about 5 total feet, so you may want an additional USB cord extender if you are further from an outlet. Overall I find it nice to have on my back when I am working (especially when it is cold in the house) and enjoy the extra warmth on smaller areas as needed.
Date published: 2021-02-17
Rated

5

out of

5
by
Jill S
from
Brilliant idea!
I often wished I could have a heating pad in the car for my back...& here it is. I have degenerative arthritis in my lower back and spend a lot of time on a heating pad. Longer car trips can be uncomfortable and this handy dandy nifty portable heating pad has made those trips bearable.
Date published: 2021-02-11
Rated

4

out of

5
by
Pamfitz1
from
Nice item
I got this item and so far so good. Love that I can charge it by USB. I love that I am not chained to a chair or my couch when I have this on. I would love to see this in a larger size to give people more choices. I let my sister try it out and she really liked it as well.
Date published: 2021-02-03
Rated

5

out of

5
by
Ss69
from
Perfect
This Sunbeam GoHeat USB Powered Heating Pad had worked wonders on my back. My back goes out and I won't be able to move, sometimes for weeks but I felt this coming on and I used the heating pad to loosen up my muscles and it actually prevented this from happening this time.
Date published: 2021-02-08
bvseo_sdk, dw_cartridge, 18.2.0, p_sdk_3.2.0
CLOUD, getReviews, 0ms
reviews, product
---
<ul id="BVSEOSDK_meta" style="display: none !important;"> <li data-bvseo="sdk">bvseo_sdk, dw_cartridge, 18.2.0, p_sdk_3.2.0</li> <li data-bvseo="sp_mt">CLOUD, getContent, 0ms</li> <li data-bvseo="ct_st">questions, product</li> <li data-bvseo="ms">bvseo-msg: Unsuccessful GET. status = 'ERROR', msg = 'Not Found.';</li> </ul>
product-detail-view
oos-pdp