GoHeat™ Cordless Heating Pad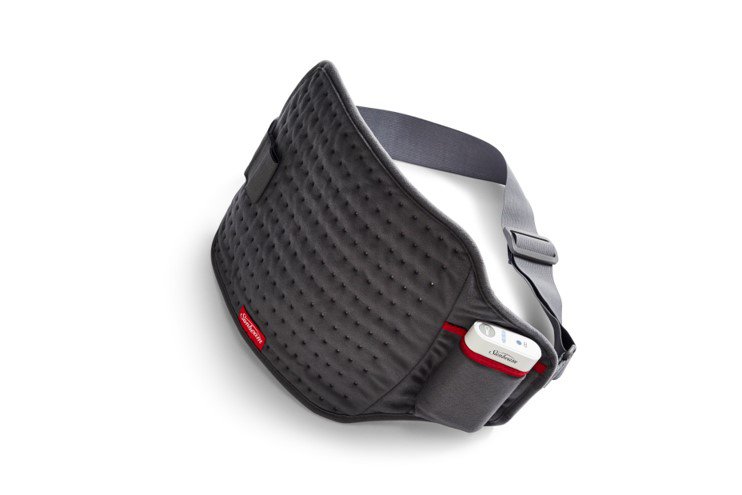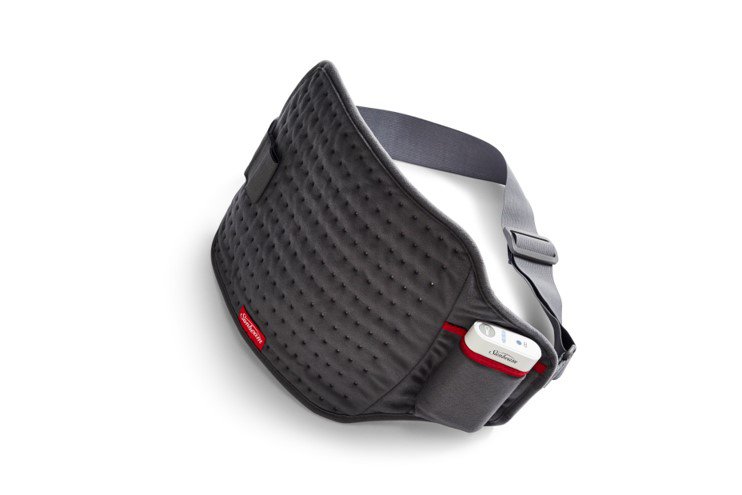 GoHeat™ Cordless Heating Pad
Final Sale: may not be returned or exchanged
Selection will refresh the page with new results.
Final Sale: may not be returned or exchanged
Product Details
Description
The Sunbeam® GoHeat™ Cordless Heating Pad delivers portable, soothing heat therapy for pain relief anywhere and anytime you need it. The 9.5 x 12-inch cordless heating pad provides targeted, high-level heat therapy to the back, arms, legs, and shoulders—whether you're at home or on the go. Just slip the battery unit/heating pad controller into the pad's side pocket, adjust the strap to fit, and enjoy hands-free pain relief. This portable heating pad uses a convenient, rechargeable lithium-ion battery that runs for up to 4 hours on a single charge on Low setting. The pad heats up fast so you can feel the heat in 30 seconds and offers 3 heat settings for customized treatment. The entire flexible, Micromink hot pad and adjustable strap are fully machine washable for easy care—just remove the battery.
Portable Pain Relief: 9.5 x 12-inch flexible, cordless heating pad delivers soothing, high-level heat for effective pain relief anywhere and anytime you need it
Rechargeable Battery: Portable heating pad uses a rechargeable, lithium-ion battery that runs for up to 4 hours on a single charge on Low setting
Stays in Place: Removable, adjustable strap fits up to 55 inches around for hands-free, targeted heat therapy to the back, arms, legs, or shoulders
Hotter and Faster Heat*: Feel the heat in 30 seconds and customize treatment with 3 heat settings that deliver Sunbeam Heating Pad-level heat** *vs. leading single-use heated pain relief solution **as compared to Model 731-510
Clinically Proven: Heat is clinically proven to relieve pain associated with muscle tension and stress
High-Level Heat: Heat increases blood flow to accelerate tissue healing and relax sore muscles associated with muscle tension and stress
Convenient Features: 2-hour auto-shutoff; plus, the luxurious Micromink pad and adjustable strap are fully machine washable and dryer-safe for easy care—just remove the battery
Moist Heat Option: Spray fabric with water for deep, penetrating pain relief
UL Certified, FDA registered Class II Medical Device
HSA/FSA Eligible
Specifications
Dimensions:

12 x 9-inch; Strap Extends - 55in

Wattage:

30W 2.2Ah wattage hour for battery

Power Source:

11.1V Lithium-Ion Battery
Care & Maintenance
Machine-washable pad and strap
WASHING INSTRUCTIONS DO NOT DRY CLEAN! DO NOT USE BLEACH! DO NOT USE WRINGER! DO NOT IRON! 1. Disconnect pad from charger if using quick charger while in use. DO NOT PULL BY THE CORD. 2. Remove battery unit/heating pad controller from pocket and disconnect pad cable from unit. 3. Set battery unit aside. DO NOT WASH. 4. Tuck pad cable into pocket to protect it during the wash cycle. 5. Machine Wash pad in cold water in gentle cycle or hand wash. Tumble dry on low heat and remove promptly from dryer or drape to air dry. 6. DO NOT plug in pad connector to battery unit until pad and connector are completely dry.
Product Disclaimer
This product must be used in accordance with the Important Safety Instructions found within the Instruction Booklet.
Warranty
1 year limited warranty
Where to Buy
The following link will take you to a site outside of Sunbeam.
Rated

5

out of

5
by
Hotdiva411
from
EXCELLENT HEATING PAD!
The CORDLESS HEATING PAD from SUNBEAM is an excellent heating pad for comfort and getting the job done. I have had issues with my back for quite sometime and I have to rely on a heating pad to help with comfort to get me through the day at times. The Sunbeam heating pad has been such a great help. It heats up fast and stays in place. I can use it for up to 4 hours when it's been fully charged and the best part is I can walk around and get things done instead of being confined to a small space plugged in. It fits very comfortably around my waist and I can adjust the heat setting to my liking. I'm so thankful I found this remarkable product. I would definitely recommend it to all my family and friends.
Date published: 2020-09-26
Rated

5

out of

5
by
Barbara133
from
Heat Stays Where you Put It
So clever the GoHeat Cordless Sunbeam Heating Pad with standard charger. I love that I can have heat on my lower back anywhere and any time I need it. Much better than the usual heating Pad that plugs in, and you cant move around. Heats up fast, stays hot. The charge lasts quite a few hours. I wear mine in the car, doing errands, and all over the house while I'm doing chores. Truly such a clever idea to make a heating pad cordless and attachable to your body. I highly recommend for all your heating pad needs, you will love it. This is going to be my go to Christmas present this year.
Date published: 2020-09-26
Rated

5

out of

5
by
rere1
from
soothing
I got the go heat cordless sunbeam heating pad with standard charger in slate gray and I love it!! I love how I'm able to use it anywhere I go whether it's to a different room in the house or outside of the house, it has a 4 hour battery life so I can run my errands wearing it. It's material is soft and flexible so I can wrap my neck in it too.
Date published: 2020-10-14
Rated

5

out of

5
by
Anonymous
from
Amazing portable heating pad
I have suffered from menstrual cramps since I was a teenager. I used to purchase these stick on heating pads right onto my stomach. Those were uncomfortable and felt bulky. This Sunbeam - Go Heat Cordless Heating Pad is amazing!!!! It is truly heaven sent. If you experience any cramping or pain that heat can help treat, I highly suggest you use this. It is large enough to cover most areas. I charged the heating pack, put the pack into the zipper pocket and strapped it on me. WOW, this is a game changer. I also think this could be used to keep you warm during cool weather!?
Date published: 2020-10-05
Rated

5

out of

5
by
BarbaraKB
from
Easy to use
This hearing pad changes the game!! This Sunbeam heating pad is fabulous. it comes with a battery that you charge separately and then you just put the battery pack in the spot on the pad and start using the pad. This heating pad is perfect for your back, your arms, even your legs. it is portable so you can still be doing things that need to be done while also giving your back or your somewhere on your body some relief. the battery stays charged for up to 2 hours and is so easy to charge and put back whenever you need to. For me this is a game changer.
Date published: 2020-10-01
Rated

5

out of

5
by
Noeticeye
from
Gives me Freedom!
What I love most about this heating pad is that it gives me freedom to move around! I use heating pads a lot, but have always been stuck sitting on the couch or in bed with one. This cordless one provides me relief and freedom while I chase my toddler around, vacuum, do laundry, wash dishes, and I can even drive in the car through a drive thru with it on. This is a total life changer for me because I love using a heating pad but have been limited to only sitting in one place while using one and only while my toddler is napping or after he goes to bed at night, because he tries to play with the cord or I'm constantly up and down helping him with something. Also because there is not a cord stretched out from the wall, my husband and other son are not constantly tripping over it pulling the cord out of the wall. I am 5'5 135lbs and this heating pad is a perfect size for me. It provides full coverage over my abdomen for that annoying time of the month that us ladies dread, and covers my full lower back to help give comfort from chasing my toddler around. I don't know if this would provide full coverage on a larger man though. And the velcro strap that goes around your body adjusts to be very long. The battery takes a very long time to charge, so I plan it out and charge it at night so that it is ready to use the next day. I can use it on low for about 3 hours and medium for around 2 hours. I don't use it on high because it gets too hot for me, so I'm not exactly sure how long the battery would last on high. The only thing I am worried about with this cordless heating pad is the wire that you plug into the battery pack breaking. The wire sticks out of the pocket that holds the battery pack while you are wearing it and when you plug them together and put the pack into the pocket, you just shove the wire down into the pocket underneath the battery pack. The wire just awkwardly gets squished down in there, and I don't know how long that will last before the wire ends up breaking. We will see with time.. A better design might be a plastic dock that the battery pack gets pushed down into or something.
Date published: 2020-10-04
Rated

5

out of

5
by
Sandie24
from
Nice Heat
The Sunbeam Go heat Cordless heating pad lives up to its name. The heating pad is just the right width to fit your lower back and has an adjustable strap so that you can wear in tight or loose. I kept it on low for the 4 hours and the heating pad has just the right amount of heat and it did stay warm for the entire time. I like that it is cordless with a rechargeable power pack so you can move around your house without needing it to be plugged into a wall socket. My back felt much better after using it and would recommend it to everyone.
Date published: 2020-10-05
Rated

3

out of

5
by
Dit22
from
Would not recommend due to short battery time
I was so excited to try this and overall I also really like the idea of this product. However, on the highest power setting, it only lasts for a little over one hour which is certainly not enough for my adenomyosis induced pain which requires many hours of heat therapy. I bought this to be able to stop using my stick on heat pads. But with the short battery life on the highest setting, I would be better off using the stick on heat pads that stay hot for 12 hours. I would love it if sunbeam chose to include 2 powerbanks in the package.
Date published: 2021-03-28
Rated

5

out of

5
by
EG04
from
So easy to use and adaptable
What I love most about this heating pad is just how easy it was to setup and use. I just plug in the charger and after an hour or two, it's ready for use in the pad. I love how adaptable it is as well. I use this on my shoulders to relieve tension and to wrap around my belly when experiencing menstrual cramps. It's such a blessing in those moments. It provides a comfortable, cozy heat with the convenience of being cordless, so I can walk around with it. It definitely exceeded my expectations and I would highly recommend it.
Date published: 2020-09-29
Rated

5

out of

5
by
LisaLisa007
from
I'm loving my GoHeat Cordless Sunbeam® Heating Pad
I'm so happy I bought this GoHeat™ Cordless Sunbeam® Heating Pad. For the last few months, my back has been aching, and since I've been using my new GoHeat™ Cordless Sunbeam® Heating Pad, my back has felt so much better and not so stiff. The technology within the Sunbeam® Go Heat Cordless Heating Pad is excellent, you have a three heat setting, 4 hours of heat on a single charge, it heats up fast, and within minutes you're feeling the heat. I love how it sits securely on my back and how I can adjust the strap. The straps extend up to 55 inches. I can even place this heating pad on my shoulder, back, arms, and legs without any problems. I was first worried that it wouldn't fit around my waist, but little did I know it fit just right and very comfortable. Even the material is soft and comfortable, and yes, the battery pack that controls your settings can be placed right in the side pouch! It's excellent, and I can take it anywhere I go and use it any time of day!
Date published: 2020-09-22
Rated

4

out of

5
by
Macky084
from
Heats greay
I wanted to love this product, but it's very confusing. I couldn't figure out at first how to tell if it was charged or not, every time I was clicking the button it would flash. I then read the directions and figured it out. :). The product is very nice to use when you still have to be a mom. I was able to do housework and take care of my kiddos all while wearing the heating pad on my back. My only issue is that on most other heating pads they have controls for low or high, this one does not.
Date published: 2020-10-06
Rated

5

out of

5
by
BonBon74
from
My backs best friend
I got this the other day,I was So excited to receive it.So I decided to try this out.I do enjoy the fact it actually hits the spot on my back that is tight\sore.It's awesome that I can be doing other things and still be able to put the heat on my back.Not be stuck in the couch,due to a cord.This has really been a great gift to my back.Not sure how long the batteries will last,but we shall see.Especially after my daily usage.Just wish it could massage too.Will be picking up a couple for gifts.
Date published: 2020-09-22
Rated

5

out of

5
by
bunneh25
from
A lifesaver!
I am loving this portable heating pad! I have back pain pretty regularly, and applying heat helps a lot. With this cordless heating pad, I can walk around or sit at work without worrying about having to plug in a heating pad, and the heat lasts for 4 hours on one charge! The adjustable strap is easy to use and helps it stay in place, the pad itself is soft and not too bulky (inside can be sprayed with water for moist heat, how awesome is that?), and the 3 heat settings work perfectly for me.
Date published: 2020-09-27
Rated

5

out of

5
by
Doreen68
from
Stays in place.
This review is for the GoHeat Cordless Sunbeam Heating Pad. This heating pad has a rechargable lithium ion battery. The battery gives you four hours of heat. It is adjustable and can be used in many ways and on many body types. Once the battery is plugged into the heating pad and put in the side pocket you strap strap the heating pad where you need it and turn on . Has low , medium and high settings and you feel heat almost immediately. Great for heat therapy for muscle and joint pains.
Date published: 2020-09-24
Rated

1

out of

5
by
JennDTA
from
Bulky and annoying
I bought the Sunbeam GoHeat Cordless Heating Pad with charger. It charged up pretty fast. I found the the sizing of this product should have taken different body types into account, and it did not. It was bulky and uncomfortable to wear. The heat was good but it really only covers a very small area. Also, the charge did not last as long as I thought it would have. It seemed like I was either trying to adjust it every time I wore it, or I had to charge it up again. Not a good product.
Date published: 2020-10-06
Rated

4

out of

5
by
Jackie88
from
Prefect
living day to day with a illness is never fun. But im so glad that companies like this are coming up with effective products to help ease the pain. I have sickle cell an i be in so much pain sometimes. An the only thing that seems to ease the pain is heat. Im so happy I came across this product it works so well & I can have it over or under my clothes depending on how much heat I need. I only had ro charge it once in a 10 hour shift i wore it to work & it was a life changer
Date published: 2020-09-25
Rated

5

out of

5
by
jjreviews2020
from
Really convenient!
GoHeat™ Cordless Sunbeam® Heating Pad with Standard Charger is so convenient! Its really great to have a cordless option in a heating pad. This is really easy to use as well, the instructions are simple yet complete. This is now my new favorite heating pad! I like that I can use it hands free while moving (walking) around. I also like that it can be used similar to a typical heating pad. I highly recommend this item! I absolutely love that its rechargeable and cordless.
Date published: 2020-10-05
Rated

5

out of

5
by
CMeans
from
Excellent Heat
Life has thrown my back a curve ball...I came across this heat pad and so glad I did. This heat pad is amazingly on point! I carry it everywhere I go as soon as I feel pain in my back I strap this baby on, instant heat that last for hours. I'm thinking about ordering another one , if anything happens to this one I have back up. I rarely put the setting on high because it can get very hot, the only draw back I see is it should come with 2 heat packs. This is a true gem.
Date published: 2021-11-09
Rated

4

out of

5
by
smorse1835
from
Great to keep you moving
This heating pad is very easy to use and extremely comfortable. It has an adjustable belt that you can wrap around your waist or hips securely for comfort. It has three heat setting on the remote, It felt fantastic to use while working and doing house hold chores. My only problem with the product was if you wanted to change the settings for the heat you had to take the heating pad off because the remote was placed behind the person when they wear the pad.
Date published: 2020-10-11
Rated

5

out of

5
by
lhatzaw
from
amazing heating pad
Omg, this heating pad was my lifesaver. I had back pain for a few days and nothing helped and then I put on this pad, and after using for 2 days my pain was gone, I was amazed how much it helped me. It has 3 heat settings that you can set up on low, medium, or high temperatures. Before first use you need fully charge the battery unit and then it is ready to use it. The battery can last up to 4 hours. This heating pad is small but really helps with pain.
Date published: 2020-11-10
Rated

5

out of

5
by
Designgirly
from
Great Product
I have really enjoyed using my Sunbeam - GoHeat Cordless Sunbeam Heating Pad with Standard Charger, Slate Gray. This is an awesome product that really works well. This heating pad is really convenient because it is cordless and it stays heated for several hours. It stays in place with a band and it works great on my lower back. I highly recommend this product for yourself and I think it would make a great gift for anyone. It's fantastic!
Date published: 2020-10-08
Rated

5

out of

5
by
yfse
from
Wonderful product
After experiencing some back pain, I was excited to use this product. It seemed easy to use, and it was. The application process was simple, and it adhered to back perfectly. It immediately started to soothe my back. It did not burn me, which was appreciated. It was just enough to dull the pain for a few hours. It charged quickly and efficiently. It was a nice, sturdy product, and I did not feel it would slip or fall off my body.
Date published: 2020-09-27
Rated

5

out of

5
by
reviewer55
from
Super Impressed -- Great Product!
I was very impressed with many features of this product. To begin, the device heated up in just seconds -- something that I have never enjoyed in using other heating pad devices. I also love the cordless aspect, which allows you to walk around while using it if needed and provides additional flexibility of when and where it can be used. The material is soft and comfortable, and it is lightweight and non-bulky. Great product!
Date published: 2020-10-01
Rated

4

out of

5
by
Amb83
from
Nice product!
I wanted to try this out because I have bad back pains. It's works pretty well, I wear it pretty much everywhere I go when my back hurts. I like that the heating pad is rechargeable and cordless. This product also seems to be made of quality materials aswell. The only downside I found is that it wasn't staying charged for that long even on the lowest setting. Overall, I was happy with this product I would buy another one.
Date published: 2020-09-25
Rated

5

out of

5
by
Anonymous
from
Wonderful !
I recently had knee replacement and was needing something for relief and I found this wonderful product! Super easy to use.. just charge up the battery and then plug it right in.. the battery sits in a little pocket so it's not in the way or rubbing against your skin.. the battery life is actually about 4 hours. The wrap is extra stretch so you can really adjust it to your comfort. Good quality and highly recommend
Date published: 2020-09-29
Rated

4

out of

5
by
Ntgsmom
from
Easy!
This product is very nice. It's easy to use, it charges quick the first time you use it. The second time I charged it, however, took quite a bit longer. You get the convenience of not having to be plugged into the electrical outlet, meaning you can get other stuff done while you wear it. I tried it on my ankle, because I injured it a long time ago. It felt really good, the heat loosened up my stiff ankle.
Date published: 2020-09-22
Rated

4

out of

5
by
Julie3275
from
Cordless heating pad
This was great for my back it has 3 settings was ready to use immediately out of the package the high setting gets extremely hot so I would use over clothing and medium setting was little low for me also one downfall is to change the settings you have to take it off to be able to reach the buttons on the back to change setting otherwise this is great no wires attached not confined to one space
Date published: 2020-09-28
Rated

5

out of

5
by
Kwhite
from
Heating pad
I got this sunbeam heating pad a few weeks ago and it's amazing. Its nothing like the old fashion heating pad where you had to stay in one place. With this heating pad your able to charge it up and go. It last about 3.5 hrs. I wish it would last a little bit longer. It works wonders when you have those pain in your stomach. I do wish it had longer straps for people that have bigger stomachs.
Date published: 2020-10-01
Rated

5

out of

5
by
BrittanyD
from
Take it anywhere
This sunbeam heating pad is so useful. I can take it anywhere. Plus it's rechargable, so I don't have to worry about batteries or cords. I like that it has a strap to hold it in place. So I can keep moving, and still have relief. It is wonderful for cramps, back, knee and leg pains. It last for four hours and doesn't take long to recharge. I took it camping and it kept me nice and warm.
Date published: 2020-09-24
Rated

5

out of

5
by
Savvy229
from
Convenient
I love this heating pad. The fact that its cordless is genius. When your in pain it doesn't help to be plugged into the wall not being able to roll over or turn a certain way without unplugging yourself. This baby is the answer. It's rechargeable pack heats it fast and last a long time. The velcro strap keeps it in place and allows you to adjust the amount of pressure it gives off.
Date published: 2020-10-10
bvseo_sdk, dw_cartridge, 18.2.0, p_sdk_3.2.0
CLOUD, getReviews, 0ms
reviews, product
---
<ul id="BVSEOSDK_meta" style="display: none !important;"> <li data-bvseo="sdk">bvseo_sdk, dw_cartridge, 18.2.0, p_sdk_3.2.0</li> <li data-bvseo="sp_mt">CLOUD, getContent, 0ms</li> <li data-bvseo="ct_st">questions, product</li> <li data-bvseo="ms">bvseo-msg: Unsuccessful GET. status = 'ERROR', msg = 'Not Found.';</li> </ul>
product-detail-view
oos-pdp