4 Benefits of Stand Mixers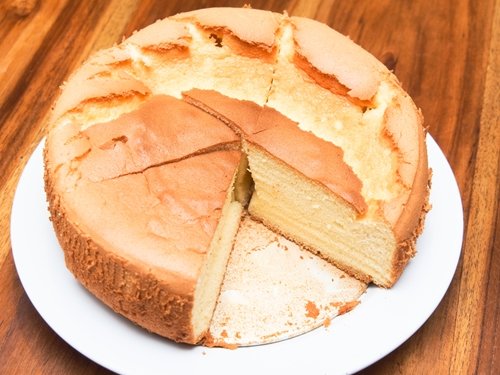 Whether you aspire to be a masterful chef or only bake for the occasional holiday or event, a stand mixer will make your life easier in more ways than one.
1. Hands-Free and Mess-Free
One of the biggest benefits of the stand mixer is that it allows for hands-free baking and prepping. With little effort, you can mix and mash and blend even the thickest of mixtures and you don't even have to get your hands dirty! With a dough hook you can knead dough for recipes without even having to douse your hands in flour. Create delicious, rich chocolate cakes without getting a drop of frosting on your hands - unless of course you like to lick the bowl. The upright construction of stand mixers alone allow you to work hands free while the beaters do the hard work. This makes it easy for adding in ingredients that are extremely sticky, hot or messy.
2. Versatility
People often think of stand mixers strictly for cakes, dough and meringues and therefore only an occasionally used product. Yet in reality, there are so many things this essential kitchen tool is capable of creating. From pizza dough and cupcake batters to whisked eggs and mashed potatoes, you can even mix meatballs, guacamole and frosting! There are a number of times your stand mixer comes to the rescue.
3. More Power and Control
When you use the Sunbeam® Mixmaster® Stand Mixer, you gain even more controlled mixing power, taking the weight off your hands and arms. With a powerful 350-watt motor, 12 different speeds and the Burst of Power® button you can rest assure that your toughest dough will be blended perfectly. Tilt-locking head and bowl selector provide complete control and for optimal convenience while mixing. Included with the stand mixer are chrome beaters and dough hooks, both of which enable even more powerful control over your mixing. And best of all, you'll never have to worry about splattered batter with the Soft Start technology.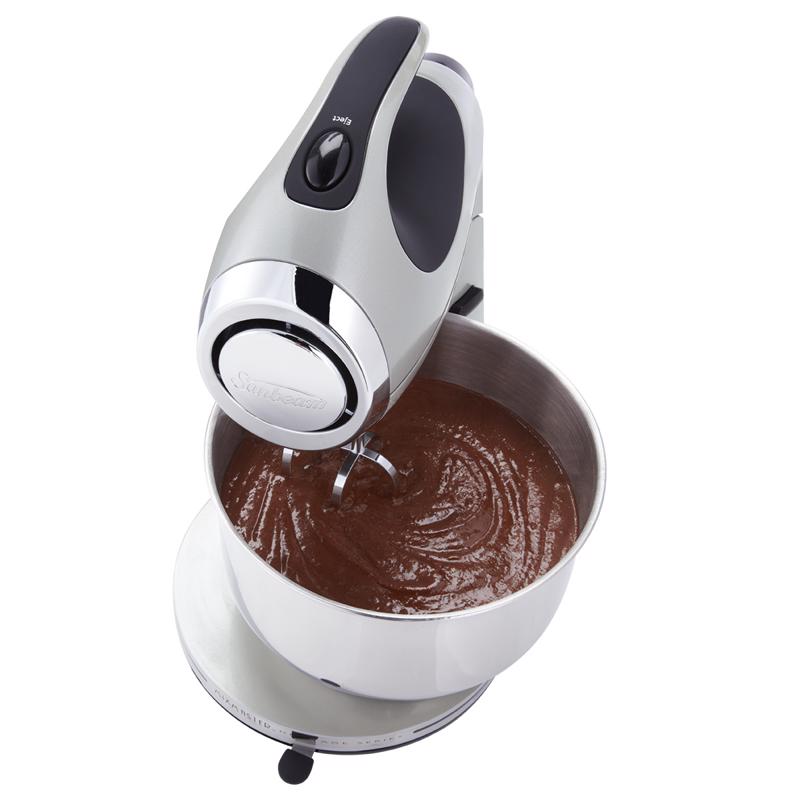 With your stand mixer, available in nine different colors, baking and cooking becomes mess-free.
4. Efficiency and Reliability
Most importantly, with the Sunbeam® Stand Mixer, you can rely on its power and performance for years to come. Built on the tradition of lasting quality, its traditional die-cast metal construction is optimal for durability.
For recipes such as whipping cream and chocolate mousse cake that require upwards of 10 minutes of mixing, the stand mixer is a trusted solution for your everyday needs. Sure you could combine the batter continuously if you're looking to give your biceps a workout, but there's a better way. Not only does it save your energy and relieve your arm muscles from all that hard work, but the stand mixer saves you from standing up mixing in your kitchen for 10 minutes straight as well. When you rely on the Sunbeam® stand mixer you know that the job won't just get done - but that it will be a job done well, time and time again.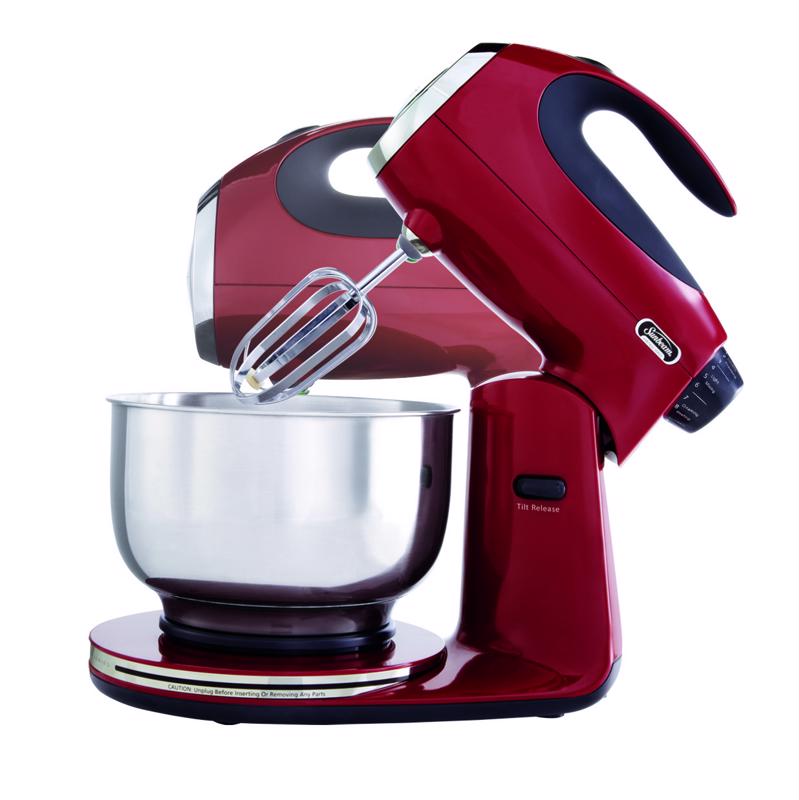 Bonus: Pizza Dough Recipe for Your Stand Mixer
The benefits of a stand mixer just wouldn't be complete with the insider's guide to making the perfect pizza dough. Next time you're home on a Friday night, this is the recipe to try.
Ingredients:
5 cups all-purpose flour
2 cups rapid-rise yeast
2 teaspoons salt
2 cups water, very warm
1/4 cup olive oil
Directions
In your stand mixer, combine 4 1/2 cups flour with yeast and salt.
Add warm water and olive oil and using dough attachment, mix on low speed for 4 minutes, until dough is soft.
Increase speed to medium and continue adding 1 teaspoon of flour at a time, for 6 to 8 minutes.
Mix until dough is smooth and elastic and sides of bowl are clean and dough pulls away easily.
Lightly flour a surface top and knead to form a smooth ball.
Transfer to lightly greased large bowl and cover with plastic wrap.
Let rise in warm place for 1 hour, or until doubled in bulk.
Punch down dough and proceed with recipe as desired.
Sunbeam Products, Inc. d/b/a Jarden Consumer Solutions has not tested these recipes and is not responsible for the outcome of any recipe. You may not achieve the results desired due to variations in ingredients, cooking temperatures, cooking times, typos, errors, omissions, or individual cooking abilities. Please always use your best judgment when cooking with raw ingredients such as eggs, chicken or fish.