Sunbeam® Steam Master® Iron with Retractable Cord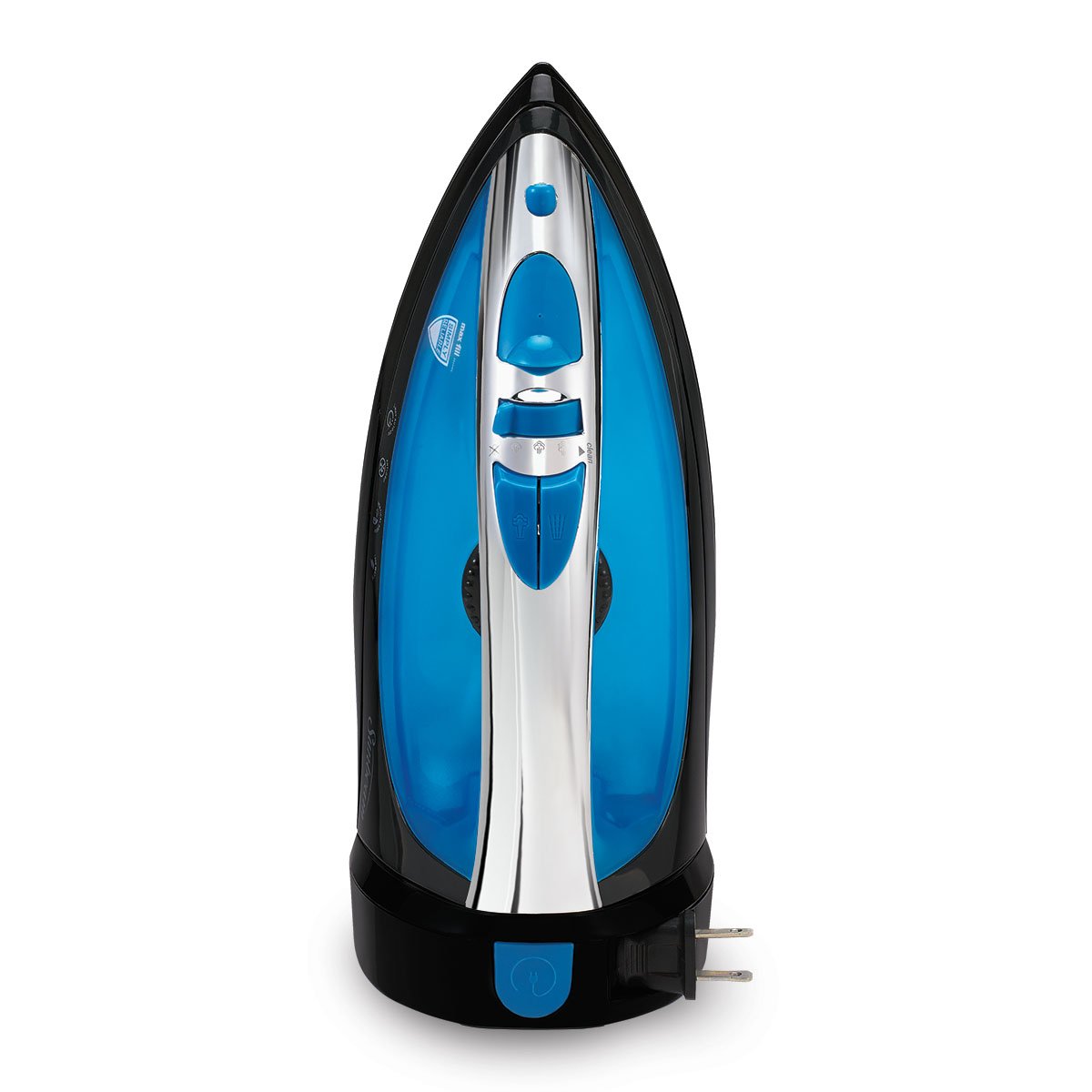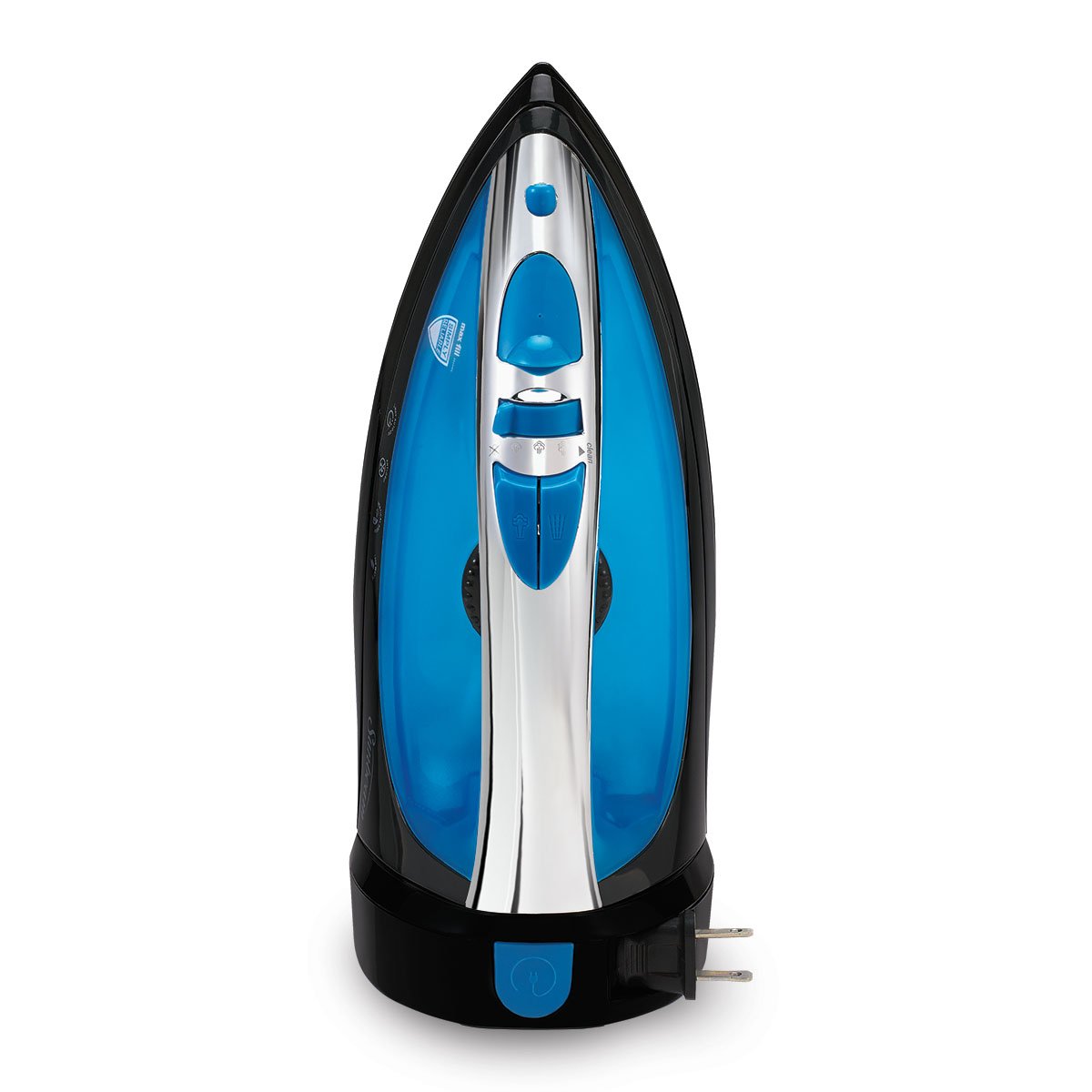 Sunbeam® Steam Master® Iron with Retractable Cord
Final Sale: may not be returned or exchanged
Selection will refresh the page with new results.
Final Sale: may not be returned or exchanged
Product Details
Description
The easy-gliding Sunbeam® Steam Master® Iron always gets you looking your best in perfectly-pressed garments with extra power and extra steam output. At 1400 watts of power, plus Variable Steam Control, wrinkles disappear quickly and easily. The Shot of Steam button releases a quick burst of steam and relax wrinkles effortlessly. If you are in a hurry, the Vertical Shot of Steam feature provides ease and convenience to freshen up hanging garments quickly and also works on upholstery and drapery. The morning rush goes smoothly with anti-drip, mess-free ironing and 3-Way Motion Smart technology to automatically shut iron off if left unattended or set in improper position. Maintenance doesn't get easier with the iron's self-cleaning system to help eliminate mineral build-up on the non-stick soleplate.
Specifications
Additional SKUs:

GCSBCL202000

Dimensions:

6.18" H x 5.47"W x 11.88"D
Warranty
3 year limited Warranty
Where to Buy
The following link will take you to a site outside of Sunbeam.
Rated

4

out of

5
by
lauriehl
from
Attractive and not too heavy
My last Black and Decker was constantly, not sometimes but everytime. Then I got a Rowenta. Beautiful, did a great job--BUT it felt like I was lifting a ton (2,000#'s-literally). I have had such severe arthritis in my dominant right hand that it required surgery 2 years ago. So far 2 irons down. Hand still not 100% and I don't iron as much since I am now retired--however, the Sunbeam I ordered (and received) was pleasantly not heavy nor cumbersome and it NEVER leaks!!! I subtracted 1 point because I have felt a bit of hesitation with the 'retractable' cord. I doubt that will last a long (?) time, but that is not important to me. Good product Sunbeam.
Date published: 2016-04-29
Rated

5

out of

5
by
RobertP
from
Luxury middle market iron
The sunbeam iron had some interesting qualities. First, the color blue was instantly noticeable and was made out of a sturdy plastic that seemed to hold up well. I also enjoyed the color more over time. For features, the light would flicker red if the iron was hot, a nice aspect that keeps you from guessing or worse, hand testing! The steam aspect and ironing worked consistently well. The temperature dial also worked as expected. Overall, this was a great iron for middle market consumers who want everything to work without unnecessary bells and whistles. ***I was an unpaid product tester for this product that received the product as compensation.
Date published: 2015-12-21
Rated

4

out of

5
by
Yvonne C
from
Good enough iron
I've tried this iron out a few times now. I have to say, I really like the retractable cord. That's probably the best thing about it. Right out of the box I noticed some little water droplets inside the water reservoir. I don't know if they're tested before leaving the factory but I thought that was strange. Using the iron is easy. I like the indicator light to let you know it's hot enough. For the most part the iron worked ok. I used some wrinkle release spray with it and found it more effective than using the iron alone. All in all its a good iron. I'd like to mention that I received this product to test out and review.
Date published: 2015-12-23
Rated

5

out of

5
by
LouAnneL
from
This is a great iron
I'm a quilter and really wanted an iron dedicated for clothing so I could keep my quilting iron dry. We use the steam feature for clothing but never for quilting. So I bought three irons from Sunbeam. This one was to be our dedicated steam iron. It has been a wonderful iron. It doesn't leak, steams beautifully and easily handles all the wrinkles we throw at it. My previous steam iron was a high end, high cost iron and it leaked like a sieve. I bought two before giving up on the brand. I had no idea such a great iron was waiting for me in this price point! Thanks so much, Sunbeam!
Date published: 2016-01-07
Rated

4

out of

5
by
Belle13
from
Great Steam Iron!!
I really like the Sunbeam Steam Master iron. It has a very modern design and colors, which I love. It works well for many different types of fabrics. I like that it has the Auto-Off feature but luckily haven't had to use it yet. The steam feature is amazing!! With other irons that I've owned, the steam makes the clothes too wet, this iron has the perfect amount of moisture and heat to get all the wrinkles out. This iron is definitely a step up from a basic steam iron! I haven't had any issues with this iron and would recommend it to everyone I know. Note: I was given this iron as a sample in exchange for my honest review.
Date published: 2015-12-18
Rated

4

out of

5
by
Scthomas
from
Sunbeam retractable Nice !
This is a great iron. My favorite features include the retractable cord and the vertical steam options. The steam produced by this iron seemed to be stronger than other irons I have used in the passed. I also liked the auto shut off options. It was easy to restart if you leave it plugged in. Just pick up and turn the dial to warm it up. My only wish for the product is that the dial to change setting be a little bigger. It is a little shallow and thin to grip. I was still able to use just fine so it's a minor suggestion. All in all a great product. Disclaimer: I received a sample of this product to test out.
Date published: 2015-12-20
Rated

4

out of

5
by
winegirl18
from
Great iron for the price!
I was really impressed with all of the cool features and the looks of this iron, but I thought that one of the drawbacks in it was in fact the many features because I had no idea how to use them and the how to guide didn't explain too well. I also noticed that the iron didn't do too well during the "dry iron"method but everything else was great! Loved the no spill feature and the retractable cord which is sooo convenient. I would definitely say that it's a mid grade quality product...a few things could be better but it's a great starter iron for anyone. Thank you for the opportunity to try this product for free!
Date published: 2015-12-22
Rated

1

out of

5
by
Debs
from
The steam feature
Loved my last Sunbeam iron. Had it for many, many years. Decided to replace it with another Sunbeam. I use the steam most of the time when ironing. I started to notice the buttons that you push for steam sticking. First one, then to try and get it out I would push the other, it stuck. It made a time of ironing into a time of trying to figure out how to unstick the steam buttons. Well, when I set it up yesterday I realized both buttons were stuck in. I was able to unstick one with a knife, then decided that was not wise because as soon as I tried using the iron's steam it stuck. Ugh! I hate when tools don't work
Date published: 2016-06-02
bvseo_sdk, dw_cartridge, 18.2.0, p_sdk_3.2.0
CLOUD, getReviews, 0ms
reviews, product
---
<!--begin-bvseo-questions--> <!--begin-questions--> <div id="bvseo-questionsSection"> <div class="bvseo-question-answer" data-questionid="2992018"> <h2 class="bvseo-question"> The setting names on the Fabric Select Dial have mostly worn off so I can no longer read them. What are the different selections? </h2> <div class="bvseo-question-detail"> </div> <div class="bvseo-author">Asked by: Lorac 75</div> <div class="bvseo-answer" data-answerid="2426331"> Thank you for contacting Sunbeam&amp;reg; Brand. We are sorry to hear that the writings on your iron already faded and we understand that you needed a guide for that. No worries, we are here to help. We suggest you getting an instruction manual for this model so you will have the product diagram. You can download the copy of manual via our website under &amp;quot;Instruction Manuals&amp;quot;. Or you can contact us directly so we can send you a copy of the manual. Have a great day! <div class="bvseo-author">Answered by: Sunbeam Consumer Care</div> <div class="bvseo-pubdate">Date published: 2021-07-21</div> </div> </div> <div class="bvseo-question-answer" data-questionid="2847396"> <h2 class="bvseo-question"> Hi,&#13;&#10;My sunbeam Iron does not heat up, although the power light is on </h2> <div class="bvseo-question-detail"> </div> <div class="bvseo-author">Asked by: zamal</div> <div class="bvseo-answer" data-answerid="2337294"> Thank you for contacting Sunbeam&amp;reg;. We sincerely apologize if your iron does not heat up.&#13;&#10;&#13;&#10;The iron may not heat up because there could be a build-up of Limescale deposits on the soleplate. These deposits can clog the plate and the iron wont heat or produce steam properly in such a case.&#13;&#10;&#13;&#10;To resolve this issue, switch the iron off and let it cool down. &#13;&#10;&#13;&#10;If same problem happens, we&#39;d like to kindly request that you contact us directly in order to help you get to the best resolution. We hope this helps. <div class="bvseo-author">Answered by: Sunbeam Consumer Care</div> <div class="bvseo-pubdate">Date published: 2021-07-04</div> </div> </div> <div class="bvseo-question-answer" data-questionid="2854504"> <h2 class="bvseo-question"> Why does the red light start blinking while you are ironing? &amp;nbsp;How to you stop ironf from leaking? </h2> <div class="bvseo-question-detail"> </div> <div class="bvseo-author">Asked by: MArann</div> <div class="bvseo-answer" data-answerid="2337259"> Thank you for contacting Sunbeam&amp;reg;. We sincerely apologize if your iron is leaking. &#13;&#10;&#13;&#10;Your iron may leak or drip if the temperature is set too low. Your iron needs to get hot enough to turn water into steam. Give your iron a few minutes to heat up before using it.&#13;&#10;&#13;&#10;Also, the light will begin to blink when the Motion Smart Auto Off system activates. If the unit is moved while the light is still blinking, it will stop blinking and resume normal function. Ensure that the unit is tightly plugged into a working outlet.&#13;&#10;&#13;&#10;&#13;&#10;Hope this helps! <div class="bvseo-author">Answered by: Sunbeam Consumer Care</div> <div class="bvseo-pubdate">Date published: 2021-06-16</div> </div> </div> <div class="bvseo-question-answer" data-questionid="2729561"> <h2 class="bvseo-question"> I just bought a retractable cord iron 1600 watts. Although the instructions say that to manually turn it off, dial to off on the fabric selector. However there is no &amp;quot;off&amp;quot; one the fabric selector. I&#39;d like to know how to turn it off manually. </h2> <div class="bvseo-question-detail"> </div> <div class="bvseo-author">Asked by: jfwjfwjfw</div> <div class="bvseo-answer" data-answerid="2257745"> Thanks for reaching Sunbeam&amp;reg; Brand. We understand that you would like to know how to turn off your iron manually. Please follow the step below:&#13;&#10;&#13;&#10;Turn the Steam Lever to (Dry) and Fabric Select Dial to Off and unplug the iron from the power source.&#13;&#10;&#13;&#10;Hope this helps. Have a good day! <div class="bvseo-author">Answered by: Sunbeam Consumer Care</div> <div class="bvseo-pubdate">Date published: 2021-05-13</div> </div> </div> <div class="bvseo-question-answer" data-questionid="2425567"> <h2 class="bvseo-question"> Where can I get a replacement power cord rated properly for a model 4223 steam iron? The one I have melted the power cord by mistake. &#13;&#10;It is a 2 prong (non grounded) 18AWG dord. </h2> <div class="bvseo-question-detail"> </div> <div class="bvseo-author">Asked by: PGCP</div> <div class="bvseo-answer" data-answerid="2098468"> Hey there! Thanks for reaching out. The cord of your Sunbeam&amp;reg; Steam Master&amp;reg; Iron is not replaceable. To check your options and for warranty replacement, please connect with us via Live Chat or email us at sunbeamconsumercare@newellco.com. We look forward to assisting you! <div class="bvseo-author">Answered by: Sunbeam Consumer Care</div> <div class="bvseo-pubdate">Date published: 2021-01-14</div> </div> </div> <div class="bvseo-question-answer" data-questionid="2402411"> <h2 class="bvseo-question"> Iron displaying 2 blue lights continuously. &amp;nbsp;What does that mean </h2> <div class="bvseo-question-detail"> </div> <div class="bvseo-author">Asked by: Agnesd</div> <div class="bvseo-answer" data-answerid="2063342"> Hey there! We&#39;re glad you&#39;ve asked. It means that the iron is ready to use. <div class="bvseo-author">Answered by: Sunbeam Consumer Care</div> <div class="bvseo-pubdate">Date published: 2020-12-14</div> </div> </div> <div class="bvseo-question-answer" data-questionid="2219498"> <h2 class="bvseo-question"> The instructions do not explain the several different steam functions. You ought to have pictured each icon and then indicated when it&amp;rsquo;s used. It&amp;rsquo;s pretty obvious what the handle, cord, and plug are, that you do point out. ??!! </h2> <div class="bvseo-question-detail"> </div> <div class="bvseo-author">Asked by: Mopa</div> <div class="bvseo-answer" data-answerid="2018440"> Hey there! Thank you for reaching us out. Here&#39;s the following steam functions that you can find in this Sunbeam&amp;reg; Steam Master&amp;reg; Iron:&#13;&#10;&#13;&#10;1. Dry&#13;&#10;2. SHOT OF STEAM&amp;reg;&#13;&#10;3. SPRAY MIST&amp;reg;&#13;&#10;4. Steam&#13;&#10;&#13;&#10;Hope this helps! <div class="bvseo-author">Answered by: Sunbeam Consumer Care</div> <div class="bvseo-pubdate">Date published: 2020-10-22</div> </div> </div> <div class="bvseo-question-answer" data-questionid="2315739"> <h2 class="bvseo-question"> I just received my new Sunbeam series 2 iron and cord will not stay out? </h2> <div class="bvseo-question-detail"> </div> <div class="bvseo-author">Asked by: Amelia1960</div> <div class="bvseo-answer" data-answerid="2017178"> Oh no! That is definitely not the kind of experience that we want you to have. Our Sunbeam irons were made with the highest quality and complete materials and we expect them to last. We aim to provide great quality products and we&#39;d like for you to be completely satisfied with your purchase and get the product&#39;s full benefit. Please follow these steps to help you stay put the cord:&#13;&#10;&#13;&#10;1.Select amount of cord desired before plugging into an electrical outlet. Do not pull cord past red indicator.&#13;&#10;2.To retract cord, press retraction button.&#13;&#10;3.If cord is not fully rewound, pull out and steer cord evenly on the reel. If cord is not pulled out easily, pull cord firmly.&#13;&#10;&#13;&#10;Hope this helps! <div class="bvseo-author">Answered by: Sunbeam Consumer Care</div> <div class="bvseo-pubdate">Date published: 2020-10-21</div> </div> </div> </div> <script type="text/javascript"> if (document.getElementById('bvseo-questionsSection')) { document.getElementById('bvseo-questionsSection').style.display = 'none'; } </script> <!--end-questions--> <!--begin-pagination--> <ul id="bvseo-paginationSection"> <li class="bvseo-paginationItem"><a class="bvseo-paginationLink" href="https://www.sunbeam.com/home-kitchen-appliances/irons-steamers/sunbeam-steam-master-iron-with-retractable-cord/SP_345973.html?bvrrp=Main_Site-en_US/questions/product/2/SP_345973.htm">Sunbeam&reg; Steam Master&reg; Iron with Retractable Cord Questions - page 2</a></li> </ul> <!--end-pagination--> <ul id="BVSEO_meta" style="display:none!important"> <li data-bvseo="bvDateModified">y_2021, m_11, d_29, h_19CST</li> <li data-bvseo="ps">bvseo_bulk, prod_bvqa, vn_bulk_3.0.20</li> <li data-bvseo="cp">cp_1, bvpage1</li> <li data-bvseo="co">co_hasquestionsanswers, tq_177</li> <li data-bvseo="cf">loc_en_US, sid_SP_345973, prod, sort_[SortEntry(order=LAST_APPROVED_ANSWER_SUBMISSION_TIME, direction=DESCENDING)]</li> <li data-bvseo="diagnostics">clientName_sunbeam</li> </ul> <!--end-bvseo-questions--> <ul id="BVSEOSDK_meta" style="display: none !important;"> <li data-bvseo="sdk">bvseo_sdk, dw_cartridge, 18.2.0, p_sdk_3.2.0</li> <li data-bvseo="sp_mt">CLOUD, getContent, 0ms</li> <li data-bvseo="ct_st">questions, product</li> </ul>
product-detail-view
oos-pdp