Sunbeam® Steam Master® Iron with Retractable Cord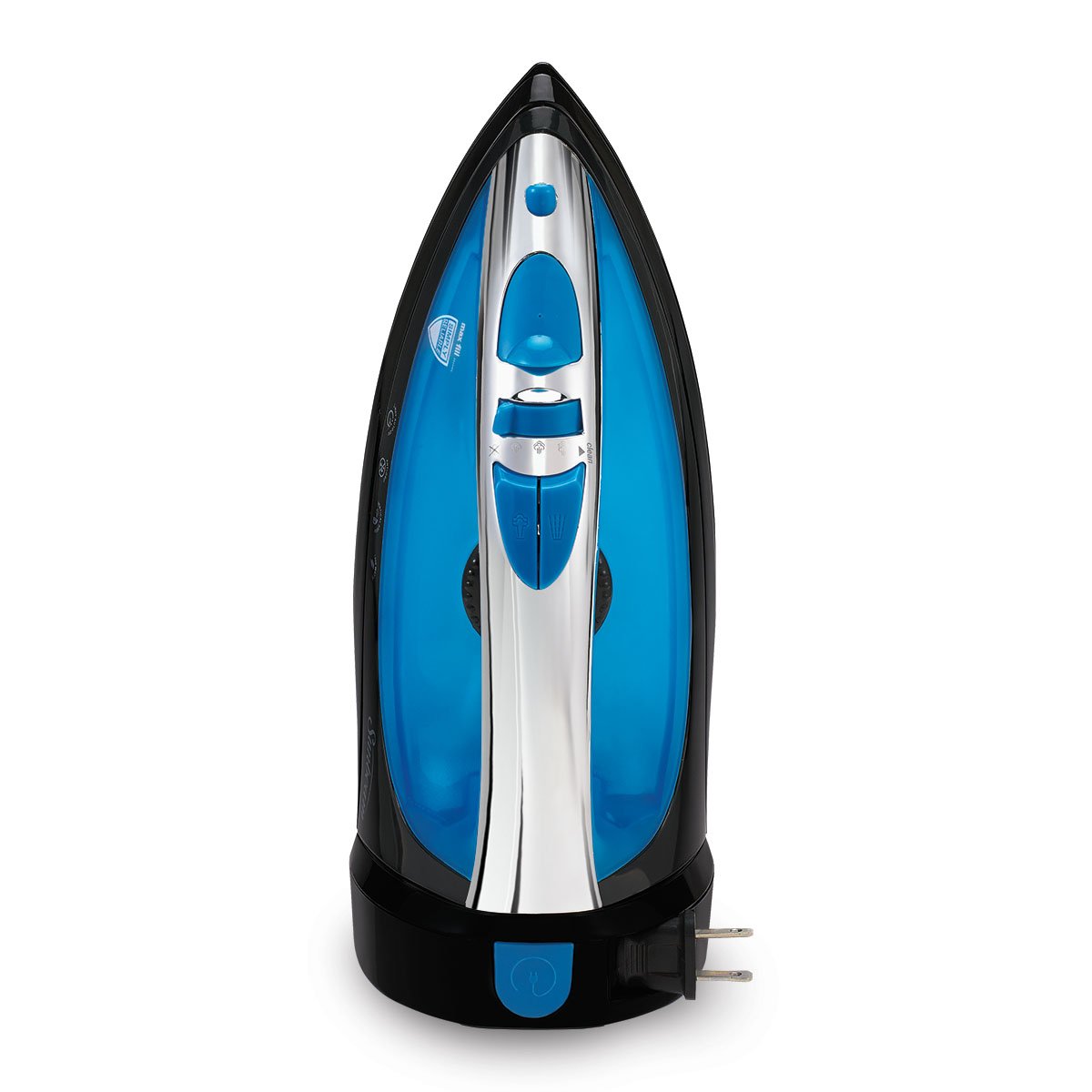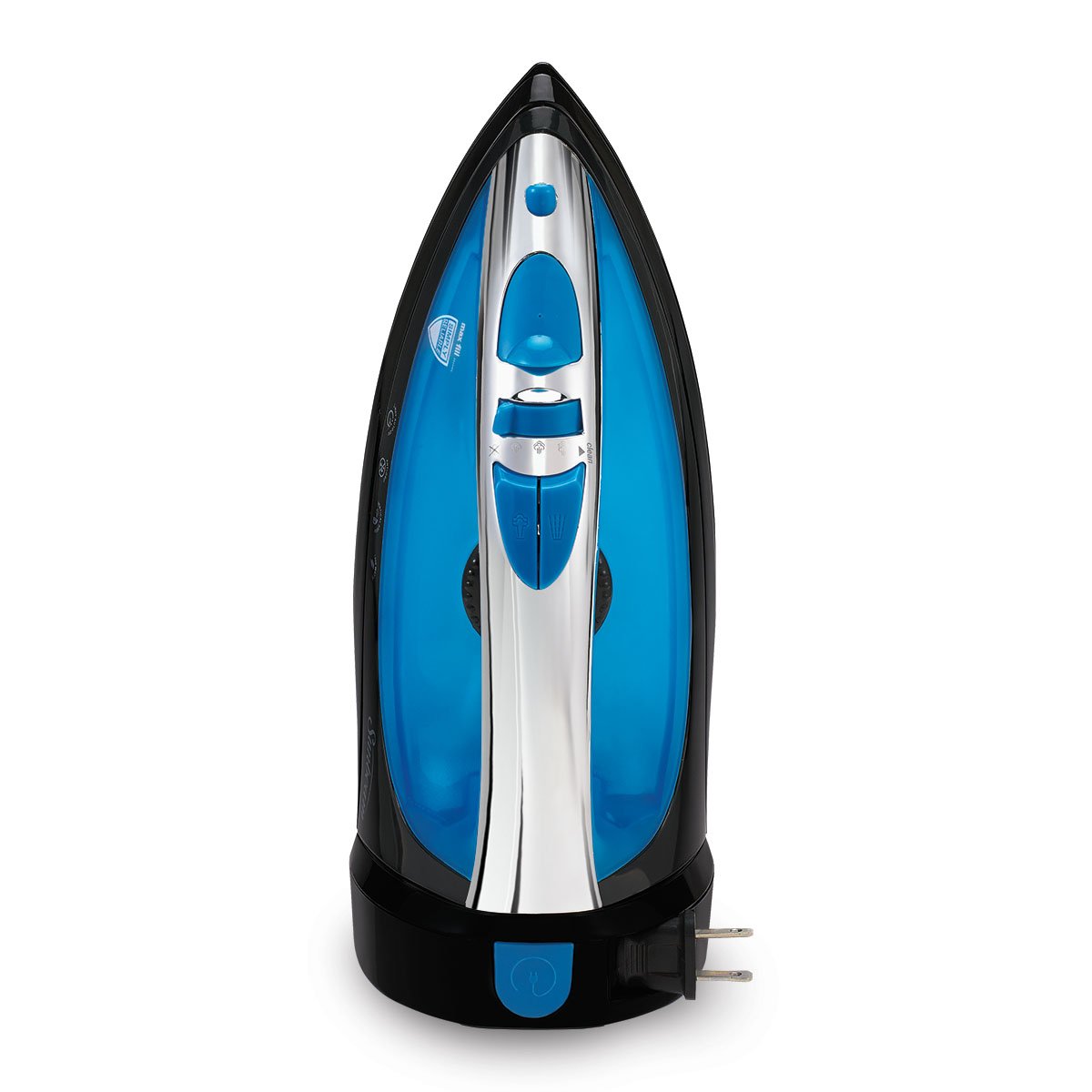 Sunbeam® Steam Master® Iron with Retractable Cord
Final Sale: may not be returned or exchanged
Selection will refresh the page with new results.
Final Sale: may not be returned or exchanged
Product Details
Description
The easy-gliding Sunbeam® Steam Master® Iron always gets you looking your best in perfectly-pressed garments with extra power and extra steam output. At 1400 watts of power, plus Variable Steam Control, wrinkles disappear quickly and easily. The Shot of Steam button releases a quick burst of steam and relax wrinkles effortlessly. If you are in a hurry, the Vertical Shot of Steam feature provides ease and convenience to freshen up hanging garments quickly and also works on upholstery and drapery. The morning rush goes smoothly with anti-drip, mess-free ironing and 3-Way Motion Smart technology to automatically shut iron off if left unattended or set in improper position. Maintenance doesn't get easier with the iron's self-cleaning system to help eliminate mineral build-up on the non-stick soleplate.
Specifications
Additional SKUs:

GCSBCL202000

Dimensions:

6.18" H x 5.47"W x 11.88"D
Warranty
3 year limited Warranty
Where to Buy
The following link will take you to a site outside of Sunbeam.
Rated

1

out of

5
by
Chico
from
Terrible Iron, Plain and Simple
I have owned this iron for the past month and tried using it on four separate occasions from four separate electrical outlets, and not once has this iron worked for me. After filling the water reservoir up to the max fill line, the immediate problem comes from the iron's sheer amount of leakage. Drops of water come pouring out of the steam vents even after setting the dial to the no steam option. In addition, regardless of if you wait for three minutes, ten minutes, or an hour, the iron doesn't get hot. In fact, the iron doesn't even warm up to the point where I shouldn't touch the metal of the device. As the title states, plain and simple, this iron doesn't work. Don't purchase this iron if you want anything above a library marker or paperweight.
Date published: 2014-08-15
Rated

2

out of

5
by
Aggie69
from
Not very well made
I am a 68 yr old single guy. I iron very infrequently, but have been doing it since I was 10. I know better than to drop an iron and this one I paid particular attention to treating well. While it was functioning, I liked it. The first thing to fail was the shot of steam button. One time I pushed it and it never came back up again. Thereafter the mist button worked for a short time until it too decided to lay down and die. I can still use it as both a dry and steam iron, but without being able to control the water/steam output it is obviously not as functional. I actually have a second identical iron that I purchased for a second location prior to the first one going bad so I'll see how long it lasts.
Date published: 2016-11-25
Rated

5

out of

5
by
Mojojojo7
from
Retractable cord is my favorite
My husband and I were both able to try the iron and as for him, it's light that he needs to press harder to make sure he irons it out well enough. For me, it is just right. Although it looks like a cruise ship in design, what I love about it is the iron plate is a tiny bit larger than what we used to have, that means it irons out more in less time. I also like the retractable cord feature. No more hanging cable or rolling it up. Overall, I'd say it worked as expected. I was given a sample of the product mentioned in exchange for my unbiased opinion.
Date published: 2015-12-22
Rated

1

out of

5
by
Liz McMc
from
Ruined shirts
No, no, the shirt did not burn. I purchased my iron in October 2020. I always take care to ensure the reservoir is empty before I rebox it and place it in it's place in my closet. The fourth time I've used this SteamMaster. I was ironing a button up when I noticed what I thought were burn marks. I rest the iron on the table & inspect the iron since I had it on lower heat & I never, ever use starch which can sometimes leave toast marks. No, the metal plate is RUSTED in multiple spots. I have not been able to remove the rust stain. I did not realize the product skimped on the metal coatings that prevent rust (& therefore rust stains). Not a fan anymore.
Date published: 2021-04-17
Rated

4

out of

5
by
lneff
from
Iron with great features!
The first thing I noticed was how nice the iron looked, I love the blue color. The cord length on this iron is nice and I love how it retracts and I do not have to worry about wrapping up the cord to store. The iron comes with lots of settings making it easy to iron whatever you need to. Plus the iron heats up super fast and has a light that comes on to tell you it is ready. I really like this iron a lot and am very happy that I received this iron for free to review and give my opinion on.
Date published: 2016-01-04
Rated

1

out of

5
by
Asiane12
from
Not worth it!
I absolutely loved this iron when I saw it in the store but after about 1 week of using it, it stopped heating all together!! I don't quite understand how something so expensive gives out so soon. I am highly disappointed and would prefer never to buy this brand iron again! Don't waste your money! Looks can be deceiving!!
Date published: 2015-11-06
Rated

1

out of

5
by
michaelvtj
from
Continuously ruining my clothes
I purchased the Steam Master beginning of July. My old iron was old but working fine however used this model in a hotel and thought I would try a new one. Mistake. I only iron cotton shirts and pants thus it is always on the cotton setting. Spray starch immediately burned on to the plate and ruined a shirt before I realized it had happened. Stopped using starch. Cleaned it. Since then, the iron still ends up with mystery residue stuck to the iron nearly every time I use it. I've been ironing for so many years with various irons and never have had this problem. Something is wrong with the iron. Very frustrating.
Date published: 2021-08-18
Rated

4

out of

5
by
mdmuir
from
Very Good Product!
I really like this iron. It heats up quickly and does an excellent job eliminating wrinkles. I've used it mainly to iron shirts and never had a problem. The vertical shot of steam feature is nice and allows hanging clothes to be steamed without taking them off the hanger. This is a great product. I would recommend it to all. * I received this product as a sample to test and review
Date published: 2015-12-20
Rated

5

out of

5
by
Beautifulone77
from
Best Iron I've owned
At first I thought this iron looked big but after using it it was the perfect size! The best features of this iron are the size and retractable cord. The size allows a bigger space at the bottom (which is plastic) so the heat plate is not so close to the surface it's sitting on. The retractable cord makes it so much easier especially if it's still hot! The plate on the iron is made way better as well! It easily glides over your clothes and makes ironing faster! Love it and definitely would recommend to everyone!
Date published: 2015-12-18
Rated

1

out of

5
by
rickymark
from
Couldn't be worse No stars if that was possible
The only good thing about this iron is when it fails they ship another. But... How can you iron in the interim. On iron number two in less than six months, this came yesterday, worked great this morning, this evening (only second time off the shelf it heats but won't steam.
Date published: 2016-02-06
Rated

5

out of

5
by
Capatoffee
from
Sunbeam Steamaster Iron
The Sunbeam Steamaster iron has many features that make this a top of the line appliance. I loved the way it glided across the fabric and made it easy to complete my job in fast and easy. The feature I liked the best was that it was also a steamer. I've never had a steamer before and it really provided excellent results. The retractable cord and auto shut off made this iron a highly attractive product. I would definitely recommend this to my friends and family.
Date published: 2015-12-19
Rated

1

out of

5
by
Rosaria
from
Don't bother!
Broke after 1 use. Online troubleshooting was no help
Date published: 2015-10-02
Rated

1

out of

5
by
LsbhNJ
from
Had High Hopes...
After owning more expensive irons over the years (which didn't last), decided to spend less but go for the trusted Sunbeam brand. Liked the details (retractable cord, auto off choice) but after less than 6 mos., very disappointed. Have had to rewash shirts because of "rust" coming out of holes with steam, and often starch spray burns onto soleplate. Need to replace iron before I ruin any more clothing.
Date published: 2017-11-06
Rated

4

out of

5
by
MoniR
from
Pleasantly surprised me
This iron works great! I've had it for a few weeks now and I haven't had a problem with it yet. It heats the way it should and doesn't leak (which is usually the problem I have with most irons). I've used the steamer once and that worked out pretty well too. I'm not a big fan of the retractable cord and that is why my rating doesn't hit the 5 star mark. Although I haven't had an issue with the cord yet, every single iron that I've ever bought with a retractable cord has had that feature broken rather quickly. I can already tell the same thing will eventually happen with this iron too. I would rather just have the cord be able to wrap around the iron for storage. Disclaimer - I have received this product as a sample to review.
Date published: 2015-12-21
Rated

2

out of

5
by
ksawyer
from
Disappointed
I bought this iron because my old iron (Shark) died and I was glad to get a new one. The old one never got hot enough to get wrinkles out. Well, I absolutely loved this iron at first. I had about 10 articles of clothing to iron and after using the iron for about 20 minutes, parts of the handle became so hot that I couldn't hold on to it. Also, it leaked really bad every time I sat it up. I was going to take it back but decided to try it one more time. This time, I didn't put as much water in and it seemed to be fine. I really love the way it irons but low and behold, after a few minutes, I had the same issue with the handle heating up. I was willing to put up with the profuse leaking if the handle wasn't too hot to hang on to. I'm taking it back tomorrow. Because I liked the way it ironed, I may get try the same one again and see if it was just a defective iron and not a defective design. Hoping for the best.
Date published: 2015-04-27
Rated

1

out of

5
by
Julia C
from
Do not buy. Beware
I've had this iron for barely a year. I bought it last Christmas and it quit on me.The iron would start sticking to clothes and create wrinkles even though the Teflon is intact. It reached the end of its life when the light came on but it wouldn't get hot. What a waste of money. Do not invest your money on this horrible item.
Date published: 2016-12-04
Rated

3

out of

5
by
Sham
from
Sunbeam retractable cable steam iron
I bought this iron 7 months ago and the retractable cable would not retract. I contacted their customer service - they are very Good in customer service,. Their reply promptly and sent me another iron. Which was very helpful. Their customer support is Great unlike many I've dealt with !! keep it Up !!
Date published: 2015-08-30
Rated

4

out of

5
by
picturelady
from
pleased with my new iron
I like this iron. It heats up quickly,I like the steam and spray buttons, I like the sturdy feel of it and the way it irons. The design keeps it from falling over, and if it does fall, it has an automatic shut-off. The retractable cord doesn't retract quite all the way, but I don't mind. The only suggestion I have is to change the dial--being under the handle it is not particularly easy to access and to read.
Date published: 2016-02-19
Rated

5

out of

5
by
Rags23
from
Great features
I bought this a month ago and it works great. The color and design are great.
Date published: 2015-09-21
Rated

5

out of

5
by
tam2
from
FANTASTIC!!
I purchased this iron after my sister purchased one & it is the best iron ever! I do a lot of quilting which requires a lot of ironing & this iron is the BEST. I have purchased several expensive irons & none compare to this one. I would recommend it to anyone/everyone that uses an iron. I was also very pleased at how fast it was shipped & delivered. Thank you, Thank you, Thank you!
Date published: 2017-05-19
Rated

5

out of

5
by
Bryce
from
Holy moly! The cord still retracts!!
Honey, sometimes you just have to take a moment to review a product, that has exceeded your expectations. Well that's what I'm doing now! Not only does this iron still work like a champ, the cord still retracts like day one! It's not like I only use this iron once a year. I use this iron twice a day and I've had it for over three years now. highly recommend this buy!!
Date published: 2019-01-18
Rated

3

out of

5
by
replacement
from
I like this Iron BUT....
I ordered this Iron 3 years ago first on Amazon. Was very please with it ,so I would give it a 5 star rating based on that. But, I have since recently purchase a new one like this again from Amazon. And THREE times I was delivered a used , no working iron * with residual water inside the chamber on ALL of them, and leaking with no heat. I have since now ordered a FOURTH replacement from amazon. I really liked this Steam master in the past. But feel Sunbeam needs to know what is happening so this is resolved with customers.
Date published: 2021-07-02
Rated

1

out of

5
by
IronGirl
from
Don't Love It
I bought this iron over a year ago. I should have returned it -- my schedule is just too full. The iron is large and unwieldy. It takes extra long to heat up (which is the least of the problems). The steam isn't great. I store my ironing board and iron in a metal coated holder on the wall. I had to have a friend enlarge the spot for the iron so that this one would fit. Yesterday, the iron fell out of the holder and onto the floor. Now when it's plugged in, the light is on but it won't heat up. Please don't send me email!
Date published: 2014-09-08
Rated

5

out of

5
by
crazeekatlady
from
Great Iron with Great Features!
I received this iron for review and I loved it! Not only does it look sharp - I love the chrome with teal - but it has a lot of great features too. My favorite feature is the anti-drip system. Other steam irons I've used always seem to drip or dribble, but not this iron. I also like the adjustable steam options, so you can get just the right amount of steam where you want it. The retractable cord makes it easy to store and the auto shutoff make it safe to use. This steam iron is so nice and I would recommend to anyone!
Date published: 2015-12-22
Rated

5

out of

5
by
lj10
from
Mine is great!
I thought I'd write a review for this iron since the other two reviews are not good. I really like this iron! No problem with scorching, easy to fill the water compartment, and it's TEAL! :) It's rather large, but that's ok for me. The retractable cord is a great bonus - I will never own an iron without it.
Date published: 2014-08-12
Rated

1

out of

5
by
notalightweight
from
too light weight
My previous iron of 20 years finally gave out. I never realized how much it did for me until I bought this iron. both had the steam feature, which I love, but this current one is too light weight. I feel I have to either press down or go back and forth twice as much as before. Regretting my purchase...
Date published: 2015-09-22
Rated

1

out of

5
by
Marshtron123
from
Hate this iron. Will give to Goodwill.
Got iron two (2) days ago. 1. Cord is too short 2. There is no light that turns off to indicate the iron has reached its temperature setting. There is a red power light, but it stays on so you do not know when the proper temperature has been reached to begin ironing. Therefore, how am I suppose to know when I can put it to the steam setting? Booklet only says "Wait 2 minutes" for it to heat 3. I followed all the directions exactly and it still leaks occasionally. 4. Heavy and awkward to handle.
Date published: 2018-06-29
Rated

1

out of

5
by
interceder12
from
The Sunbeam's Turbo steam master Iron failure
You think you're getting this amazingly , good iron with all this highly technical words usage on this product. It become very clear it's delicate after less than 6 months of use. But the prices of irons goes up and irons aren't built to last awhile.
Date published: 2014-07-02
Rated

1

out of

5
by
jeanie
from
SAVE YOUR MONEY
Worst iron I've ever owned. I purchased this iron about 3 months ago, the water pours out of it, even when water is below fill line. The retractable cord already quit working. I really wouldn't even give it one star.
Date published: 2014-05-13
Rated

4

out of

5
by
WestSacGary
from
I'm a convert
I was looking forward to trying thus iron since I've used a Rowenta for nearly 20 years. Taking it out the box, I mediately plugged it in and started using it according to the instructions. I would suggest running a new iron over a towel for a few minutes to keep the steam function from sputtering. Regardless if it was window coverings, clothing or linens, wrinkles stood no chance. While the iron feels a bit bulky because of the cord storage, it sure is a great feature to have and not need to wrap the cord around and around. I suggest slowly recoiling the cord as it didn't fully store the cord if you just let it spin in. This is a fine iron for the price point. I received my iron at no charge in exchange for my review. I was impressed enough with this iron, it has officially replaced my old Rowenta!
Date published: 2015-12-22
bvseo_sdk, dw_cartridge, 18.2.0, p_sdk_3.2.0
CLOUD, getReviews, 0ms
reviews, product
---
<!--begin-bvseo-questions--> <!--begin-questions--> <div id="bvseo-questionsSection"> <div class="bvseo-question-answer" data-questionid="2300234"> <h2 class="bvseo-question"> What is the best way to clean the plate of the iron. Mine has burn marks around the edges. </h2> <div class="bvseo-question-detail"> </div> <div class="bvseo-author">Asked by: JoJo NJ</div> <div class="bvseo-answer" data-answerid="2016993"> Hey there! Thanks for reaching us out. The best way to remove the black/brown burn marks from the iron is to clean it with an all-cotton cloth if starch or other residues accumulate after iron is unplugged and cool. Hope this helps! <div class="bvseo-author">Answered by: Sunbeam Consumer Care</div> <div class="bvseo-pubdate">Date published: 2020-10-21</div> </div> </div> <div class="bvseo-question-answer" data-questionid="2302270"> <h2 class="bvseo-question"> What setting on the fabric dial would be 300 degrees on the sunbeam iron model 4230. Thanks </h2> <div class="bvseo-question-detail"> </div> <div class="bvseo-author">Asked by: Steve 1959</div> <div class="bvseo-answer" data-answerid="2001096"> Hey there! Thanks for reaching out. It depends on the fabric that you will iron like denim, you need to put it on high setting to reach the temperature of 300 degrees. <div class="bvseo-author">Answered by: Sunbeam Consumer Care</div> <div class="bvseo-pubdate">Date published: 2021-09-08</div> </div> </div> <div class="bvseo-question-answer" data-questionid="2294925"> <h2 class="bvseo-question"> How do you put water in for steam? </h2> <div class="bvseo-question-detail"> </div> <div class="bvseo-author">Asked by: Elfy</div> <div class="bvseo-answer" data-answerid="2000761"> Hey there! Thanks for reaching out. To Fill the Water Reservoir, use tap water. &#13;&#10;1. Make sure the iron is unplugged. Set the Steam Lever to Dry.&#13;&#10;2. Lift the Water Fill Hole Cover.&#13;&#10;3. Fill an easy-pour measuring cup with tap water. Pour water into water reservoir&#13;&#10;&#13;&#10;Hope this helps! <div class="bvseo-author">Answered by: Sunbeam Consumer Care</div> <div class="bvseo-pubdate">Date published: 2020-10-07</div> </div> </div> <div class="bvseo-question-answer" data-questionid="2267778"> <h2 class="bvseo-question"> How do you turn it on </h2> <div class="bvseo-question-detail"> </div> <div class="bvseo-author">Asked by: Janice1953</div> <div class="bvseo-answer" data-answerid="1998177"> Hey there! Thanks for reaching out. To switch on the iron, you must fill the water reservoir then plug it the iron. Turn Fabric Select Dial to desired setting and allow iron to heat for 2 minutes on its heel rest on a stable, protected surface and then you can start using it. <div class="bvseo-author">Answered by: Sunbeam Consumer Care</div> <div class="bvseo-pubdate">Date published: 2020-10-06</div> </div> </div> <div class="bvseo-question-answer" data-questionid="2261174"> <h2 class="bvseo-question"> Why does the stainless steel plate have black/brown burn marks and what is the best way to remove them? &amp;nbsp;Thank you! </h2> <div class="bvseo-question-detail"> </div> <div class="bvseo-author">Asked by: Lisabalisa</div> <div class="bvseo-answer" data-answerid="1998066"> Hey there! Thanks for reaching out. The best way to remove the black/brown burn marks from the iron is to clean it with an all-cotton cloth if starch or other residues accumulate after iron is unplugged and cool. <div class="bvseo-author">Answered by: Sunbeam Consumer Care</div> <div class="bvseo-pubdate">Date published: 2020-10-06</div> </div> </div> <div class="bvseo-question-answer" data-questionid="2167561"> <h2 class="bvseo-question"> How do I use the self clean button? </h2> <div class="bvseo-question-detail"> </div> <div class="bvseo-author">Asked by: Lgates711</div> <div class="bvseo-answer" data-answerid="1997623"> Hey there! Thanks for reaching out. To use the Self-Clean Feature, simply follow these steps:&#13;&#10;1. Turn off iron.&#13;&#10;2. Move Steam Lever/Knob back and forth to remove debris and minerals from Steam Valve. This keeps water&#13;&#10;flowing into the steam chamber.&#13;&#10;3. Fill water reservoir with tap water to MAX line.&#13;&#10;4. Plug in iron, set Fabric Select Dial to Linen and heat for 2 minutes.&#13;&#10;5. Unplug iron. Holding iron over a sink in a horizontal position, press Self-Clean Button (or depending on your model, rotate the steam control knob to the clean setting) and hold. Water will begin dripping from the steam vents. Slowly rock iron side to side and front to back for 30 seconds. Dip nose of the iron slightly below the rear to circulate water. Release Self-Clean Button after one minute.&#13;&#10;6. Open fill cap and empty remaining water. Carefully dry soleplate with a towel.&#13;&#10;7. Plug in iron and set Fabric Select Dial to Linen and Heat for 2 minutes to dry out completely. Set Fabric Select Dial to Off, unplug the iron, and allow to cool&#13;&#10;&#13;&#10;Use the Self-Clean feature once a month to maintain optimal iron performance. <div class="bvseo-author">Answered by: Sunbeam Consumer Care</div> <div class="bvseo-pubdate">Date published: 2020-10-26</div> </div> </div> <div class="bvseo-question-answer" data-questionid="2137112"> <h2 class="bvseo-question"> I just got my new iron today and my question is, can I heat the iron without having any water added into it. Thank you. </h2> <div class="bvseo-question-detail"> </div> <div class="bvseo-author">Asked by: Home maid</div> <div class="bvseo-answer" data-answerid="1996590"> Hey there! Thanks for reaching out. We advise to fill the water reservoir with water as this will help you to preheat the iron. <div class="bvseo-author">Answered by: Sunbeam Consumer Care</div> <div class="bvseo-pubdate">Date published: 2020-10-05</div> </div> </div> <div class="bvseo-question-answer" data-questionid="2098217"> <h2 class="bvseo-question"> What is the max temperature this iron can reach? </h2> <div class="bvseo-question-detail"> </div> <div class="bvseo-author">Asked by: Sam I am</div> <div class="bvseo-answer" data-answerid="1996532"> Hey there! Thanks for reaching out. The highest setting would be the linen setting, which operates at approximately 392 degrees Fahrenheit. <div class="bvseo-author">Answered by: Sunbeam Consumer Care</div> <div class="bvseo-pubdate">Date published: 2021-11-16</div> </div> </div> <div class="bvseo-question-answer" data-questionid="2013749"> <h2 class="bvseo-question"> How to empty the water reservoir&amp;nbsp; </h2> <div class="bvseo-question-detail"> </div> <div class="bvseo-author">Asked by: Katwoman57</div> <div class="bvseo-answer" data-answerid="1994742"> Hey there! Thanks for reaching out. To empty the water the water reservoir, simply Lift the Water Fill Hole Cover. <div class="bvseo-author">Answered by: Sunbeam Consumer Care</div> <div class="bvseo-pubdate">Date published: 2020-10-02</div> </div> </div> <div class="bvseo-question-answer" data-questionid="2128115"> <h2 class="bvseo-question"> How to remove and repair the retractable cord housing? </h2> <div class="bvseo-question-detail"> </div> <div class="bvseo-author">Asked by: KCC5</div> <div class="bvseo-answer" data-answerid="1962048"> Thank you for reaching us out. For us to assist you further, please call our Consumer Care Department at 1-(800)-892-7684. For your convenience, we are available Monday-Friday 9:00 AM-5:00 PM, EST. We look forward to assisting you! <div class="bvseo-author">Answered by: Sunbeam Consumer Care</div> <div class="bvseo-pubdate">Date published: 2020-10-04</div> </div> </div> <div class="bvseo-question-answer" data-questionid="2244931"> <h2 class="bvseo-question"> I recently purchased Sunbeam Steam master iron Model GCSBSP-201-FFP which has been shipped from US .Can it be used with 220 volt current prevalent in India </h2> <div class="bvseo-question-detail"> </div> <div class="bvseo-author">Asked by: Anonymous</div> <div class="bvseo-answer" data-answerid="1961936"> Great question! This Sunbeam&amp;reg; Steam Master&amp;reg; Iron with Retractable Cord only supports 110-120 volts. Hope this helps! <div class="bvseo-author">Answered by: Sunbeam Consumer Care</div> <div class="bvseo-pubdate">Date published: 2020-09-01</div> </div> </div> <div class="bvseo-question-answer" data-questionid="2247356"> <h2 class="bvseo-question"> The letters on the fabric dial are fading. What are the fabric listed?&amp;nbsp; </h2> <div class="bvseo-question-detail"> </div> <div class="bvseo-author">Asked by: Mayita</div> <div class="bvseo-answer" data-answerid="1961761"> Thank you for reaching us out. For us to assist you further, please call our Consumer Care Department at 1-(800)-892-7684. For your convenience, we are available Monday-Friday 9:00 AM-5:00 PM, EST. We look forward to assisting you! <div class="bvseo-author">Answered by: Sunbeam Consumer Care</div> <div class="bvseo-pubdate">Date published: 2020-09-01</div> </div> </div> <div class="bvseo-question-answer" data-questionid="2236830"> <h2 class="bvseo-question"> Does it use tap or distilled water? </h2> <div class="bvseo-question-detail"> </div> <div class="bvseo-author">Asked by: Tomasch</div> <div class="bvseo-answer" data-answerid="1957428"> Great question! Please use tap water for this Sunbeam&amp;reg; Steam Master&amp;reg; Iron. Hope this helps! <div class="bvseo-author">Answered by: Sunbeam Consumer Care</div> <div class="bvseo-pubdate">Date published: 2020-08-28</div> </div> </div> <div class="bvseo-question-answer" data-questionid="2108388"> <h2 class="bvseo-question"> Is there a warranty? </h2> <div class="bvseo-question-detail"> </div> <div class="bvseo-author">Asked by: Steve S</div> <div class="bvseo-answer" data-answerid="1888381"> Yes there is! The Sunbeam&amp;reg; Steam Master&amp;reg; Iron comes with a 3-year limited warranty. <div class="bvseo-author">Answered by: Sunbeam Consumer Care</div> <div class="bvseo-pubdate">Date published: 2020-07-01</div> </div> </div> <div class="bvseo-question-answer" data-questionid="2087598"> <h2 class="bvseo-question"> How does the self-cleaning system work? </h2> <div class="bvseo-question-detail"> </div> <div class="bvseo-author">Asked by: Konnie</div> <div class="bvseo-answer" data-answerid="1861047"> Great question! Please see the steps below.&#13;&#10;&#13;&#10;Use the Self-Clean feature once a month to maintain optimal iron performance.&#13;&#10;1. Turn off iron.&#13;&#10;2. Move Steam Lever/Knob back and forth to remove debris and minerals from Steam Valve. This keeps water&#13;&#10;flowing into the steam chamber.&#13;&#10;3. Fill the water reservoir with tap water to the MAX line.&#13;&#10;4. Plug in iron, set Fabric Select Dial to Linen, and heat for 2 minutes.&#13;&#10;5. Unplug iron. Holding iron over a sink in a horizontal position, press Self-Clean Button (or depending on your model, rotate the steam control knob to the clean setting) and hold. Water will begin dripping from the steam vents. Slowly rock iron side to side and front to back for 30 seconds. Dip nose of the iron slightly below the rear to circulate water. Release Self-Clean Button after one minute.&#13;&#10;6. Open fill cap and empty remaining water. Carefully dry soleplate with a towel.&#13;&#10;7. Plug in iron and set Fabric Select Dial to Linen and Heat for 2 minutes to dry out completely. Set Fabric Select Dial to Off, unplug the iron and allow to coo <div class="bvseo-author">Answered by: Sunbeam Consumer Care</div> <div class="bvseo-pubdate">Date published: 2020-07-29</div> </div> </div> <div class="bvseo-question-answer" data-questionid="2060110"> <h2 class="bvseo-question"> My sunbeam steam masters retractable cord will not come out. What&#39;s up? </h2> <div class="bvseo-question-detail"> </div> <div class="bvseo-author">Asked by: Scotty72</div> <div class="bvseo-answer" data-answerid="1846621"> Thank you for reaching us and we are sorry to hear about your issue. Please give us a call at 1-(800)-892-7684 or connect with us via Live Chat on our website in order for us to assist you further. For your convenience our Consumer Care team is available Mon-Fri 9am-6pm, EST. We look forward to assisting you! Have a great day! <div class="bvseo-author">Answered by: Sunbeam Consumer Care</div> <div class="bvseo-pubdate">Date published: 2020-06-20</div> </div> </div> <div class="bvseo-question-answer" data-questionid="2029588"> <h2 class="bvseo-question"> Iron isn&amp;rsquo;t heating but power light comes on.&amp;nbsp; </h2> <div class="bvseo-question-detail"> </div> <div class="bvseo-author">Asked by: BeverlyBF</div> <div class="bvseo-answer" data-answerid="1829505"> Thank you for reaching us and we are sorry to hear about your issue! Please give us a call at 1-(800)-892-7684 or connect with us via Live Chat in order for us to assist you further. For your convenience our Consumer Care team is available Mon-Fri 9am-6pm, EST. We look forward to assisting you! Have a great day! <div class="bvseo-author">Answered by: Sunbeam Consumer Care</div> <div class="bvseo-pubdate">Date published: 2020-06-20</div> </div> </div> <div class="bvseo-question-answer" data-questionid="2021600"> <h2 class="bvseo-question"> The shot of steam button sticks down and doesn&#39;t come back up. &amp;nbsp;How is this corrected?? </h2> <div class="bvseo-question-detail"> </div> <div class="bvseo-author">Asked by: Maggie Daisy</div> <div class="bvseo-answer" data-answerid="1826310"> Thank you for that question! Please give us a call at 1-(800)-892-7684 or connect with us via Live Chat in order for us to assist you further. For your convenience our Consumer Care team is available Mon-Fri 9am-6pm, EST. We look forward to assisting you! Have a great day! <div class="bvseo-author">Answered by: Sunbeam Consumer Care</div> <div class="bvseo-pubdate">Date published: 2020-05-22</div> </div> </div> <div class="bvseo-question-answer" data-questionid="2025883"> <h2 class="bvseo-question"> Where is this iron manufactured? </h2> <div class="bvseo-question-detail"> </div> <div class="bvseo-author">Asked by: Black Peter</div> <div class="bvseo-answer" data-answerid="1824220"> Great question! This was manufactured in China. <div class="bvseo-author">Answered by: Sunbeam Consumer Care</div> <div class="bvseo-pubdate">Date published: 2020-06-20</div> </div> </div> <div class="bvseo-question-answer" data-questionid="1970645"> <h2 class="bvseo-question"> is there a wall mount available for this model? If so where can I buy it? The mount I have is too small&#13;&#10;. </h2> <div class="bvseo-question-detail"> </div> <div class="bvseo-author">Asked by: gut3</div> <div class="bvseo-answer" data-answerid="1788358"> Thank you for that question! Please give us a call at 1-(800)-892-7684 or connect with us via Live Chat in order for us to assist you further. For your convenience our Consumer Care team is available Mon-Fri 9am-6pm, EST. We look forward to assisting you! Have a great day! <div class="bvseo-author">Answered by: Sunbeam Consumer Care</div> <div class="bvseo-pubdate">Date published: 2020-06-20</div> </div> </div> <div class="bvseo-question-answer" data-questionid="1348413"> <h2 class="bvseo-question"> Just looking for instructions on how to clean the iron&amp;nbsp; </h2> <div class="bvseo-question-detail"> </div> <div class="bvseo-author">Asked by: M4444</div> <div class="bvseo-answer" data-answerid="1775851"> We&#39;re glad you&#39;ve asked! Pour out any stagnant water left in the iron. Pour in distilled water until the reservoir is one third full. &#13;&#10;&#13;&#10;Tip: For a stronger solution, mix 3/4 cup water and 1/4 cup white vinegar. Turn on the iron to its highest setting and steam-iron a clean cloth for a few minutes, letting clean water flush out any vent deposits. <div class="bvseo-author">Answered by: Sunbeam Consumer Care</div> <div class="bvseo-pubdate">Date published: 2020-06-07</div> </div> </div> <div class="bvseo-question-answer" data-questionid="1596063"> <h2 class="bvseo-question"> Which settings will steam? </h2> <div class="bvseo-question-detail"> </div> <div class="bvseo-author">Asked by: flower1</div> <div class="bvseo-answer" data-answerid="1773858"> Thank you for reaching out! To steam you will just have to select the type of fabric and then turn the steam lever to the desired steam level. &#13;&#10;You may find the manual link helpful: https://www.sunbeam.com/on/demandware.static/-/Sites-sunbeam-Library/default/dw3c72e975/documents/instruction-manuals/161815.PDF <div class="bvseo-author">Answered by: Sunbeam Consumer Care</div> <div class="bvseo-pubdate">Date published: 2020-04-17</div> </div> </div> <div class="bvseo-question-answer" data-questionid="1734965"> <h2 class="bvseo-question"> I just received this iron, but the instructions are for a different model with a different fill point. Does this model fill from sliding up the silver part above the temp control wheel? </h2> <div class="bvseo-question-detail"> </div> <div class="bvseo-author">Asked by: DebD44</div> <div class="bvseo-answer" data-answerid="1772690"> Thanks for reaching out! We would like to hear more about this so we can explain it further. Please call our Consumer Care Department at 1-800-667-8623 so we can speak to you directly. You can reach us between the hours of 9AM-6PM EST Monday-Friday. Talk to you soon! <div class="bvseo-author">Answered by: Sunbeam Consumer Care</div> <div class="bvseo-pubdate">Date published: 2020-04-17</div> </div> </div> <div class="bvseo-question-answer" data-questionid="1585591"> <h2 class="bvseo-question"> Is there any way to tell what temperature my iron gets to? I have the steam master. Thank you </h2> <div class="bvseo-question-detail"> </div> <div class="bvseo-author">Asked by: Amberleyv</div> <div class="bvseo-answer" data-answerid="1771576"> We&#39;re glad you&#39;ve asked! The minimum operating temperature is about 220 degrees F. The maximum operating temperature is about 400 degrees F. There is an initial overshoot temperature of 425-450 degrees F when the iron is first turned on. <div class="bvseo-author">Answered by: Sunbeam Consumer Care</div> <div class="bvseo-pubdate">Date published: 2020-04-16</div> </div> </div> <div class="bvseo-question-answer" data-questionid="1630546"> <h2 class="bvseo-question"> What is the maximum temperature on this iron?&#13;&#10;&#13;&#10;Trying to decide if I need to purchase a heat press for Cricut infusible ink or if this will do the trick.&amp;nbsp; </h2> <div class="bvseo-question-detail"> </div> <div class="bvseo-author">Asked by: BooneAP</div> <div class="bvseo-answer" data-answerid="1771427"> We&#39;re glad you&#39;ve asked! The minimum operating temperature is about 220 degrees F. The maximum operating temperature is about 400 degrees F. There is an initial overshoot temperature of 425-450 degrees F when the iron is first turned on. <div class="bvseo-author">Answered by: Sunbeam Consumer Care</div> <div class="bvseo-pubdate">Date published: 2020-04-16</div> </div> </div> <div class="bvseo-question-answer" data-questionid="1636089"> <h2 class="bvseo-question"> I can&#39;t tell if this is a model of steam iron that has the anti-calcium system where you clean it with a salt water solution. Can anyone help me with this? </h2> <div class="bvseo-question-detail"> </div> <div class="bvseo-author">Asked by: ellikate</div> <div class="bvseo-answer" data-answerid="1770732"> Thanks for reaching out! We would like to hear more about this so we can determine the next steps. Please call us at 1-800-892-7684 so we can speak to you directly. You can reach us between the hours of 9AM-6PM EST Monday-Friday. Talk to you soon! <div class="bvseo-author">Answered by: Sunbeam Consumer Care</div> <div class="bvseo-pubdate">Date published: 2021-08-31</div> </div> </div> <div class="bvseo-question-answer" data-questionid="1844493"> <h2 class="bvseo-question"> what temperature in degrees is each setting? </h2> <div class="bvseo-question-detail"> </div> <div class="bvseo-author">Asked by: PRAMEY</div> <div class="bvseo-answer" data-answerid="1770259"> Thanks for reaching out! We would like to hear more about this so we can explain it further. Please call our Consumer Care Department at 1-800-667-8623 so we can speak to you directly. You can reach us between the hours of 9AM-6PM EST Monday-Friday. Talk to you soon! <div class="bvseo-author">Answered by: Sunbeam Consumer Care</div> <div class="bvseo-pubdate">Date published: 2020-04-16</div> </div> </div> <div class="bvseo-question-answer" data-questionid="1834536"> <h2 class="bvseo-question"> How to remove the cover on the cord retractor. I found the two screws under the rubber feet but another screw seems to be somewhere else. Where is it? Sunbeam Steam Master iron in black and blue.&#13;&#10;Please, no advertising on my email. Thanks. </h2> <div class="bvseo-question-detail"> </div> <div class="bvseo-author">Asked by: Leon Fox</div> <div class="bvseo-answer" data-answerid="1769674"> Thanks for reaching out! We would like to hear more about this so we can explain it further. Please call our Consumer Care Department at 1-800-667-8623 so we can speak to you directly. You can reach us between the hours of 9AM-6PM EST Monday-Friday. Talk to you soon! <div class="bvseo-author">Answered by: Sunbeam Consumer Care</div> <div class="bvseo-pubdate">Date published: 2020-04-16</div> </div> </div> <div class="bvseo-question-answer" data-questionid="1590232"> <h2 class="bvseo-question"> Can anyone please explain the dial to me? Is C in cotton the full cotton temp setting? Or is the N in cotton the full cotton temp? What about the L in linen? of the N in linen? You have to actually look at the dial to understand my confusion. </h2> <div class="bvseo-question-detail"> </div> <div class="bvseo-author">Asked by: Whyme</div> <div class="bvseo-answer" data-answerid="1769066"> Thanks for reaching out! We would like to hear more about this so we can explain it further. Please call our Consumer Care Department at 1-800-667-8623 so we can speak to you directly. You can reach us between the hours of 9AM-6PM EST Monday-Friday. Talk to you soon! <div class="bvseo-author">Answered by: Sunbeam Consumer Care</div> <div class="bvseo-pubdate">Date published: 2020-04-15</div> </div> </div> <div class="bvseo-question-answer" data-questionid="1727969"> <h2 class="bvseo-question"> I bought a sunbeam iron a couple years ago, yesterday the retraction button popped off into 3 pieces. Obviously it cannot be glued back together. How can I retract my cord now? it had the cord prongs. </h2> <div class="bvseo-question-detail"> </div> <div class="bvseo-author">Asked by: Anonymous</div> <div class="bvseo-answer" data-answerid="1768913"> Thanks for reaching out! We suggest you taking it to repair center. Should you want us to check the warranty, please call our Consumer Care Department at 1-800-667-8623 so we can speak to you directly. You can reach us between the hours of 9AM-6PM EST Monday-Friday. Talk to you soon! <div class="bvseo-author">Answered by: Sunbeam Consumer Care</div> <div class="bvseo-pubdate">Date published: 2020-04-15</div> </div> </div> </div> <script type="text/javascript"> if (document.getElementById('bvseo-questionsSection')) { document.getElementById('bvseo-questionsSection').style.display = 'none'; } </script> <!--end-questions--> <!--begin-pagination--> <ul id="bvseo-paginationSection"> <li class="bvseo-paginationItem"><a class="bvseo-paginationLink" href="https://www.sunbeam.com/home-kitchen-appliances/irons-steamers/sunbeam-steam-master-iron-with-retractable-cord/SAP_GCSBCL202000.html?&bvrrp=Main_Site-en_US/questions/product/3/SP_345973.htm">Sunbeam&reg; Steam Master&reg; Iron with Retractable Cord Questions - page 3</a></li> </ul> <!--end-pagination--> <ul id="BVSEO_meta" style="display:none!important"> <li data-bvseo="bvDateModified">y_2021, m_12, d_1, h_19CST</li> <li data-bvseo="ps">bvseo_bulk, prod_bvqa, vn_bulk_3.0.20</li> <li data-bvseo="cp">cp_2, bvpage2n</li> <li data-bvseo="co">co_hasquestionsanswers, tq_177</li> <li data-bvseo="cf">loc_en_US, sid_SP_345973, prod, sort_[SortEntry(order=LAST_APPROVED_ANSWER_SUBMISSION_TIME, direction=DESCENDING)]</li> <li data-bvseo="diagnostics">clientName_sunbeam</li> </ul> <!--end-bvseo-questions--> <ul id="BVSEOSDK_meta" style="display: none !important;"> <li data-bvseo="sdk">bvseo_sdk, dw_cartridge, 18.2.0, p_sdk_3.2.0</li> <li data-bvseo="sp_mt">CLOUD, getContent, 0ms</li> <li data-bvseo="ct_st">questions, product</li> </ul>
product-detail-view
oos-pdp