Sunbeam® Hot-2-Trot Travel Iron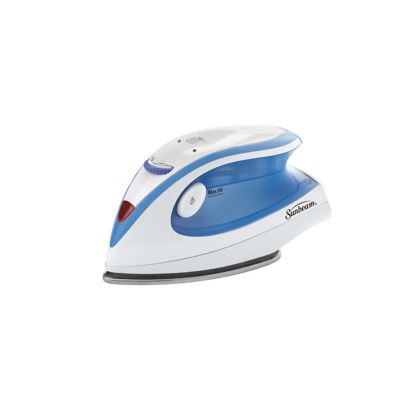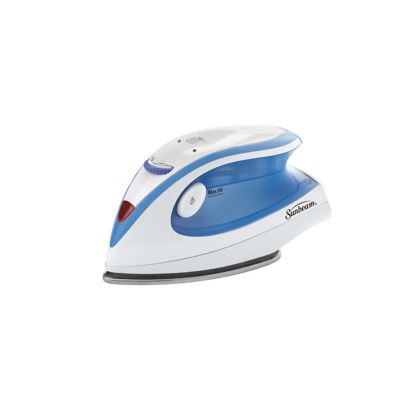 Sunbeam® Hot-2-Trot Travel Iron
Final Sale: may not be returned or exchanged
Selection will refresh the page with new results.
Final Sale: may not be returned or exchanged
Product Details
Description
The Sunbeam® Travel Iron is ideal for a neat, crisp look on the road. The iron's non-stick soleplate glides over fabrics easily and the dual voltage (240/120v) system is ideal for travel convenience. The Shot of Steam® feature presses out wrinkles and presses in creases. The variable temperature controls heat setting offers flexibility for various fabric types. It even has an indicator light that lets you know the iron is hot and a soft touch handle and dial to provide extra comfort. 1-year limited warranty.
Specifications
Additional SKUs:

GCSBTR100000

Dimensions:

3.40"H x 3.11"W x 6.53"L
Warranty
1 year limited waranty
Where to Buy
The following link will take you to a site outside of Sunbeam.
Rated

4

out of

5
by
Soccer2gi
from
Powerful things come in small sizes
From a guy who doesn't do a lot of ironing (and by that I mean none), this made me realize how easy it was. Over my course of using it I got plenty of compliments about how nice my clothes looked. The Sunbeam Iron Kept my work shirts neat and wrinkle free. The iron got my clothes done in hardly any time at all which I enjoyed. I expected it to take me a long time to get them looking good, but that wasn't the case at all. It did take a little while for the iron to cool down after I finished using it, but as I had no prior experience I'm not sure if this is a thing with all irons. I Got this Iron as part of a free sample and was very surprised about how much I enjoyed it.
Date published: 2014-08-05
Rated

4

out of

5
by
turnuptheevil
from
Great little iron!
I only travel once a year and I didn't get the Sunbeam Hot 2 Trot iron in time for my trip, unfortunately. I did, however use this iron to iron some dress clothes and also in arts and crafts (iron on letters). It heated up quickly but the light turned off when it reached my desired setting, which is confusing. I liked that the iron did not leave wet spots, as other irons I have used have. I didn't like that there is no on/off button (or not that I could find). It's simply on if it's plugged in and off if it isn't plugged in. *Disclaimer* I was sent a Sunbeam Hot 2 Trot Travel Iron as a sample review.
Date published: 2014-08-05
Rated

4

out of

5
by
ravend
from
Very Useful Travel Iron
The travel iron performed well both in applications that required steam and applications that required dry heat. The compact form made it easy to apply pressure and press out the garment. The only improvements I would make would be a little extra separation between the body and the plate (I accidentally touched the hot plate at one point because they were close together) and providing some way to wrap or otherwise secure the cord. The iron fit well in my suitcase and held up well to the bumps and bangs of baggage handling. **Note - I received this iron as a sample for review purposes**
Date published: 2014-08-06
Rated

2

out of

5
by
JessicaC
from
Very compact, but leaks and leaves clothes wet
Although impressed by it's compact size, I was most certainly NOT impressed by it's performance. This iron has three settings for temperature, which are not explained anywhere in the instruction manual. I choose the middle setting (symbolized with two dots, as opposed to one dot or three dots). It has a red light (which the manual calls a lens), which keeps popping on and turning off while I iron my clothes. I can only assume this means that it is heating intermittently, as the anti-wrinkling ability of the iron seemed intermittent as well. The worst part is that the water reservoir leaks like a broken faucet onto my clothes while ironing. When I first poured the water in, it literally left a puddle on the ironing board. As I ironed, it continued a steady drip all over my clothes. Make sure you (try to) iron your clothes with this iron the day before you need them - you'll need to let them dry before wearing them. Then be prepared to iron them with another iron before wearing them, to iron out the wrinkles that you missed with this tiny and semi-functional iron. Disclaimer: I received this product as a sample to review.
Date published: 2014-08-04
Rated

4

out of

5
by
Jenn
from
Compact in size, big in performance!
This iron really impressed me considering how small it is. Not only is it simple to store and bring with you on trips but it also performs like a full size iron! I was able to use this in place of my full size iron and found myself bringing it with me on every trip I made.. I would highly recommend this to anyone looking for a compact iron that can give you the same performance as a full size iron. I received this product as a sample to review and can honestly say this is my opinion and I was not influenced to provide a positive rating.
Date published: 2014-08-04
Rated

1

out of

5
by
Jan21
from
Not Impressed
I received this product as a gift. It leaked and Sunbeam very nicely replaced it. However, there is NO shut off switch to this iron. If you want to turn it off, you must unplug it. Very inconvenient. Also, if you use the shot of steam button more than once, the iron cools down and you have to wait for it to come back up to temperature.
Date published: 2014-12-09
Rated

5

out of

5
by
KBM Traveler
from
Everything a full size iron offers but for travel!
This was a great surprise! I received a sample iron several weeks ago and I have ended up using this exclusively. I iron every day. This iron has all of the bells and whistles of a full size iron but ready for travel. All of the features work well. I like that the steam works so well, and the surface of the iron itself is so very well made. I have had opportunity to use it at home as well as travel and it has performed greatly. I like the design of the handle and that it has so many options for adjusting for all kinds of cloth. It works as well as my full size iron, just takes a little longer to finish the work. I do wish it would come with a travel bag, so that the cord would stay confined to my luggage. It is nice that the cord is designed to "lock" into itself at the base of the plug. Kudos for the best travel iron I have ever owned!
Date published: 2014-08-05
Rated

5

out of

5
by
deanna40701
from
Great Travel Iron
When I unpacked the Hot-2-Trot I was skeptical. But, it's not only a great travel iron, it can be used for projects around the house! I immediately noticed it had dual voltage, which is a plus for international travelers. The steam feature made removing wrinkles from my linen pants quick and easy. Because it is compact I am able to pack it in my luggage without taking up too much space. This iron actually exceeded my expectations! *Disclaimer* I was sent the Sunbeam Hot-2-Trot travel iron as a sample for product review.
Date published: 2014-08-11
bvseo_sdk, dw_cartridge, 18.2.0, p_sdk_3.2.0
CLOUD, getReviews, 0ms
reviews, product
---
<!--begin-bvseo-questions--> <!--begin-questions--> <div id="bvseo-questionsSection"> <div class="bvseo-question-answer" data-questionid="2171842"> <h2 class="bvseo-question"> The red light turns on for a few minutes and then turns off and then turns back on a few minutes later while it&amp;rsquo;s still plugged in. Is the iron supposed to do this? </h2> <div class="bvseo-question-detail"> </div> <div class="bvseo-author">Asked by: Russell2020</div> <div class="bvseo-answer" data-answerid="1997644"> Hey there! Thanks for reaching out. The intervals for this iron when it is on steam ironing and dry ironing is 2 minutes for pre-heat setup and it has 3 second interval for Shot of Steam&amp;reg; feature that&#39;s the reason why the light turns off and after few minutes it goes back again. <div class="bvseo-author">Answered by: Sunbeam Consumer Care</div> <div class="bvseo-pubdate">Date published: 2021-01-10</div> </div> </div> <div class="bvseo-question-answer" data-questionid="2204581"> <h2 class="bvseo-question"> My Hot-2-Trot Travel Iron was left on overnight apparently. This morning it won&#39;t work. Did it likely suffer from some overheating that killed its controls or is there a process by which something can be reset? </h2> <div class="bvseo-question-detail"> </div> <div class="bvseo-author">Asked by: Sewingfool</div> <div class="bvseo-answer" data-answerid="1996955"> Oh no! That is definitely not the kind of experience that we want you to have. Our irons were made with the highest quality materials and we expect them to last. We aim to provide great quality products and we&#39;d like for you to be completely satisfied with your purchase and get the product&#39;s full benefit. &#13;&#10;&#13;&#10;Please follow these steps: &#13;&#10;-Verify there is no physical damage to the cord of the iron&#13;&#10;-Try a different appliance (such as a small lamp) in the outlet to ensure the outlet is functional. &#13;&#10;-Try plugging the iron into a different outlet to see if the unit starts to work.&#13;&#10;&#13;&#10;Hope this helps!. <div class="bvseo-author">Answered by: Sunbeam Consumer Care</div> <div class="bvseo-pubdate">Date published: 2021-01-10</div> </div> </div> <div class="bvseo-question-answer" data-questionid="2061649"> <h2 class="bvseo-question"> What does each dot mean? Either temperature, fabric, something? I did not see it on the manual. Thank you. </h2> <div class="bvseo-question-detail"> </div> <div class="bvseo-author">Asked by: Kay613</div> <div class="bvseo-answer" data-answerid="1996370"> Hey there! Thanks for reaching out. The dots that is on buttons of the iron are minimum and max for the heat of the iron. <div class="bvseo-author">Answered by: Sunbeam Consumer Care</div> <div class="bvseo-pubdate">Date published: 2020-10-05</div> </div> </div> <div class="bvseo-question-answer" data-questionid="2022686"> <h2 class="bvseo-question"> The instructions say to use tap water...Our water has high iron content. Should I or could I use distilled or filtered water? </h2> <div class="bvseo-question-detail"> </div> <div class="bvseo-author">Asked by: Siesta211</div> <div class="bvseo-answer" data-answerid="1994754"> Hey there! Thanks for reaching out. You may use either the filtered or the distilled water. <div class="bvseo-author">Answered by: Sunbeam Consumer Care</div> <div class="bvseo-pubdate">Date published: 2020-10-02</div> </div> </div> <div class="bvseo-question-answer" data-questionid="1620043"> <h2 class="bvseo-question"> How can you tell which voltage the iron is set on&amp;nbsp; </h2> <div class="bvseo-question-detail"> </div> <div class="bvseo-author">Asked by: Hamtax2</div> <div class="bvseo-answer" data-answerid="1775997"> Good question! Our iron products should be plugged to 110 voltage outlet.&#13;&#10;&#13;&#10;If you need further assistance, kindly give us a call at 1-(800)-892-7684 and we will get you all taken care of. For your convenience, we are available Mon-Fri 9am-6pm, EST. <div class="bvseo-author">Answered by: Sunbeam Consumer Care</div> <div class="bvseo-pubdate">Date published: 2020-07-10</div> </div> </div> <div class="bvseo-question-answer" data-questionid="1695469"> <h2 class="bvseo-question"> Hello..I live in the US and presently traveling in Australia. I have the Sunbeam Hot to Trot travel iron with me. I know it converts to 240v but when I look at the black slide button I&amp;rsquo;m not sure in which position it should be. Can you help? </h2> <div class="bvseo-question-detail"> </div> <div class="bvseo-author">Asked by: Tahoe</div> <div class="bvseo-answer" data-answerid="1773238"> Thanks for reaching out! We would like to hear more about this so we can explain it further. Please call our Consumer Care Department at 1-800-667-8623 so we can speak to you directly. You can reach us between the hours of 9AM-6PM EST Monday-Friday. Talk to you soon! <div class="bvseo-author">Answered by: Sunbeam Consumer Care</div> <div class="bvseo-pubdate">Date published: 2020-07-10</div> </div> </div> <div class="bvseo-question-answer" data-questionid="1528360"> <h2 class="bvseo-question"> HOw much water does the tank hold? </h2> <div class="bvseo-question-detail"> </div> <div class="bvseo-author">Asked by: MarcT</div> <div class="bvseo-answer" data-answerid="1756572"> Great question! This iron need to have at least 1/4 full of tap water. <div class="bvseo-author">Answered by: Sunbeam Consumer Care</div> <div class="bvseo-pubdate">Date published: 2021-01-10</div> </div> </div> <div class="bvseo-question-answer" data-questionid="1492612"> <h2 class="bvseo-question"> What is the best way to empty water from steam tank? Have noticed small amount of water is left after steaming an item. </h2> <div class="bvseo-question-detail"> </div> <div class="bvseo-author">Asked by: Quilter1</div> <div class="bvseo-answer" data-answerid="1756251"> Good question! We recommend to unplug the iron, turn the iron upside down, open the fill hole cover, and allow water to flow from the fill hole. Shake the iron gently to remove trapped water drops. <div class="bvseo-author">Answered by: Sunbeam Consumer Care</div> <div class="bvseo-pubdate">Date published: 2020-04-07</div> </div> </div> </div> <script type="text/javascript"> if (document.getElementById('bvseo-questionsSection')) { document.getElementById('bvseo-questionsSection').style.display = 'none'; } </script> <!--end-questions--> <!--begin-pagination--> <ul id="bvseo-paginationSection"> <li class="bvseo-paginationItem"><a class="bvseo-paginationLink" href="https://www.sunbeam.com/home-kitchen-appliances/irons-steamers/sunbeam-hot-2-trot-travel-iron/SP_345977.html?bvrrp=Main_Site-en_US/questions/product/2/SP_345977.htm">Sunbeam&reg; Hot-2-Trot Travel Iron Questions - page 2</a></li> </ul> <!--end-pagination--> <ul id="BVSEO_meta" style="display:none!important"> <li data-bvseo="bvDateModified">y_2021, m_12, d_1, h_19CST</li> <li data-bvseo="ps">bvseo_bulk, prod_bvqa, vn_bulk_3.0.20</li> <li data-bvseo="cp">cp_1, bvpage1</li> <li data-bvseo="co">co_hasquestionsanswers, tq_37</li> <li data-bvseo="cf">loc_en_US, sid_SP_345977, prod, sort_[SortEntry(order=LAST_APPROVED_ANSWER_SUBMISSION_TIME, direction=DESCENDING)]</li> <li data-bvseo="diagnostics">clientName_sunbeam</li> </ul> <!--end-bvseo-questions--> <ul id="BVSEOSDK_meta" style="display: none !important;"> <li data-bvseo="sdk">bvseo_sdk, dw_cartridge, 18.2.0, p_sdk_3.2.0</li> <li data-bvseo="sp_mt">CLOUD, getContent, 0ms</li> <li data-bvseo="ct_st">questions, product</li> </ul>
product-detail-view
oos-pdp