Sunbeam® Hand Held Steamer Press Pad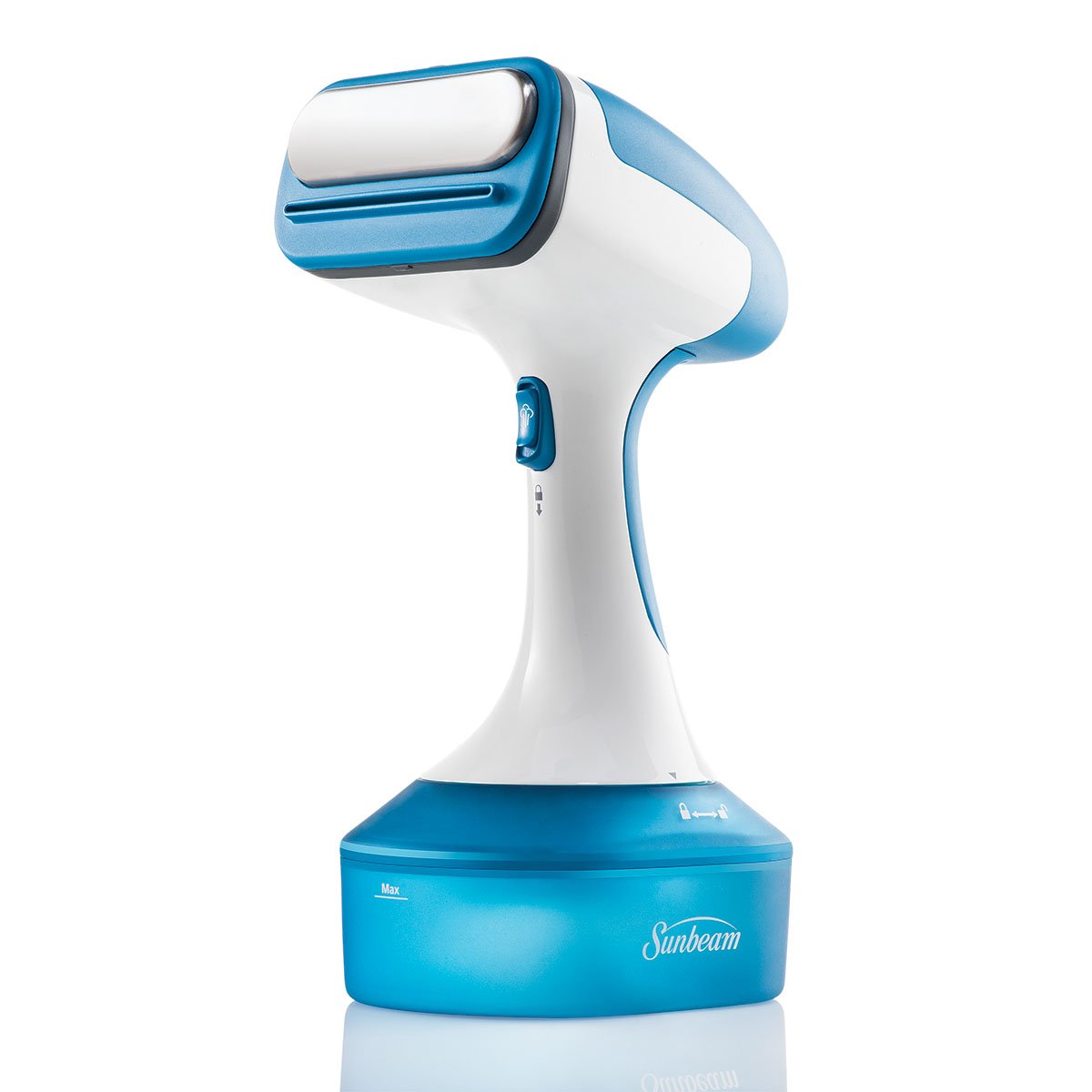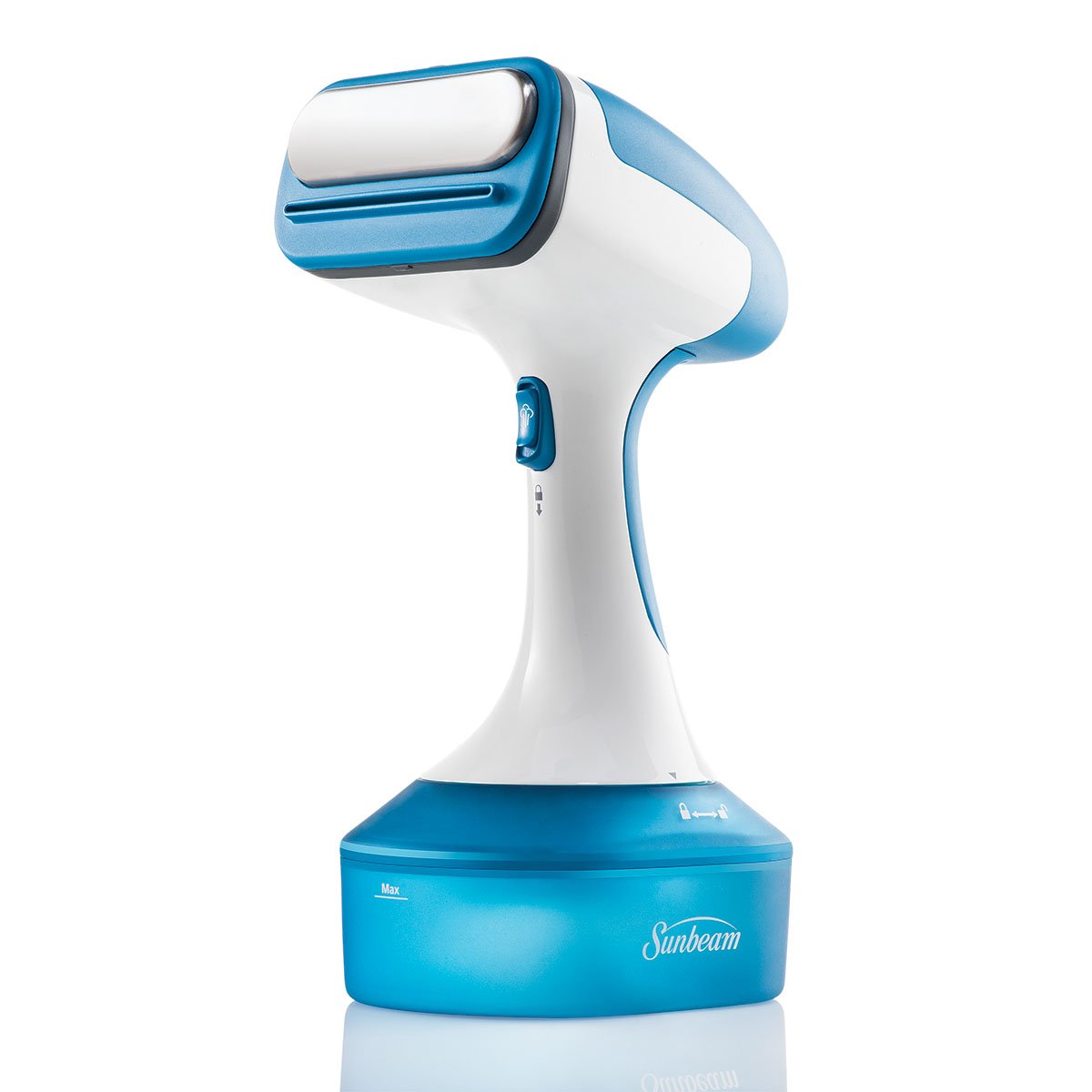 Sunbeam® Hand Held Steamer Press Pad
Final Sale: may not be returned or exchanged
Selection will refresh the page with new results.
Final Sale: may not be returned or exchanged
Product Details
Description
Sunbeam® fabric handheld steamer conveniently freshens garments quickly and easily for fast, wrinkle-free results. Powerful steam action deeply penetrates fabrics with 45% more steam per minute* to get a professional, dry-cleaned look, without the cost and makes ironing boards a thing of the past since it's designed to steam away wrinkles on hanging garments. Use around the house for sanitizing and deodorizing drapery, upholstery and bedding as the steam reaches temperatures hot enough to effectively kill dust mites and bedbugs. With up to 15 minutes of continuous steam, you can freshen up garment after garment without having to stop and refill the water tank. Includes accessories for delicate fabrics, heavier fabrics, lint removal and more.
Specifications
Additional SKUs:

GCSBHS100000

Dimensions:

11.22" H x 5.03" W x 6.88" D
Where to Buy
The following link will take you to a site outside of Sunbeam.
Rated

5

out of

5
by
Zinndlphn
from
Fabulous for a mom who dislikes ironing!
I love my Sunbeam fabric steamer! I am a newbie to using a fabric steamer, but I will never go back to ironing again. I had originally wanted a fabric steamer to steam my daughters prom dress , but I've been using it like crazy throughout my home. It is easy to use and store and heats up very quickly, which is fantastic when you're a single mom in a hurry. What I love most about it is that I can use it freshen up throughout the house, Sanitize mattresses, freshen up drapes and even couch cushions. I am so happy that I received this sunbeam fabric steamer to try in my own home and review. I definitely give it five stars. I love it!
Date published: 2016-03-14
Rated

5

out of

5
by
Kristieg2010
from
My new obsession
I am 33 years old and I have never owned a steamer but I've always wanted to. I had in my head what I thought a steamer could actually do compared to what an iron could do. I really really did not think this would work as well as my iron but boy was I wrong. The steamer has quickly become my new up session I find myself wanting to get the wrinkles out of EVERYTHING lol. The neat heated bar on it makes it press out the wrinkles effortlessly who the steam makes it look brand new! I highly recommend!! I did recieve this product free in the mail to review but it's worth every penny and I would buy it in the store if something were to happen to mine!
Date published: 2016-03-12
Rated

4

out of

5
by
nicholelenz
from
Very happy after a few weeks of using!
I've been using my steamer for almost three weeks now. Although I first felt it was kinda bulky and I wasn't able to get the right grip on it, it's now grown on me now that I'm comfortable with it! The lock on the steam button makes it easy to use. It pours out a lot of steam. The perfect amount to get the wrinkles out. Very happy with how hot it gets too! You could very easily burn yourself if you're not careful. I didn't think it would be as powerful as a regular iron, but I was wrong! It holds a lot of water too so I don't have to refill it during usage.. I think this will be a product that I can't live without from now on.
Date published: 2016-03-15
Rated

4

out of

5
by
Tbird18
from
Nice Little Steamer
I received this steamer about 2 weeks ago and started using it the next day. The steamer is nice and compact and produces a good amount of steam. I used it to steam wrinkles out of a blouse that had been folded for several months. The steamer got the wrinkles out without any problems. I also used the hot plate like an iron to press the sleeves and was pretty happy with the results. The only real issue I didn't like was that the steam made wet streaks on the shirt but when they dried it didn't leave any marks. It worked pretty good overall on the items I used it on. I received this item in return for my review.I did not get paid for this review.
Date published: 2016-03-11
Rated

4

out of

5
by
Bluth
from
Does exactly what it's supposed to do!!
This steamer does exactly what it is meant to do! It dewrinkles without ruining clothes. The shape of the steamer makes it easy to hold and the large water capacity helps me steak multiple garments without having to refill. The steamer itself is easy to use with easy to follow instructions. I especially enjoy how quickly it is ready to be used after turning it on. After steaming multiple fabrics I am very happy with this product! The only downfall is that it tends to spit water so if you are in a hurry your clothes may be wet and feel a little damp. Overall I recommend this product and am very happy! I received this product to test and am so glad I did
Date published: 2016-03-09
Rated

5

out of

5
by
tillywilly56
from
Great steamer for all your everyday needs.
Absolutely LOVE this steamer. I have tried many steamers in the past and they have all been extremely bulky, hard to use and overall did not do the job that I would have expected. But this steamer is lightweight, easy to use and does an AMAZING job. I took garments that would have taken me a long time to iron out and had the wrinkles out with this steamer within minutes of not seconds. It also has a long cord so you can steam long curtains as they hang on the wall. I love all the different attachments that this steamer comes with and they allow you to take care of everything with just one click. I received this steamer as a trial and I would highly recommend this to all of my family and friends
Date published: 2016-03-10
Rated

5

out of

5
by
Mkball25
from
Love This Steamer!
I absolutely love my Sunbeam Steamer. As soon as it arrived in the mail I ripped it out of the box and steamed my dining room drapes. It only took a few minutes and they look so much more finished now. My husband even walked in after and asked what I did to the drapes because they looked more "fluffy". I also steamed our bed and pillows because I read that the steam kills dust mites. That was very helpful since we have allergies and my husband has asthma. It is so much nicer not having to pull out the iron and ironing board when you just need a quick refresh or you forgot to iron! It makes busy mornings much less stressful. I definitely recommend purchasing this steamer. I love it! *Disclaimer* I was given this product to perform an honest review.
Date published: 2016-03-09
Rated

4

out of

5
by
TyTy
from
Fantastic
As soon as I received the steamer I thought it was really attractive and nice looking and I was excited to try it out. It's very small and easy to maneuver and it's probably the nicest one I've ever used I like that it doesn't have a hose that you have to carry it and use two hands to use. I gave it four stars because I feel like it could hold a little more water, other than that I really loved it it was really maneuverable and it cleaned up all the wrinkles my drapes I did the cushions on my couch and they smell way better my dog didn't make a good impression on my couch, but it's all fantastic now. I would highly recommend this and I'm very happy that I don't have to iron anymore. This was a sample unit I received in exchange for an honest review.
Date published: 2016-03-14
bvseo_sdk, dw_cartridge, 18.2.0, p_sdk_3.2.0
CLOUD, getReviews, 0ms
reviews, product
---
<!--begin-bvseo-questions--> <!--begin-questions--> <div id="bvseo-questionsSection"> <div class="bvseo-question-answer" data-questionid="2334729"> <h2 class="bvseo-question"> Hi, I have lost the blue bottom part where the water is filled. Wath can I do to order it? And how much is it? </h2> <div class="bvseo-question-detail"> </div> <div class="bvseo-author">Asked by: Moniacos</div> <div class="bvseo-answer" data-answerid="2024029"> Hey there! To further assist you obtaining a replacement part, please call our Consumer Care Department at 1-800-458-8407. For your convenience, we are available Monday-Friday 9:00 AM-5:00 PM, EST. We look forward to assisting you! <div class="bvseo-author">Answered by: Sunbeam Consumer Care</div> <div class="bvseo-pubdate">Date published: 2020-10-28</div> </div> </div> <div class="bvseo-question-answer" data-questionid="2319599"> <h2 class="bvseo-question"> Good night I am looking to buy 2 convertible steamer irons </h2> <div class="bvseo-question-detail"> </div> <div class="bvseo-author">Asked by: Veronica Browne</div> <div class="bvseo-answer" data-answerid="2017244"> Hey there! Thanks for reaching us out. As we pursue new pathways to bring our products directly to you, we are relying on our retail partners to offer you the best of Sunbeam products. Our Sunbeam irons are available at online and in-store authorized retailers and you can purchase on these following stores: Amazon, Walmart, Target, Bed, Bath &amp;amp; Beyond, Costco Wholesale, Meijer, Macy&#39;s, Kroger, Kohl&#39;s, QVC, Walgreens and The Home Depot. Have a good day! <div class="bvseo-author">Answered by: Sunbeam Consumer Care</div> <div class="bvseo-pubdate">Date published: 2020-10-21</div> </div> </div> <div class="bvseo-question-answer" data-questionid="2163222"> <h2 class="bvseo-question"> Good day! How do you clean the tip of the steamer? Mine has some build up that leaves spots on clothing when steaming. Thank you </h2> <div class="bvseo-question-detail"> </div> <div class="bvseo-author">Asked by: Coach Nas</div> <div class="bvseo-answer" data-answerid="1996898"> Oh no! That is definitely not the kind of experience that we want you to have. Our steamer were made with the highest quality materials and we expect them to last. We aim to provide great quality products and we&#39;d like for you to be completely satisfied with your purchase and get the product&#39;s full benefit.&#13;&#10;&#13;&#10;It is recommended to clean your Steamer every two months to reduce mineral buildup that can affect the performance of your unit.&#13;&#10;1. Turn off the unit and let it cool completely.&#13;&#10;2. Remove water tank and make sure it is empty.&#13;&#10;3. Fill water tank with a solution of 50% white vinegar and 50% water up to the max level.&#13;&#10;4. Plug unit into electrical outlet and press trigger to run a full steaming cycle.&#13;&#10;5. Once steaming is finished, fill with clean water and repeat process until the vinegar odor is eliminated. <div class="bvseo-author">Answered by: Sunbeam Consumer Care</div> <div class="bvseo-pubdate">Date published: 2020-10-05</div> </div> </div> <div class="bvseo-question-answer" data-questionid="2152945"> <h2 class="bvseo-question"> Does this steamer have an automatic shut off?&#13;&#10;&#13;&#10;I have a Sunbeam toaster I bought in 1988. &amp;nbsp;It still works!!!! &amp;nbsp;I love it. &amp;nbsp;I hope this steamer lasts just as long. </h2> <div class="bvseo-question-detail"> </div> <div class="bvseo-author">Asked by: Roseann</div> <div class="bvseo-answer" data-answerid="1996809"> Hey there! Thanks for reaching out. The red power indicator light illuminates and will cycle on and off as the temperature is maintained, and in just approximately 45 seconds, the green ready light will also illuminate. The green light may cycle off, and the pump will stop if the temperature is too&#13;&#10;low to generate steam. <div class="bvseo-author">Answered by: Sunbeam Consumer Care</div> <div class="bvseo-pubdate">Date published: 2020-10-05</div> </div> </div> <div class="bvseo-question-answer" data-questionid="2016623"> <h2 class="bvseo-question"> I notice that the instructions for my new Sunbeam steamer say to store it upright. Is there any reason I can&amp;rsquo;t store it horizontally, on its side? The drawer where I would like to keep it is not deep enough to hold it standing upright. Thank you! </h2> <div class="bvseo-question-detail"> </div> <div class="bvseo-author">Asked by: TAGB</div> <div class="bvseo-answer" data-answerid="1994749"> Hey there! Thanks for reaching out. The Sunbeam&amp;reg; Power Steam Fabric Handheld Steamer can be stored by folding the cord in loops and store the unit in upright position, in a clean dry place with a flat, sturdy surface. Make sure the water tank is empty. If not, remove it and turn it upside down to ensure all the water empties out and avoid leaks. <div class="bvseo-author">Answered by: Sunbeam Consumer Care</div> <div class="bvseo-pubdate">Date published: 2020-10-02</div> </div> </div> <div class="bvseo-question-answer" data-questionid="1762008"> <h2 class="bvseo-question"> My steamer is making a clicking noise and not producing steam after heating up for several minutes. When the steam starts, the device makes a clicking noise when using the steam function to keep it on and after five minutes it stops producing steam.&amp;nbsp; </h2> <div class="bvseo-question-detail"> </div> <div class="bvseo-author">Asked by: ADOhio</div> <div class="bvseo-answer" data-answerid="1765357"> We thank you for reaching out! The water pump inside the unit detects the water level is low. Unplug and let it cool. Then refill the water tank. <div class="bvseo-author">Answered by: Sunbeam Consumer Care</div> <div class="bvseo-pubdate">Date published: 2020-04-13</div> </div> </div> <div class="bvseo-question-answer" data-questionid="1648258"> <h2 class="bvseo-question"> Does the model GCSBHS-100-000 of the Sunbeam hand held steamers come with the three accessories for $59.99? </h2> <div class="bvseo-question-detail"> </div> <div class="bvseo-author">Asked by: Brwats</div> <div class="bvseo-answer" data-answerid="1762704"> Great question! For us to further assist you, please call us at 1-(800)-892-7684 or connect with us via Live Chat. For your convenience our Consumer Care team is available Mon-Fri 9am-6pm, EST. We look forward on assisting you! <div class="bvseo-author">Answered by: Sunbeam Consumer Care</div> <div class="bvseo-pubdate">Date published: 2020-04-10</div> </div> </div> <div class="bvseo-question-answer" data-questionid="1684199"> <h2 class="bvseo-question"> Can you plug this steamer to a 240V power outlet?&amp;nbsp; </h2> <div class="bvseo-question-detail"> </div> <div class="bvseo-author">Asked by: Jenni Llyn</div> <div class="bvseo-answer" data-answerid="1762693"> Great question! This handheld steamer only supports 110-120 volts only. <div class="bvseo-author">Answered by: Sunbeam Consumer Care</div> <div class="bvseo-pubdate">Date published: 2020-04-10</div> </div> </div> </div> <script type="text/javascript"> if (document.getElementById('bvseo-questionsSection')) { document.getElementById('bvseo-questionsSection').style.display = 'none'; } </script> <!--end-questions--> <!--begin-pagination--> <ul id="bvseo-paginationSection"> <li class="bvseo-paginationItem"><a class="bvseo-paginationLink" href="https://www.sunbeam.com/home-kitchen-appliances/irons-steamers/sunbeam-hand-held-steamer-press-pad/SP_345975.html?bvrrp=Main_Site-en_US/questions/product/2/SP_345975.htm">Sunbeam&reg; Hand Held Steamer Press Pad Questions - page 2</a></li> </ul> <!--end-pagination--> <ul id="BVSEO_meta" style="display:none!important"> <li data-bvseo="bvDateModified">y_2021, m_12, d_1, h_19CST</li> <li data-bvseo="ps">bvseo_bulk, prod_bvqa, vn_bulk_3.0.20</li> <li data-bvseo="cp">cp_1, bvpage1</li> <li data-bvseo="co">co_hasquestionsanswers, tq_53</li> <li data-bvseo="cf">loc_en_US, sid_SP_345975, prod, sort_[SortEntry(order=LAST_APPROVED_ANSWER_SUBMISSION_TIME, direction=DESCENDING)]</li> <li data-bvseo="diagnostics">clientName_sunbeam</li> </ul> <!--end-bvseo-questions--> <ul id="BVSEOSDK_meta" style="display: none !important;"> <li data-bvseo="sdk">bvseo_sdk, dw_cartridge, 18.2.0, p_sdk_3.2.0</li> <li data-bvseo="sp_mt">CLOUD, getContent, 0ms</li> <li data-bvseo="ct_st">questions, product</li> </ul>
product-detail-view
oos-pdp