Sunbeam® Hand Held Steamer Press Pad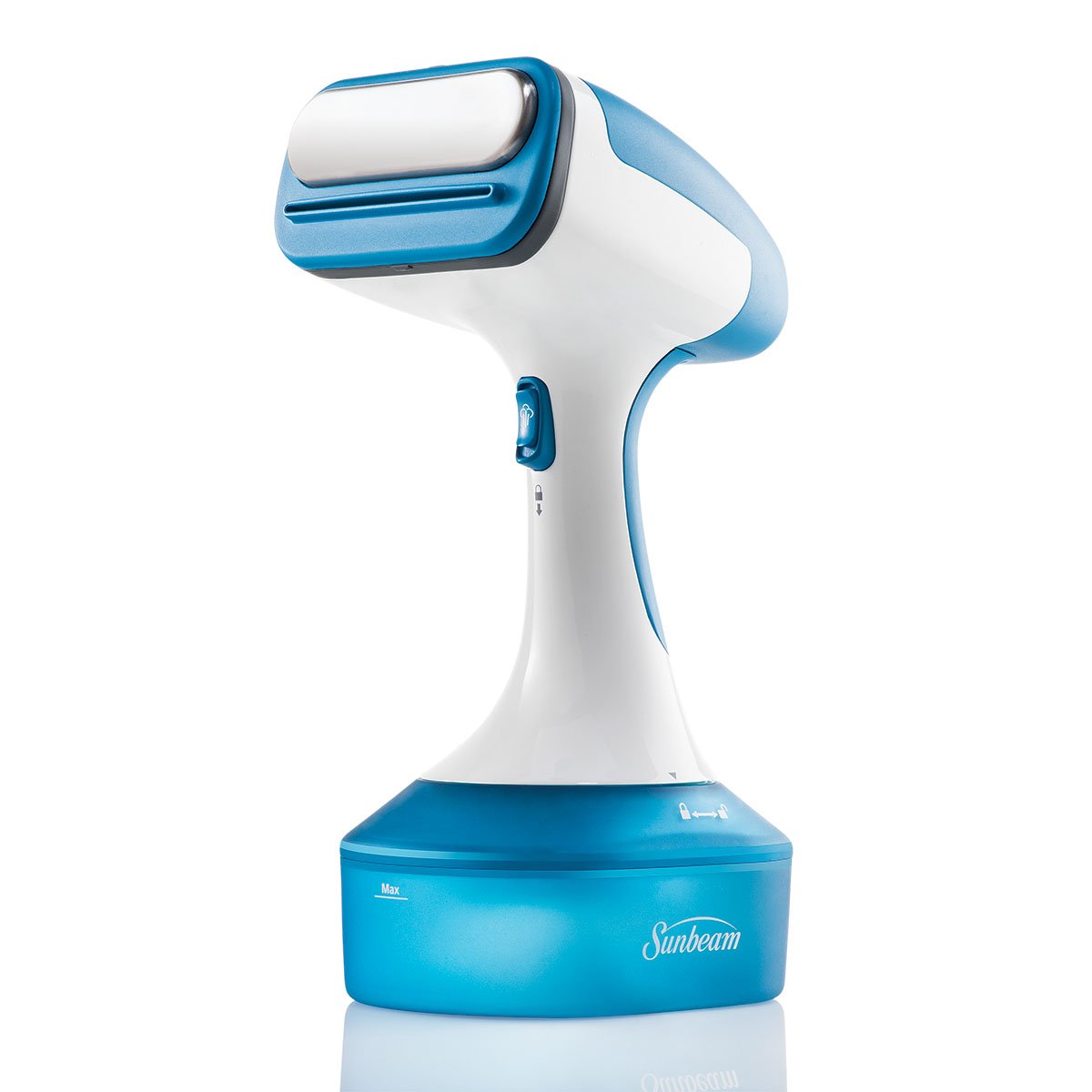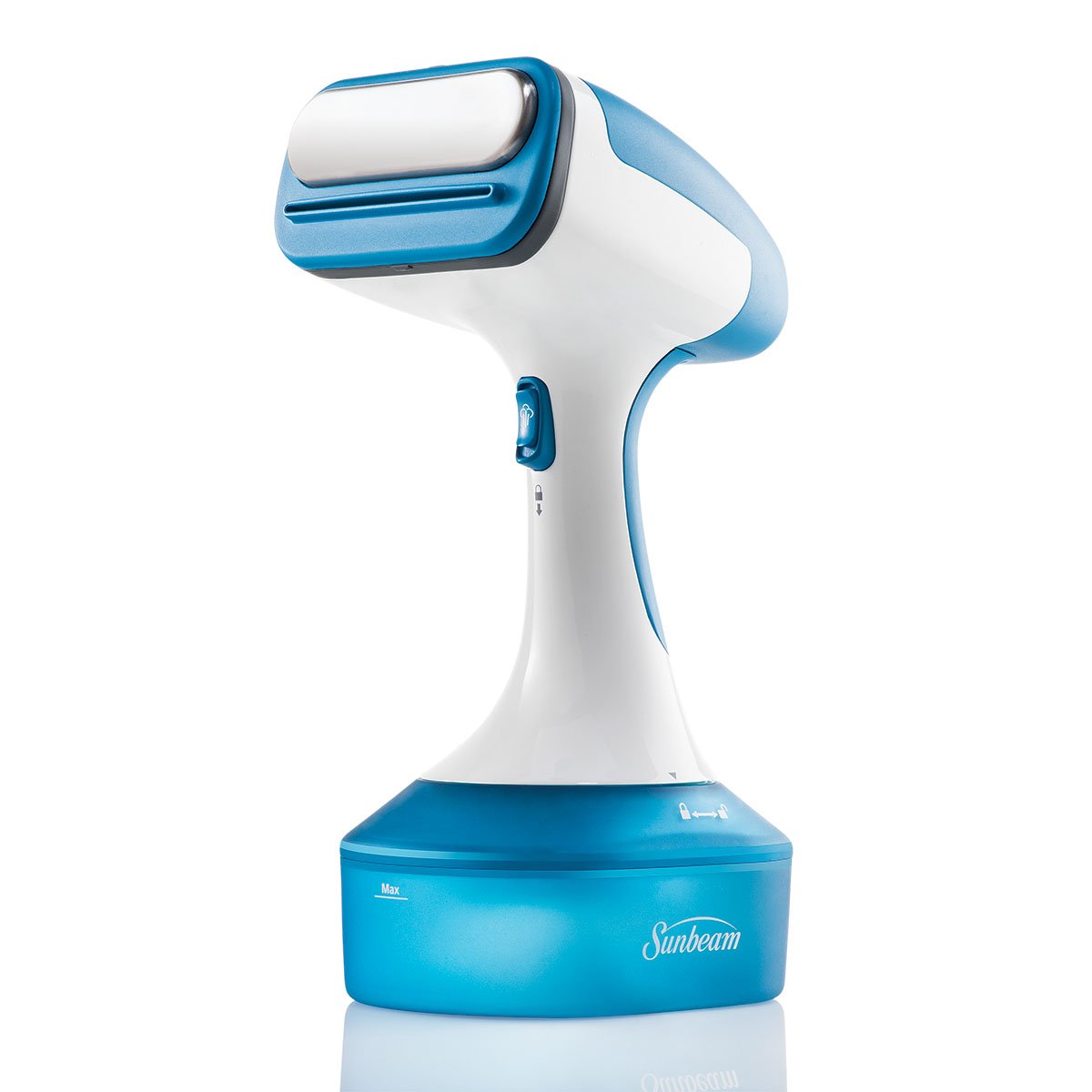 Sunbeam® Hand Held Steamer Press Pad
Final Sale: may not be returned or exchanged
Selection will refresh the page with new results.
Final Sale: may not be returned or exchanged
Product Details
Description
Sunbeam® fabric handheld steamer conveniently freshens garments quickly and easily for fast, wrinkle-free results. Powerful steam action deeply penetrates fabrics with 45% more steam per minute* to get a professional, dry-cleaned look, without the cost and makes ironing boards a thing of the past since it's designed to steam away wrinkles on hanging garments. Use around the house for sanitizing and deodorizing drapery, upholstery and bedding as the steam reaches temperatures hot enough to effectively kill dust mites and bedbugs. With up to 15 minutes of continuous steam, you can freshen up garment after garment without having to stop and refill the water tank. Includes accessories for delicate fabrics, heavier fabrics, lint removal and more.
Specifications
Additional SKUs:

GCSBHS100000

Dimensions:

11.22" H x 5.03" W x 6.88" D
Where to Buy
The following link will take you to a site outside of Sunbeam.
Rated

5

out of

5
by
DamonZ28
from
Great portable steam iron!
This is a great little portable handheld steamer. Right out of the box, it is easy to figure out, put together, and get started at steaming your clothing. Pour your water into the middle of the reservoir, up to the fill line indicated. Click it into the bottom of the steamer, plug it in, and you're quickly ready to go. Seems like it only takes about a minute to get warmed up. On the shirts & pants that I steamed, most wrinkles came out quite nicely - much better than I expected from a handheld steamer! Not quite as good as an iron - but surprisingly close! The protective hand guard protects your hand while you're steaming, at no time did my hand get close to the steam. I will be taking this to Florida on our vacation next month, to keep everything looking sharp! (Disclaimer - I received this steamer as a sample to review, but my opinions are honest and my own.)
Date published: 2016-03-15
Rated

3

out of

5
by
Randy111
from
It's just OK
A little hard to use. The shirt or pant still needs to be held in an awkward way to get the steamer to take the wrinkles out. Not sure it I'll use it or an ironing board. Also hard to install on the door. The side close to the door hinge is hard to make stay over the door corner. A little more useful for pants, but I found the ironing board still easier to use.
Date published: 2016-09-06
Rated

4

out of

5
by
busy mom
from
Great product
When I got the steamer I was excited with all the attachments that came with it. I really liked using using the product, because it was very easy to use and heated up very quickly. The one thing I was disappointed with it was when I was steaming a garment I had to make sure it was vertical. If the garment was horizontal the steamer would stop working and I had to place it down on the counter to cool before using it again. As a disclaimer I did receive this product as a sample.
Date published: 2016-03-15
Rated

3

out of

5
by
SarRan0210
from
Just Okay...
I liked this steamer because it is small and fits great in a suitcase without taking up too much room, as someone who travels every weekend I thought this would be a great tool, unfortunately I would not use it for dress wear. It just didn't seem to get it wrinkle free. I've used other steamers in the past and this is very comparable. If you are in a hurry and needing something to look "okay" then this will work for you, otherwise stick to an old fashion iron. I was given this product for free or at a reduced cost for my honest opinion
Date published: 2016-03-11
Rated

5

out of

5
by
Maze949
from
Works great--pleased with the results!
I've been using this Sunbeam steamer for the past few weeks now, and have to say that I've been very pleased with the results. It heats up quickly, and I like that it has multiple settings. I also like that it has a large water reservoir, for extended steaming time, and it puts out a wide area of steam for removing wrinkles AND to disinfect, without it being bulky--making it easy to maneuver, transport and store. It has a sleek, contemporary look to it, as well. The one and only drawback I found, was many of the pictures (including those on the box) make it appear as if it's cordless--it isn't, but that by no means, posed a problem. I definitely enjoy the product, and would highly recommend it. Please note: I received this Sunbeam steamer as part of a product test, pledging to give my honest and candid feedback.
Date published: 2016-03-10
Rated

5

out of

5
by
LindyLouWho
from
Very Impressed!
The steamer is very powerful! I'm quite impressed. I love the long cord. It is very helpful. Both the steam action and the heated press bar work very well and efficiently. The unit heats up instantly which is very nice also. The only negative I found was that the water tank is difficult to rotate to unlock, Especially because it is rather large to have to grasp with one hand, and even more so since I have arthritis in my hands. It would be nice if the bottom portion of the water tank would have small indentations in it to make it easier to grasp. My usage of this was with the steam handle accessory attachment, since I wanted the maximum amount of heat and steam. I was given this product for free, and my usage of it was for review purposes.
Date published: 2016-03-09
Rated

5

out of

5
by
shuga
from
Even steam output
Excellent device that heats up in 45 seconds. The steam box s evenly distributed and has a low-high function to adapt to fabric type. The water reservoir is large enough to do steam several items before refilling yet not too bulky. This device fits well in hand. Plus- it has an extra long cord which has already been an asset. We were going to buy a floor steamer but after researching the various products. This was the best option and was less expensive.
Date published: 2018-01-02
Rated

4

out of

5
by
SleepyMom
from
It works great!
The product packaging and pictures made it look as if the steamer was cordless, and I was a little disappointed that it was not (in retrospect I realize this is quite naive) however it does come with a nice long cord giving you plenty of maneuverability. The item itself feels like it's made strong and durable with a solid reassuring connection to its water tank when you twist/lock it into place. The functionality is really straightforward and it's quick to heat up and start using! It works great! Easily removes wrinkles and freshens up upholstery. My only concerns after a few uses on different types of items and for different purposes: (Steamed my curtains to clean and freshen them, de-wrinkled blouses and work shirts and attempted to press scrunched up apron strings) Be Careful! The unit will spout out little bits of steam while sitting untouched once it is heated up and ready, it also does this while its unplugged and cooling down, so make sure to keep it pointed in a safe direction at all times to avoid the surprise spout of steam. The little plastic attachments are pretty flimsy, I'm not sure how long they will last, they are also super easy to pop right off if you accidentally bump them the wrong way. They really aren't necessary for anything though and it won't stop me from getting all the same functionality out of it. There is no distinct click to signify if you have slid the button down to create the continuous stream so it's actually harder to use it by shooting as you go, than it is to just let it stream until you are done. Overall I'm quite happy with the product and foresee our family getting a good deal of use out it. My favorite part is the ability to turn it so that I can direct the steam straight down! This is useful for not only getting the wrinkles out, but using it to steam and clean my upholstery and mattresses. Disclaimer: I received this product as a sample to review.
Date published: 2016-03-10
Rated

5

out of

5
by
pettish321
from
Awesome Steamer!
I got this and just love it. I made new drapes for my entire house and steam pressed them perfectly. Initially, out of the box it took about 10 minutes to start and I thought something was wrong but once it started up it just poured out the steam. It is kind of heavy b/c it holds a lot of water (as heavy as a small water bottle). I really love it and can find all kinds of uses for it. I would definitely recommend it.
Date published: 2016-05-02
Rated

3

out of

5
by
jreaves
from
just ok
I was given this a sample to review. I was excited in hopes that it worked as well or better than an iron. I was not that impressed. Irons definately perform better; however, it does dewrinkle on clothing with screenprints and very delicate items which an iron might ruin. Also, you will need a hanger with a swivel head to hang over door. Convenient for traveling since no need for ironing board.
Date published: 2016-03-12
Rated

5

out of

5
by
Cash1017
from
Perfect on the go solution
This steamer is the perfect solution for someone who needs to knock the wrinkles out in a hurry. I hate ironing. I hate having to heat the iron, get out the ironing board and having to putt all that away when I'm done. What if you could defeat wrinkles while your clothes are still on the hanger? That's what you get with this steamer. It compact, portable, and incredibly effective on all types of clothing. This is the product you need if you hate ironing, like me. *I received this product as a free demo in exchange for my honest opinions
Date published: 2016-03-10
Rated

4

out of

5
by
Jimmycrackedcorn
from
Worth every penny
It's a great steamer. Heats up quickly, easy to use, and simple to store. I have used it for about two weeks now and used it almost everyday. Wish it was a little easier to store the cord, but it could be much worse. I use this more than my iron!! I would recommend it to all of my friends. It's Graf for the price. I do have to say I saw the price, but I received this as a sample.
Date published: 2016-03-14
Rated

1

out of

5
by
mj123
from
I will not recommend this product.
Did you see pictures of this product closely? They did a great job on pictures to hide a cord on this product. This product has a cord! The pictures are very deceiving. I will be very cautious if I have a chance to buy Sunbeam products( though I don't think I will ever want to buy their products anymore). About the functional aspects, I tried to remove wrinkles on my shirts, but it did do its job at all. It produced a lot of steams, though. That's all. I also tried to remove odor from towels or bath mats, but I did not notice any changes of odor. To looks some pictures on this website, they show how easy to use the steamer for women. But, it was very heavy when the water tank was full and very tiring to keep it in my hand. Using an ironing is much better than using this product. Do not waste your money!
Date published: 2016-03-09
Rated

5

out of

5
by
Allie M
from
The best and fastest!
Are use this for the first time in Cabo because this is what the Hotel had I was a bit freaked out because I wanted an iron but after using this for an entire week on everything I am buying one absolutely the best thing and the fastest!
Date published: 2021-09-15
Rated

2

out of

5
by
ADOhio
from
Beware! Works for short time
I bought this steamer and did not use it for several months. When I started to use it, it worked very well. Now it heats up but no steam and the steam button makes a clicking noise when engaged. Very odd.
Date published: 2019-12-09
Rated

1

out of

5
by
HockeyCoachBen
from
Could be better. Not impressed!
First of all, all the photos I've seen of this product are grossly misleading. They all give you the impression that this is a cordless product when it definitely is not. Secondly, the product is quite large and cumbersome to deal with compared to other, much more portable steamers that I have used. And to top it all off, it really doesn't do a great job of steaming your clothes. Overall, I am unimpressed.
Date published: 2016-03-11
Rated

1

out of

5
by
Roman
from
Leaking!!
water flows continuously instead of steam... all the time
Date published: 2019-10-17
Rated

2

out of

5
by
issy
from
Not impressed
I've been wanting to get a steamer in hopes of quickly and efficiently removing wrinkles from my dresses, shirts and numerous other items while avoiding the ironing I've been wanting to get a steamer in hopes of quickly and efficiently removing wrinkles from my dresses, shirts and numerous other items while avoiding the ironing board and iron. I was excited about the features including the lock button for steam and the extra attachments, especially the lint attachment because we have three dogs. I had hoped my views of this product would change with more use. Perhaps they still will. However, I tried this with all the different headings and on all types of fabrics from sheer curtains to dress shirts to a corduroy dress and was not impressed. I was unable to remove wrinkles from anything completely except one item that was the sheer overlay on a dress. The amount of time I found necessary to remove wrinkles seemed extremely long and even after constantly moving the steamer over the same garment for a few minutes, wrinkles still stayed. I pulled fabrics taut while steaming as well. The lint attachment didn't impress me much. You need a perfectly flat item to use it on, which makes dress shirts or buttoned pants impossible. I couldn't a few dog hairs to move from the couch. There seemed to be condensation often, even after making sure the product was dry when starting. Many times, it left wet spots on garments. My arm would ache from holding the steamer so long trying to remove wrinkles that it was a pain. I did find that if I laid it down and used it like I would an iron, it worked ok. Not great, but ok. But this defeats the entire purpose of having a steamer if I'm treating it like an iron. The only positives I have found after a few weeks of using are that it does heat up quickly, the locking steam button is great and while it didn't remove all the wrinkles from my sheer curtains, they look less wrinkled than they did and I didn't have to take them down to iron them. Overall though, not impressed
Date published: 2016-03-11
Rated

4

out of

5
by
TripleS
from
Easy to Use-Perfect for Travelling
The steamer is easy to use and has good additional attachments. The pieces are sturdy and it feels well made. It is small enough to easily pack in a suitcase, so wrinkled clothes on a trip is no longer a worry. It works very quickly on smaller/lighter wrinkles, but does take a little bit to work on deeper creases. I did receive this product to sample and review.
Date published: 2016-03-15
Rated

4

out of

5
by
Sabin
from
Awesome product
I recieved this product as a sample. I am blown away. The machine is amazing and cuts time in half of my last steamer. I have recommended this to my parents and family memeber. The water resivoir is large and helps save time with all my laundry. If you are looking for a steamer then this is the one for you
Date published: 2016-03-14
Rated

3

out of

5
by
Livinoac28
from
Great Steamer!
This handheld steamer works great for little jobs that you may need done in a hurry. I received this prioduct as a sample for review and although I don't find it takes the place of a regualr iron it is great for touch ups or light weight fabrics. It does a great job steaming out wrinkles and heats up fast.
Date published: 2016-03-14
Rated

4

out of

5
by
Terrill
from
Good Steamer
I really like this steamer. Its very convenient and easy to use. I used it on my wife green screen that she uses for her photography business. She has been having a hard time ironing it out. But once I get the steamer, all I have to do was hang it up and the wrinkles came right on out.
Date published: 2016-03-14
Rated

3

out of

5
by
lucydiamond
from
good product
I've never used a steamer before, only an iron to de-wrinkle my clothes. I tried a few different types of shirts and hung them up against the wall. The hand steamer is pretty easy to use because of it's shape and size. I like the ready to use lights since my iron doesn't have that feature I'm always guessing when it's ready to use. The sunbeam steamer worked pretty well on my shirts that weren't totally wrinkly. It works well on small areas that are wrinkly. The downside is for a shirt that is completely wrinkly, it doesn't work too well as I discovered pulling the shirt to steam creates this stretchy tension and casuals the shirt to become loose. I had to throw it back in the dryer to fix that issue. Other than that this machine works pretty well. I really like that it's it's able to be ready for use in less than a minute and the lock down button helps when using the steamer for a long time. Overall this steamer if pretty useful for small to medium jobs. I probably wouldn't use it for large wrinkly clothing.
Date published: 2016-03-12
Rated

4

out of

5
by
KellyD
from
Love that you can use it on furniture
This steamer works very well. I love that you don't need an ironing board. You can hang your clothing up on the hanger and steam from there. I also love that you can use on furniture to freshen up and remove odors. I received this product as a trial, I did not purchase.
Date published: 2016-03-14
Rated

5

out of

5
by
SteamMama
from
AMAZING STEAMER!!
The Sunbeam Power Steam Fabric Steamer is amazing!! I can't say a bad thing about it. It is so quick due to 45% more stream! It's light weight and fits in my hand perfectly. It also heats up super fast. Disclaimer: I was given this product to try and review/rate.
Date published: 2016-03-14
Rated

5

out of

5
by
Ccross123
from
Love this product!!
I love the handheld steamer! It is great for traveling and easy to use. I use it instead of throwing my clothes in the dryer or ironing. It also gets the lint and dog hair off of my clothes easily. Highly recommended! I received this product to test and review.
Date published: 2016-03-11
Rated

5

out of

5
by
Ccross
from
Love this product!!
I use this steamer now instead of the iron or throwing my clothes in the dryer and it works much better! It even helps to get the dog hair and lint off. I love that it is portable and easy to use. I received this product to test and review.
Date published: 2016-03-13
Rated

4

out of

5
by
Working mom
from
Time saver!
I hate ironing! This handy steamer lets me steam and freshen my clothes in a simple, easy way- I love it and use it almost every day. The only drawback is that I wish it would last a bit longer- but for the convenience it is well worth it!
Date published: 2016-03-14
Rated

4

out of

5
by
Eddie30
from
Quick and Easy
I got one of these as a sample to try out and review. Very convenient way to get some wrinkles out of your clothes without having to pull out an ironing board. Warms up and starts working quickly. Would be easy to take on a trip.
Date published: 2016-03-11
Rated

5

out of

5
by
kathy07
from
Ssy goodbye to traditional ironing!
I'm using this steamer everyday to freshin up my clothes and its a great steamer plus an iron all in one. BEST part is the size. Very sturdy, lots of steam and you can slso iron. GET IT and you wont be sorry.
Date published: 2016-05-16
bvseo_sdk, dw_cartridge, 18.2.0, p_sdk_3.2.0
CLOUD, getReviews, 0ms
reviews, product
---
<!--begin-bvseo-questions--> <!--begin-questions--> <div id="bvseo-questionsSection"> <div class="bvseo-question-answer" data-questionid="1435468"> <h2 class="bvseo-question"> I bought the steamer yesterday and it seems to work very well. I plan to use it every day to unwrinkle the clothes i&amp;rsquo;ll be wearing that day. Should i still empty the water tank everyday? </h2> <div class="bvseo-question-detail"> </div> <div class="bvseo-author">Asked by: Camramos</div> <div class="bvseo-answer" data-answerid="1761712"> Good question! Yes. you need to empty the water tank after using it. <div class="bvseo-author">Answered by: Sunbeam Consumer Care</div> <div class="bvseo-pubdate">Date published: 2020-04-10</div> </div> </div> <div class="bvseo-question-answer" data-questionid="1521973"> <h2 class="bvseo-question"> I am really fascinated with your handheld steamer.&#13;&#10;Can I use in Korea?&#13;&#10;We use appliances in 220v.&#13;&#10;Please let me know. Thank you. </h2> <div class="bvseo-question-detail"> </div> <div class="bvseo-author">Asked by: Juno</div> <div class="bvseo-answer" data-answerid="1760908"> We appreciate your nice review! Our products can only used with 120 Volts and it should be plugged in directly to an outlet. Have a nice day! <div class="bvseo-author">Answered by: Sunbeam Consumer Care</div> <div class="bvseo-pubdate">Date published: 2021-05-16</div> </div> </div> <div class="bvseo-question-answer" data-questionid="1935207"> <h2 class="bvseo-question"> mine lights up but does not release any steam </h2> <div class="bvseo-question-detail"> </div> <div class="bvseo-author">Asked by: Cruisebabe</div> <div class="bvseo-answer" data-answerid="1759758"> We appreciate you reaching out to us.&#13;&#10;&#13;&#10;&#13;&#10;We have high expectations for our products here at Oster&amp;reg; and we would like to hear more about your experience with your unit.&#13;&#10;&#13;&#10;Please give us a chance to make it up to you. We urge you to please give us a call at 1-(800) 334-0759 and we will get you all taken care of. For your convenience, we are available Mon-Fri, from 9am-6pm, EST. We look forward to assisting you. <div class="bvseo-author">Answered by: Sunbeam Consumer Care</div> <div class="bvseo-pubdate">Date published: 2020-04-09</div> </div> </div> <div class="bvseo-question-answer" data-questionid="1934854"> <h2 class="bvseo-question"> Mine does not work. It heats up; light turns green but no steam.&amp;nbsp; </h2> <div class="bvseo-question-detail"> </div> <div class="bvseo-author">Asked by: Cruisebabe</div> <div class="bvseo-answer" data-answerid="1758880"> Thank you for reaching out to us! We are sorry to hear what happened to your steamer. In order to better assist you with your concern, kindly give us a call at (800) 892-7684 and we will get you all taken care of. For your convenience, we are available Mon-Fri 9am-6pm, EST. Have a great day! <div class="bvseo-author">Answered by: Sunbeam Consumer Care</div> <div class="bvseo-pubdate">Date published: 2020-04-08</div> </div> </div> <div class="bvseo-question-answer" data-questionid="1641283"> <h2 class="bvseo-question"> can I buy just a water tank for the Power Steam Fabric Handheld Steamer? </h2> <div class="bvseo-question-detail"> </div> <div class="bvseo-author">Asked by: CCLouise</div> <div class="bvseo-answer" data-answerid="1758611"> Thank you for your interest in our product. To better assist you with your concern regarding the replacement part that you need, you can purchase Sunbeam products and replacement parts at any of our retail partners.&#13;&#10;&#13;&#10;You may find this link helpful for the complete list of our online and in-store authorized retailers:&#13;&#10;&#13;&#10;https://www.sunbeam.com/retailers.html&#13;&#10;&#13;&#10;If you need further assistance, you can contact us through chat and/or email on this site. Our product specialists will be more than willing to assist you. For your convenience, we are available Mon-Fri 9am-6pm, EST. Have a great day! <div class="bvseo-author">Answered by: Sunbeam Consumer Care</div> <div class="bvseo-pubdate">Date published: 2020-04-08</div> </div> </div> <div class="bvseo-question-answer" data-questionid="1406387"> <h2 class="bvseo-question"> Can I use this steamer to clean Fabric? </h2> <div class="bvseo-question-detail"> </div> <div class="bvseo-author">Asked by: smunoz3</div> <div class="bvseo-answer" data-answerid="1758090"> Good question! Yes, it also freshens up fabrics and remove odor to help save on dry cleaning. Use around the home to steam drapery, upholstery and bedding to kill dust mites and bedbugs. <div class="bvseo-author">Answered by: Sunbeam Consumer Care</div> <div class="bvseo-pubdate">Date published: 2020-04-08</div> </div> </div> <div class="bvseo-question-answer" data-questionid="1812247"> <h2 class="bvseo-question"> Hello. What voltage does this take? Will it work in the UK? Thanks </h2> <div class="bvseo-question-detail"> </div> <div class="bvseo-author">Asked by: englishman</div> <div class="bvseo-answer" data-answerid="1752127"> We appreciate you reaching out to us.&#13;&#10;&#13;&#10;The range of the voltage is 110 to 120 volts however this is not recommended outside US because it needs to be plugged in to a 120V wall outlet. <div class="bvseo-author">Answered by: Sunbeam Consumer Care</div> <div class="bvseo-pubdate">Date published: 2020-04-03</div> </div> </div> <div class="bvseo-question-answer" data-questionid="1655589"> <h2 class="bvseo-question"> Is this product supported on 230/240V? </h2> <div class="bvseo-question-detail"> </div> <div class="bvseo-author">Asked by: Jackson Leah</div> <div class="bvseo-answer" data-answerid="1750046"> Great question! This Sunbeam&amp;reg; Power Steam Fabric Handheld Steamer supports 110-120 volts only. <div class="bvseo-author">Answered by: Sunbeam Consumer Care</div> <div class="bvseo-pubdate">Date published: 2020-04-01</div> </div> </div> <div class="bvseo-question-answer" data-questionid="1503809"> <h2 class="bvseo-question"> How does this product differ from the model GCSBHS-300 that I recently used at a hotel I was staying at? </h2> <div class="bvseo-question-detail"> </div> <div class="bvseo-author">Asked by: benh</div> <div class="bvseo-answer" data-answerid="1742729"> Good question! This Sunbeam&amp;reg; Power Steam Fabric Handheld Steamer has 15 Minutes of Continuous Steam, Heated Wide Wrinkle Remover Bar which designed to press out tough wrinkles and dry cloth fibers to prevent re-wrinkling, heats up and is ready-to use in less than 45 seconds. <div class="bvseo-author">Answered by: Sunbeam Consumer Care</div> <div class="bvseo-pubdate">Date published: 2020-03-26</div> </div> </div> <div class="bvseo-question-answer" data-questionid="1768975"> <h2 class="bvseo-question"> Where can I purchase this specific garment steamer? walmart.com is out of stock&#13;&#10;model no. GCSBHS-100-000 </h2> <div class="bvseo-question-detail"> </div> <div class="bvseo-author">Asked by: Dave Pajak</div> <div class="bvseo-answer" data-answerid="1742400"> Thank you for your interest in our product. Sunbeam is committed to giving our consumers an exceptional shopping experience both online and in stores. As we pursue new pathways to bring our products directly to you, we are relying on our retail partners to offer you the best of Sunbeam products. You may click the link below to check our retail partners as price may vary.&#13;&#10;&#13;&#10;https://www.sunbeam.com/retailers.html&#13;&#10;&#13;&#10;&#13;&#10;If you need further assistance, you can contact us through chat and/or email on this site. Our product specialists will be more than willing to assist you. For your convenience, we are available Mon-Fri 9am-6pm, EST. Have a great day! <div class="bvseo-author">Answered by: Sunbeam Consumer Care</div> <div class="bvseo-pubdate">Date published: 2020-03-26</div> </div> </div> <div class="bvseo-question-answer" data-questionid="1774447"> <h2 class="bvseo-question"> Can I order this directly from you. Can&amp;rsquo;t find one anywhere. &amp;nbsp; </h2> <div class="bvseo-question-detail"> </div> <div class="bvseo-author">Asked by: Like</div> <div class="bvseo-answer" data-answerid="1741880"> Thank you for your interest in our product. To better assist you with your concern regarding the replacement part that you need, you can purchase Sunbeam products and replacement parts at any of our retail partners.&#13;&#10;&#13;&#10;You may find this link helpful for the complete list of our online and in-store authorized retailers:&#13;&#10;&#13;&#10;https://www.sunbeam.com/retailers.html&#13;&#10;&#13;&#10;If you need further assistance, you can contact us through chat and/or email on this site. Our product specialists will be more than willing to assist you. For your convenience, we are available Mon-Fri 9am-6pm, EST. Have a great day! <div class="bvseo-author">Answered by: Sunbeam Consumer Care</div> <div class="bvseo-pubdate">Date published: 2020-03-26</div> </div> </div> <div class="bvseo-question-answer" data-questionid="1845770"> <h2 class="bvseo-question"> I dropped the water tank, is there a way to replace it? </h2> <div class="bvseo-question-detail"> </div> <div class="bvseo-author">Asked by: Diana502</div> <div class="bvseo-answer" data-answerid="1734856"> Thank you for reaching out to us! We are sorry to hear what happened to your steamer. In order to better assist you with your concern, kindly give us a call at (800) 892-7684 and we will get you all taken care of. For your convenience, we are available Mon-Fri 9am-6pm, EST. Have a great day! <div class="bvseo-author">Answered by: Sunbeam Consumer Care</div> <div class="bvseo-pubdate">Date published: 2020-03-20</div> </div> </div> <div class="bvseo-question-answer" data-questionid="1818841"> <h2 class="bvseo-question"> Hi &#13;&#10;Is your streamer work on 220v .. 50/60hz ?&#13;&#10;I tried yours in the Times Square Edition hotel in NYC .. I liked it and think to buy one, but my house in my country have 220v </h2> <div class="bvseo-question-detail"> </div> <div class="bvseo-author">Asked by: Gababtain</div> <div class="bvseo-answer" data-answerid="1731441"> Thank you for asking! All of our products that are sold in the United States and Canada are manufactured and UL approved for 110-120 voltage. We do not recommend using them in different countries due to the difference in voltage. Additionally, doing so will void your warranty. <div class="bvseo-author">Answered by: Sunbeam ConsumerCare</div> <div class="bvseo-pubdate">Date published: 2020-03-18</div> </div> </div> <div class="bvseo-question-answer" data-questionid="1725860"> <h2 class="bvseo-question"> how do i purchase this item from your site? I dont see an option to buy it. </h2> <div class="bvseo-question-detail"> </div> <div class="bvseo-author">Asked by: joanne1</div> <div class="bvseo-answer" data-answerid="1731200"> Thank you for reaching out! As we pursue new pathways to bring our products directly to you, we are relying on our retail partners to offer you the best of Sunbeam products. You can purchase Sunbeam products and replacement parts at any of our retail partners.&#13;&#10;You may find this link helpful for the complete list of our online and in-store authorized retailers:&#13;&#10;&#13;&#10;https://www.sunbeam.com/retailers.html&#13;&#10;&#13;&#10;If you need further assistance, kindly give us a call at (800) 892-7684 and we will get you all taken care of. You can also contact us through chat and/or email by visiting www.sunbeam.com. Our product specialists will be more than willing to assist you. For your convenience, we are available Mon-Fri 9am-6pm, EST. <div class="bvseo-author">Answered by: Sunbeam ConsumerCare</div> <div class="bvseo-pubdate">Date published: 2020-03-17</div> </div> </div> <div class="bvseo-question-answer" data-questionid="1741591"> <h2 class="bvseo-question"> Price. And delivery time pls </h2> <div class="bvseo-question-detail"> </div> <div class="bvseo-author">Asked by: Sadad6</div> <div class="bvseo-answer" data-answerid="1729853"> Thank you for showing interest! Price may vary depending on our retail store. You can purchase Sunbeam products and replacement parts at any of our retail partners. You may find this link helpful for the complete list of our online and in-store authorized retailers: https://www.sunbeam.com/retailers.html If you need further assistance, kindly give us a call at (800) 892-7684 and we will get you all taken care of. You can also contact us through chat and/or email by visiting www.sunbeam.com. Our product specialists will be more than willing to assist you. For your convenience, we are available Mon-Fri 9am-6pm, EST. <div class="bvseo-author">Answered by: Sunbeam ConsumerCare</div> <div class="bvseo-pubdate">Date published: 2020-03-17</div> </div> </div> <div class="bvseo-question-answer" data-questionid="1327403"> <h2 class="bvseo-question"> Does this product works with 220V or just 110v? </h2> <div class="bvseo-question-detail"> </div> <div class="bvseo-author">Asked by: Nirack</div> <div class="bvseo-answer" data-answerid="1361680"> We&#39;re glad you asked! All of our products that are sold in the United States and Canada are manufactured and UL approved for 110-120 voltage. We do not recommend using them in different countries due to the difference in voltage. Additionally, doing so will void your warranty. &#13;&#10;&#13;&#10;You may want to purchase our Hot-2-Trot Travel Iron that has a Dual Voltage System (240V and 120V) complete with the necessary adapters needed. It is a 800 Dual Wattage travel iron. You can view the iron from the link below.&#13;&#10;&#13;&#10;https://www.sunbeam.com/irons/casual-and-carefree-ironing-style/sunbeam-hot-2-trot-travel-iron/GCSBTR-100-000.html?src&#61;17ZS <div class="bvseo-author">Answered by: SunbeamSupport</div> <div class="bvseo-pubdate">Date published: 2018-11-01</div> </div> </div> <div class="bvseo-question-answer" data-questionid="758311"> <h2 class="bvseo-question"> How does the pad work? &amp;nbsp;How do I hang it? </h2> <div class="bvseo-question-detail"> </div> <div class="bvseo-author">Asked by: MarieandMark</div> <div class="bvseo-answer" data-answerid="1320885"> Sunbeam press heat model&#13;&#10;002014-915-001u.&#13;&#10;I know is posible to use 220 V &amp;nbsp; Electricity&#13;&#10;(R.Argentina) <div class="bvseo-author">Answered by: Alda caviglia</div> <div class="bvseo-pubdate">Date published: 2018-09-04</div> </div> </div> <div class="bvseo-question-answer" data-questionid="1222666"> <h2 class="bvseo-question"> I just got a new steamer, have had it heating up for 1/2 hour now and still no steam coming out...it&amp;rsquo;s really hot so don&amp;rsquo;t understand what I&amp;rsquo;m doing wrong? </h2> <div class="bvseo-question-detail"> </div> <div class="bvseo-author">Asked by: Marcia w</div> <div class="bvseo-answer" data-answerid="1275696"> We&#39;re sorry to hear that you are experiencing this with your steamer. So that we can get this all sorted out, please send us a message via live chat here on the site. For your convenience, our live chat is available Mon-Sat 9am-6pm, EST. &#13;&#10;&#13;&#10;You may also call in. Our phone number is 800-458-8407 and agents are standing by Mon-Fri 9a-6p EST. We look forward to hearing from you! <div class="bvseo-author">Answered by: SunbeamSupport</div> <div class="bvseo-pubdate">Date published: 2018-07-02</div> </div> </div> <div class="bvseo-question-answer" data-questionid="1208749"> <h2 class="bvseo-question"> what is the size </h2> <div class="bvseo-question-detail"> </div> <div class="bvseo-author">Asked by: hfisher6</div> <div class="bvseo-answer" data-answerid="1265190"> The dimensions are provided below:&#13;&#10;Height 1.000 IN, Width 19.3 IN, and depth is 15.6 IN. <div class="bvseo-author">Answered by: SunbeamSupport</div> <div class="bvseo-pubdate">Date published: 2020-01-18</div> </div> </div> <div class="bvseo-question-answer" data-questionid="1120931"> <h2 class="bvseo-question"> How many watts of power does it have? </h2> <div class="bvseo-question-detail"> </div> <div class="bvseo-author">Asked by: baybecc</div> <div class="bvseo-answer" data-answerid="1192466"> The Sunbeam&amp;reg; Power Steam Fabric Handheld Steamer can use up to 1200 Watts. Happy shopping! <div class="bvseo-author">Answered by: SunbeamSupport</div> <div class="bvseo-pubdate">Date published: 2018-03-12</div> </div> </div> <div class="bvseo-question-answer" data-questionid="1004820"> <h2 class="bvseo-question"> Hi how do you open and detach the water tank? </h2> <div class="bvseo-question-detail"> </div> <div class="bvseo-author">Asked by: Linsa</div> <div class="bvseo-answer" data-answerid="1024292"> To open and detach the water tank, please follow the steps below. Have a great day!&#13;&#10;&#13;&#10;1. Place Steamer on a flat surface.&#13;&#10;&#13;&#10;2. Hold the water tank with one hand while turning the steamer handle counterclockwise with other hand, until the arrow on the handle reaches the unlock symbol on the water tank. Lift the handle off the water tank. <div class="bvseo-author">Answered by: SunbeamSupport</div> <div class="bvseo-pubdate">Date published: 2017-12-07</div> </div> </div> <div class="bvseo-question-answer" data-questionid="855732"> <h2 class="bvseo-question"> How does this fit over the door? </h2> <div class="bvseo-question-detail"> </div> <div class="bvseo-author">Asked by: Manatea2</div> <div class="bvseo-answer" data-answerid="940207"> The Sunbeam&amp;reg; Hand Held Steamer Press Pad serves as a vertical board to press out tough wrinkles allowing you to steam right on the hanger. Using the ties, you can easily secure this press pad right to the hanger. <div class="bvseo-author">Answered by: SunbeamSupport</div> <div class="bvseo-pubdate">Date published: 2017-08-23</div> </div> </div> <div class="bvseo-question-answer" data-questionid="845324"> <h2 class="bvseo-question"> Does this pad come with the &amp;quot;velcro&amp;quot; clips? If it does not, can I buy the clips separately? My roommate had the steamer/pad/clips combo, and Id love to be able to purchase the pad and clips separately.&amp;nbsp; </h2> <div class="bvseo-question-detail"> </div> <div class="bvseo-author">Asked by: Lanie Lu</div> <div class="bvseo-answer" data-answerid="930131"> Our Sunbeam&amp;reg; Hand Held Steamer Press Pad features ties at the top of the pad for quick set-up right on the hanger. <div class="bvseo-author">Answered by: SunbeamSupport</div> <div class="bvseo-pubdate">Date published: 2018-02-08</div> </div> </div> <div class="bvseo-question-answer" data-questionid="821014"> <h2 class="bvseo-question"> When using the fabric brush, do you brush in ONE direction (e.g. all down) or is it up and down motion?&#13;&#10; Please clarify. Steamer is NOT getting out the wrinkles, and I&#39;d like some tips on best use. Thank you. </h2> <div class="bvseo-question-detail"> </div> <div class="bvseo-author">Asked by: No to iron</div> <div class="bvseo-answer" data-answerid="908690"> If your iron is not getting all the wrinkles out, we would like to walk you through some simple troubleshooting steps. Feel free to reach out to us using the live chat option on our website. We are available 9AM-6PM EST Monday-Saturday. <div class="bvseo-author">Answered by: SunbeamSupport</div> <div class="bvseo-pubdate">Date published: 2017-11-29</div> </div> </div> <div class="bvseo-question-answer" data-questionid="821007"> <h2 class="bvseo-question"> Hello,&#13;&#10;There are some stubborn wrinkles that won&#39;t come out - is there a &amp;quot;technique&amp;quot; in steaming? Specifically, if have vertical wrinkle line, do you steam ACROSS (horizontal) the line or ALONG (up &amp;amp; down) the wrinkle line to get it out? </h2> <div class="bvseo-question-detail"> </div> <div class="bvseo-author">Asked by: No to iron</div> <div class="bvseo-answer" data-answerid="908678"> Hi! The best steaming technique for getting out those stubborn wrinkles would be to follow the wrinkle line. This will give you the best results. <div class="bvseo-author">Answered by: SunbeamSupport</div> <div class="bvseo-pubdate">Date published: 2017-07-19</div> </div> </div> <div class="bvseo-question-answer" data-questionid="821009"> <h2 class="bvseo-question"> For steamg in direction of the nap of fabric that you mentoned, how do you tell which direction is nap in cotton or silk? </h2> <div class="bvseo-question-detail"> </div> <div class="bvseo-author">Asked by: Freed iron</div> <div class="bvseo-answer" data-answerid="908667"> By following the nap of the fabric, you would simply follow the direction in which the lines of the fabric are going. For additional help with your steamer, please give us a call at (800) 458-8407 so that we can assist you directly. If you would like to take advantage of our live chat option here on the web site, we are available 9AM-6PM EST Monday-Saturday. <div class="bvseo-author">Answered by: SunbeamSupport</div> <div class="bvseo-pubdate">Date published: 2017-07-19</div> </div> </div> <div class="bvseo-question-answer" data-questionid="819543"> <h2 class="bvseo-question"> I can&#39;t find the warranty information anywhere. How many years? It also doesn&#39;t list what attachments are included in the box. The video shows a garmet pad but it doesn&#39;t say it comes with it.&amp;nbsp; </h2> <div class="bvseo-question-detail"> </div> <div class="bvseo-author">Asked by: Etaf</div> <div class="bvseo-answer" data-answerid="907242"> Our Sunbeam&amp;reg; Power Steam Fabric Handheld Steamer comes with a 1 year warranty. In the &#39;Overview&#39; portion of the web page for this steamer it does state the following is included: Dual-Purpose Lint Brush and Steam Diffuser, Fiber Brush, Steam Handle. The pad you are referring to can be purchased separately: www.sunbeam.com/irons/accessories/sunbeam-hand-held-steamer-press-pad/184457-000-000.html/?src&#61;17ZS <div class="bvseo-author">Answered by: SunbeamSupport</div> <div class="bvseo-pubdate">Date published: 2017-07-18</div> </div> </div> <div class="bvseo-question-answer" data-questionid="809126"> <h2 class="bvseo-question"> Is low setting or High setting BEST for linen? Linen is a light material BUT is very hard to remove wrinkles. Not want to ruin material using wrong settg. Pls ask &amp;amp; find out if not know rather than leave Q unanswerd. TY. </h2> <div class="bvseo-question-detail"> </div> <div class="bvseo-author">Asked by: Freed iron</div> <div class="bvseo-answer" data-answerid="902139"> Since linen is a more durable material and may be more stubborn when removing wrinkles, we would recommend using the &#39;High&#39; setting. <div class="bvseo-author">Answered by: SunbeamSupport</div> <div class="bvseo-pubdate">Date published: 2017-07-10</div> </div> </div> <div class="bvseo-question-answer" data-questionid="809113"> <h2 class="bvseo-question"> Pls clarify answer Sunbeam. Asked do you have to brush out clothing BEFORE you start or at same time when steaming? OTHER BRAND steamers say before. Your answer is vague stating brush is on steamr. Is there best direction? Up &amp;amp; down OR across? </h2> <div class="bvseo-question-detail"> </div> <div class="bvseo-author">Asked by: Freed iron</div> <div class="bvseo-answer" data-answerid="898506"> Great questions! You can brush out the clothing at the same time when you are steaming. The fabric brush is an attachment that fits around the lint pad / steam diffuser. The best direction is usually with the nap of the fabric. The steamer can be used up and down for hanging garments or across the surface for bedding, sofas, and more. <div class="bvseo-author">Answered by: SunbeamSupport</div> <div class="bvseo-pubdate">Date published: 2017-07-05</div> </div> </div> <div class="bvseo-question-answer" data-questionid="806948"> <h2 class="bvseo-question"> How is fabric brush used? Do you brush clothing BEFORE start using steamer or can you brush WHILE steaming clothg? Are no instructions on use.&#13;&#10; If are supposed to use on &amp;quot;heavier&amp;quot; material, does that include cotton AND linen? What other materials? </h2> <div class="bvseo-question-detail"> </div> <div class="bvseo-author">Asked by: Iron freed</div> <div class="bvseo-answer" data-answerid="896440"> Pls clarify answer Sunbeam. Asked do you have to brush out clothing BEFORE you start or at same time when steaming? OTHER BRAND steamers say before. Your answer is vague stating brush is on steamr. Is there best direction? Up &amp;amp; down OR across? <div class="bvseo-author">Answered by: Freed iron</div> <div class="bvseo-pubdate">Date published: 2017-07-01</div> </div> </div> </div> <script type="text/javascript"> if (document.getElementById('bvseo-questionsSection')) { document.getElementById('bvseo-questionsSection').style.display = 'none'; } </script> <!--end-questions--> <!--begin-pagination--> <ul id="bvseo-paginationSection"> <li class="bvseo-paginationItem"><a class="bvseo-paginationLink" href="https://www.sunbeam.com/home-kitchen-appliances/irons-steamers/sunbeam-hand-held-steamer-press-pad/SAP_GCSBHS100000.html?&bvrrp=Main_Site-en_US/questions/product/3/SP_345975.htm">Sunbeam&reg; Hand Held Steamer Press Pad Questions - page 3</a></li> </ul> <!--end-pagination--> <ul id="BVSEO_meta" style="display:none!important"> <li data-bvseo="bvDateModified">y_2021, m_11, d_30, h_19CST</li> <li data-bvseo="ps">bvseo_bulk, prod_bvqa, vn_bulk_3.0.20</li> <li data-bvseo="cp">cp_2, bvpage2n</li> <li data-bvseo="co">co_hasquestionsanswers, tq_53</li> <li data-bvseo="cf">loc_en_US, sid_SP_345975, prod, sort_[SortEntry(order=LAST_APPROVED_ANSWER_SUBMISSION_TIME, direction=DESCENDING)]</li> <li data-bvseo="diagnostics">clientName_sunbeam</li> </ul> <!--end-bvseo-questions--> <ul id="BVSEOSDK_meta" style="display: none !important;"> <li data-bvseo="sdk">bvseo_sdk, dw_cartridge, 18.2.0, p_sdk_3.2.0</li> <li data-bvseo="sp_mt">CLOUD, getContent, 0ms</li> <li data-bvseo="ct_st">questions, product</li> </ul>
product-detail-view
oos-pdp