Sunbeam® Hand & Stand 5-Speed Mixer, Black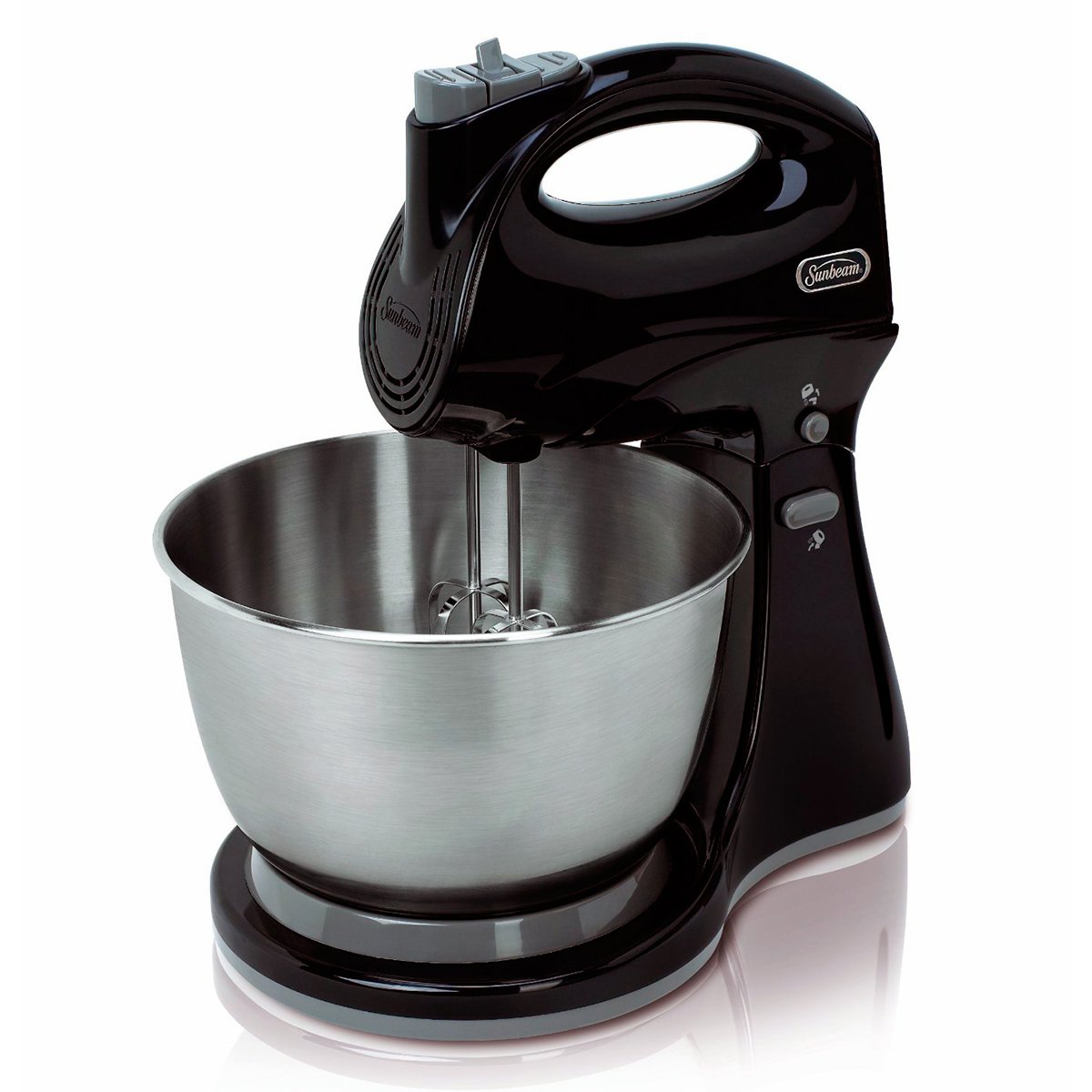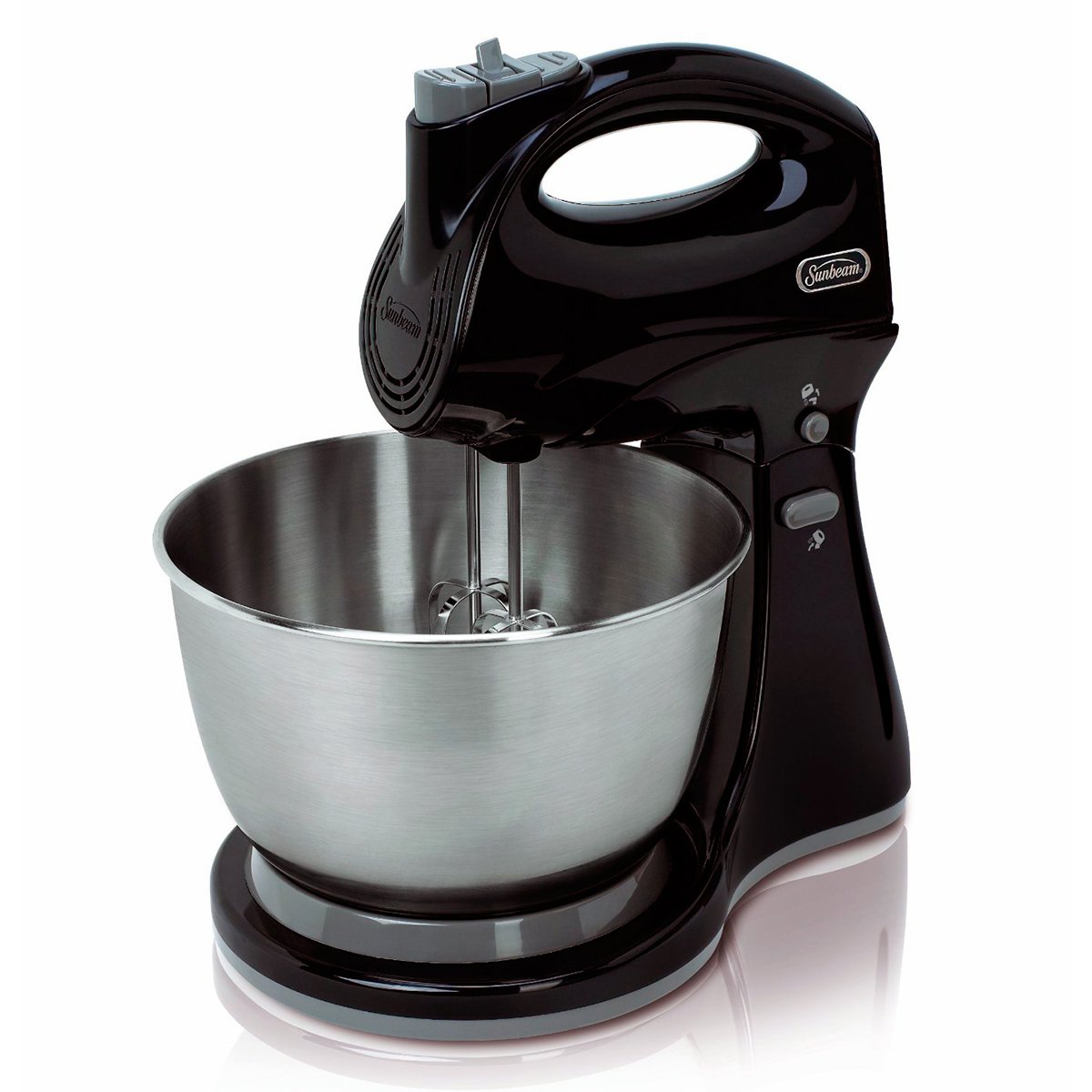 Sunbeam® Hand & Stand 5-Speed Mixer, Black
Final Sale: may not be returned or exchanged
Selection will refresh the page with new results.
Final Sale: may not be returned or exchanged
Product Details
Description
Two mixers in one make this combo mixer a must-have tool in the kitchen. Powerful 250-watt motor and 5 speed settings handle all mixing jobs and Burst of Power® provides an extra blast to mix smoothly and evenly. In just one touch, the stand mixer converts to a hand mixer for lighter tasks. 3-quart stainless steel bowl, chrome beaters and dough hooks are included.  
250-watt motor
5 variable speeds
Burst of Power® button
Includes 3-qt stainless steel bowl, chrome beaters and dough hooks
1-year limited warranty
Specifications
Additional SKUs:

FPSBHS0302NP

Dimensions:

12.4"L x 7.87"W x 13.15"H

Power Source:

Polarized Plug
Care & Maintenance
Turn the appliance OFF, then uplug from outlet when not in use, before putting on or taking off parts, and before cleaning
THIS PRODUCT IS FOR HOUSEHOLD USE ONLY
Product Disclaimer
Read all instructions before using this product.
Warranty
1 Year Limited Warranty
Where to Buy
The following link will take you to a site outside of Sunbeam.
Rated

5

out of

5
by
Susie G
from
Lite weight, easy to use...wonderful value!
Your kitchenaid stand mixer will stay packed away when you consider the weight, ease and value of use on this handy stand mixer. I use mine all the time to make great soufflés and other treats. I have bought four of them, one for home, 2 at our vacation homes and one as a gift. All have performed very well and lasted more than a year so far with no decrease in power or any other issues. The kitchenaid will work better for extremely heavy doughs the sunbeam will work great for everything else. I highty recommend it!
Date published: 2017-05-29
Rated

1

out of

5
by
janetcarlos
from
Would not buy
I bought one for my daughter for Christmas. The first time she used it the bowl did not come off easy. We figured it was user error and we would figure it out after a couple of times. The second time she used it the eject button got stuck so we are now unable to take the mixers off. very disappointed but i guess we got what we paid for. I went on line to see where i can get it fixed and the closest dealer to me is 40 minutes away. not very convenient for a $50.00 machine.
Date published: 2017-03-14
Rated

5

out of

5
by
HMLandry
from
Excellent and affordable.
I bought this about 2 years ago, and use it all the time. It's great, comes with dough hooks, beaters, and a nice deep bowl. It comes off the stand if you need to use it as a handheld. It has good power, good enough to beat through heavy cookie dough. I love this for basic mixing and bread/pasta dough making.
Date published: 2016-03-03
Rated

1

out of

5
by
CAKE BAKER
from
YOU GET WHAT YOU PAY FOR
Wanted a stand mixer and price was good. Extremely difficult and frustrating to detach mixer and/or beaters. Turntable does not turn. Granted you don't have to hold the mixer, but you are just as well off with any hand mixer and a bowl. Mixer now just taking up pantry space.
Date published: 2014-07-25
Rated

5

out of

5
by
liz1972
from
excellent
i love my sunbeam product and remember my mom using sunbeam as well. never fails to deliver. my mixer wet up in smoke after 15 year use. ill just have to buy a new one...worth the money!!
Date published: 2014-12-23
Rated

1

out of

5
by
Cheryl92
from
Poor
I used this mixer a few times and the beaters broke, you get what you pay for
Date published: 2015-09-16
Rated

4

out of

5
by
tuttie
from
I love it
dont have to worry about hand mixing anymore; works great
Date published: 2016-04-26
Rated

5

out of

5
by
krobitsch
from
loved this mixer
got this mixer for Christmas couple years ago I loved it! this last Christmas I was mixing cookie dough and started smelling something like wires burning. turns out it was my mixer. about a week later went to use it and wont turn on at all now.. bummer..
Date published: 2016-01-13
Rated

2

out of

5
by
Wendy88
from
Beaters
I have had this hand mixer with stand for some time and the regular beaters are starting to rust is this a common problem? I am rather disappointed my mother has the a hand mixer she has used for 20 yrs and her beaters have never rusted.
Date published: 2016-06-21
Rated

4

out of

5
by
Anonymous
from
One design flaw
A great mixer with one flaw - The button on the stand for tilting the beaters up is tremendously weak and breaks easily.
Date published: 2020-11-01
Rated

5

out of

5
by
Kenn
from
Great Mixer
Bought for my wife she needed a replacement, now I need one for myself.
Date published: 2017-01-27
Rated

4

out of

5
by
amyd
from
Good....But Not a Kitchen Aid, Of Course
Good though had a little problem whipping butter :)
Date published: 2014-12-29
Rated

4

out of

5
by
Tlm3
from
Love the product; disappointed w customer service
Mixer works great! Disappointed with shipping fee.
Date published: 2016-04-17
Rated

2

out of

5
by
3am Baker Lady
from
Best for most boxed cake mixes
We got this as a gift. Having grown up with my mother's ancient Mixmaster, I was very disappointed in the minimal speed control - speed is either fast, faster, really fast, egg whites and splatter. However, my brother's 9 year old is learning how to bake, and for the most simple mixes and basic cake recipes it's perfectly adequate. I wasn't sure how it would handle an old-fashioned pound cake recipe, but it did well enough. She and I joke about the smoking electronics smell - this really isn't the model for years of service. If you have a young person who's learning to bake and nobody's sure if he or she will stay with their interest, this is a decent starter model. If you just blew the gears on your Cuisinart, your cat or puppy just chewed through the cord on your Hobart or 5 or 6 qt. pro and the birthday party's the day after tomorrow, or you need a cheap Passover model for those 8 days only, this is probably what you want. If it isn't an emergency and you need a good mixer with dough hooks for more types of mixing needs, save the cash, get something with better speed control. That's probably my biggest gripe - but I'm a semi-pro baker and was spoiled for a few years with pro models big and powerful enough to break your arm off.
Date published: 2015-12-29
Rated

1

out of

5
by
Michaela
from
Flimsy trash. No service centers.
I used it to make wheat flour dough for bread a couple times. The last time, which was the 4th time i'd used it in the month I've had it, one of the dough hooks snapped clean in 2 while it was kneading the bread dough. They're pretty flimsy for supposedly being metal. That's why I'm on here, to see about replacement hooks. It looks I'll have to call them & prob. pay to order more, & I've no reason to suspect the replacements will be any stronger than these were. Additionally, I looked up service centers for both my state, AR, & my daughters state of IL. I was informed there were no service centers in either state......not even around around Chicago!! Ridiculous! So my recommendation is to get a better, tougher mixer from the get go. I regret buying this one. They're trash. Better to just set your money on fire & save the hassle.
Date published: 2018-11-29
Rated

5

out of

5
by
Simonbob
from
Fantastic mixer for price, but not for bread!
My oldest son decided to take up baking and begged for a stand mixer for his 11th birthday. Not wanting to commit to a kitchen aid, grandpa purchased this and we have been delighted for the past 3 years! Don't be silly and try to make heavy doughs with it. It's great for making sponge cakes, cupcakes, pancakes etc. Now my youngest has been bitten by the baking bug and we make tartes au citron and Victoria sandwiches. Love it!
Date published: 2020-11-07
Rated

1

out of

5
by
MakedaCO
from
Broken Easily
Bought this at thanksgiving, and don't use it much. However I made a carrot cake last week and toward the end of the mixing, the blades started crashing into each other. I thought the beaters had slipped out, so I finished by hand :( This week, I realized that one of the motors is warped, which caused the crashing of the beaters. I'm mad I paid $60 for this thing to only use it 5x and it died
Date published: 2020-04-11
Rated

5

out of

5
by
Preacher 1405
from
I love it
I've had mine for about 4 years and I love it. Unfortunately around Christmas I accidentally threw away one of my beaters , and I am trying to see if I can purchase another set or have to buy a brand new one.I don't see on the site where I can do that . But I love it especially if you like to bake and you can't stand for long periods of time. I suggest this product.
Date published: 2016-04-09
Rated

3

out of

5
by
adri4676
from
No whisks available for purchase
It's an ok mixer. There's really no point to the stand seeing as the bowl will not spin itself. I was also super bummed that this mixer did not come with whisk attachments and worse yet, they are not available for purchase separately on this model. I will probably end up donating it to the goodwill as it wasn't that expensive but I really use whisks quite often.
Date published: 2019-04-11
Rated

3

out of

5
by
ktml
from
It works, mostly
It will get the job done, but it's not great. The boost button never worked. In fact, when I press it, the bowl stops spinning, lol. The highest speed isn't as high as other mixers, so when I'm making meringue, it takes much longer. It comes with 1 bowl, beaters, and dough hooks, I guess they're called. I REALLY wish I had another bowl and set of beaters!!!! It can be frustrating, because when I push the button to release the top of the mixer so it is a handheld, I have to push it several times, because it doesn't release well. Same with the button for leaning the top back and the button for releasing the beaters. Every feature is a little difficult, but it works... except for my boost button, lol. Like I said, it'll do the job, but it's not great. Ftr, I have model 0302. Oh, and whatever you're making gets in all the crevices and is hard to get out. I'm at the point where I just run water over it, and if it dies, it dies, lol.
Date published: 2020-12-04
Rated

1

out of

5
by
Deisi
from
Bowl does not rotate
I bought this model a month ago and the bowl does not rotate anymore.
Date published: 2015-12-31
Rated

5

out of

5
by
Lea Taylor
from
I LOVE this mixer!!!
This mixer was purchased for me as a gift and I've had it for about 2-3 years now and is in GREAT condition!!! I would highly recommend it to anyone who likes to bake pretty much anything. I was also wondering if anyone knows of a whisk attachment for this mixer to make meringues and other fluffy, airy sweets.
Date published: 2019-07-20
Rated

2

out of

5
by
Need Help Baker
from
Bowls do not spin on their own
It was a gift from my daughters. My old Sunbeam stand mixer of 30 years worked great but the plug kept fall out because of it age. My new mixer will not turn the bowls and that is very important to me. Unless their is a fix for this, I would not recommend this mixer.
Date published: 2020-11-21
Rated

5

out of

5
by
DiannaMarie
from
Works great!
I love this little mixer. But I have broken the stand and would love to buy a replacement stand, but have searched the internet and can't find one. Can anyone tell me how to find a replacement please?
Date published: 2020-11-30
Rated

5

out of

5
by
Markese mema
from
Very user-friendly
I purchased this stand mixer last month. We have used it 3 times and absolutely live the simple features. My 6 year old grandson loves standing on step ladder adding ingredients.
Date published: 2018-12-26
Rated

4

out of

5
by
KGP99
from
We Love This! But Need a Whisk Attachemnt!
HI! Our Mixer did not come whit the whisk attachment. I have searched high and low and can not find one to purchase. Can you please help? Any ideas where to find one?
Date published: 2020-06-19
Rated

5

out of

5
by
Glads
from
Love it
I bought this mixer about 2 years ago and I love it. Unfortunately I've lost the stainless steel bowl and cannot find a replacement. Can someone help please!
Date published: 2019-11-19
Rated

5

out of

5
by
Songstress
from
Works great
This was a Christmas present to myself. I love it. It makes baking so much easier for me. I love all of the features, it's a great appliance to have.
Date published: 2018-12-31
Rated

4

out of

5
by
BrenW
from
Good for the price.
This works for basic mixing and the dough hooks work good. 4 starts for it not having a whisk available for the model.
Date published: 2017-12-29
Rated

5

out of

5
by
Bonga
from
Great Product, Great Price!!!
I was looking for an economical product as starter, and have been more than pleased. Would definitely recommend!!
Date published: 2017-05-01
bvseo_sdk, dw_cartridge, 18.2.0, p_sdk_3.2.0
CLOUD, getReviews, 0ms
reviews, product
---
<!--begin-bvseo-questions--> <!--begin-questions--> <div id="bvseo-questionsSection"> <div class="bvseo-question-answer" data-questionid="2185831"> <h2 class="bvseo-question"> I need a whisks Beaters attachment is any available ? </h2> <div class="bvseo-question-detail"> </div> <div class="bvseo-author">Asked by: vicko0202</div> <div class="bvseo-answer" data-answerid="1957767"> Thank you for reaching us out. For us to assist you further, please call our Consumer Care Department at 1-(800)-892-7684. For your convenience, we are available Monday-Friday 9:00 AM-5:00 PM, EST. We look forward to assisting you! <div class="bvseo-author">Answered by: Sunbeam Consumer Care</div> <div class="bvseo-pubdate">Date published: 2020-08-28</div> </div> </div> <div class="bvseo-question-answer" data-questionid="2237860"> <h2 class="bvseo-question"> I just need to replace the mixer. Is this possible? </h2> <div class="bvseo-question-detail"> </div> <div class="bvseo-author">Asked by: Cembrey1</div> <div class="bvseo-answer" data-answerid="1957386"> Thank you for that question. For us to assist you further, please call our Consumer Care Department at 1-(800)-892-7684. For your convenience, we are available Monday-Friday 9:00 AM-5:00 PM, EST. We look forward to assisting you! <div class="bvseo-author">Answered by: Sunbeam Consumer Care</div> <div class="bvseo-pubdate">Date published: 2020-08-28</div> </div> </div> <div class="bvseo-question-answer" data-questionid="2100625"> <h2 class="bvseo-question"> How much does it cost? We were already charged for the Hamilton Beach which we did not receive. </h2> <div class="bvseo-question-detail"> </div> <div class="bvseo-author">Asked by: Eve2002</div> <div class="bvseo-answer" data-answerid="1888616"> Thank you for showing interest! Price may vary depending on our retail partners. You can purchase Sunbeam products and replacement parts by clicking the link below:&#13;&#10;&#13;&#10;https://www.sunbeam.com/retailers.html <div class="bvseo-author">Answered by: Sunbeam Consumer Care</div> <div class="bvseo-pubdate">Date published: 2020-07-01</div> </div> </div> <div class="bvseo-question-answer" data-questionid="2097309"> <h2 class="bvseo-question"> I need replacement beaters for my mixer&amp;nbsp;&#13;&#10;Sunbeam Handstand Mixer FPSBHS0301 </h2> <div class="bvseo-question-detail"> </div> <div class="bvseo-author">Asked by: NanaAnna</div> <div class="bvseo-answer" data-answerid="1875452"> Thanks for reaching out! As we pursue new pathways to bring our products directly to you, we are relying on our retail partners to offer you the best of Sunbeam .products. You can purchase Sunbeam products and replacement parts at any of our retail partners. You may find this link helpful for the complete list of our online and in-store authorized retailers:&#13;&#10;&#13;&#10; https://www.sunbeam.com/retailers.html &#13;&#10;&#13;&#10;&#13;&#10;If you need further assistance, kindly give us a call at 1-(800) 892-7684 and we will get you all taken care of. For your convenience, we are available Mon-Fri 9 am-5 pm, EST. <div class="bvseo-author">Answered by: Sunbeam Consumer Care</div> <div class="bvseo-pubdate">Date published: 2020-06-22</div> </div> </div> <div class="bvseo-question-answer" data-questionid="2086686"> <h2 class="bvseo-question"> How can I order just the replacement beaters and dough hook for this model? </h2> <div class="bvseo-question-detail"> </div> <div class="bvseo-author">Asked by: CharmCityChick</div> <div class="bvseo-answer" data-answerid="1862040"> Thank you for that question! Please call our Consumer Care Department at 1-(800)-892-7684 or connect with us via Live Chat. For your convenience, we are available Monday-Friday 9:00 AM-6:00 PM, EST. We look forward to assisting you! <div class="bvseo-author">Answered by: Sunbeam Consumer Care</div> <div class="bvseo-pubdate">Date published: 2020-06-12</div> </div> </div> <div class="bvseo-question-answer" data-questionid="2061659"> <h2 class="bvseo-question"> Can I get a replacement right whisk? The whisk with the little white stopper. </h2> <div class="bvseo-question-detail"> </div> <div class="bvseo-author">Asked by: t_tori</div> <div class="bvseo-answer" data-answerid="1855653"> To better help you with replacement parts, we urge you to please call us at 1-(800) 458-8407 or send us a message via Live Chat. You can reach us between the hours of 9AM-6PM EST Monday-Friday.&#13;&#10;&#13;&#10;We are looking forward to hear from you. Have a great day! <div class="bvseo-author">Answered by: Sunbeam Consumer Care</div> <div class="bvseo-pubdate">Date published: 2020-06-08</div> </div> </div> <div class="bvseo-question-answer" data-questionid="2051489"> <h2 class="bvseo-question"> I have this mixer and I unfortunately have a beater stuck and even though I pressed on eject, it won&#39;t budge. The eject button has been difficult since my purchase last fall. Any remedies or do I need a whole new mixer part? </h2> <div class="bvseo-question-detail"> </div> <div class="bvseo-author">Asked by: JackieL</div> <div class="bvseo-answer" data-answerid="1842146"> Thank you for reaching us and we are sorry to hear about your issue! Please give us a call at 1-(800)-892-7684 or connect with us via Live Chat in order for us to assist you further. For your convenience our Consumer Care team is available Mon-Fri 9am-6pm, EST. We look forward to assisting you! Have a great day! <div class="bvseo-author">Answered by: Sunbeam Consumer Care</div> <div class="bvseo-pubdate">Date published: 2020-06-01</div> </div> </div> <div class="bvseo-question-answer" data-questionid="2039382"> <h2 class="bvseo-question"> What is the price? </h2> <div class="bvseo-question-detail"> </div> <div class="bvseo-author">Asked by: Texastea</div> <div class="bvseo-answer" data-answerid="1834153"> Thanks for reaching out! As we pursue new pathways to bring our products directly to you, we are relying on our retail partners to offer you the best of Sunbeam products. You can purchase Sunbeam products and replacement parts at any of our retail partners. You may find this link helpful for the complete list of our online and in-store authorized retailers:&#13;&#10;&#13;&#10; https://www.sunbeam.com/retailers.html &#13;&#10;&#13;&#10;If you need further assistance, kindly give us a call at 1-(800) 892-7684 and we will get you all taken care of. For your convenience, we are available Mon-Sat 9am-6pm, EST. <div class="bvseo-author">Answered by: Sunbeam Consumer Care</div> <div class="bvseo-pubdate">Date published: 2020-05-28</div> </div> </div> <div class="bvseo-question-answer" data-questionid="2033468"> <h2 class="bvseo-question"> hi, I am looking for dough hooks sets for FPSBHS0301. It would be appreciated if you could tell me what models of the hooks that compatible for this mixer and where I can buy them. </h2> <div class="bvseo-question-detail"> </div> <div class="bvseo-author">Asked by: Anonymous</div> <div class="bvseo-answer" data-answerid="1829433"> Thank you for that question! Please give us a call at 1-(800)-892-7684 or connect with us via Live Chat in order for us to assist you further. For your convenience our Consumer Care team is available Mon-Fri 9am-6pm, EST. We look forward to assisting you! Have a great day! <div class="bvseo-author">Answered by: Sunbeam Consumer Care</div> <div class="bvseo-pubdate">Date published: 2020-06-05</div> </div> </div> <div class="bvseo-question-answer" data-questionid="2013937"> <h2 class="bvseo-question"> Im looking to replace the regular and dough beaters. I can&#39;t seem to find ones that fit this model in your parts and accessories section. </h2> <div class="bvseo-question-detail"> </div> <div class="bvseo-author">Asked by: Hilder</div> <div class="bvseo-answer" data-answerid="1825207"> Thank you for reaching us! Please give us a call at 1-(800) 334-0759 in order for us to assist you further with a Spanish Representative. For your convenience our Consumer Care team is available Mon-Fri 9am-6pm, EST. We look forward to assisting you! Have a great day! <div class="bvseo-author">Answered by: Sunbeam Consumer Care</div> <div class="bvseo-pubdate">Date published: 2020-06-05</div> </div> </div> <div class="bvseo-question-answer" data-questionid="2015171"> <h2 class="bvseo-question"> Hi can you tell me the price on this mixer please </h2> <div class="bvseo-question-detail"> </div> <div class="bvseo-author">Asked by: Rafa1010</div> <div class="bvseo-answer" data-answerid="1825196"> Thank you for reaching us! Please give us a call at 1-(800) 334-0759 in order for us to assist you further with a Spanish Representative. For your convenience our Consumer Care team is available Mon-Fri 9am-6pm, EST. We look forward to assisting you! Have a great day! <div class="bvseo-author">Answered by: Sunbeam Consumer Care</div> <div class="bvseo-pubdate">Date published: 2020-05-21</div> </div> </div> <div class="bvseo-question-answer" data-questionid="2016749"> <h2 class="bvseo-question"> Mixer model FPSBHS0302. My mixer stand broke &amp;amp; need to find a replacement. I don&amp;rsquo;t want to purchase another mixer&#13;&#10;, just stand . Can&amp;rsquo;t find it on sunbeam parts websites u recommended. Where can I mixer stand? </h2> <div class="bvseo-question-detail"> </div> <div class="bvseo-author">Asked by: Lilit</div> <div class="bvseo-answer" data-answerid="1825051"> Thanks for reaching out! As we pursue new pathways to bring our products directly to you, we are relying on our retail partners to offer you the best of Sunbeam products. You can purchase Sunbeam products and replacement parts at any of our retail partners.&#13;&#10;&#13;&#10;You may find this link helpful for the complete list of our online and in-store authorized retailers:&#13;&#10;&#13;&#10;https://www.sunbeam.com/retailers.html&#13;&#10;&#13;&#10;If you need further assistance, kindly give us a call at 1-(800)-892-7684 or connect with us via Live Chat, and we will get you all taken care of. For your convenience, we are available Mon-Fri 9am-6pm, EST. <div class="bvseo-author">Answered by: Sunbeam Consumer Care</div> <div class="bvseo-pubdate">Date published: 2020-06-05</div> </div> </div> <div class="bvseo-question-answer" data-questionid="2013116"> <h2 class="bvseo-question"> Do you have a dough attachment for this product? </h2> <div class="bvseo-question-detail"> </div> <div class="bvseo-author">Asked by: Samoa ga</div> <div class="bvseo-answer" data-answerid="1816450"> Thank you for reaching us! Please give us a call at 1-(800)-892-7684 or connect with us via Live Chat in order for us to assist you further. For your convenience our Consumer Care team is available Mon-Fri 9am-6pm, EST. We look forward to assisting you! Have a great day! <div class="bvseo-author">Answered by: Sunbeam Consumer Care</div> <div class="bvseo-pubdate">Date published: 2020-06-05</div> </div> </div> <div class="bvseo-question-answer" data-questionid="1968425"> <h2 class="bvseo-question"> There&amp;rsquo;s a small plastic cover on the end of 1 of the beaters. Should it stay on there? </h2> <div class="bvseo-question-detail"> </div> <div class="bvseo-author">Asked by: Tian</div> <div class="bvseo-answer" data-answerid="1788530"> Great question! The small plastic cover on the end of the beater should stay there as it keeps the beater from scratching the bowl. <div class="bvseo-author">Answered by: Sunbeam Consumer Care</div> <div class="bvseo-pubdate">Date published: 2020-10-10</div> </div> </div> <div class="bvseo-question-answer" data-questionid="1969776"> <h2 class="bvseo-question"> Mixer model FPSBHS0302. My mixer broke &amp;amp; need to find a replacement. I don&amp;rsquo;t want to purchase another stand, just a replacement mixer. Can&amp;rsquo;t find it on sunbeam parts websites u recommended. Where can I buy just hand mixer w/out stand? </h2> <div class="bvseo-question-detail"> </div> <div class="bvseo-author">Asked by: Whitebike</div> <div class="bvseo-answer" data-answerid="1788413"> Thank you for that question! Please give us a call at 1-(800)-892-7684 or connect with us via Live Chat in order for us to assist you further. For your convenience our Consumer Care team is available Mon-Fri 9am-6pm, EST. We look forward to assisting you! Have a great day! <div class="bvseo-author">Answered by: Sunbeam Consumer Care</div> <div class="bvseo-pubdate">Date published: 2020-06-05</div> </div> </div> <div class="bvseo-question-answer" data-questionid="1737965"> <h2 class="bvseo-question"> does the bowl placement have a hole for a small bowl </h2> <div class="bvseo-question-detail"> </div> <div class="bvseo-author">Asked by: willadean</div> <div class="bvseo-answer" data-answerid="1770912"> In order to better assist you with obtaining the parts that are compatible with your Sunbeam&amp;reg; mixer, please give us a call at 1-(800)-892-7684 and we will get you all taken care of. For your convenience, we are available Mon-Fri 9am-6pm, EST. We look forward to hearing from you! <div class="bvseo-author">Answered by: Sunbeam Consumer Care</div> <div class="bvseo-pubdate">Date published: 2020-04-16</div> </div> </div> <div class="bvseo-question-answer" data-questionid="1949332"> <h2 class="bvseo-question"> I need to purchase a wire whisk attachment . I love the product and design !&#13;&#10;Please let me know what to do about how to purchase a wire whisk attachment? </h2> <div class="bvseo-question-detail"> </div> <div class="bvseo-author">Asked by: Steven47</div> <div class="bvseo-answer" data-answerid="1770779"> Thank you for reaching out! In order to better assist you with your concern, please send us a message via live chat here on the site and we will get you all taken care of. You can also call us at 1-800-892-7684. For your convenience, our Consumer Care team is available Mon-Fri 9am-6pm, EST. Thanks and have a great day! <div class="bvseo-author">Answered by: Sunbeam Consumer Care</div> <div class="bvseo-pubdate">Date published: 2020-04-16</div> </div> </div> <div class="bvseo-question-answer" data-questionid="1943883"> <h2 class="bvseo-question"> how much does it weigh? </h2> <div class="bvseo-question-detail"> </div> <div class="bvseo-author">Asked by: Jack Z</div> <div class="bvseo-answer" data-answerid="1770578"> Good question! The weight of Sunbeam&amp;reg; Hand &amp;amp; Stand 5-Speed Mixer is 6.75 pounds. <div class="bvseo-author">Answered by: Sunbeam Consumer Care</div> <div class="bvseo-pubdate">Date published: 2020-04-16</div> </div> </div> <div class="bvseo-question-answer" data-questionid="1576779"> <h2 class="bvseo-question"> How do I remove the bowl? I&#39;m afraid to force it. </h2> <div class="bvseo-question-detail"> </div> <div class="bvseo-author">Asked by: Anonymous</div> <div class="bvseo-answer" data-answerid="1764533"> Good question! To unlock, hold turntable and rotate bowl counter-clockwise. <div class="bvseo-author">Answered by: Sunbeam Consumer Care</div> <div class="bvseo-pubdate">Date published: 2020-04-25</div> </div> </div> <div class="bvseo-question-answer" data-questionid="1606445"> <h2 class="bvseo-question"> Does the bowl spin and does it come with wire whisk? </h2> <div class="bvseo-question-detail"> </div> <div class="bvseo-author">Asked by: Hamadi</div> <div class="bvseo-answer" data-answerid="1762557"> Great question! Our Sunbeam&amp;reg; Hand &amp;amp; Stand 5-Speed Mixer&#39;s bowl is spinning while mixing. It also comes with wire whisk. If you need further assistance, you can contact us through chat and/or email on this site. Our product specialists will be more than willing to assist you. For your convenience, we are available Mon-Fri 9am-6pm, EST. Have a great day! <div class="bvseo-author">Answered by: Sunbeam Consumer Care</div> <div class="bvseo-pubdate">Date published: 2020-04-19</div> </div> </div> <div class="bvseo-question-answer" data-questionid="1436770"> <h2 class="bvseo-question"> How do you remove the bowl from the stand? </h2> <div class="bvseo-question-detail"> </div> <div class="bvseo-author">Asked by: LeahD37</div> <div class="bvseo-answer" data-answerid="1761794"> Good question! To unlock, hold turntable and rotate bowl counter-clockwise. <div class="bvseo-author">Answered by: Sunbeam Consumer Care</div> <div class="bvseo-pubdate">Date published: 2020-04-10</div> </div> </div> <div class="bvseo-question-answer" data-questionid="1424383"> <h2 class="bvseo-question"> I really really want and need a new hand mixer for lite duty. Q-tell me more about Handle! Shape? length? fitted? all three photos show a different type. thank you </h2> <div class="bvseo-question-detail"> </div> <div class="bvseo-author">Asked by: spikecatz</div> <div class="bvseo-answer" data-answerid="1759882"> Thank you for your question! This Sunbeam&amp;reg; Hand &amp;amp; Stand 5-Speed Mixer has a powerful 250-watt motor and 5 speed settings handle all mixing jobs and Burst of Power&amp;reg; provides an extra blast to mix smoothly and evenly. The dimensions are 13&amp;quot;H x 7&amp;quot;W x 12&amp;quot;L. <div class="bvseo-author">Answered by: Sunbeam Consumer Care</div> <div class="bvseo-pubdate">Date published: 2020-04-09</div> </div> </div> <div class="bvseo-question-answer" data-questionid="1385310"> <h2 class="bvseo-question"> Ok one of the beaters is a plastic cover. Is the supposed to stay on the beaters? </h2> <div class="bvseo-question-detail"> </div> <div class="bvseo-author">Asked by: Lisa1</div> <div class="bvseo-answer" data-answerid="1752511"> Thank you for your question. Yes, the beaters will stay on to this Sunbeam&amp;reg; Hand &amp;amp; Stand 5-Speed Mixer. <div class="bvseo-author">Answered by: Sunbeam Consumer Care</div> <div class="bvseo-pubdate">Date published: 2020-04-03</div> </div> </div> <div class="bvseo-question-answer" data-questionid="1503988"> <h2 class="bvseo-question"> Have a sunbeam mixmaster with the chrome beaters. It was a gift that I inherited from my dear Mother who recently passed. I have tried to use it as it was very clean. I hate to part with it. Was wondering how you can help me? </h2> <div class="bvseo-question-detail"> </div> <div class="bvseo-author">Asked by: rxmann1726</div> <div class="bvseo-answer" data-answerid="1752081"> Good question! You may check the link below for the manual of the Sunbeam&amp;reg; Hand &amp;amp; Stand 5-Speed Mixer.&#13;&#10;&#13;&#10;https://www.sunbeam.com/on/demandware.static/-/Sites-sunbeam-Library/default/dwed143b49/documents/instruction-manuals/FPSBHS0404%200403%200302%200301_Sunbeam%20Hand%20Stand%20IB.PDF&#13;&#10;&#13;&#10;Have a good day! <div class="bvseo-author">Answered by: Sunbeam Consumer Care</div> <div class="bvseo-pubdate">Date published: 2020-04-03</div> </div> </div> <div class="bvseo-question-answer" data-questionid="1681104"> <h2 class="bvseo-question"> how to remove bowl from base </h2> <div class="bvseo-question-detail"> </div> <div class="bvseo-author">Asked by: unsure123</div> <div class="bvseo-answer" data-answerid="1751051"> Good question! To unlock hold turntable and rotate bowl counter-clockwise to remove the bowl. <div class="bvseo-author">Answered by: Sunbeam Consumer Care</div> <div class="bvseo-pubdate">Date published: 2020-04-02</div> </div> </div> <div class="bvseo-question-answer" data-questionid="1791423"> <h2 class="bvseo-question"> is there a replacement hand mixer for model number 2372.. it is a 6 speed sunbeam burst of power mix master hand stand mixer.. just need to replace the removable hand mixer </h2> <div class="bvseo-question-detail"> </div> <div class="bvseo-author">Asked by: Eeeee</div> <div class="bvseo-answer" data-answerid="1750313"> Thanks for reaching out! As we pursue new pathways to bring our Sunbeam products directly to you, we are relying on our retail partners to offer you the best of Subeam products. You can purchase Sunbeam products and replacement parts at any of our retail partners.&#13;&#10;&#13;&#10;&#13;&#10;You may find this link helpful for the complete list of our online and in-store authorized retailers:&#13;&#10;&#13;&#10;https://www.sunbeam.com/?ls&#61;0 <div class="bvseo-author">Answered by: Sunbeam Consumer Care</div> <div class="bvseo-pubdate">Date published: 2020-04-02</div> </div> </div> <div class="bvseo-question-answer" data-questionid="1714722"> <h2 class="bvseo-question"> How can I remove the bowl from the stand? </h2> <div class="bvseo-question-detail"> </div> <div class="bvseo-author">Asked by: Kristad83</div> <div class="bvseo-answer" data-answerid="1749977"> Good question! To unlock hold turntable and rotate bowl counter-clockwise to remove the bowl. <div class="bvseo-author">Answered by: Sunbeam Consumer Care</div> <div class="bvseo-pubdate">Date published: 2020-04-01</div> </div> </div> <div class="bvseo-question-answer" data-questionid="1920451"> <h2 class="bvseo-question"> I have one of these,i would like to get the dough hooks do you have parts for these and how much for same </h2> <div class="bvseo-question-detail"> </div> <div class="bvseo-author">Asked by: Baldys28</div> <div class="bvseo-answer" data-answerid="1748508"> Thanks for reaching out! As we pursue new pathways to bring our products directly to you, we are relying on our retail partners to offer you the best of Sunbeam products. You can purchase Sunbeam products and replacement parts at any of our retail partners.&#13;&#10;&#13;&#10;You may find this link helpful for the complete list of our online and in-store authorized retailers:&#13;&#10;&#13;&#10;https://www.sunbeam.com/locations?storeType&#61;Service%20Center&amp;amp;cid&#61;service-center-locator&#13;&#10;&#13;&#10;If you need further assistance, kindly give us a call at (800) 892-7684 and we will get you all taken care of. For your convenience, we are available Mon-Fri 9am-6pm, EST. <div class="bvseo-author">Answered by: Sunbeam Consumer Care</div> <div class="bvseo-pubdate">Date published: 2020-04-01</div> </div> </div> <div class="bvseo-question-answer" data-questionid="1713118"> <h2 class="bvseo-question"> Where can I get replacement dough hooks </h2> <div class="bvseo-question-detail"> </div> <div class="bvseo-author">Asked by: Alysha</div> <div class="bvseo-answer" data-answerid="1743073"> Thanks for reaching out! As we pursue new pathways to bring our products directly to you, we are relying on our retail partners to offer you the best of Sunbeam products. You can purchase Sunbeam products and replacement parts at any of our retail partners.&#13;&#10;&#13;&#10;You may find this link helpful for the complete list of our online and in-store authorized retailers:&#13;&#10;&#13;&#10;https://www.sunbeam.com/locations?storeType&#61;Service%20Center&amp;amp;cid&#61;service-center-locator&#13;&#10;&#13;&#10;If you need further assistance, kindly give us a call at (800) 892-7684 and we will get you all taken care of. For your convenience, we are available Mon-Fri 9am-6pm, EST. <div class="bvseo-author">Answered by: Sunbeam Consumer Care</div> <div class="bvseo-pubdate">Date published: 2020-03-31</div> </div> </div> <div class="bvseo-question-answer" data-questionid="1617477"> <h2 class="bvseo-question"> I need replacement beaters for this mixer. Are these available? &amp;nbsp;Thanks </h2> <div class="bvseo-question-detail"> </div> <div class="bvseo-author">Asked by: Lora H</div> <div class="bvseo-answer" data-answerid="1742883"> Good question! Some beaters doesn&#39;t fit other mixer models. To better assist you with your mixer, you can contact us through chat and/or email here on this site Our product specialists will be more than willing to assist you. For your convenience, we are available Mon-Fri 9am-6pm, EST. Have a great day! <div class="bvseo-author">Answered by: Sunbeam Consumer Care</div> <div class="bvseo-pubdate">Date published: 2020-03-26</div> </div> </div> </div> <script type="text/javascript"> if (document.getElementById('bvseo-questionsSection')) { document.getElementById('bvseo-questionsSection').style.display = 'none'; } </script> <!--end-questions--> <!--begin-pagination--> <ul id="bvseo-paginationSection"> <li class="bvseo-paginationItem"><a class="bvseo-paginationLink" href="https://www.sunbeam.com/home-kitchen-appliances/cooking-appliances-mixers/sunbeam-hand-stand-5-speed-mixer-black/SAP_FPSBHS0302NP.html?&bvrrp=Main_Site-en_US/questions/product/3/SP_326633.htm">Sunbeam&reg; Hand &amp; Stand 5-Speed Mixer, Black Questions - page 3</a></li> </ul> <!--end-pagination--> <ul id="BVSEO_meta" style="display:none!important"> <li data-bvseo="bvDateModified">y_2021, m_12, d_1, h_19CST</li> <li data-bvseo="ps">bvseo_bulk, prod_bvqa, vn_bulk_3.0.20</li> <li data-bvseo="cp">cp_2, bvpage2n</li> <li data-bvseo="co">co_hasquestionsanswers, tq_135</li> <li data-bvseo="cf">loc_en_US, sid_SP_326633, prod, sort_[SortEntry(order=LAST_APPROVED_ANSWER_SUBMISSION_TIME, direction=DESCENDING)]</li> <li data-bvseo="diagnostics">clientName_sunbeam</li> </ul> <!--end-bvseo-questions--> <ul id="BVSEOSDK_meta" style="display: none !important;"> <li data-bvseo="sdk">bvseo_sdk, dw_cartridge, 18.2.0, p_sdk_3.2.0</li> <li data-bvseo="sp_mt">CLOUD, getContent, 0ms</li> <li data-bvseo="ct_st">questions, product</li> </ul>
product-detail-view
oos-pdp