Sunbeam® 4-Slice Extra-Wide Slot Toaster, Black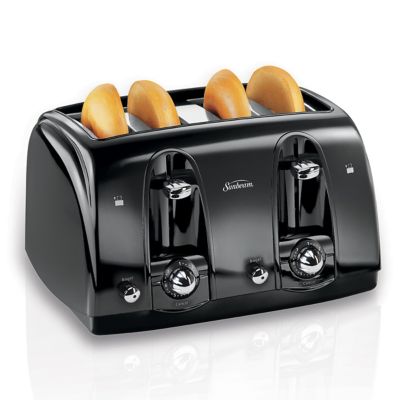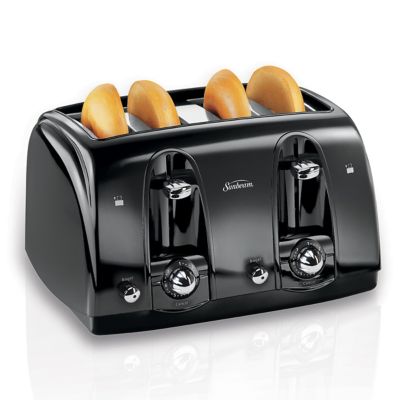 Sunbeam® 4-Slice Extra-Wide Slot Toaster, Black
Final Sale: may not be returned or exchanged
Final Sale: may not be returned or exchanged
Product Details
Description
Everyone can enjoy toast their way. With dual controls on each side of the toaster, you can choose different settings to simultaneously toast to different shades of doneness. This 4-slice toaster also includes many other features to make toasting easy and convenient like extra-wide slots, a bagel select button for toasting bagels, toast lift to elevate toasted slices and a cancel button to immediately stop toasting.
Bagel-select button
Cancel button
Extra-wide slots
Toast lift
Removable crumb tray
7 toast-shade settings
1-year limited warranty
Specifications
Additional SKUs:

TSSBTR4SBK

Dimensions:

12.68" L x 10.83" W x 7.34" H
Warranty
Limited 1 Year Warranty
Where to Buy
The following link will take you to a site outside of Sunbeam.
Rated

3

out of

5
by
Bellith
from
Convenient for Families
Are you prone to hectic mornings? For the price, this toaster is convenient for toasting your morning needs on a hectic schedule. I was able to place four items at once and they would toast pretty quick. I have tried Texas toast, large and medium bagels, normal sliced bread and they all fit in the slots and toasted with no issue. The toaster has a sleek design and my only complains are the material sturdiness and the knobs. You are getting what you pay for on material and on the knobs it's difficult to tell the heat setting. Make sure you pay attention to the small raised line. Also, I wanted to mentioned I received this product as a sample to review.
Date published: 2015-05-30
Rated

3

out of

5
by
shandimay4
from
Looks Great!
The black and chrome look is very sleek and modern. I absolutely love the way it looks. It took some time to get used to what settings should be used. Lower is better with this one! Once we got the hang of it I have no complaints on how it toasted. I did love how high you can lift your toast out with the handles after toasting. No more burnt fingers from fishing toast out. While it looks nice, it does have a cheap feel. The plastic is thin and flimsy. Is is hard to see what setting you are on with the knobs. I have to feel each time to see where the raised marker is on the knob so I know which setting I am on. I received this as a free sample to try out and review.
Date published: 2015-06-01
Rated

4

out of

5
by
Juneb
from
Nice Toaster
Overall, I give this toaster a rating of 4 stars, and I think it is a good toaster. The function that I like best on this toaster is that there is a wide range for how toasted you can make your bagel. The dials are sensitive, but can be difficult to see what they are set on. The slots are wide enough to accommodate a large bagel. However, part of the bagel might stick out of the top. I have had some trouble getting the levers to stay down when I push them down sometimes. Although the toaster is a 4-slice toaster, it doesn't take up an incredible amount of counter space. I received this product as a sample to review.
Date published: 2015-05-30
Rated

5

out of

5
by
Kimham63
from
Great toaster
This toaster is a great basic toaster and does what it says it will do. The wide slots are easily able to accommodate bagels and the bagel setting makes sure they come out perfect. I like the slightly retro look of this toaster. The only thing I would do differently on this toaster is make the levers which lower the bread a little more sturdy. They do seem somewhat lightweight - however, this toaster has been used regularly by my three teen-aged sons as well as myself for the past few weeks and it is holding up just fine. I received this toaster as a sample to review. The opinions stated above are my own.
Date published: 2015-05-31
Rated

5

out of

5
by
Jesse Lang
from
Simply Perfect!
The Sunbeam 4-Slice Extra-Wide Slot Toaster is a fantastic product for all your toasting needs! The extra-wide slots make toasting bagels, hamburger buns, and all sorts of other items simple and easy. The toaster has a sleek black and silver design that looks great in any kitchen, and the four available slots allow for a variety of toasting options. The only thing I would change about this product are the temperature dials; it can be hard to see what setting they are on without touching them by hand. Overall, a excellent product! DISCLAIMER - I was given this product for free in return for this review.
Date published: 2015-06-01
Rated

5

out of

5
by
Cooperks
from
Loved this toaster!
I love this sunbeam toaster!. It's a great value for the money. A few features I like specifically are that it had extra wide slots which are great when you are toasting bagels or English muffins... It definitely allows enough space for either. This particular model also has dual temperature controls to control either side which is great for families... If different people like different levels you can still make toast for both people at the same time!. The toaster has nice aesthetics the only thing i would upgrade is to make the exterior metal but then again today would increase price... Overall it's a great value for the money. Disclaimer: I received this toaster to use and review.
Date published: 2015-05-31
Rated

1

out of

5
by
parachutist
from
Worst toaster I have ever purchased.
Putting the electrical cord on the side near the front of toaster...Seriously?! Very inconvenient. Also, does not toast bread evenly. Lower center portion of bread may be toasted, top half is not and neither are the sides. Increase the number setting a couple of notches and toast is almost burned or burned...haven't been able to find a decent setting on it yet and I've had it several months. Can't wait for it to break so I can purchase a different brand.
Date published: 2015-11-21
Rated

4

out of

5
by
SeraM118
from
Great Addition To My Appliance Family
I received the Sunbeam Four Slice Toaster about three weeks ago and have been using it daily ever since. This toaster works well for toasting bagels, rolls, waffles, and sliced bread. My favorite feature is the wide slots. I also love the design of it, which is cool and sleek. It worked well to toast light or dark. It gets the job done very quickly which is great because with four children, my mornings are crazy! The only thing I didn't care for was the quality of the dials/bagel buttons, but I don't believe it will effect this toasters functionality. Glad to have this toaster as part of my appliance family. :-) ***Please note that I received this toaster free of charge to evaluate, but reviewed it honestly***
Date published: 2015-05-31
bvseo_sdk, dw_cartridge, 18.2.0, p_sdk_3.2.0
CLOUD, getReviews, 0ms
reviews, product
---
<!--begin-bvseo-questions--> <!--begin-questions--> <div id="bvseo-questionsSection"> <div class="bvseo-question-answer" data-questionid="2210395"> <h2 class="bvseo-question"> Where is the cancellation button </h2> <div class="bvseo-question-detail"> </div> <div class="bvseo-author">Asked by: Chrissy 255</div> <div class="bvseo-answer" data-answerid="1963289"> Great question! The cancellation button is located under the light or dark selector knob. Hope this helps! <div class="bvseo-author">Answered by: Sunbeam Consumer Care</div> <div class="bvseo-pubdate">Date published: 2020-09-02</div> </div> </div> <div class="bvseo-question-answer" data-questionid="2169297"> <h2 class="bvseo-question"> I just bought a Sunbeam 4 slice toaster!I can&#39;t find any information on the lock symbol? Toaster is great! </h2> <div class="bvseo-question-detail"> </div> <div class="bvseo-author">Asked by: Andy42</div> <div class="bvseo-answer" data-answerid="1963196"> Thank you for reaching us out. For us to assist you further, please call our Consumer Care Department at 1-(800)-892-7684. For your convenience, we are available Monday-Friday 9:00 AM-5:00 PM, EST. We look forward to assisting you! <div class="bvseo-author">Answered by: Sunbeam Consumer Care</div> <div class="bvseo-pubdate">Date published: 2021-04-21</div> </div> </div> <div class="bvseo-question-answer" data-questionid="1766345"> <h2 class="bvseo-question"> Does the 4 Slice Extra-wide Slot Toaster have heating wires on both sides of each slot? I have another brand and it only has wires on one side of each slot. So I have to turn items around to get it toasted. How does the bagel toast? One side/both? </h2> <div class="bvseo-question-detail"> </div> <div class="bvseo-author">Asked by: ChrisH</div> <div class="bvseo-answer" data-answerid="1777456"> Great question! Yes toast function will toast both sides. For bagel only one side will heat up. I hope this answers your question. Have a nice day! <div class="bvseo-author">Answered by: Sunbeam Consumer Care</div> <div class="bvseo-pubdate">Date published: 2020-04-20</div> </div> </div> <div class="bvseo-question-answer" data-questionid="1768839"> <h2 class="bvseo-question"> When COLD, the toaster will not toast (engage the levers) if set at max heat setting (7). To operate, the heat setting must be at a lower number until the unit is heated. Is this a normal feature? </h2> <div class="bvseo-question-detail"> </div> <div class="bvseo-author">Asked by: Biff</div> <div class="bvseo-answer" data-answerid="1772951"> Thanks for reaching out! We would like to hear more about this so we can explain it further. Please call our Consumer Care Department at 1-800-667-8623 so we can speak to you directly. You can reach us between the hours of 9AM-6PM EST Monday-Friday. Talk to you soon! <div class="bvseo-author">Answered by: Sunbeam Consumer Care</div> <div class="bvseo-pubdate">Date published: 2021-04-21</div> </div> </div> <div class="bvseo-question-answer" data-questionid="1670498"> <h2 class="bvseo-question"> I have a 1952 sunbeam toaster that still works perfect, would you be interested for advertisement? </h2> <div class="bvseo-question-detail"> </div> <div class="bvseo-author">Asked by: Anonymous</div> <div class="bvseo-answer" data-answerid="1772922"> We thank you for using our Sunbeam product! You can give us a call at 1-800-667-8623 so we can speak to you directly. You can reach us between the hours of 9AM-6PM EST Monday-Friday. Talk to you soon! <div class="bvseo-author">Answered by: Sunbeam Consumer Care</div> <div class="bvseo-pubdate">Date published: 2020-04-17</div> </div> </div> <div class="bvseo-question-answer" data-questionid="1405951"> <h2 class="bvseo-question"> Received this toaster for &#13;&#10;christmas and having trouble getting it set right, either too light or burns. HELP </h2> <div class="bvseo-question-detail"> </div> <div class="bvseo-author">Asked by: gail55</div> <div class="bvseo-answer" data-answerid="1757022"> That is definitely not the kind of experience that we want you to have. Please call our Consumer Care Department at 1-(800) 458-8407 and our team will assist you on your concern. For your convenience, we are available Mon-Fri 9am-6pm, EST. We look forward to assisting you! <div class="bvseo-author">Answered by: Sunbeam Consumer Care</div> <div class="bvseo-pubdate">Date published: 2020-04-07</div> </div> </div> <div class="bvseo-question-answer" data-questionid="1790681"> <h2 class="bvseo-question"> My toasting levers will not stay down, thus will not toast. I have depressed them several times, adjusted the toasting controls and pressed the small round buttons with red lights. Can you instruct me with toasting bread in this toaster? </h2> <div class="bvseo-question-detail"> </div> <div class="bvseo-author">Asked by: jsancarman</div> <div class="bvseo-answer" data-answerid="1749656"> Thank you for reaching out to us! We are sorry to hear what happened to your toaster. In order to better assist you with your concern, kindly give us a call at (800) 892-7684 and we will get you all taken care of. For your convenience, we are available Mon-Fri 9am-6pm, EST. Have a great day! <div class="bvseo-author">Answered by: Sunbeam Consumer Care</div> <div class="bvseo-pubdate">Date published: 2020-04-01</div> </div> </div> <div class="bvseo-question-answer" data-questionid="1904038"> <h2 class="bvseo-question"> Cannot figure out how to empty the crumb tray, and have lost the manual. Help please ! </h2> <div class="bvseo-question-detail"> </div> <div class="bvseo-author">Asked by: I have none</div> <div class="bvseo-answer" data-answerid="1737230"> Thank you for taking the time to reach out to us. You may obtain a copy of the manual for your toaster by clicking the link below.&#13;&#10;&#13;&#10;https://www.sunbeam.com/on/demandware.static/-/Sites-sunbeam-Library/default/dw4d72ae6b/documents/instruction-manuals/SB_TSSBTR4SBK_IB[1]%20FINAL%20RELEASE.PDF&#13;&#10;&#13;&#10;If there&#39;s anything we can do to assist you, please don&#39;t hesitate to contact us at 1-(800) 892-7684. We&#39;re here for you Monday-Friday, 9am-6pm EST. <div class="bvseo-author">Answered by: Sunbeam Consumer Care</div> <div class="bvseo-pubdate">Date published: 2020-03-23</div> </div> </div> </div> <script type="text/javascript"> if (document.getElementById('bvseo-questionsSection')) { document.getElementById('bvseo-questionsSection').style.display = 'none'; } </script> <!--end-questions--> <!--begin-pagination--> <ul id="bvseo-paginationSection"> <li class="bvseo-paginationItem"><a class="bvseo-paginationLink" href="https://www.sunbeam.com/home-kitchen-appliances/cooking-appliances-mixers/sunbeam-4-slice-extra-wide-slot-toaster-black/SP_436294.html?bvrrp=Main_Site-en_US/questions/product/2/SP_436294.htm">Sunbeam&reg; 4-Slice Extra-Wide Slot Toaster, Black Questions - page 2</a></li> </ul> <!--end-pagination--> <ul id="BVSEO_meta" style="display:none!important"> <li data-bvseo="bvDateModified">y_2021, m_12, d_1, h_19CST</li> <li data-bvseo="ps">bvseo_bulk, prod_bvqa, vn_bulk_3.0.20</li> <li data-bvseo="cp">cp_1, bvpage1</li> <li data-bvseo="co">co_hasquestionsanswers, tq_23</li> <li data-bvseo="cf">loc_en_US, sid_SP_436294, prod, sort_[SortEntry(order=LAST_APPROVED_ANSWER_SUBMISSION_TIME, direction=DESCENDING)]</li> <li data-bvseo="diagnostics">clientName_sunbeam</li> </ul> <!--end-bvseo-questions--> <ul id="BVSEOSDK_meta" style="display: none !important;"> <li data-bvseo="sdk">bvseo_sdk, dw_cartridge, 18.2.0, p_sdk_3.2.0</li> <li data-bvseo="sp_mt">CLOUD, getContent, 0ms</li> <li data-bvseo="ct_st">questions, product</li> </ul>
product-detail-view
oos-pdp