Sunbeam® 200-Watt Hand Mixer, White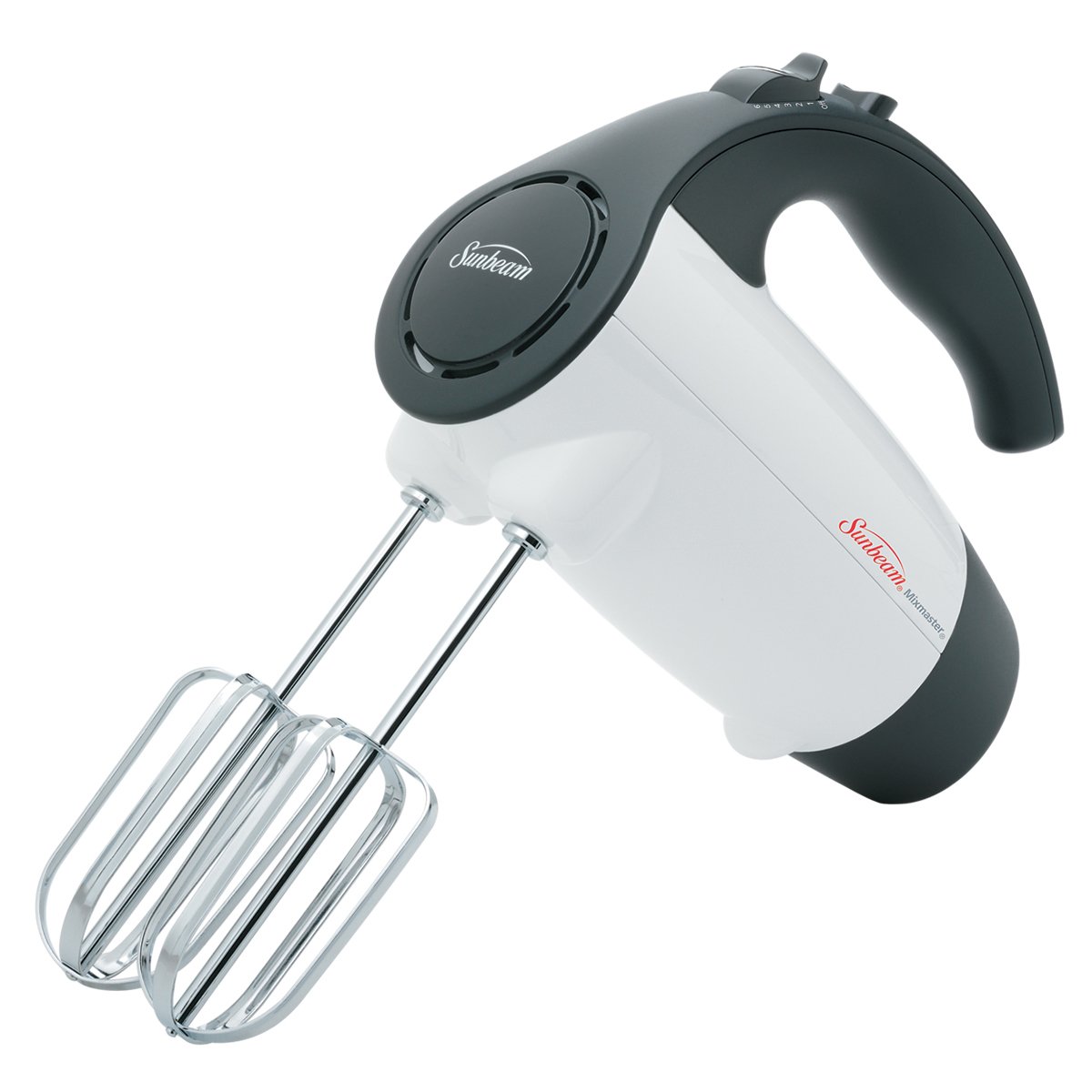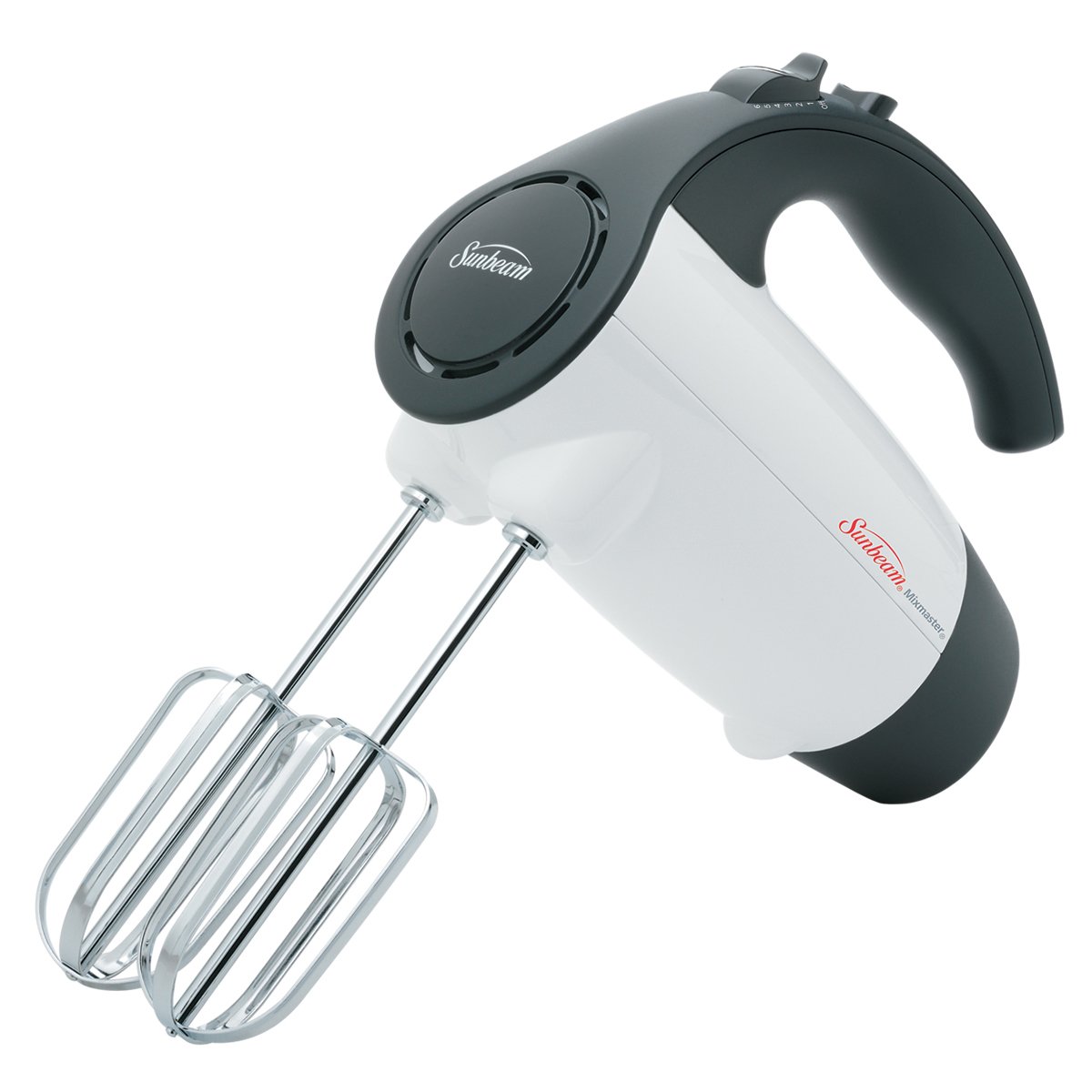 Sunbeam® 200-Watt Hand Mixer, White
Final Sale: may not be returned or exchanged
Selection will refresh the page with new results.
Final Sale: may not be returned or exchanged
Product Details
Description
You can rely on the Sunbeam® Mixmaster® Hand Mixer to mix you through everyday tasks with a powerful 200-watt motor and 6 speeds. This mixer can help you prepare your recipes quickly and easily. Work in the kitchen does not seem like work at all with the Sunbeam® Mixmaster® Hand Mixer.
200-watt motor 6 variable speeds Comfortable, soft grip handle Heel and bowl rest Includes 2 chrome beaters 1-year limited warranty
6 variable speeds
Comfortable, soft grip handle
Heel and bowl rest
Includes 2 chrome beaters
1-year limited warranty
Specifications
Additional SKUs:

2524000NP0

Dimensions:

8.27"L x 3.58"W x 7.95"H

Power Source:

Polarized Plug
Care & Maintenance
Turn the appliance OFF, then uplug from outlet when not in use, before putting on or taking off parts, and before cleaning
THIS PRODUCT IS FOR HOUSEHOLD USE ONLY
Product Disclaimer
Read all instructions before using this product.
Warranty
2 Year Limited Warranty
Where to Buy
The following link will take you to a site outside of Sunbeam.
Rated

1

out of

5
by
Deecass
from
Beaters broke
I love the speed but after on the 3rd use both the beaters broke
Date published: 2020-04-23
Rated

3

out of

5
by
Claramae
from
My Beater Broke
My Husband bought me this as a Christmas Gift and I loved it until 1 part of the metal beater broke away while whipping egg whites for meringue...then the 2nd piece broke....it would cost more than the mixer cost to buy another beater...I am heartbroken as I used the mixer multiple times a week!! I am an elderly disabled woman and I can't afford to buy another mixer
Date published: 2018-01-29
Rated

5

out of

5
by
DmarieT16
from
Light weight and powerful
The Sunbeam 200 watt Hand Mixer is pretty powerful but lightweight and easy on the hand. It looks nice and comes with two good size mixing blades. It's also very compact so perfect for limited cabinet spaces. I had to try it out right away. The mixing blades pop into place easily. I didn't sense a strong vibration while using for several minutes. It takes a bit more of a push to remove the blades, but still easy enough. With hand and wrist issues, these are important features to me. I have tried a few things successfully like cake, icing and a cream cheese dip to name a few. All of these were mixed with ease. I am totally satisfied with my new mixer. Happy that I can whip something up quickly without effort! I definitely recommend this mixer.
Date published: 2020-09-09
Rated

1

out of

5
by
strawberry
from
No slow mixing
I also have the 220 watt hand mixer. There is no slow speed which is w;hy it is being sent back. My old handmixer was a handheld sunbeam which is why I ordered another one. It was 15 years old and the beater is loose. The mixer still works after all this time. So I know it is a good product and is used often. Make a slow speed.
Date published: 2017-12-15
Rated

1

out of

5
by
Marilyn Dawn
from
Speed
Bought this and have been using it but very unhappy with it because I can't use it for blending or creaming. There is no slow speed as it said it had. The slow spwewed is all you need for beating or whipping cream. It is that fast.
Date published: 2017-05-13
Rated

3

out of

5
by
BekNYS
from
High and Higher Speed
This is a strong little mixer that quickly combines ingredients but if you don't slightly precombine dry ingredients, they will fly, even on the lowest setting. The beater blades are wider than competitors and are much easier to clean. I find it strange that only the beater blades are offered when most competitors also offer a whisk attachment, or even bread hooks. It works well for a basic starter mixer but not for someone who bakes frequently and would really like the other attachments.
Date published: 2020-09-10
Rated

1

out of

5
by
Disappointed in Dublin
from
First time I used it
I bought the Sunbeam hand mixer last week and the first time I used it to combine soft butter and sugar one of the mixer beaters broke. The "spokes" pieces came unhinged from the center spoke.
Date published: 2020-04-11
Rated

5

out of

5
by
Back2reality34
from
Love it.
This is honestly my first hand mixer. Have always just done all of my mixing old school. Wisk wisk wisk... But this is a game changer. My arms don't get worn out. Easy to use. Sleek looking. The paddles slip out for easy washing and storage. There are multiple speeds so it doesn't get thrown everywhere. Easy to wipe down and clean up when done. Definitely a must have in the kitchen. Can't wait for baking season to start now. This is definitely going to be a huge help!
Date published: 2020-09-10
Rated

1

out of

5
by
Poppa
from
Cheap Beaters
Had this for less than 6 months and the beaters broke while mixing a batter
Date published: 2020-11-14
Rated

4

out of

5
by
smith91
from
Easy to use
Have a stand mixer, but this one comes in handy for small mixing jobs
Date published: 2016-01-04
Rated

2

out of

5
by
Doormat
from
Thank goodness the beater broke!!
This mixer does need a slower speed! 1 throws things all over the place. I have to say that I am thankful my beater broke. I plugged it in and didn't realize I pushed the button on. I put the beater in and it wrapped my finger into it. Thankfully the tine broke and I grabbed the cord to unplug it. I know, I should have put the beaters in and then plugged it in, but I didn't. I still have my finger, no nail, but it will heal!
Date published: 2021-01-16
Rated

5

out of

5
by
SarahN
from
Powerful
This is the perfect mixer if you are looking for something that works hard! It has 6 adjustable speed settings to mix and blend just about anything. It has easy to follow directions. Its lightweight and has a great hand feel that is easy to grip. It's a reliable mixer with powerful motor plus its not very loud. It's easy to keep clean and I store it back in the box after each use. It's compact in size too, I use it almost daily!
Date published: 2020-09-24
Rated

5

out of

5
by
Darling
from
Love this mixer
This is my favorite hand mixer to whip up egg whites, mix up some brownies, or mash potatoes. This mixer really doesn't have a true low setting but that is not a problem for me. It is a workhorse! I have purchased some more expensive hand mixers which claim to have more horsepower that couldn't hold a candle to this one. I keep coming back to the Sunbeam Hand Mixer. This is far and away my favorite of all the ones have tried.
Date published: 2020-10-29
Rated

5

out of

5
by
Orangepookiepi
from
Powerful and compact
I got this so I wouldn't have to drag our beast of a mixer out of the closet every time I needed to mix something. First day we had it my wife used it to shred whole chicken breasts. This little mixer packs a whole lot of power I don't foresee having any issues mixing anything on the future. It has 6 different speed settings and the cord is long enough that you don't have to work right next to an outlet. Glad I got it.
Date published: 2020-09-19
Rated

3

out of

5
by
GrandmaN
from
Handle
I received mixer as a gift couple years ago, mixer works well, compact and handy. I store it in a cupboard away from heat and sun. When I used it recently the rubber on the handle grip was so sticky I could hardly get my fingers unstuck. Tried cleaning with mild soap and made worse. Rubber seems to be deteriorating. Had to wrap handle with duct tape to use it comfortably. Not what I would expect from Sunbeam.
Date published: 2020-12-22
Rated

1

out of

5
by
Baking is fun
from
no speed control
I just bought this and tried it out today to make chocolate chip cookies. I started to cream the butter and the sugar on the Number 1 setting but it sent the mixture all over my walls and counter. Yes, I was using a LARGE bowl. There is just no speed control, very little difference between #1 and 10. So disappointed, I lost so much batter that the cookies were abandoned and clean up ensued instead. Ridiculous!
Date published: 2021-09-12
Rated

5

out of

5
by
luvmyboys27
from
Great mixer
I have been wanting a mixer for years but never actually acquired one. I decided it was time to change that! The mixmaster by Sunbeam was just what I needed. It offers 6 speed controls with 200 watts! Designed with an open handle so it provides more comfort while using! Features extra stability by offering bowl rest and heel rest! I do a lot of baking and cannot wait to use this more in my routine!!
Date published: 2020-09-04
Rated

4

out of

5
by
Rfuller89
from
Simply powerful
Simple and powerful handheld mixer. The sunbeam hand mixer has definitley left me impressed. The beaters are easy to put in and take out. They are light weight yet can really get the job done. It really does have a burst of power and works in a variety of thickness. The handle is the perfect size. Whether for myself or my wife with smaller hands. It is a useful simple mixer to keep on hand.
Date published: 2020-09-15
Rated

5

out of

5
by
shayk88
from
Long lasting!
This Sunbeam hand mixer is only replacing my same Sunbeam hand mixer I've had a decade. The attachments started getting a little rust in the cracks. The mixer itself was still working. After a decade of normal use in a household of 6. Small and convenient enough so it can be put away. It's light weight, portable and easy to clean. It will continue to be my go to for all my mixing needs!
Date published: 2020-09-14
Rated

2

out of

5
by
RRNorth
from
Need A Spare Boat Motor?
Remodeled my kitchen and decide to replace the hand mixer I bought years ago with something more upscale. It is just too powerful! Speed 1 is flinging eggs, flour, dough to the point I have to put the bowl in the sink just to limit the mess. Had to call it quits when my 'outboard' mixer managed to get banana bread dough on the ceiling. My husband is going to use it as a paint mixer.
Date published: 2019-02-21
Rated

5

out of

5
by
Hgagnon73
from
Powerful!
What a shock I had when I used the Sunbeam hand mixer. Unboxing I saw a simple hand mixer that is compact and will be easy to store. The mixer is not heavy and will stand up on the table when not in use. This little mixer is one powerful little gadget. It made short work of mashed potatoes and cookie dough. I would highly recommend for anyone needing to purchase a hand mixer.
Date published: 2020-09-19
Rated

1

out of

5
by
Gemini070900
from
Poor Quality Beaters
Bought this hand mixer and after only a few uses, the welds on the beaters broke while mixing mashed potatoes. The mixer itself is ok but the beaters are made of very poor quality metal that doesn't last. I do not recommend this product. Sunbeam needs to correct the beater issue as I have seen numerous issues and complaints about them breaking and not lasting.
Date published: 2021-06-15
Rated

5

out of

5
by
Britty
from
Love
I just love how I can bring my mixer to the table with out having to deal with a cord. Seems everything that I have to plug-in in the kitchen has the shortest cords ever. I love that I can move freely. I love how convenient it is. I charged it once n used it a few times already so the charge seems to last. I love i don't have to charge it after every use.
Date published: 2020-09-20
Rated

5

out of

5
by
Dubb92
from
Love it!
I've had this hand mixer for about a week now. I've never had a hand mixer before. Got to say it's pretty nice to have. It's easy to use. The attachments are really simple to connect to the mixer. The speeds on it are super fast. It's not too loud and it's very light weight. Great for cake mix and cookie batter. Easy to clean and take care of.
Date published: 2020-09-12
Rated

5

out of

5
by
Madie
from
So nice.
I haven't had a mixer in a long time because I just didn't do a lot of baking. But this year I started doing a lot of cooking and baking for my grandkids because I'm retired now. This mixer is absolutely wonderful. I have rheumatoid arthritis so my hands hurt all the time I didn't think that I would be able to use it. I used it and I love it
Date published: 2020-09-08
Rated

5

out of

5
by
Sheena1
from
Fantastic
I was in need of a new hand mixer so I got the Sunbeam® 200-Watt Hand Mixer. Let me tell you it was like day and night compared to my other hand Mixer. The quietest hand Mixer I've ever used and the power is great and the speed settings just amazing. The actual beaters are very durable and 2xs the size of my other one. I am very satisfied.
Date published: 2020-09-15
Rated

1

out of

5
by
Valeria
from
Worst hand mixer I've ever owned
This mixer does not seem to have a slow speed. Every time I use it, no matter how careful I am, I still have to wipe down my canisters and back splash of my counters.I loaned it to a neighbour the other day and warned her about it. When she brought it back, she understood what I had meant as she also had a mess when she was finished.
Date published: 2020-06-08
Rated

1

out of

5
by
Moire
from
beaters are ridiculous
I bought this about a year ago and had only used it about five times when one of the beater sections fell off. I continued to use it but then the whole beater broke in half! Ha ha. The mixer is working fine but the beaters are hard to get and cost about the same as getting a whole new mixer. Sad. Bad deal and bad for the environment.
Date published: 2021-07-22
Rated

5

out of

5
by
Sherrxoxo
from
LOVE!
This hand mixer is so convenient and easy to use. It's lightweight and great quality, it's also a brand that I know and trust. I've used this mixer almost daily since I got it. I like that it has different speeds, that comes in handy according to what I'm using it for. I know it will last me forever and I highly recommend it!
Date published: 2020-09-22
Rated

5

out of

5
by
Theambushbug316
from
Mixes great!
I am so glad to have a good quality mixer! The mixer has different speeds for stirring, blending and beating. The beaters are easy to pop and lock in the mixer. The mixer is lightweight and easy to use. I would tell anyone that wants a good quality mixer, to purchase this mixer. It will be a staple in our home for years to come!
Date published: 2020-07-28
bvseo_sdk, dw_cartridge, 18.2.0, p_sdk_3.2.0
CLOUD, getReviews, 0ms
reviews, product
---
<!--begin-bvseo-questions--> <!--begin-questions--> <div id="bvseo-questionsSection"> <div class="bvseo-question-answer" data-questionid="851220"> <h2 class="bvseo-question"> Does this 2524 Sunbeam hand mixer have a retractable cord? </h2> <div class="bvseo-question-detail"> </div> <div class="bvseo-author">Asked by: Joybells</div> <div class="bvseo-answer" data-answerid="936923"> Absolutely! This 2524 Sunbeam hand mixer has a retractable cord so that it tucks out of the way. <div class="bvseo-author">Answered by: SunbeamSupport</div> <div class="bvseo-pubdate">Date published: 2017-08-17</div> </div> </div> <div class="bvseo-question-answer" data-questionid="808842"> <h2 class="bvseo-question"> when the mixer is turned on is it automatically at 200 Watts or are the lower speeds at lower wattage I have a truck that only takes 100 Watts and we&#39;re going camping </h2> <div class="bvseo-question-detail"> </div> <div class="bvseo-author">Asked by: Camp cook</div> <div class="bvseo-answer" data-answerid="898483"> This mixer requires 200 Watts for mixing. We do not recommend the use of a converter, transformer or other electronic device with our mixers. Converting the electricity may compromise the functionality of the mixer. Additionally, doing so will void your warranty. <div class="bvseo-author">Answered by: SunbeamSupport</div> <div class="bvseo-pubdate">Date published: 2017-07-05</div> </div> </div> <div class="bvseo-question-answer" data-questionid="804763"> <h2 class="bvseo-question"> Hi do you know if any toll is ok for these kind of mixer?. Or is your company sell the tools? Thanks </h2> <div class="bvseo-question-detail"> </div> <div class="bvseo-author">Asked by: Milena</div> <div class="bvseo-answer" data-answerid="894298"> In order for us to accurately assist you we would need some additional information. Feel free to utilize the live chat function here on our site or you can give us a call at (800) 458-8407. We are available Monday - Friday, 9AM-6PM EST. <div class="bvseo-author">Answered by: SunbeamSupport</div> <div class="bvseo-pubdate">Date published: 2017-06-28</div> </div> </div> <div class="bvseo-question-answer" data-questionid="774871"> <h2 class="bvseo-question"> When can I buy one </h2> <div class="bvseo-question-detail"> </div> <div class="bvseo-author">Asked by: Gloria123</div> <div class="bvseo-answer" data-answerid="861761"> Our products are sold at major retailers such as Walmart, Target, Bed Bath and Beyond, Kohl&#39;s, and Sears. Please note that we are unable to guarantee a local retailer will carry a certain product, as we do not have access to a specific retailer&#39;s inventory. We recommend contacting the retailer to ensure stock is available. <div class="bvseo-author">Answered by: SunbeamSupport</div> <div class="bvseo-pubdate">Date published: 2017-05-12</div> </div> </div> <div class="bvseo-question-answer" data-questionid="755799"> <h2 class="bvseo-question"> I am misplaced the metal mixers parts that attach. &amp;nbsp;How can I purchase replacements? </h2> <div class="bvseo-question-detail"> </div> <div class="bvseo-author">Asked by: Libby28</div> <div class="bvseo-answer" data-answerid="844214"> The replacements for this hand mixer is not available online I would recommend contacting a local service center to see if the product is available for purchase. <div class="bvseo-author">Answered by: SunbeamSupport</div> <div class="bvseo-pubdate">Date published: 2017-04-05</div> </div> </div> <div class="bvseo-question-answer" data-questionid="690044"> <h2 class="bvseo-question"> i would like to order this...what do i do? </h2> <div class="bvseo-question-detail"> </div> <div class="bvseo-author">Asked by: baron348</div> <div class="bvseo-answer" data-answerid="773988"> This product is currently out of stock, I would recommend checking back within 4-6 weeks in order for any updates in the website. Thank you! <div class="bvseo-author">Answered by: SunbeamSupport</div> <div class="bvseo-pubdate">Date published: 2016-12-12</div> </div> </div> <div class="bvseo-question-answer" data-questionid="618259"> <h2 class="bvseo-question"> After reading the limited reviews, I have some concerns on this item. Is it light weight, yet powerful? I have purchased other brands and have found them to have very flimsy mixing utensils and low power that will not mash a small batch of potatoes,dips,&amp;nbsp; </h2> <div class="bvseo-question-detail"> </div> <div class="bvseo-author">Asked by: peatie</div> <div class="bvseo-answer" data-answerid="721207"> The hand mixer weighs about 3 pounds. With the 6 variable speeds and the burst of power button it also makes this hand mixer very powerful, even with it being so lightweight. Thanks! <div class="bvseo-author">Answered by: SunbeamSupport</div> <div class="bvseo-pubdate">Date published: 2016-09-13</div> </div> </div> <div class="bvseo-question-answer" data-questionid="612180"> <h2 class="bvseo-question"> How much does the Sunbeam&amp;reg; Mixmaster&amp;reg; 220-Watt Hand Mixer with Retractable Cord, White, 002525-000-NP0 weigh? </h2> <div class="bvseo-question-detail"> </div> <div class="bvseo-author">Asked by: Curmudgeon</div> <div class="bvseo-answer" data-answerid="695328"> This hand mixer weighs about 3 pounds. <div class="bvseo-author">Answered by: SunbeamSupport</div> <div class="bvseo-pubdate">Date published: 2016-07-18</div> </div> </div> <div class="bvseo-question-answer" data-questionid="600997"> <h2 class="bvseo-question"> I love my mixer but do you sell parts? The metal mixers have rusted! Model No. 2524. I would think you could replace these 2 parts rather than tossing a well working appliance. Please advise. Thank you </h2> <div class="bvseo-question-detail"> </div> <div class="bvseo-author">Asked by: Dee16</div> <div class="bvseo-answer" data-answerid="684728"> The beaters for your model aren&#39;t available here on our website at this time, but we do have them available for purchase over the phone! Give us a call at 1-800-458-8407 and we&#39;ll be happy to help! We&#39;re here for you Monday-Friday, 9am-6pm Eastern.&#10;&#10;To prevent rust from forming, we recommend drying your beaters completely after washing. <div class="bvseo-author">Answered by: SunbeamSupport</div> <div class="bvseo-pubdate">Date published: 2016-06-15</div> </div> </div> <div class="bvseo-question-answer" data-questionid="554186"> <h2 class="bvseo-question"> I&#39;ve had you hand mixer model number 2524 for a few months. I was wondering if I could get some new beaters? Mine broke witch makes this brand new mixer useless </h2> <div class="bvseo-question-detail"> </div> <div class="bvseo-author">Asked by: Triple_d</div> <div class="bvseo-answer" data-answerid="641419"> The beaters for your model are not currently available here on our website, but we do have them available for purchase over the phone. Please give us a call at 1-800-458-8407, Monday-Friday, 9am-6pm Eastern and we&#39;ll be happy to help you place an order. <div class="bvseo-author">Answered by: SunbeamSupport</div> <div class="bvseo-pubdate">Date published: 2016-02-18</div> </div> </div> <div class="bvseo-question-answer" data-questionid="542445"> <h2 class="bvseo-question"> Sunbeam&amp;reg; Mixmaster&amp;reg; 220-Watt Hand Mixer, White is more expensive than the Red ?. What is the difference between these two ? </h2> <div class="bvseo-question-detail"> </div> <div class="bvseo-author">Asked by: Linh</div> <div class="bvseo-answer" data-answerid="630291"> The only difference between the two is the color choice. Pricing is determined by our marketing team based on their research. <div class="bvseo-author">Answered by: SunbeamSupport</div> <div class="bvseo-pubdate">Date published: 2016-01-20</div> </div> </div> <div class="bvseo-question-answer" data-questionid="542442"> <h2 class="bvseo-question"> In the previous answer &amp;quot;This hand mixer has an electrical cord and must be plugged in during use&amp;quot;. My question is: what is the difference between this kind of electrical cord and retractable cord ? </h2> <div class="bvseo-question-detail"> </div> <div class="bvseo-author">Asked by: Linh</div> <div class="bvseo-answer" data-answerid="630287"> The retractable cord feature allows the length of the cord to be retracted inside the mixer for neat storage. This mixer does not have a retractable cord, so the cord can be wound up neatly for storage but will not retract automatically. <div class="bvseo-author">Answered by: SunbeamSupport</div> <div class="bvseo-pubdate">Date published: 2017-01-20</div> </div> </div> <div class="bvseo-question-answer" data-questionid="542440"> <h2 class="bvseo-question"> What is the burst of power button for ? </h2> <div class="bvseo-question-detail"> </div> <div class="bvseo-author">Asked by: Linh</div> <div class="bvseo-answer" data-answerid="630284"> The Burst of Power feature provides extra mixing power at the push of a button. <div class="bvseo-author">Answered by: SunbeamSupport</div> <div class="bvseo-pubdate">Date published: 2016-01-20</div> </div> </div> <div class="bvseo-question-answer" data-questionid="534006"> <h2 class="bvseo-question"> I read about Sunbeam mixer at the&amp;nbsp;topreviews.best and in their opinion it&#39;s one of the best hand mixers. But I can&#39;t imagine that so cheap mixer can be good. Why it&#39;s so cheap?&amp;nbsp; </h2> <div class="bvseo-question-detail"> </div> <div class="bvseo-author">Asked by: marychansing</div> <div class="bvseo-answer" data-answerid="621306"> This is a great price for this hand mixer! Pricing is determined by our marketing department, based on their research. <div class="bvseo-author">Answered by: SunbeamSupport</div> <div class="bvseo-pubdate">Date published: 2015-12-31</div> </div> </div> <div class="bvseo-question-answer" data-questionid="531823"> <h2 class="bvseo-question"> Is this mixer durable enough for light mixing of a 8&amp;quot; birthday cake plus frosting. </h2> <div class="bvseo-question-detail"> </div> <div class="bvseo-author">Asked by: Chipper</div> <div class="bvseo-answer" data-answerid="618232"> Yes, the FPSBHM2524R model hand mixer has two settings that are designed to blend cake mixes and beat/prepare frosting very well. <div class="bvseo-author">Answered by: SunbeamSupport</div> <div class="bvseo-pubdate">Date published: 2017-01-27</div> </div> </div> <div class="bvseo-question-answer" data-questionid="516953"> <h2 class="bvseo-question"> I bought this mixer but I don&#39;t see the Burst of Power button. &amp;nbsp;Where is that? </h2> <div class="bvseo-question-detail"> </div> <div class="bvseo-author">Asked by: Cvirden</div> <div class="bvseo-answer" data-answerid="604546"> The Burst of Power button is located on the handle of the mixer, just below the speed control button. <div class="bvseo-author">Answered by: SunbeamSupport</div> <div class="bvseo-pubdate">Date published: 2015-11-16</div> </div> </div> <div class="bvseo-question-answer" data-questionid="514346"> <h2 class="bvseo-question"> Is this cordless or powered by batteries? </h2> <div class="bvseo-question-detail"> </div> <div class="bvseo-author">Asked by: Biggeorge</div> <div class="bvseo-answer" data-answerid="601973"> This hand mixer has an electrical cord and must be plugged in during use. <div class="bvseo-author">Answered by: SunbeamSupport</div> <div class="bvseo-pubdate">Date published: 2015-11-09</div> </div> </div> <div class="bvseo-question-answer" data-questionid="511331"> <h2 class="bvseo-question"> How do you remove the beaters? </h2> <div class="bvseo-question-detail"> </div> <div class="bvseo-author">Asked by: Anne</div> <div class="bvseo-answer" data-answerid="598213"> This hand mixer features a large speed control button that also functions as the beater eject button when in the &amp;quot;Off&amp;quot; position. You should be able to release the beaters by pressing the button, and there will be a noticeable &amp;quot;click&amp;quot; when the beaters are ejected. <div class="bvseo-author">Answered by: SunbeamSupport</div> <div class="bvseo-pubdate">Date published: 2017-01-27</div> </div> </div> <div class="bvseo-question-answer" data-questionid="510779"> <h2 class="bvseo-question"> Does this mixer or the Heritage come with any warranty?&amp;nbsp; </h2> <div class="bvseo-question-detail"> </div> <div class="bvseo-author">Asked by: MattyBRaps</div> <div class="bvseo-answer" data-answerid="597819"> Yes, this mixer and the Heritage Series Hand Mixer both carry a 1-year limited warranty. <div class="bvseo-author">Answered by: SunbeamSupport</div> <div class="bvseo-pubdate">Date published: 2015-10-28</div> </div> </div> <div class="bvseo-question-answer" data-questionid="510780"> <h2 class="bvseo-question"> Does this mixer have any warranty? </h2> <div class="bvseo-question-detail"> </div> <div class="bvseo-author">Asked by: MattyBRaps</div> <div class="bvseo-answer" data-answerid="597206"> Yes, this mixer carries a 1-year limited warranty. <div class="bvseo-author">Answered by: SunbeamSupport</div> <div class="bvseo-pubdate">Date published: 2015-10-27</div> </div> </div> <div class="bvseo-question-answer" data-questionid="506976"> <h2 class="bvseo-question"> Does this mixmaster whip potatoes? </h2> <div class="bvseo-question-detail"> </div> <div class="bvseo-author">Asked by: Mack</div> <div class="bvseo-answer" data-answerid="593622"> Yes, the FPSBHM2524R-MASTER hand blender can whip potatoes. <div class="bvseo-author">Answered by: SunbeamSupport</div> <div class="bvseo-pubdate">Date published: 2015-10-27</div> </div> </div> <div class="bvseo-question-answer" data-questionid="504954"> <h2 class="bvseo-question"> Where can I buy the beaters I misplaced mine </h2> <div class="bvseo-question-detail"> </div> <div class="bvseo-author">Asked by: oscarandtyson</div> <div class="bvseo-answer" data-answerid="591926"> Currently, the beaters for your model aren&#39;t available here on our website. Please give us a call at 1-800-458-8407 and we&#39;ll be happy to assist you. We&#39;re here for you Monday-Friday, 9am-6pm Eastern. <div class="bvseo-author">Answered by: SunbeamSupport</div> <div class="bvseo-pubdate">Date published: 2015-10-27</div> </div> </div> <div class="bvseo-question-answer" data-questionid="1361784"> <h2 class="bvseo-question"> Just purchased a #2524 hand mixer. On the box it shows an insert picture of 2 reg. beaters and 2 dough hooks. The dough hooks were not included in the box. Were they suppose to be included???? </h2> <div class="bvseo-question-detail"> </div> <div class="bvseo-author">Asked by: Ninn</div> </div> </div> <script type="text/javascript"> if (document.getElementById('bvseo-questionsSection')) { document.getElementById('bvseo-questionsSection').style.display = 'none'; } </script> <!--end-questions--> <ul id="BVSEO_meta" style="display:none!important"> <li data-bvseo="bvDateModified">y_2021, m_11, d_30, h_19CST</li> <li data-bvseo="ps">bvseo_bulk, prod_bvqa, vn_bulk_3.0.20</li> <li data-bvseo="cp">cp_2, bvpage2n</li> <li data-bvseo="co">co_hasquestionsanswers, tq_31</li> <li data-bvseo="cf">loc_en_US, sid_SP_326625, prod, sort_[SortEntry(order=LAST_APPROVED_ANSWER_SUBMISSION_TIME, direction=DESCENDING)]</li> <li data-bvseo="diagnostics">clientName_sunbeam</li> </ul> <!--end-bvseo-questions--> <ul id="BVSEOSDK_meta" style="display: none !important;"> <li data-bvseo="sdk">bvseo_sdk, dw_cartridge, 18.2.0, p_sdk_3.2.0</li> <li data-bvseo="sp_mt">CLOUD, getContent, 0ms</li> <li data-bvseo="ct_st">questions, product</li> </ul>
product-detail-view
oos-pdp