Tips for Wrinkle-Free Travel
As exciting and fulfilling as it can be, travel does bring several headaches with it - one of them being the issue of keeping your clothes unwrinkled. Just because you're traveling doesn't mean you should sacrifice the neatness and presentation of your clothes. However, as many will tell you, it often seems impossible to pack clothing in a way that leaves it still looking wrinkle-free upon arrival. The good news is that there's a sensible and practical way to keep all of your garments fresh and presentable even after hours of being cramped in your suitcase.
When traveling, whether by car or plane, bring the Sunbeam® Power Steam Fabric Handheld Steamer with you so that you're ready to face any wrinkles that come your way. It's reliable, effective and compact. Here are a few tips to keep your clothes wrinkle-free when traveling:
Pre-Travel
Though tossing everything into your suitcase at the last minute might be necessary if you're pressed for time, taking a few extra moments to carefully fold and pack your garments could help you in the long run. While rolling can be effective for jeans and T-shirts, other garments will fare best when folded.
Another helpful trick is to use plastic bags when packing. Friction causes wrinkling, which is bound to happen in your luggage. However, plastic can help to reduce friction. Placing your folded clothes in large plastic bags can help minimize the wrinkles you find on arrival. Plus they can help keep your travel garments organized in your suitcase or bag.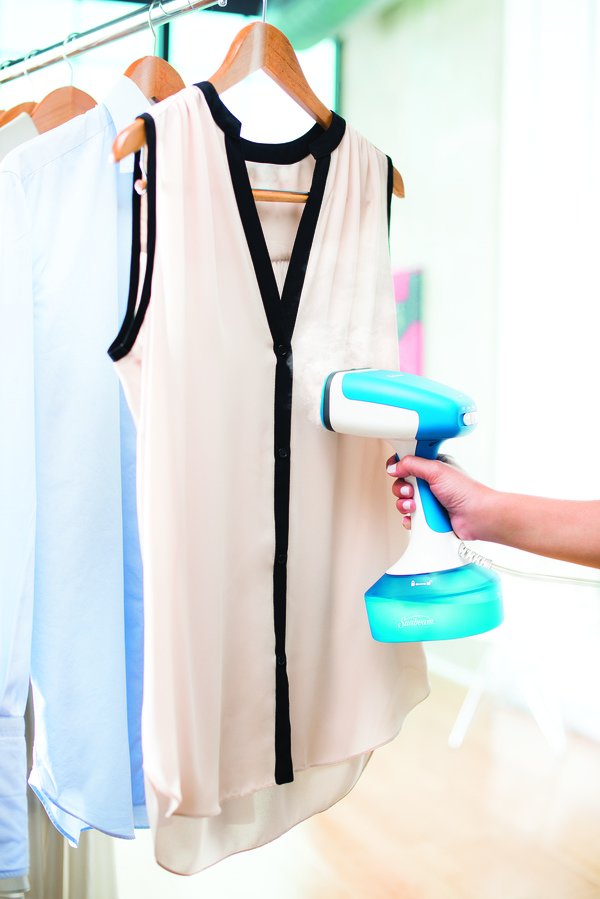 At Your Destination
After arriving at your destination and settling into your accommodations, unpacking your clothing should be one of your first priorities. Don't let your dresses, skirts and blouses or ties, dress pants and button-downs sit in your suitcase any longer than they need to.
Unpack and hang all necessary outfits in your closet. For those that look particularly wrinkled or even ones that you'd just like to freshen up, iron or steam them. If you're in a small space or don't have access to an iron, this is when the Sunbeam® Power Steam Fabric Handheld Steamer comes in handy. Providing a quick and easy way to steam clothing, this handheld steamer produces a powerful steam that penetrates fabric deeply to leave you with a wrinkle-free, great-looking garment. Forget excessive costs of sending clothing to the dry cleaners or scrambling to find an ironing board - with this steamer, you can get that professional look with less hassle!
In addition to these advantages, there are a few other great things about the steamer that you should know:
It provides 15 minutes of continuous steam.
A wide steam exit delivers optimal results.
It's ready in less than 45 seconds and has a wait and ready light so you know exactly when to use it.
It can also sanitize and refresh fabrics and drapery.
The heated wide wrinkle remover gets out even the toughest wrinkles.
It's compact, so it's perfect for traveling.
The trigger lock allows for a constant flow of steam.
With these easy tips and the help of your Sunbeam® Power Steam Fabric Handheld Steamer, you'll be wrinkle-free while you travel!