How to Keep Your Knees Strong and Healthy
If your older relatives suffer from knee pain, they'd probably tell you they're just getting old. However, even younger people can experience knee pain and discomfort early on, whether from sports injuries, accidents or regular wear and tear. Luckily, there are some preventative measures you can take to help reduce the risk of developing troubles with your knees.
Keep Moving
As with all areas of the body, mobility is key for good health and reducing your risk of injury or discomfort. Simply leading a mobile life that includes walking, moving about during the day and regular physical activity can be beneficial. For those concerned with knee health and strength, consider low-impact activities. These can include things such as biking, swimming, rowing, water aerobics or Pilates, to name a few.
Knee-centric stability and strengthening exercises may also be beneficial. There are many simple ones you can perform right at home, and they'll only take a few minutes of your day. Spending the time to strengthen your knees now can go a long way in the future.
Work Out All Your Leg Muscles
The tendons, muscles and bones of your knees rely on more than just themselves. They get a little help from all of the other connected muscles in your legs. As such, strong legs translate to strong knees. In addition to strengthening and working out your knees, spending time exercising your glutes, hamstrings and quads is also valuable. Easy, at-home exercises include squats and lunges. Help stabilize your knees by strengthening both your upper and lower legs.
Watch Your Weight
Watching what you eat has been considered as a way of taking care of your knees. Each pound of body weight that you carry adds to the pressure felt on your knees. This means the weight of even a few extra pounds can add a lot of stress to your knees, putting unnecessary pressure on them. Thus, being mindful of what you eat and the food choices you make could be impactful. Watching your weight and ensuring regular physical activity can help.
On the contrary, losing even just a few pounds could mean a big difference for your knees.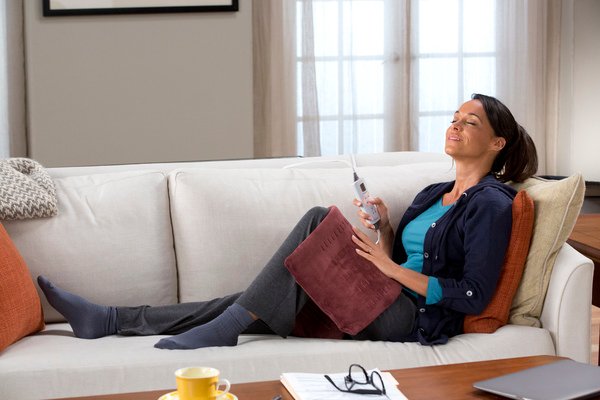 Rest and Recover
At the end of the day, resting and recharging is important not just for your knees, but for your overall health. If you start to feel pain, stress or discomfort in your knees, consider taking a few days off from physical activity or hard labor if you can. Giving your knees a break may help to relieve some stress as well as help them recover.
Heat therapy is also beneficial for recovery. Promoting increased blood flow, alleviating discomfort and speeding along the healing process, heat therapy is an effective, natural option to temporarily relieve pain in the knees. The Sunbeam® King Size XpressHeat™ Heating Pad, for example, can use moist or dry heat to penetrate the area around the knee and provide fast-acting heat. Heating up in just 30 seconds, this microplush, soft heating pad delivers soothing comfort to your knees and legs. With its wide coverage, you can gain relief in all areas. Choose your desired heat setting with a digitally-controlled LCD display that offers six different heat settings.