Coconut Almond Muffins with Chocolate Chips
Making sweet treats is always more fun with a reliable, efficient appliance like the Sunbeam® Mixmaster® Stand Mixer. Durable and powerful, this stand mixer helps whip, beat and blend your batter or dough to perfection. With a tilt-locking head, a Burst of Power® button and 12 different speed options, you can get the exact results you're looking for each and every time. Best of all, the soft grip and 350-watt motor keeps mixing easy on your hands. The offset positioning of the bowl makes it simple to incorporate ingredients without having to start and stop again, such as when you need to combine wet and dry mixtures when baking.
And, you won't worry about splatter or mess, thanks to the soft-start technology of this stand mixer. So the next time you're craving a breakfast pastry, take out your Sunbeam® Mixmaster® Stand Mixer and give this recipe a try: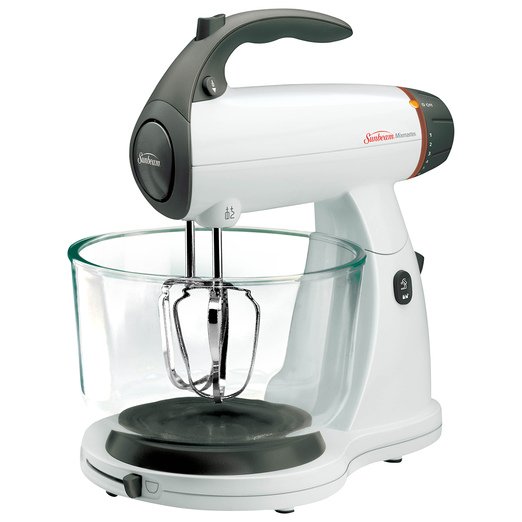 Coconut Almond Muffins with Chocolate Chips
Light, fluffy and moist, these muffins are ones you'll want to make again and again. Perfect for morning, noon or a late-night snack, they're irresistibly delectable. The coconut provides natural sweetness while the chocolate chips add a rich confectionery taste.
Ingredients:
4 tablespoons unsalted butter
1 1/2 cups all-purpose flour
1 1/2 teaspoons baking powder
1/4 teaspoon kosher salt
1/2 cup granulated sugar
1/2 cup plain Greek yogurt
2 tablespoons milk
1 large egg
1/2 teaspoon vanilla extract
1/2 teaspoon coconut extract
1/2 cup semisweet chocolate chips, plus extra for garnish (optional)
1/2 cup whole roasted almonds, roughly chopped, plus extra for garnish (optional)
1/2 cup coconut flakes, plus extra for garnish (optional)
Directions
Line a muffin tin with liners.
Heat oven to 375 degrees.
Microwave butter in a small bowl for a few seconds until melted. Set aside.
In the 4-quart bowl of your stand mixer, combine flour, baking powder and salt on low speed. Mix until well combined.
Use the 2-quart bowl of your stand mixer to combine sugar, yogurt, milk, eggs, vanilla, coconut extracts and melted butter on lowest speed.
Slowly pour wet ingredients into dry ingredients bowl.
Mix on medium-low speed until mixture is nearly combined. The batter will be thick.
Fold in chocolate chips, roasted chopped almonds and coconut flakes.
Pour mixture evenly into each muffin liner.
Top with extra chocolate chips, almonds and coconut flakes, if desired.
Bake muffins for 18 to 20 minutes, until toothpick comes out clean.
Sunbeam Products, Inc. d/b/a Jarden Consumer Solutions has not tested these recipes and is not responsible for the outcome of any recipe. You may not achieve the results desired due to variations in ingredients, cooking temperatures, cooking times, typos, errors, omissions, or individual cooking abilities. Please always use your best judgment when cooking with raw ingredients such as eggs, chicken or fish.