3 Reasons to Choose Heat Therapy as Your Natural Option
Simple, natural solutions such as better sleeping habits, good nutrition, adequate exercise and regular stretching can assist in reducing discomfort. On top of these great options effective in temporarily relieving discomfort is another method for promoting healing: heat therapy. The next time you're feeling stress, tension or pain in your neck, back, legs or anywhere else, consider these three reasons for choosing heat therapy:
1. Accessible and Reliable
One of the best things about heat therapy - aside from it being a natural option - is that it is readily available. You can get heat therapy in the form of hot baths, heating pads, saunas and hot wet cloths. No matter what form of heat therapy you choose to use, you can access it when you want, right away - usually right from your own home.
Heat therapy is also reliable and quite cost-effective. It's an inexpensive way to soothe your discomfort fast, effectively and frequently. Imagine finding an answer to your discomfort right away. With a heating pad such as the Sunbeam® XpressHeat™ Hourglass-Shaped Heating Pad, you'll get comforting relief in as little as 30 seconds! The unique technology gets this heating pad ready in no time at all so that as soon as you need it, it's ready in a matter of seconds.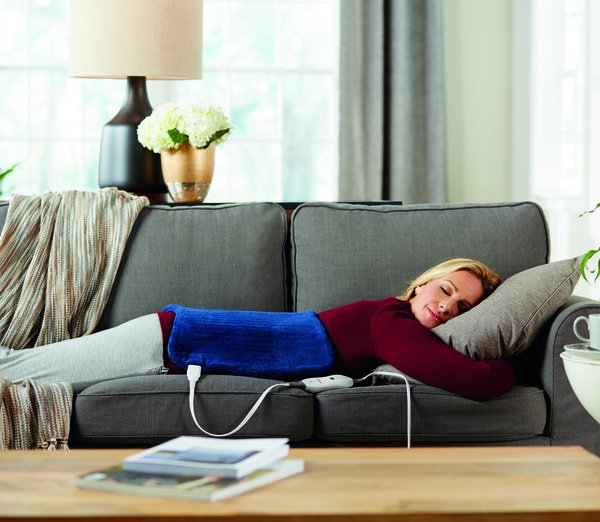 2. Targeted Relief
As mentioned above, there are many different types of heat therapy available which also helps to make it so versatile. Among the various forms of this natural treatment - known as nature's original pain reliever - you can effectively reach all areas of your body. And, if you opt for a heating pad, Sunbeam® Heat Therapy Products provide so many options, for all of your customized needs. The innovative designs of these heating pads are made specially for different body parts from the back and spine to the neck and shoulders as well as for muscles and joints.
Designed specifically for full back coverage, the Sunbeam® Massaging Renue® Extended Back Heat Therapy Wrap can even cover the shoulders. With a magnet closure, this heating pad gives a comfortable, hands-free fit. With weighted edges, you'll get a close feel and fit, delivering therapeutic heat therapy right where you need it. Stand, sit or lay back and relax while the massage and heat technology works its way into the muscles of your back to bring soothing comfort and relief.
The entire line of Sunbeam® Renue® Products specifically targets the shoulder area with heating pads in regular and extra large sizes, as well as some with massaging capabilities.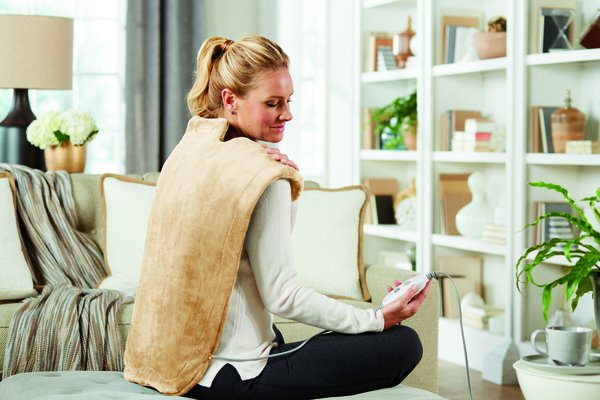 3. Provides Comfort and Relief
Heat therapy, and specifically, heating pads, accomplish effective temporary pain relief and comfort. Warm and soft as well as soothing, these heating pads that come in a variety of styles and sizes help to bring overall comfort. Applying heat to the body can help to increase blood flow. After you've iced an injury and brought down the inflammation, the heat can help to stimulate blood flow again so that nutrients are returned to the injured area, which can improve the time it takes to heal.
From a less technical standpoint, heat therapy can simply feel good. After a long day, curling up on the couch with a heating pad and a hot cup of tea can be quite comforting. It can help you unwind and relax, while stimulating feelings of soothing relief at the same time. The Sunbeam® Select-A-Cycle Therapeutic Heating Pad, for example, is made of microplush fabric and can lay perfectly across your arms, legs, upper shoulders, or even just on your lap for added comfort. With soft and flexible fabric, the heating pad easily shapes to your body to deliver warmth through four versatile preprogrammed heat cycles: wave, interval, rapid or steady heat. While helping to reduce discomfort, you'll also be lulled into a soft and soothing place of complete comfort and relaxation. It can also help to relieve muscle cramps and is weighted so it applies gentle pressure, which is especially comforting in the abdominal area.