The Quickest Fix for Ankle Aches
Ankle twists, sprains and aches are a common occurrence among all people, young and old, active or inactive. One misstep, a tumble down that last stair or a trip on uneven ground can send even the sturdiest person onto the ground with a fast twist of the ankle. Though these irritating pains are sometimes impossible to avoid, there is a temporary alternative that may help to bring soothing relief to the afflicted area.
The Power of Heat
Heat therapy has been around for thousands of years, and utilized as a temporary pain reliever for all sorts of discomforts for almost just as long. Providing comfort, alleviating swelling and pain, and aiding in relaxing the muscles, heat therapy can be used in many forms. Targeted heat therapy however, is a simple way to bring comfort for temporary relief.
With a trusted brand like Sunbeam®, you can ensure quality and convenience in your heat therapy choices. Heating pads can help to relax stiff and sore areas and provide comfort in a number of different ways. Designed in different shapes and sizes, you gain the power to customize heat therapy for your individual needs. These heating pads are intended to help you feel better temporarily and set you on the path toward comfort. Comforting relief comes in the form of helping to ease cramps, muscle discomfort, stiff joints and many common body aches and pains.
The Versatile and Functional Answer
If you're someone who has hurt your ankle - whether minor or severe - and you're constantly on the go socializing, multi-tasking and taking care of business both at home and outside your family, you need a fast on-the-go solution. To temporarily soothe the aches and pains of your ankle and to help provide relief for the time being, take advantage of the Sunbeam® Body-Shaped Heating Pad with Hot & Cold Pack.
One of the best things about this hot and cold pack is just that: It's ability to provide two different alternatives for relieving discomfort. Upon the initial injury, it's best to first opt for the cooling solution. The removable hot and cold gel pack can be temporarily placed in the freezer and then returned to the pad so that it can be applied to the afflicted area. It is suggested that you ice for no more than 15 minutes at a time.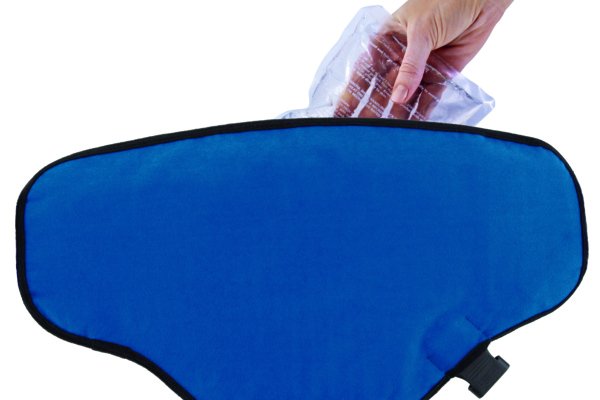 After the cold therapy has been applied, bringing in the comforting and soothing relief of the targeted heat therapy can help to slowly and temporarily reduce the associated discomfort. Set your desired heating level to optimize comforting relief and to help enable blood flow to the areas of discomfort on your ankle. This can help to reduce swelling and promote soothing relief when you need it most.
Comfort On-The-Go
This product is designed to target various muscle groups such as the lower back, shoulders and hips, and can even be wrapped around the ankle to provide comfort for aches and pains. Designed to conform to the area of the body where it is placed, this heating pad helps to maximize the transfer of heat. Providing freedom and convenience, a flexible Velcro strap can stretch up to 70 inches for a comfortable fit around the site of discomfort. This allows for mobile therapy, giving you the chance to go about the house will still providing comfort to your ankle. For even more enhanced flexibility, the controller can be detached.
This article is not intended to provide medical advice. Be sure to consult with your physician if you experience any pain or discomfort.