The Best Pain Relief Therapy for Winter Injuries
As the leaves begin to disappear, the snow starts to fall and the holiday lights come out, there are a number of fun outdoor activities that you'll be eager to do. Skiing, sledding, ice skating, shoveling - no matter the seasonal activity, you name it and there's a chance for injury this winter. Whether you're engaging in recreational activities or must-do winter chores, there is a chance you may injure yourself. When you twist an ankle on the slopes or hurt your back shoveling, consider using targeted heat therapy for soothing and fast-acting pain relief.
One way to get fast-acting, relief is to use one of the many versatile Sunbeam® Pain Relief Products. These products range from targeting your neck and shoulders to the back and spine and are even designed to bring relief to muscle, joints and cramps. By harnessing the power of nature's original pain reliever - heat - these products deliver, in an effective and simple way, to bring comfort and relief.
Shoveling: Back Strain
Before you head out to shovel the driveway after the first snowfall this winter, be sure to take all of the proper precautions to help avoid any serious injuries to your back. First, you should ensure that you are using the right shovel. It should be tall enough that it does not require excessive bending and a lightweight shovel with a plastic blade helps to minimize the weight you are moving. As with forms of physical activity, properly warming up beforehand is important. Once you're bundled up and out there, shoveling techniques are equally important.
Avoid twisting and be sure to bend at the hips, not the lower back. When picking up the snow to move it, bend your knees and do your best to lift with your leg muscles, while keeping your back straight. Do not stand locked or rigid, keep your knees loose and keep your elbows close to your body.
If you do experience discomfort in your lower back after a day of shoveling, applying heat therapy to the area is one way to bring relief. The Sunbeam® Back Contouring Heating Pad with Lumbar Support is a customizable product that provides optimal relief. Its contouring system allows for maximum heat transfer and an advanced airflow system enables firmness adjustment to provide better back support. Self-inflating for a customized fit, this heating pad helps to increase the flow of blood to restore oxygen and nutrients to the inflamed area.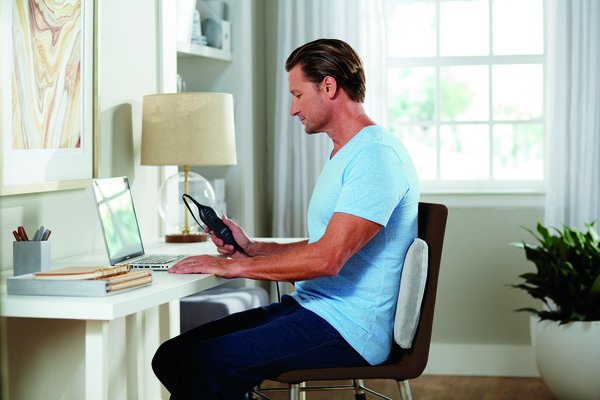 Skiing or Sledding: Muscle Cramp or Tension
Flying down the snow-packed mountain at high speeds is an exhilarating way to spend a winter weekend. However, skiing, snowboarding and even sledding can often lead to sore muscles or possible injuries. Most commonly, after a long day on the slopes you will experience tired and sore muscles that may be stressed or tense. As such, one of the best ways to relieve that tension is by applying heat therapy.
The Sunbeam® Select-A-Cycle Therapeutic Heating Pad is a versatile 4-in-1 pad that features pre-programmed heat cycles to help temporarily relieve pain associated with muscle cramps and tension. Choose from rapid, interval, wave or steady heat options for the setting that works best to soothe your aches. Soft and washable with options for both moist and dry applications, this heating pad provides the ultimate comfort after a cold day outside.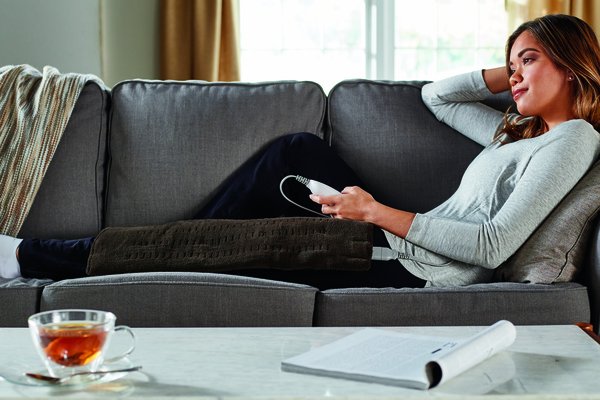 Ice Skating: Ankle Injury
Ice skating on a frozen pond or in an indoor arena during the winter months is a popular pastime. However, it does come with its fair share of risks. Due to the constraints of the tight skating boot, the ankle is often restricted, which can lead to injury of not just the ankle, but the legs and knees as well. It's a good idea to warm up and do some light stretching before lacing up and stepping onto the ice. This can help your muscles and tendons loosen up and thus, help to reduce the risk of injury.
If you do injure yourself during a trip to the local skating pond, one alternative to helping alleviate the pain is heat therapy. To help bring soothing relief to ankle or knee injuries, consider using the Sunbeam® Moist / Dry Heat Heating Pad with Auto-Off that's designed with UltraHeat® technology to help maintain even, consistent heat to the areas that are causing you aches and pains. Choose from four different heat settings to customize your level of intensity and start to feel better in no time.
Regardless of your winter injury this season, you can start feeling better faster with the soothing relief of heated therapy.
This article is not intended to provide medical advice. Be sure to consult with your physician if you experience any pain or discomfort.