Best Ways to Ease Knee Discomfort
Knee pain and discomfort is one of the most common ailments among Americans, especially older men and women. It's natural for knees to become weaker with age and things such as injury, overuse or other complications can further enhance discomfort. The pain can stem from the knee cap area or any of the ligaments, tendons and bones surrounding the knee. Common symptoms include swelling, an inability to bend or extend the knee, instability and difficulty walking, especially up steps.
The good news is that there are several natural ways to help reduce swelling and promote comfort.
Ice and Rest
One alternative to ease knee discomfort immediately following a minor injury is to rest, ice and elevate the knee. Icing with the Sunbeam® Body-Shaped Heating Pad with Hot & Cold Pack can help to reduce immediate swelling. This can also help to alleviate the pain and soreness associated with the injury.
Delivering both hot and cold therapy, this versatile heating pad is perfect for a wide range of conditions. Use the removable cold gel pack and wrap the pad around the knee area. The flexible Velcro strap can extend up to 70 inches, to ensure a comfortable fit around the pain site. For on-the-go flexibility and convenience, the control becomes detachable, giving you or your loved one the freedom to move or change positions while still icing. This is also beneficial when using the heating pack option: Once the swelling has gone down, switching to heat therapy can help with the healing process and promote comfort.
Heat Therapy
Heat therapy is a natural alternative to relieve knee discomfort. With the soothing relief of the Sunbeam® King Size Heating Pad with Digital LED Controller, the muscles and tendons surrounding the knee become less stiff and more comfortable. Providing added comfort with its microplush reversible to polyester ultra-soft pad, it also provides four different heat settings so that you can customize your desired level of heat and intensity to reach your needs. Choose from moist and dry heating settings until you find the feel that works best for you to help soothe away muscle pain.
This heating pad also comes equipped with a convenient 2-hour auto-off and an extra long power cord, enhancing functionality and convenience.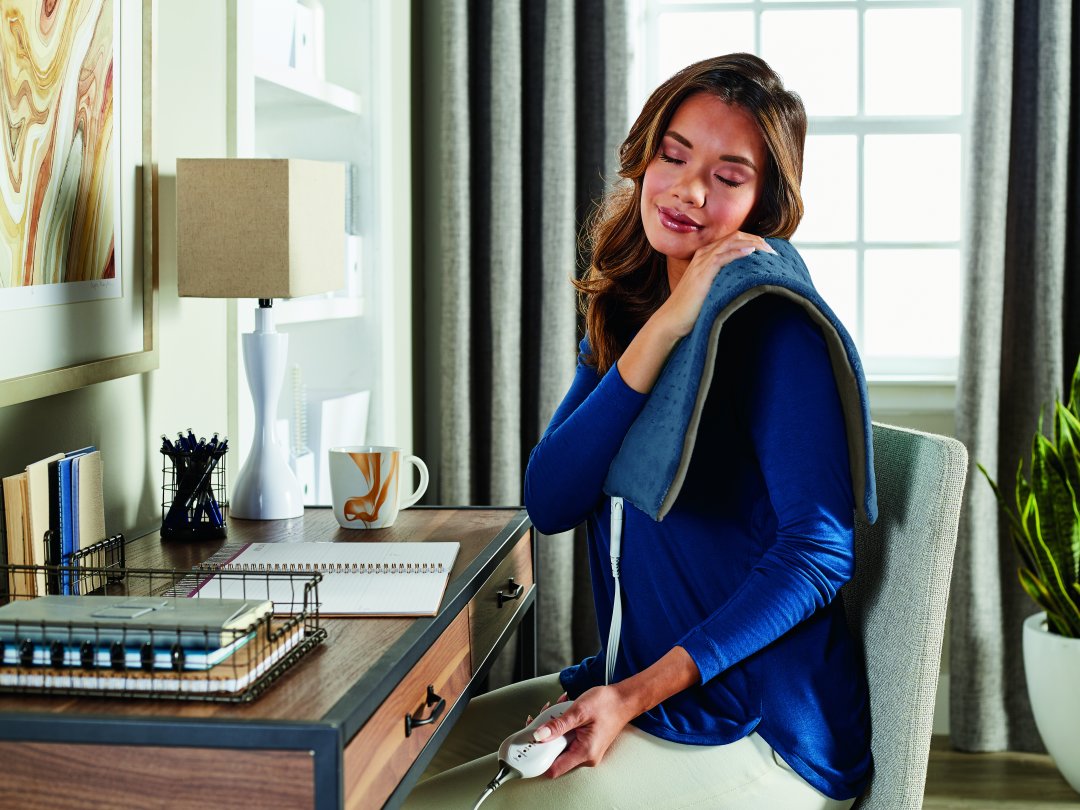 Exercise
Another great way to alleviate knee discomfort is through exercise. Not only can this help to strengthen the muscles that support the knee, thus taking pressure off of it, but it can also help to increase the range of motion. Range of motion and flexibility are important for prolonging knee health. Stretching can also help to prevent injury. it is helpful to rest or try a non-impact activity such as yoga or swimming. If you do choose to run, consider running on softer surfaces like grass instead of on pavement or switch to walking as an alternative.
This article is not intended to provide medical advice. Be sure to consult with your physician if you experience any pain or discomfort.