Top Tips for Getting the Most out of Your Stand Mixer
The iconic design of the Sunbeam® Heritage Series® Stand Mixer lends to its efficiency, reliability and power. Built on the tradition of performance, there's little this stand mixer can't do. Believe it or not there are ways you can get even more out of your stand mixer. Here are the tricks and tips you should know:
1. Read the Instruction Manual
Though you may be excited to jump right into mixing with your new Sunbeam® Heritage Series® Stand Mixer, it's crucial to read through the instruction manual. Not all stand mixers are the same and understanding how yours operates will only help to enhance the quality of your mixing and cooking. You'll want to know the features of your stand mixer as well as where each one is located.
The manual will explain how to raise and lower the mixing head, add the mixing bowl and install attachments.
2. Understand Speed Control
With 12 different speed settings, your stand mixer offers a number of varieties of mixing. To use each setting properly, it's important to know which speed is most appropriate for each mixing task. First and foremost, you should never start on a high speed, this will only result in splattering. Instead, even for recipes that require high speeds, start low and slowly ramp up the setting. Consider this mixing guide:
For whipping and aerating for creams, egg whites, etc.: Use very high speeds, between 10 and 12.
For creaming and beating for icing, cake mixes, heavy batters: Use high speeds between 7 and 9.
For light mixing like creaming sugar and butter: Use medium speeds between 4 and 6.
For folding and kneading dough: Use low speeds between 1 and 3.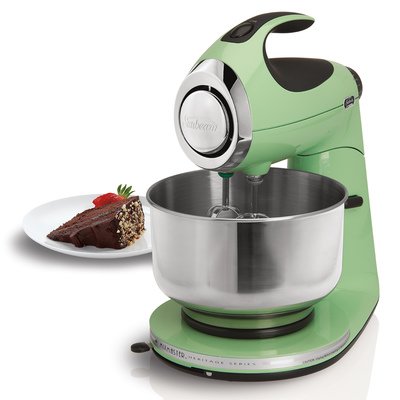 3. Practice Care and Cleaning
As with any great appliance, proper care and cleaning is a good idea to ensure that your stand mixer will work at its best for years to come. Regular cleaning will help keep the stand mixer in tip top shape. Be sure to read the owner's manual for full cleaning instructions. One of the great things about this stand mixer is that the beaters and bowls can be washed in an automatic dishwasher, making cleanup a breeze.
4. Understand the Attachments
This Sunbeam® Heritage Series® Stand Mixer comes with two chrome beaters and two dough hooks. These attachments help you get the best results when mixing and cooking. When creating sweet and confectionery frostings, use the beaters. Ingredients and mixes that are more dense such as bread dough fare better with dough hooks. Optional whisks can help to optimize your fluffing of eggs or whipped creams.
It's also important to know how to insert the attachments into the stand mixer. The instructions can be found in the manual. Always ensure that attachments firmly click into place.
5. Get Creative
Your stand mixer can do a lot more than just beat cake and cookie batter, mashed potatoes and pie crusts. With the power and precision of the Sunbeam® Heritage Series® Stand Mixer, anything is possible. Its 350-watt motor gives it all the strength it needs and 12 different speed settings give you the flexibility to customize to your cooking needs. The off-set bowl positioning makes it easy to incorporate a variety of different ingredients into what you're mixing.
So think outside of the box. In addition to pastries and pies, you can shred meat, mix guacamole, blend biscotti dough and more. And if you're really looking to get creative in the kitchen, consider these innovative stand mixer recipes that include Mongolian dumplings.