Heating Pads You Should Always Have on Hand
Natural, versatile and proven effective for centuries, heat therapy is one of the original sources of pain relief. Whether you are experiencing muscle cramping, joint pain, tension or stress, or general discomfort, heat therapy has the potential to promote soothing relief. It is a reliable method of temporarily relieving your discomfort and stimulating the healing process.
Though hot baths, heated water bottles and hot tubs are always an option, for a product that you can rely on time and time again, consider these Sunbeam® Heating Pads that you should always have on hand:
The Heating Pad With Options
If one day you're experiencing lower back pain and the next you're suffering from muscle cramps, there is an easy way to have a handy solution for both. Designed specifically for the treatment of back problems but also enhanced to work well on a number of other body parts, the Sunbeam® Body-Shaped Heating Pad with Hot & Cold Pack is versatile for bringing comfort and relief to different affected areas of the body.
The conforming shape of this heating and cold pad makes it ideal for all different muscle groups including those in the hips, shoulders, back and legs. Soft and flexible, with adjustable straps that extend for a convenient fit, it's easy to wrap wherever you need it. Fitting snugly, you can be sure that the area of pain is getting the therapeutic relief it needs while you can also be assured that it won't slip off. And it's not just versatile in its shape, it can also be detached from its cord and taken on-the-go! Best of all, when you're looking for the cooling relief of cold therapy first, simply active the cold gel pack.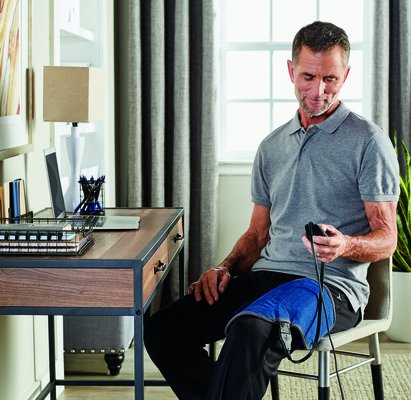 The Heating Pad With Fast Relief
Sometimes, you just don't want to wait to get that soothing relief you're looking for. When you want the power of therapeutic heat as fast as possible, having the Sunbeam® King Size XpressHeat™ Heating Pad on hand is ideal. Heated up and ready to use in just 30 seconds, you'll hardly have to wait at all to feel it begin to work. Deeply penetrating the injured tissues, the heat therapy helps to circulate the nutrients and get the blood flowing once again. The faster that the inflammation goes down, the faster you're likely to feel better and the faster you can get back to your regular routine.
Not only does this heating pad deliver speedy results, but it also provides soft coziness. On one side of this heating pad, relish in the soothing feel of microplush fabric. And when you want to mix it up, simply flip the heating pad over to try out the SoftTouch polyester. Lay back, relax and enjoy the power of heat - either dry or moist - with this gentle pad that provides extra coverage.
The Classic Heating Pad
If there is one heating pad you should always have on hand, it's the classic Sunbeam® Heating Pad. This traditional heating pad is reliable, effective and soothing. With UltraHeat™ technology, it can help to relieve pain and bring comfort to areas of tension or stress with even and consistent heat. This technology helps to promote faster healing and the large size of the heating pad makes it easy for use almost anywhere your body needs it. Best of all, its power cord stretches 9 feet to give you flexibility.