Back-to-School Essentials: The Handheld Steamer
The back-to-school rush can be exciting and exhilarating. New classes, old friends and exciting activities and events keep everyone on their toes. Even for those who aren't starting a new semester or a new job, that familiar feel of September - the sound of school buses and the end of summer - is enough to get anyone excited. Whether you're going about your normal day-to-day or you're trying to start off on the right foot, there is one essential that will help make getting ready easier and more convenient than ever before.
The Sunbeam® Handheld Steamer
Make your back-to-school mornings seamless and stress-free with a fresh look each and every day of the week thanks to the Sunbeam® Power Steam Fabric Handheld Steamer. Offering a more convenient way to freshen up your wardrobe, this handheld steamer eliminates traditional ironing to go from wrinkled to ready in under a minute. Heating up in just 45 seconds, this handheld steamer provides the ultimate time-saving results.
To shave minutes off your morning routine, simply hang garments, wait about 45 seconds for the ready light to go on and steam away! With the trigger in lock position, you'll get 15 minutes of continuous steam so that you can press garment after garment with ease. The wide steam exit covers larger areas so you'll be completely wrinkle-free to walk out the door looking fresh, pressed and feeling your best. As the steam reaches a temperature high enough to not just sanitize clothing, but to deodorize it as well, you can save on dry cleaning too.
The handheld steamer is also beneficial for quick touch-ups, which makes it easier to run home and iron out that wrinkle before an important dinner or event if need be. Versatile, effective and reliable, the handheld steamer delivers great results to make your life easier.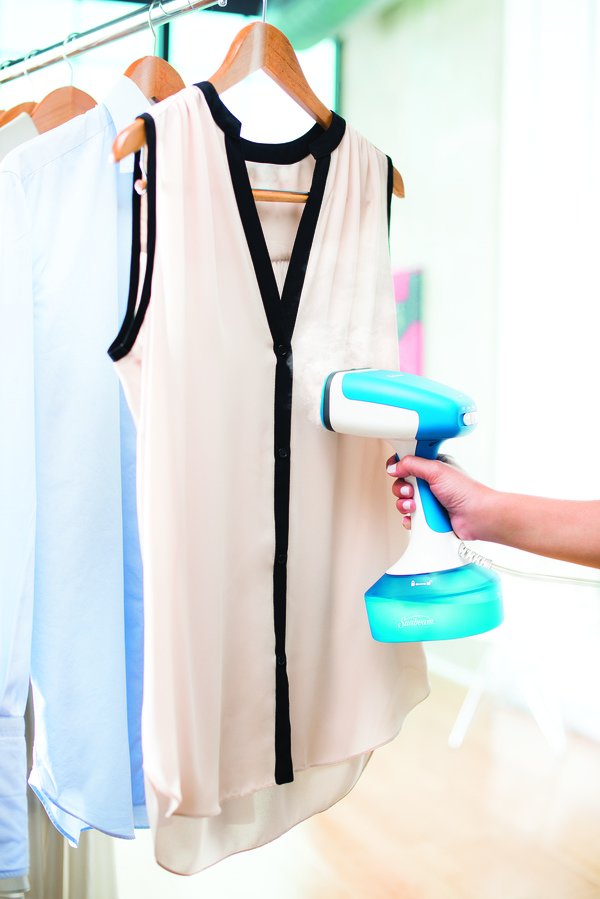 Additional Back-to-School Essentials
Once you've taken advantage of theSunbeam® Power Steam Handheld Steamer, there are several ways that you can enhance its performance even more.