Thoughtful Ideas for Gift-Giving This Season
Each holiday season, the fun of the festivities, party planning and neighborhood gatherings create a feeling of excitement and anticipation. Along those same lines, each year, the suspense of gift-giving can sometimes outweigh the true meaning of the holiday season. Instead of wasting money on presents that will quickly be forgotten after the holidays come to an end, consider a truly thoughtful gift that will keep on giving the whole year round.
This year, give your friends and loved ones a gift that really matters - the gift of comforting and soothing pain relief. Rather than a silly game or sweater that's easily forgotten, consider one of the many versatile Sunbeam® Heating Pads as a thoughtful idea for gift-giving this season.
Gentle Pressure for Relief from Painful Cramping
Imagine if you could help your friend or family member feel better whenever they needed, by giving them the gift of relief from uncomfortable abdominal and muscle cramping? Lo and behold, with the Sunbeam® Heavy Heat Pad, you can! This unique bead-filled heating pad is designed to stay weighted in place while delivering penetrating heat to your shoulders, neck or abdominal area. The innovative shape and weighted inner layer help this heating pad fit snug and comfortably against your body. Ideal for reducing the discomfort of tension, stress and cramping, this heating pad has warm, low, medium and high heat settings, as well as an option for dry or moist heat therapy.
This thoughtful gift will have your recipient thanking you each time they reach for the soothing comfort of this heating pad. Best of all, care is easy as the pad's cover is removable and machine-washable, helping to prolong its optimal performance.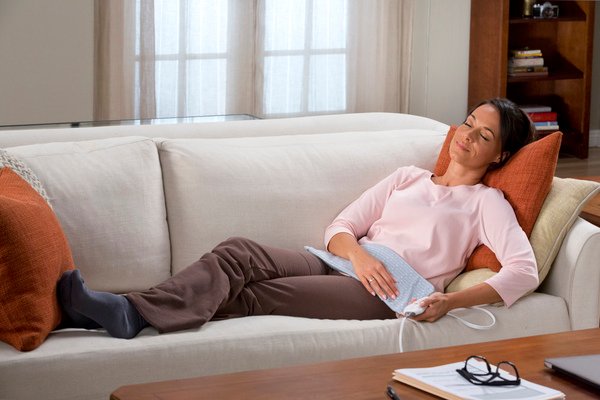 Fast-Acting Relief for a Variety of Body Aches
For your loved one that could use the gift of quick, fast-acting heat therapy to relive body aches and overstrained muscles, consider the Sunbeam® King Size XpressHeat® Heating Pad. Powering up within 30 seconds, this heating pad is ready to deliver the fast-acting soothing relief the body needs. The Heat Meter lights up to indicate as soon as its ready for use. For the user's convenience, a digital controller features six different heat settings to choose from, allowing them the power to select the exact amount of heat needed to soothe their strains and pains.
With more coverage than traditional heating pads, its extra large size is versatile and convenient for bringing relief to larger areas such as up and down the spine, over the legs and across the shoulders. Designed to flexibly and comfortably reach a variety of positions, this heating pad has got your friend covered with neck and shoulder relief, hip comfort, back pain and stiffness and leg cramping and soreness. The microplush pad cover that feels gentle on sensitive area is an added bonus of this heating pad!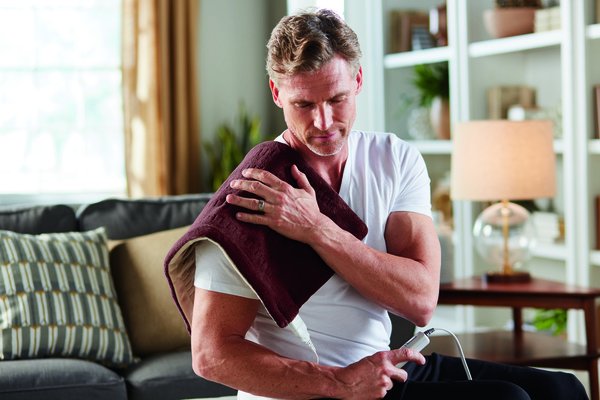 Hot and Cold Therapy for a Complete Solution
Another thoughtful gift idea for this holiday season is to give a different kind of heat therapy, one that is versatile and portable. For optimal convenience, consider the gift of a Sunbeam® Body-Shaped Heating Pad with Hot & Cold Pack. Providing both hot and cold therapy either at home or on-the-go, this is your one stop shop for a friend or family member that is always in need or one of the other but is also always running from one thing to the next. The removable gel pack makes it easy to soothe discomfort no matter where you are as the integrated pocket design allows you to easily place a hot or cold pack inside the pack when you need the relief.
The detachable control also helps to enhances its on-the-go convenience, as does the hands-free flexible Velcro straps extending up to 70 inches for a comfortable fit around the pain site. Conforming to the body to maximize heat transfer and provide soothing relief, this heating pad offers five different heat settings as well as a two-hour automatic-shut off feature. Shaping to your body, it's ideal for lower back pain as well as the leg and shoulder areas.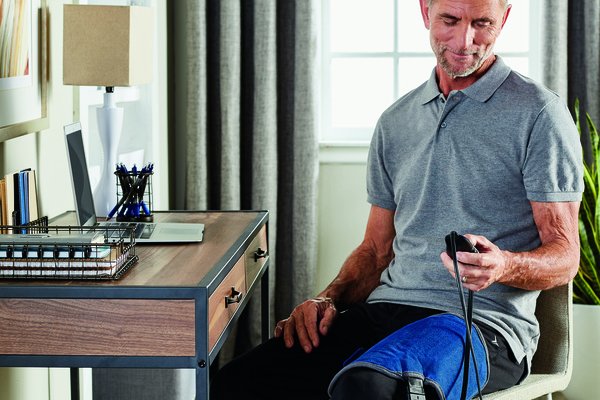 No matter which gift you choose to give this season, the present of natural, pain-relieving heat therapy is one of the most thoughtful ideas around.