How the Sunbeam® Handheld Steamer Can Help You this Holiday Season
The holiday season is busy. When you're running from one holiday party to the next, in between shopping, wrapping and cooking, there may not always be enough time to prepare your outfit exactly as you'd like. However, that doesn't mean you should forego the look of a wrinkle-free, fresh-pressed dress or holiday outfit. This year, consider a quick, easy and effective way to steam your clothes and check one more thing to worry about off your list. Thanks to the Sunbeam® Power Steam Fabric Handheld Steamer - you can walk out the door looking fresh and pressed in a matter of moments!
Here are three ways the handheld steamer can give you a hand this holiday season:
Time-Saving
It often seems like there are never enough hours in the day, and that is especially true around the holiday season. When you're always trying to make the most of your time, it can be frustrating to skip over the seemingly little things. But walking out the door with wrinkled clothes is no way to spend the most festive time of the year. The good news is that there is a way to make life easier - without compromising: with the fast-acting heat of the Sunbeam® Power Steam Fabric Handheld Steamer.
Faster than you can even finish singing your favorite Christmas carol, this handheld steamer is heated and ready-to use in less than 45 seconds! The wait and ready lights let you know just when it's ready to use, providing optimal convenience. Between putting in the next tray of gingerbread cookies and heading out the door, you can quickly steam away wrinkles from your favorite red blouse. Just hang your shirt, grab the steamer and select the lock position for constant steam. With the trigger in this position, you'll get 15 minutes of continuous steam, allowing you to press garment after garment with ease. If you're looking for trigger steam, simply slide the switch. In just a few moments, you'll have a perfectly pressed, festive look ready to go for your next party or event.
It's also perfect for quick touch ups in the midst of your own party if need be!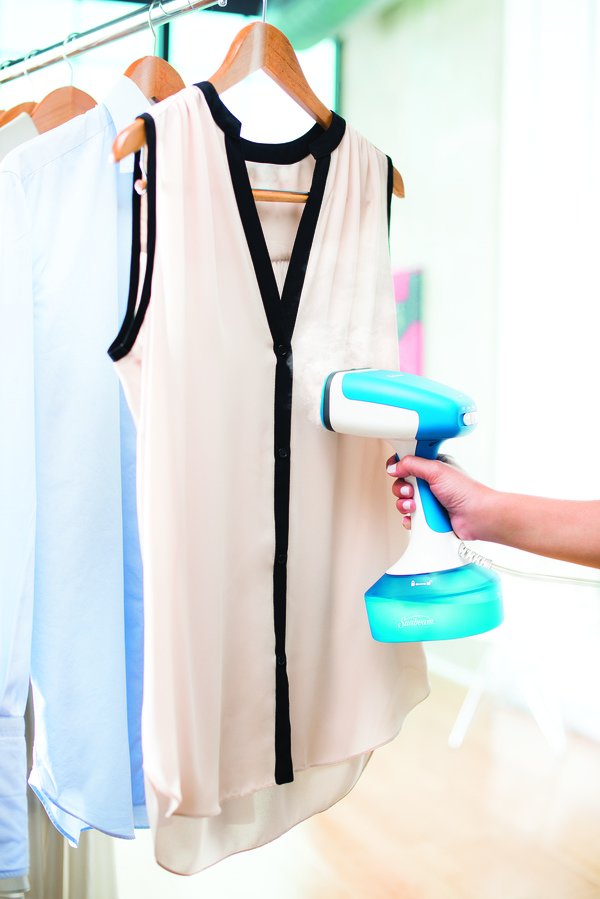 Effective and Versatile
Looking for a cost-effective but dry-cleaned appearance? Hoping to sanitize and deodorize your fabrics while steaming? Considering freshening up your drapery and upholstery as well? Extremely effective and versatile, the Sunbeam® Power Steam Fabric Handheld Steamer has got you covered for each of those things.
Helping to make your life easier, the handheld steamer produces powerful steaming action with 45 percent more steam per minute to penetrate clothing and press out even the most stubborn wrinkles. The wide steam exit allows you to get each and every little corner and crevice of your favorite pieces and the wide, heated wrinkle-remover bar dries out cloth fibers to effectively prevent re-wrinkling later in the day or evening. The high temperatures not only give you a clean, professionally pressed look, but also leave you feeling fresh as well thanks to its sanitizing efforts.
And it's not just for steaming garments: The versatile and innovative design of this steamer enables it to also work on household upholstery and drapery - without even having to take down your long and heavy curtains or removing your furniture coverings! If you're having guests over for the holidays and want to freshen up, simply use your handheld steam to refresh these home decor cloths with just the touch of a button, hassle-free. It can even be used on bedding to kill dust mites. Never again spend time or money getting your house ready for the holidays, all you need is the steamer!
Convenient
During the holidays, you're likely always looking for convenient ways to improve the busy process of shopping, decorating, gift wrapping and cooking. When it comes to taking care of your festive holiday outfits, there is one convenient way to make your life easier. Whether it's a blazer, winter dress, festive slacks, dress coat or anything else, you won't even have to leave your home to get a professionally dry-cleaned look. And, you'll save money as well!
Also helping to enhance the process is the Sunbeam® Hand Held Steamer Press Pad: The Quick Set-Up Press Pad that serves as a vertical board so that you can press out tough wrinkles while your work dress remains right on the hanger. Talk about convenient!