The Best Kitchen Appliance Gifts for Moms this Mother's Day
Celebrating Mother's Day is all about showering the woman who does it all with love, gratitude and thanks. While most celebrate by cooking an elaborate brunch, spending the day together or presenting mom with gifts, there's another way to show her how much you care.
This year, give a present that mom can benefit from on more than just Mother's Day. Wrap up the gift of convenience, reliability and trust in everyday solutions with one of the many Sunbeam® kitchen appliances.
Mixers
By giving the gift of a mixer this Mother's Day, you can guarantee a year's worth of homemade muffins, delicious pies and pizzas and light treats and side dishes. More importantly, you and mom can spend time baking and cooking together. Depending on her level of expertise in the kitchen, there's a perfect mixer for her.
If your mother is a top-notch baker or chef who loves spending time crafting new recipes, the Sunbeam® Heritage Series® Stand Mixer is right for her. Delivering power, precision and performance, the Heritage Series® stand mixers have 3-way mixing action to yield the absolute best results. The off-center bowl position helps eliminate scrapping for better mixing of ingredients, while an independent beater rotation in opposite directions, a free-spinning bowl and the 350-watt motor put this stand mixer in a league of its own.
Available in a wide range of colors and hues, this stand mixer comes with two chrome beaters, two dough hooks and a 4.6-qt stainless steel bowl. Built on a tradition of lasting quality and durability, this stand mixer will be around for a long time to come.
For the mom who appreciates versatility and the flexibility to mash potatoes one night and mix a heavy chocolate cake batter the next, the Sunbeam® Hand & Stand 5-Speed Mixer gives the best of both worlds. With the 250-watt motor, five speeds and the Burst of Power®, you get the burst you need to mix any batter evenly and smoothly. Then, with just a simple touch, switch to the hand mixer for lighter tasks. It doesn't get more versatile than this must-have kitchen appliance.
And of course, for the occasional chef who enjoys whipping up a light batch of muffins or cupcakes for a holiday or occasion every now and then, there's a hand mixer that's perfect for her as well. The Sunbeam® Mixmaster® 200-Watt Hand Mixer is practical, but powerful. It can complete all of the everyday cooking tasks but also bring the vigor in just one touch with the Burst of Power® button. Blend everything from pizza dough and shortbread to mashed cauliflower!
Bread Maker
Bring the heavenly aroma of the local bakery right into your own kitchen by giving mom the gift of the Sunbeam® Programmable Bread Maker. Baking everything from a loaf of classic French bread to chocolate walnut-zucchini bread gets that much easier with this programmable bread maker. Designed to provide flexibility and convenience, it's complete with an 13-hour delay bake, 12 different cooking functions and an ExpressBake® cycle which allows mom to create fresh, delicious homemade breads in just one hour!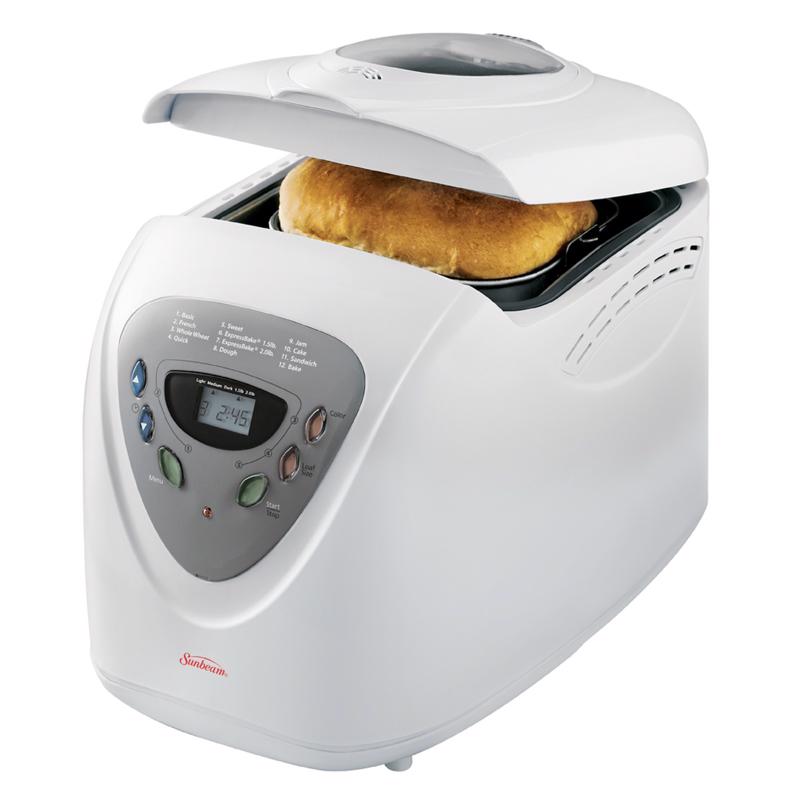 With this counter-top appliance, mom can use her own wholesome ingredients to craft any kind of artisan-style loaf. Best of all, the non-stick, removable baking pan makes cleanup a breeze.
Cookie Press
With the Sunbeam® Electric Cookie Press bake beautifully-designed cookies and desserts with ease!
Mom can take traditional cookies and cakes from ordinary to extraordinary by adding her own creative touches. The easy one-touch operation dispenses an even flow of dough to make unique and decorative-shaped cookies with the 12 festive cookie discs, including seasonal patterns. Fill it with icing and frosting and choose from one of the eight designer pastry tips to frost cakes, cupcakes and more with decorative, festive designs. It's not just easy, but fun as well!