3 Creative Stand Mixer Recipes
When hosting a dinner party or whipping up a tasty appetizer to bring to a neighborhood event, there's an easy way to make creative and delicious dishes by using the Sunbeam® Heritage Series® Stand Mixer. Designed to perform with power and efficiency, this stand mixer makes these impressing recipes more fun than ever to prepare.
Cheddar and Chutney on Brioche
Flaky golden pieces of bread topped with fresh chutney and Cheddar cheese are a delightful appetizer to serve at any gathering. Note, the dough should be prepared the day before, so plan accordingly.
Ingredients:
1/3 cup warm water
1/3 cup warm milk
2 envelopes dry yeast
3 3/4 cups all purpose flour
2 teaspoons salt
3 large eggs
1/4 cup sugar
1 1/2 cups (3 sticks) unsalted butter, each stick cut into 4 pieces, room temperature
1 egg, beaten to blend with 1 tablespoon water, for glaze
2 to 3 jars chutney
2 pounds extra sharp Cheddar cheese
Directions
Add warm water, warm milk and yeast to the bowl of your stand mixer and stir until yeast dissolves.
Add flour and salt.
Fit mixer with dough hook and mix on low for about 10 seconds, until flour is just moistened.
Scrape sides and bottom of bowl.
On low speed beat in 3 eggs.
Increase to medium and beat for about 3 minutes, until dough comes together.
Add butter, 1 piece at a time.
Increase speed to medium-high and beat until dough pulls away from sides of bowl, about 7 minutes.
Cover bowl and let dough rise for 1 hour, until doubled.
Lift around edges and allow dough to deflate, cover bowl and chill, lifting again every 30 minutes until it stops rising.
Chill overnight.
Divide chilled dough into little pieces to shape mini brioche buns.
Put them on a greased pan and let rise for 2 1/3 to 3 hours, until puffy.
Heat oven to 350 degrees.
Place pan in another pan to preventing burning on bottom of rolls and bake mini-brioche for 25 to 30 minutes.
Serve warm, sliced in half with a slice of cheese and smear of chutney.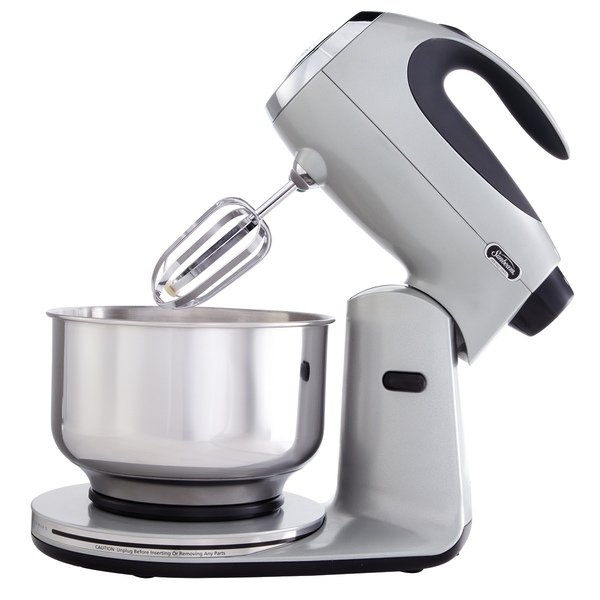 Mongolian Dumplings
Known as buuz, these savory and steamed lamb-filled dumplings paired with a rich and zesty dipping sauce will impress all of your guests. Not only are they fun and easy to make, they're delicious as well!
Ingredients:
3 1/2 cup all-purpose flour
2 teaspoons salt
1 1/2 cup lukewarm water
1 1/2 pounds ground lamb
1/2 cup finely chopped onion
3 scallions, very thinly sliced
4 cloves garlic, grated
3 teaspoons ground coriander
2 teaspoons salt
1 teaspoon ground black pepper
Dipping sauce ingredients:
1/4 cup red wine vinegar
1 heaping tablespoon hoisin sauce
1 tablespoon soy sauce
1 teaspoon sesame oil
2 teaspoons minced scallions
2 teaspoons shredded ginger
Directions
In the bowl of your stand mixer, combine the flour, salt and water mix on low for 5 minutes.
Move dough to another bowl, place it in the refrigerator for one hour.
Clean the bowl of your stand mixer.
Combine the lamb, onion, scallions, garlic, coriander, salt and pepper in stand mixer bowl.
Mix on low for about 2 to 3 minutes, until filling is well combined.
Remove dough from refrigerator and knead.
Roll it out into a log about 1-inch in diameter and cut into 1-inch slices.
Roll each slice into a ball and lightly dust with flour.
Flatten each one and then roll it out into a circle about 4-inches in diameter.
Create a center slightly thicker than the edge.
Hold one dough circle in your hand and place about a teaspoon of filling in the center.
Pinch the edge on one side, then create another fold next to it and continue all the way around.
Dip the bottom of each buuz into a bit of oil and then place in a steamer.
Place the steamer in a pan or wok that has about 2-inches of water in the bottom. Water should not touch the dumplings.
Bring water to a simmer, place steamer into the pan and put the lid on the steamer.
Steam for 15 minutes without removing lid.
For the dipping sauce, combine all ingredients in a small bowl and mix well. Dip the dumplings in to enjoy!
Pistachio and Dried-Cherry Biscotti
Though biscotti is often considered a treat to enjoy with coffee, this unique twist with pistachios and dried cherries is a perfect appetizer to snack on before a big dinner.
Ingredients:
1 3/4 cups unbleached all-purpose flour
1 cup sugar
1/2 cup old-fashioned oats
1 teaspoon baking powder
1/2 teaspoon baking soda
1/2 teaspoon kosher salt
2 large eggs
3 tablespoons vegetable oil
1 tablespoons orange zest
2 teaspoons lemon zest
1 1/2 teaspoon vanilla extract
1/2 teaspoon almond extract
1 cup dried cherries
1 cup unsalted, shelled pistachios
Directions
Heat your oven to 350 degrees and line a rimmed baking pan with parchment paper.
In the bowl of your stand mixer fitted with a paddle, combine the flour, sugar, oats, baking powder, baking soda and salt.
Use low speed to blend for about 30 minutes.
In another bowl, beat eggs, oil, orange zest, vanilla extract and almond extract.
Transfer egg mixture to flour mixture and beat on low speed until well incorporated, about 1 1/2 minutes.
Fold in cherries and pistachios.
Transfer dough to lightly floured surface and divide in half.
Shape each dough into a 16-inch-long log and transfer to prepared sheet.
Flatten each one so that it is 2-inches wide.
Bake for about 30 minutes until browned then, let cool.
Line a second baking sheet with parchment paper.
Transfer biscotti to a work surface. Using a serrated knife, cut each strip diagonally into 2/3-inch-thick slices.
Arrange slices, cut side down, on baking sheets.
Bake biscotti for about 40 minutes, rotating baking sheets halfway through, until crisp.
Let cool before serving.
Sunbeam Products, Inc. d/b/a Jarden Consumer Solutions has not tested these recipes and is not responsible for the outcome of any recipe. You may not achieve the results desired due to variations in ingredients, cooking temperatures, cooking times, typos, errors, omissions, or individual cooking abilities. Please always use your best judgment when cooking with raw ingredients such as eggs, chicken or fish.