Treating The Most Common Shoulder Aches and Injuries
Your shoulders do a lot more than you think, from lifting groceries and perfecting your golf swing to carrying backpacks, shoulder bags and the like. People often consider the shoulder one area, but in fact there are a lot of different muscles, tendons and bones that make it up. Common shoulder injuries are wide-ranging beginning with everyday aches and pains from daily use, to broken collarbones, pulled muscles and torn rotator cuffs from more serious accidents or accumulated damage.
The good news is that heat therapy is a great option for relieving the aches, pains and injuries of the shoulder. When you're looking for value in a product, you want one that is reliable and effective and that's exactly what you'll get with Sunbeam® Heating Pads. Promoting the original pain reliever of nature, these heating pads are versatile, designed specifically for various areas of the body so that you can always find one to meet your needs.
Pulled Shoulder Muscles or Strains
Muscle injuries are most often caused during athletics such as golf, swimming, tennis, baseball and even weight-lifting during which a lot of stress is put on the shoulder area. Overuse or a wrong move could cause these pulls and strains. These injuries can also happen during simple, everyday activities and chores such as gardening, cleaning or moving heavy items. One of the best ways to alleviate pain caused by overused, inflamed muscles and joints is to apply targeted heat therapy.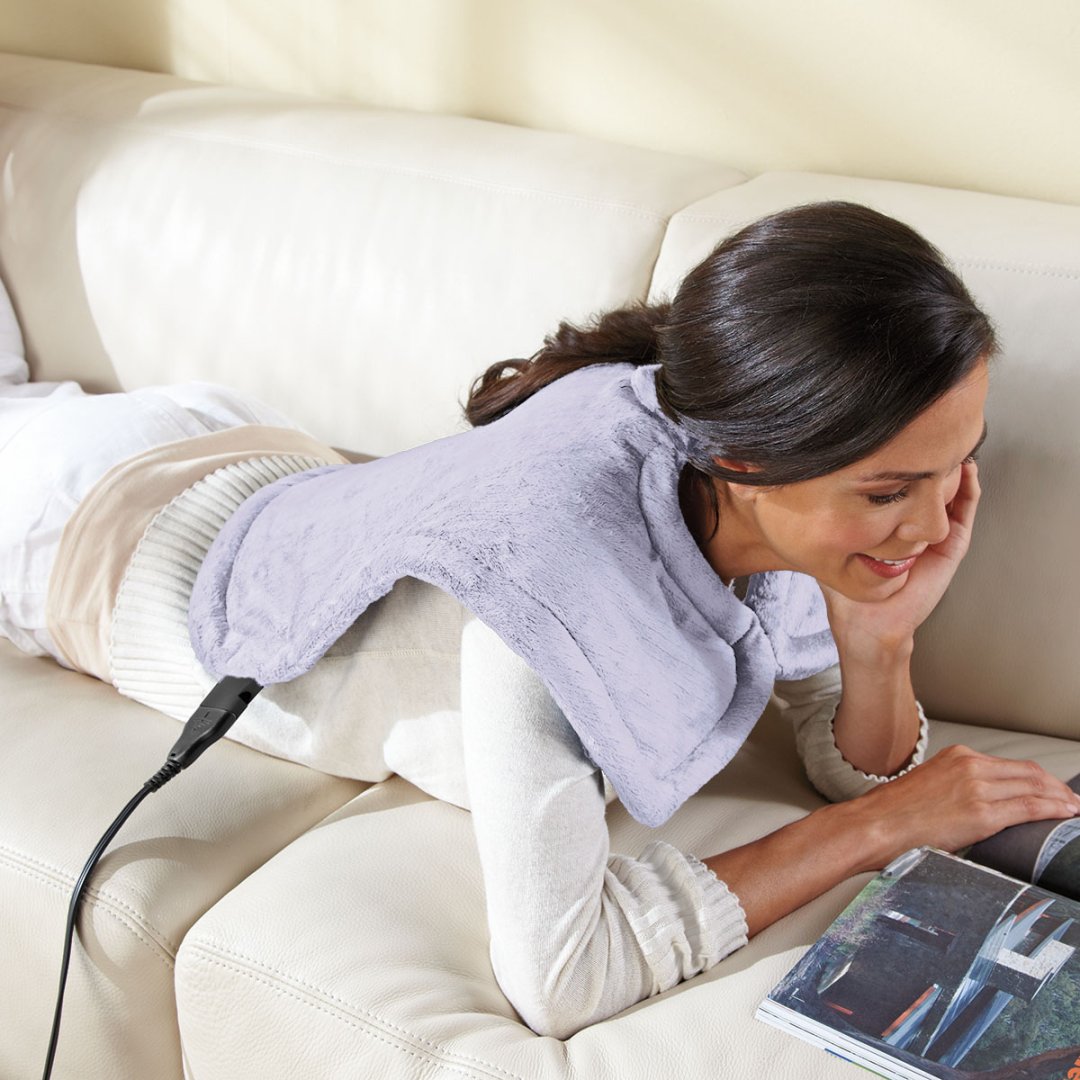 Designed specifically for this area of the body, the Sunbeam® Massaging XL Renue® Heat Therapy Neck & Shoulder Wrap delivers therapeutic heat and massage for maximum relief through its slightly weighted edges. The custom fit and design increases contact with the injury to help soothe away neck and shoulder tension caused by pulled muscles and strains. This heating pad's unique shape and upper flap is ideal for providing treatment to the neck, back and shoulder areas and thanks to the magnet closure, offers an adjustable and comfortable fit. Four massage settings and two different heat options give you the versatility to set the right amount of heat for maximum penetrating relief right where you need.
Shoulder Tension
The upper neck and shoulder area is a region of much stress and strain for many Americans. Big projects at work, new jobs, looming deadlines or even things as simple as driving through traffic or running late to a meeting can cause your shoulders to tense up. In addition to stretching, moving regularly and maintaining good posture, heat therapy can help release some of this built up tension.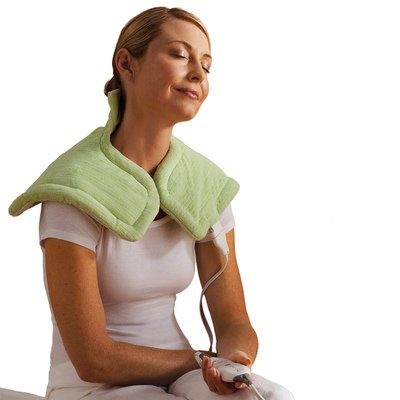 With a tailored design for the neck and shoulders area, the Sunbeam® Renue® Tension Relief Heating Wrap is intended to deliver soothing, calming and comforting heat therapy directly to the stress. After a long, stressful day this heating pad can help you feel like yourself again. With options to use dry, sauna-like heat or moist heat for deep, steam room-type relief, you can also choose from four different therapeutic heat settings until you find the one that suits you best. Sit back, relax and apply this heating pad until your stress and tension melts away.