The Sunbeam® AERO Ceramic Iron: The Best Gift of the Season
When the winter season rolls around it seems as though there is one celebration after another, and endless people on your list to give gifts to. Each year you face the same predicament with the same people on your holiday shopping list and each year you do your best to get them a sensible and practical gift that they'll actually use and enjoy. Forget the Christmas sweaters and board games, this year there's one gift that you'll want to give to everyone on your list!
Sunbeam® AERO Ceramic Iron
For a reliable, practical and realistic gift, consider the new and innovative Sunbeam® AERO Ceramic Iron. It's one of those presents that people generally wouldn't buy for themselves so it will both surprise and delight your recipient!
With this present, not only will you be giving the gift of an iron, but the gift of performance, sensibility, convenience and time as well. With five times more steam coverage, performance is the category where this iron truly shines. A game-changing channeling technology helps to deliver five times more coverage for seamless wrinkle removal and maximum diffusion, leaving the customer with optimized results.
The Benefits of a Soleplate
​One of the biggest benefits of this iron is its PTFE- and PFOA-free ceramic soleplate. The dimpling design of the Sunbeam® AeroCeramic Iron's soleplate provides a superior glide and boasts a smooth, wrinkle-free finish by helping to reduce the friction that generally occurs between your fabrics and the soleplate. Scratch resistant and generating less static, this iron is ideal for synthetics and delicate garments. With an easy-gliding soleplate like this one, that offers optimal performance and fast results for each item clothing, your gift recipient will be thankful for a gift that continues to give each and every day.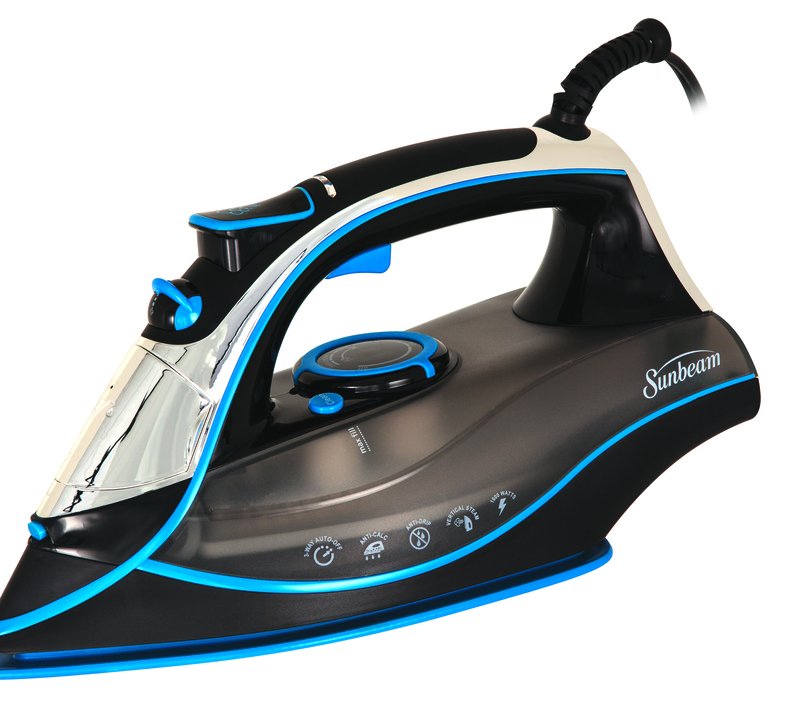 Steam Power
Outputting 1600 watts of power, the steam is evenly distributed across your clothing and heat is quickly dispersed for a smooth, fast and effortless finish. What's more is the extra Shot of Steam® feature that deeply penetrates stubborn wrinkles and a vertical shot of steam feature that can be used to freshen up hanging garments, draperies and upholstery. In addition to more steam, the 27 percent smoother glide (when compared to Sunbeam® stainless steel soleplate iron GCSBSP-2010) allows you to press garments in no time for a professional look. When you're in a rush, this helps to cut down on time tremendously. When using vertical steam, be sure to hang clothing on a hanger for best results. Even when you're moving fast, you can iron with peace of mind thanks to the iron's drip-free system. Save time without have to worry about leaks onto garments or ironing board.
Features and Bonuses
Providing optimal performance and saving you time is just the beginning. The Sunbeam® AERO Ceramic Iron also has a 3-Way Motion smart technology that automatically shuts the iron off when or if it is left unattended. This also works if the iron is set in improper position. Helping to extend the life of the iron is a permanent filter inside of its water tank. This helps to prevent the accumulation of mineral deposits inside, preserving its function and performance.
Other features include a mist sprayer, self-clean button, fabric-temperature setting and adjustable steam setting. The Spray Mist® trigger offers a fine mist for heavy wrinkles and the Lifetime soleplate comes with a 3-year iron limited warranty.
Start shopping today and have your Sunbeam® AERO Ceramic Irons wrapped and ready to go for the festivities!