The Comfiest Throws for the Season
The joys of winter are all about getting cozy with your loved ones. Snuggled up by the fire, there's nothing like relaxing with some good music, board games or books. While any old blanket may do the trick, for the optimal experience of toasty warmth and soothing softness, consider a heated blanket or throw. Delivering gradual and gentle warmth at your desired comfort level, heated blankets are one of the best things to have on hand during the cold months of winter. This season, choose one of these cozy products that you and your family can enjoy:
Extra Large Throw
For evenings when you just can't shake that chill, yet you don't want to crank up the heat and dry out your home, consider the Sunbeam® Oversized Arctic Plush Heated Throw. With its oversized design this throw is big enough to wrap around you and a friend! Forget the hassle of wrapping yourself in numerous blankets and wearing multiple layers; with this heated throw you'll stay warm enough without all that. Choose from three different heat settings until you find your desired level of comfort and rest easy knowing that the three-hour auto-shut off is there for peace of mind.
Best of all, you would barely feel the exclusive wiring system delivering all of that gentle warmth. Thanks to the thinner wires, the system goes almost undetected within the premium soft arctic plush fabric. So the next time you're feeling a little chilly or just looking for some added comfort, wrap yourself up in this heated throw and happily drift away from the bitterly cold winter weather.
Reversible Heated Throw
With a premium softness rating of its Sherpa and Royalmink™ fabrics, it doesn't get any cozier than the Sunbeam® Reversible Heated Throw. Offering different kinds of comfort with both sides, you can enjoy silky intimate warmth one evening and flip it over for fuzzy and relaxing heat the next night. The ThermoFine® wiring system of this heated throw regulates temperature to ensure that even and consistent warmth is being delivered. This means that no matter how snuggled up you get, the heat will flow steadily throughout the entire throw without turning it off.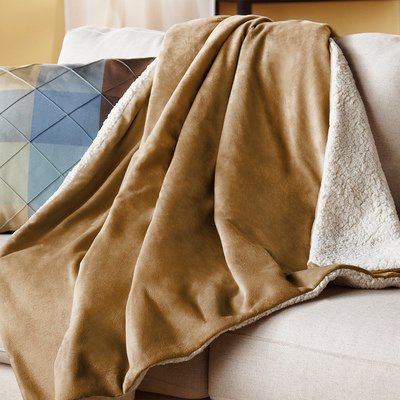 Personalized Heat Wrap
Sometimes during the winter, even being inside can feel cold, but putting on your winter coat or gloves seems silly. Have you ever wanted to wrap yourself in a blanket while taking care of chores around the house? Perhaps you've wished that you had a warm and cozy throw around you while playing with the kids or working at your desk. If you did use a traditional blanket however, it would be bulky and merely get in the way. But now, thanks to the Sunbeam® Royalmink™ Chill-Away™ Heated Wrap, you can stay warm no matter where in the house you have to be!
Similar to a sweater or poncho, this heated wrap fits perfectly around your arms, back and shoulders without getting in the way of what needs to be done. Sitting around your shoulders, it helps to circulate the flow of blood so that you can warm up quickly and escape that chill. Four different heat settings allow you to choose your desired level of heat with an easy-to-use hand controller. The incredibly soft Royalmink™ fabric enhances the soothing warmth escaping from the wrap. And when your fingers get too cold typing on the keyboard or answering calls, give them a break by warming them up in the convenient plush and cozy pockets made just for your hands!
Instead of putting on a brave face with those chills this year, consider one of these comfy Sunbeam® Heated Throws.