The Best Way to Relax after Entertaining
Chances are you've spent the holiday season working, shopping, baking and cooking, entertaining and socializing. Though filled with friends, family, laughter and good food, any busy time of year can be tiring. After hosting Christmas dinner or a holiday party, you deserve to relax and unwind. One of the best ways to do that is with the soothing power of heat therapy.
Consider these tips for feeling your best and recovering after all of the hard work and effort that went into holiday planning:
Stop and Rest
In the days and weeks leading up to all of the festive celebrations, you've probably had a number of different check lists and to-do lists on your fridge, in your phone and in your mind. The excitement of the party and the feedback from your friends and family is likely still fresh in your mind and before you can even think about relaxing you're probably eager to clean up the post-party mess. Before you can truly start to unwind and relax however, it's important to clear your mind of all these worries and stressors.
Once the entertaining and organizing has commenced, it's a good idea to simply stop, catch your breath and decompress. Practice taking deep breaths, taking a walk outside or even practicing yoga to help clear your mind. Not only does this put you in a better place to actually relax and enjoy the benefits of heat therapy, but it also provides room to recall the good memories from the holidays.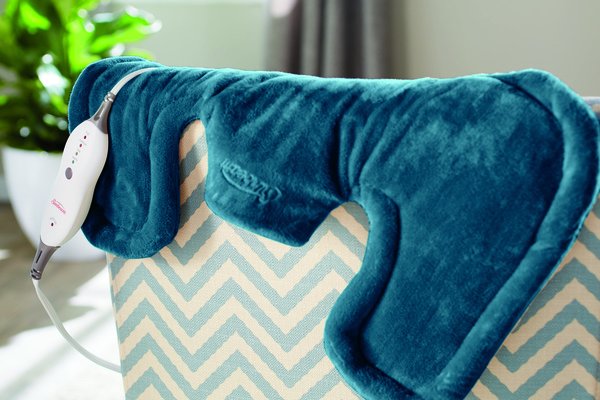 Use Heat Therapy
This holiday season, de-stress and soothe your tired body with the Sunbeam® XL Renue® Heat Therapy Wrap. The natural stress and tension that come with planning, prepping and executing your holiday and entertaining plans generally build up most in your neck and shoulders. One of the best ways to relax once all the festivities have calmed down, is to help reduce that stress in those areas and one of the greatest ways to do that is with the power of heat, nature's original pain reliever.
With the heat therapy wrap, the therapeutic heat can go directly to the area of stress and strain for fast and effective recovery. Designed with a unique shape as an area-specific heating pad, it has an upper flap that enables the soothing relief to reach all parts of the back, neck and shoulders. It even fits snuggly and securely, thanks to the slightly weighted edges, so that you can go about your relaxing activities and techniques hands-free. This weighted edge also helps to improve contact with the areas of tension or stress. The large size and soft, plush fabric will make you feel warm, cozy and comfortable as you unwind on the couch with this heat therapy product and with the magnet closure, you get an adjustable and comfortable fit. Best of all, available in either shades of red or blue, you can relax in style.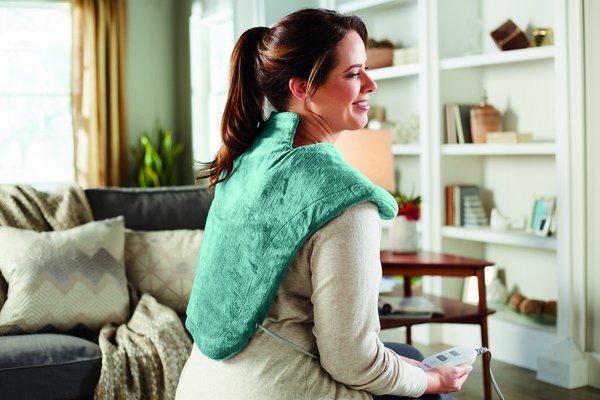 Take Advantage of Renue®
If you love the soothing power of the Sunbeam® XL Renue® Heat Therapy Wrap, there's more where that came from. Also made with the luxuriously soft and cozy Royalmink™ fabric are two more similar products, the Sunbeam® Renue® Tension Relieving Heat Therapy and the Sunbeam® XL Renue® Massaging Heat Therapy Wrap. The first is a smaller version of the aforementioned heat therapy wrap, perfect for curling up with on the couch with a good book after the guests have finally left. Ideal for the neck and shoulder area and complete with a moist heat option, this wrap helps to relieve the stress and tension in your shoulders and provide soothing warmth as you decompress.
If you're looking for the enhanced combination of heat and massage therapy, look no further than the Sunbeam® XL Renue® Massaging Heat Therapy Wrap. Designed for the back, shoulders and neck, this heating pad truly lets you relax and de-stress after a busy entertaining season, thanks to its weighted beads and magnetic closure. It can sit comfortably on your shoulders and stay in place so you can move or rest with ease. Providing two heat settings and four massage options, you get the optimal treatment. The vibrating discs work to gently massage tense muscles to help provide comfort while delivering soothing heat for optimal relief and recovery.