Pasta and Pizza Dough in Your Stand Mixer
All great Italian recipes start with thoughtful moments in the kitchen. Made with all the best ingredients and a dash of love, pizza and pasta are family favorites that will be enjoyed for generations to come. If you're getting ready to pass on some of your best kept secret recipes to a child or grandchild, you'll want to be sure to give them a thorough introduction to the stand mixer: the one kitchen appliance that's always there when you need it.
For a truly reliable stand mixer built on tradition that perfects the art of mixing, the Sunbeam® Mixmaster® Stand Mixer is one of your greatest options. With a 4-qt stainless steel bowl, chrome beaters, dough hooks and whisks, you have all of the tools you need to bake or cook anything on your list. Boasting 12 different speeds and a 350-watt motor, the performance of this stand mixer is unmatched, taking the hard work of mixing and blending off your own hands. A tilt locking head and bowl selector puts the power of preference in your hands.
When you're ready to pass on your most-cherished recipes, why not include pizza and pasta dough recipes, along with the Mixmaster® Stand Mixer, so you're family traditions can continue…and a couple of new ones can be made.
Pizza Dough
There's nothing that brings the family together quite like homemade pizza, topped with naturally sweet, rich and flavorful tomato sauce and an assortment of melted cheese. This recipe makes enough dough for about eight 10-inch pizzas. You will need 00 flour, also called doppio zero flour, which is often used in Italian cooking. If 00 flour is not available, all-purpose flour can be used.
Ingredients:
1 1/4 ounce envelope active dry yeast (about 2 1/2 teaspoons)
2 teaspoons sugar
2 tablespoons kosher salt
3 1/2 cups 00 flour, plus more for surface
1/4 cup extra-virgin olive oil, plus more for bowl
Semolina flour (for dusting)
Directions
In a small bowl, whisk together the yeast, sugar and 1 1/4 cups warm water.
Let stand in a warm place for about 10 minutes, until yeast is foamy.
In the bowl of your stand mixer fitted with the dough hook, mix salt and 3 1/2 cups of flour.
On low speed, mix in yeast and olive oil.
Continue mixing, slowly increasing the speed until dough is elastic and smooth.
Flour a surface and move dough to it, giving it a few turns with hands to finish kneading.
Dough should be slightly sticky.
Move dough to larger bowl that has been oiled, turning to coat dough.
Cover with a towel and let rise in a warm place for about 1 to 2 hours, until double in size.
To deflate dough, put back on floured surface and punch down.
Divide into eight pieces and shape into balls.
Cover with towel and let dough sit for 15 minutes.
Use more 00 flour and semolina flour to stretch dough balls into 9" to 10" rounds.
Use your hands to shape a thicker rim around the outside of each pizza dough.
Then dough will be ready for cooking and assembling pizza as desired.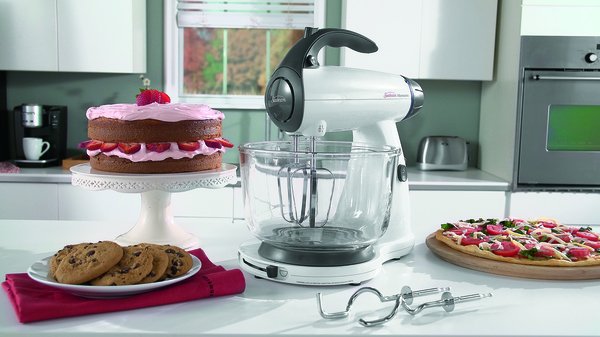 Pasta Dough
Making homemade pasta dough in your own kitchen is one of the most authentic ways to enjoy a bowl of noodles.
Ingredients:
1 cup fine durum wheat flour or all-purpose flour
2 tablespoons fine durum wheat flour or all-purpose flour plus more for dusting
1 cup semolina flour (pasta flour)
Directions
In a large bowl, mix together 1 cup durum wheat flour and 1 cup semolina flour.
Bring a pan of water to a summer.
Add 2/3 cup hot water to flours and mix until it slowly comes together.
In the bowl of your stand mixer with a dough hook, add flour and water mixture.
Mix on low speed for about five minutes, until smooth and elastic.
Wrap dough tightly in plastic wrap.
Let sit at room temperature for 1 hour.
Then dough is ready to shape into pasta of your choice.
Sunbeam Products, Inc. d/b/a Jarden Consumer Solutions has not tested these recipes and is not responsible for the outcome of any recipe. You may not achieve the results desired due to variations in ingredients, cooking temperatures, cooking times, typos, errors, omissions, or individual cooking abilities. Please always use your best judgment when cooking with raw ingredients such as eggs, chicken or fish.