5 Advantages of Using Heated Bedding
Using a heated blanket or mattress pad is one of the best ways to fall asleep comfortably and quickly and wake up feeling refreshed. There are a lot more advantages to heated bedding than just keeping cozy though. If you're looking for ways to make your life easier and more comfortable, consider these benefits of investing in heated blankets or mattress pads:
1. Provides Therapeutic Relief as You Sleep
The healing power of heat, nature's original pain reliever, can come in many different forms. Working to relax muscles, ease tension and promote your blood flow, heat therapy can really work wonders to get you back to feeling your best. Now, when you use a heated mattress pad at night, you can even relieve sore muscles as you sleep. With a Sunbeam® Heated Mattress Pad such as the Sunbeam® Therapeutic Heated Mattress Pad, you're not only getting a warm and cozy night's sleep, but you're also getting therapeutic heat delivered right to the areas that need it most. In fact, your neck, back, shoulder and even leg muscles are right in contact with the consistent, low-level heat, which enables it to circulate nutrients and enhance recovery.
2. Keeps the Heat Down
The winter can be harsh for a number of reasons, but when it comes to home heating it can really take a toll on your electricity bill. At night especially, it seems wasteful to heat your office, living room and dining room, when everyone is tucked into bed. Turning down the heat can help to reduce those costs, but you'll need options to keep warm during the night.
Sunbeam® Heated Bedding products provide a smart option for a comfortable night's sleep, even when the thermostat is turned down, to control the exact temperature as you sleep and save money on heating costs!
Even if you and you're partner prefer different temperatures when sleeping, Sunbeam® Heated Blankets and Mattress Pads are available with dual controllers to set each side independently. Each controller has 10 different heat settings for optimal versatility and comfort.
3. Features Exclusive ThermoFine® Technology
ThermoFine® Technology is a one-of-a-kind wiring system designed to sense and self-adjust heat for consistent comfort. It's made to automatically detect the levels of heat being dispersed to help eliminate hot spots, regulate temperature and adjust heat without shutting down, to ensure that superior warmth is spread evenly throughout your entire blanket or mattress pad.
4. Warms Up Your Bed in Advance
During the winter when you just can't shake that chill, the last thing you want to do is climb into a bed that's equally as cold. Did you ever wish there was a way to get your bed nice and toasty warm before hand? With the Sunbeam® Waterproof Heated Mattress Pad there is a way to do just that! With a convenient preheat function, you can select one of the 20 different warmth settings to get your bed at the desired comfort level before you even get in and wrap yourself in the covers. Enhancing your entire sleeping experience, this incredibly soft mattress pad with a preheat option and quilted hourglass design will lull you off to sleep in a matter of moments.
As a bonus this mattress pad is waterproof and comes with a 10-hour auto shut-off so that you can sleep peacefully without a second thought. It's also machine washable and dryer-safe.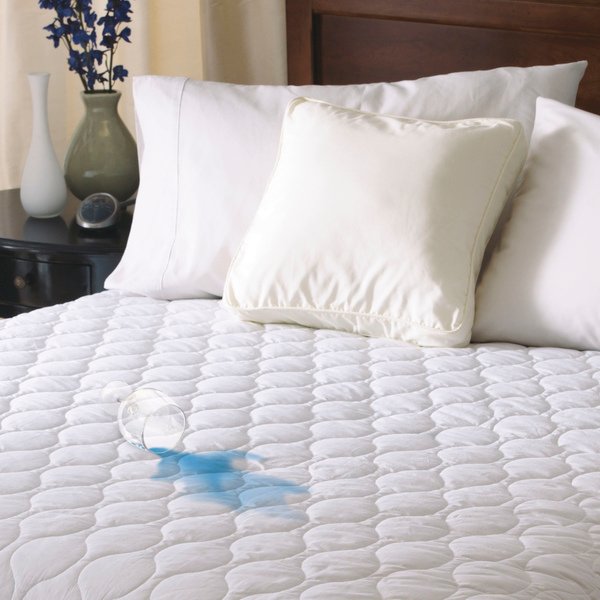 5. Helps You Sleep Comfortably and Saves You Money
What could be better than slowly drifting off to sleep, soothed by the gentle warm heat and softness of your heated mattress pad or blanket? With an incredibly soft microplush blanket like the Sunbeam® Channeled Microplush Heated Blanket, you'll rest soundly and comfortably throughout the night. The only problem might be struggling to leave the comfort in the morning! What's even better is that by using your heated mattress pad or blanket during the night, rather than turning up the thermostat, you can save money on your heating bills too!
This season, don't spend your nights shivering away. Instead, consider these five advantages of sleeping with heated bedding.