5 Reasons You Need the Sunbeam® Power Steam Fabric Handheld Steamer
Did you know there is a simpler, faster alternative to traditional ironing when you're in a hurry or don't want to set up the ironing board? The Sunbeam® Power Steam Fabric Handheld Steamer is designed to remove wrinkles on hanging garments for a faster, more convenient way to freshen up your daily wardrobe.
1. Ready in 45 Seconds!
One of the greatest things about this handheld steamer is that it heats up and is ready-to use in less than 45 seconds! That means you don't have to wait around in order to steam away wrinkles: It will be ready to use almost as soon as you need it. Simply hang your attire for the day and grab your handheld steamer. Select the lock position for constant steam or slide the switch for trigger steam. In a matter of moments, you can walk out the door feeling your best, sporting a professionally-finished look.
Not only does this steamer deliver fast results, but wait and ready lights also let you know exactly when it's ready to use, helping you to save time in more ways than one.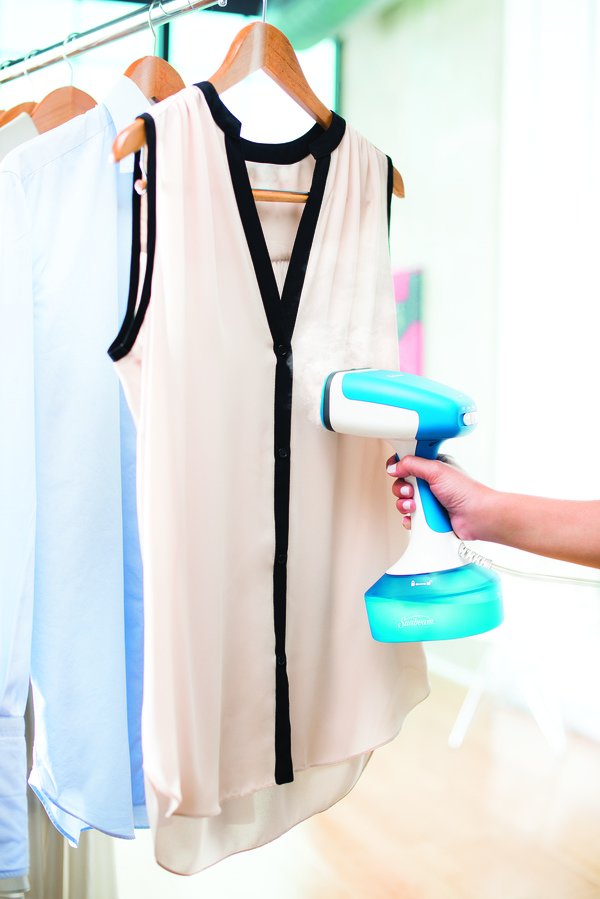 2. Continuous Steam
The Sunbeam® Power Steam Fabric Handheld Steamer provides 15 minutes of continuous steam so that you can continuously steam garment after garment without missing a beat. And you won't even have to worry about refilling the water tank: The large tank provides up to 15 minutes of continuous steam so that you can freshen up item after item without having to take a break to refill. It's perfect for convenient, quick touch ups in small living spaces.
3. Effectively Removes Wrinkles
Pressing out even the toughest of wrinkles, powerful steaming action with 45 percent more steam per minute penetrates your fabrics for a fresh, dry-cleaned appearance. A wide, heated wrinkle-remover bar helps to prevent re-wrinkling later in the day by drying out cloth fibers. Thanks to the wide steam exit, you can rest assure that each little corner of your favorite blazer or blouse is reached and reaping the wrinkle-free benefits. Steam reaches a temperature high enough to not only sanitize your fabrics, but to deodorize as well!
Also helping to enhance the process is the Sunbeam® Hand Held Steamer Press Pad: The Quick Set-Up Press Pad that serves as a vertical board so that you can press out tough wrinkles while your work dress remains right on the hanger. Talk about convenient! And don't forget to purchase the Sunbeam® Hand Held Steamer Creaser, an attachment used to get iron-like creases on your dress shirts and pants for that polished look every time.
4. Versatile
One of the greatest things about this Sunbeam® Power Steam Fabric Handheld Steamer is its versatility. In addition to functioning as a steamer for garments, this innovative handheld product can also be used to sanitize and freshen your household drapery and upholstery. Forget the hassle of taking down your long curtains of heavy fabric or removing thick coverings from your furniture each time they need a clean. The handheld steamer enables you to refresh these home decor cloths - without removing them - with just the touch of a button. It can even be used on bedding to kill dust mites.
And how about when your little one's teddy bear or car seat needs a quick freshen up? Use your handheld steamer!
5. Cost-Effective
With this Sunbeam® fabric cleaning product, you'll also save on several costs. Once you've got this steamer in your hands, you'll never again waste time or money at the dry cleaners. When you can freshen up your clothes in a professional manner in just a fraction of the time - and save money - why wouldn't you opt for the steamer?
Storage is easier as well as the Sunbeam® Power Steam Fabric Handheld Steamer stands on flat surfaces and is made compact for easier storage.