Sunbeam® Zoned Heated Mattress Pad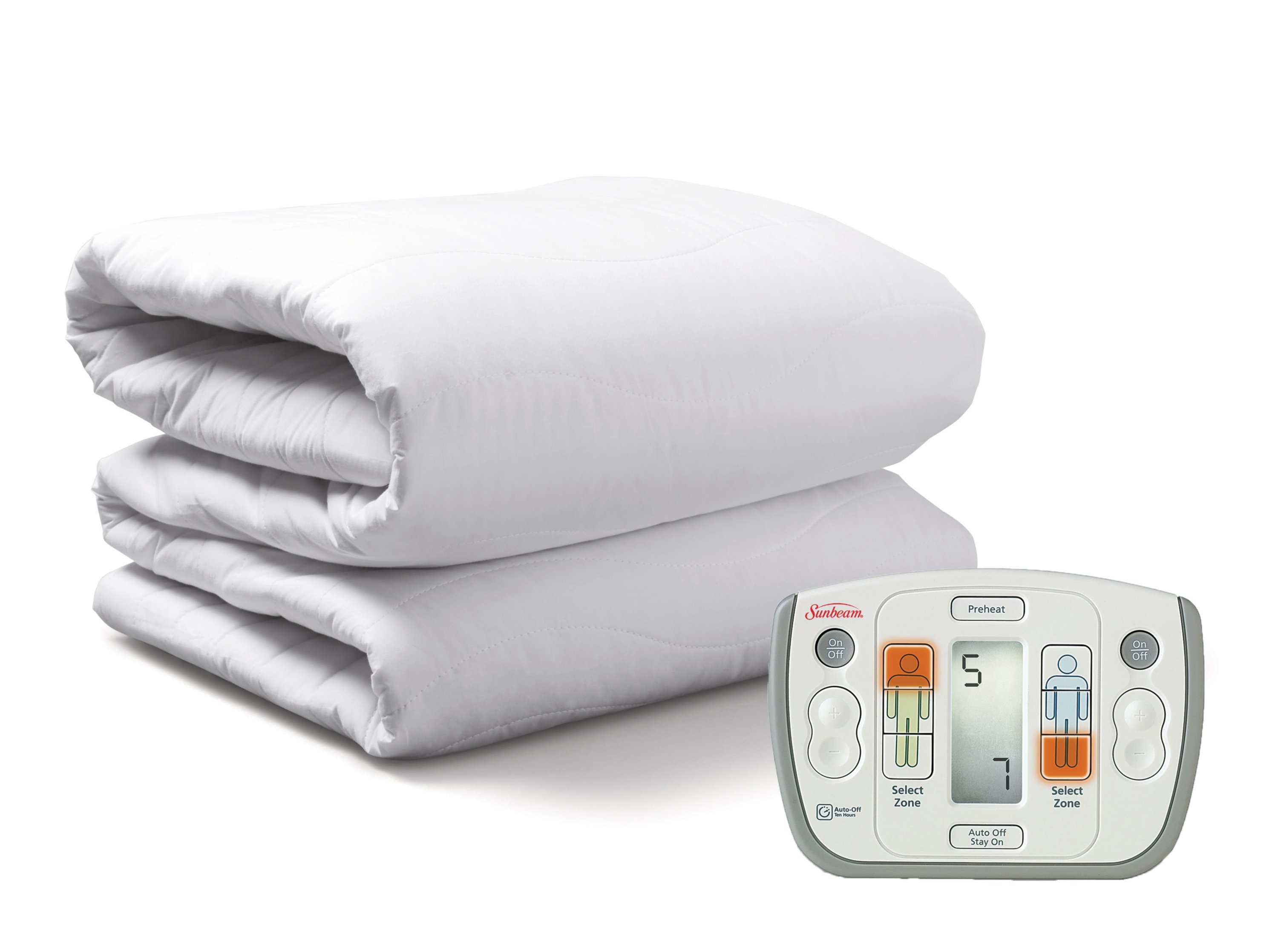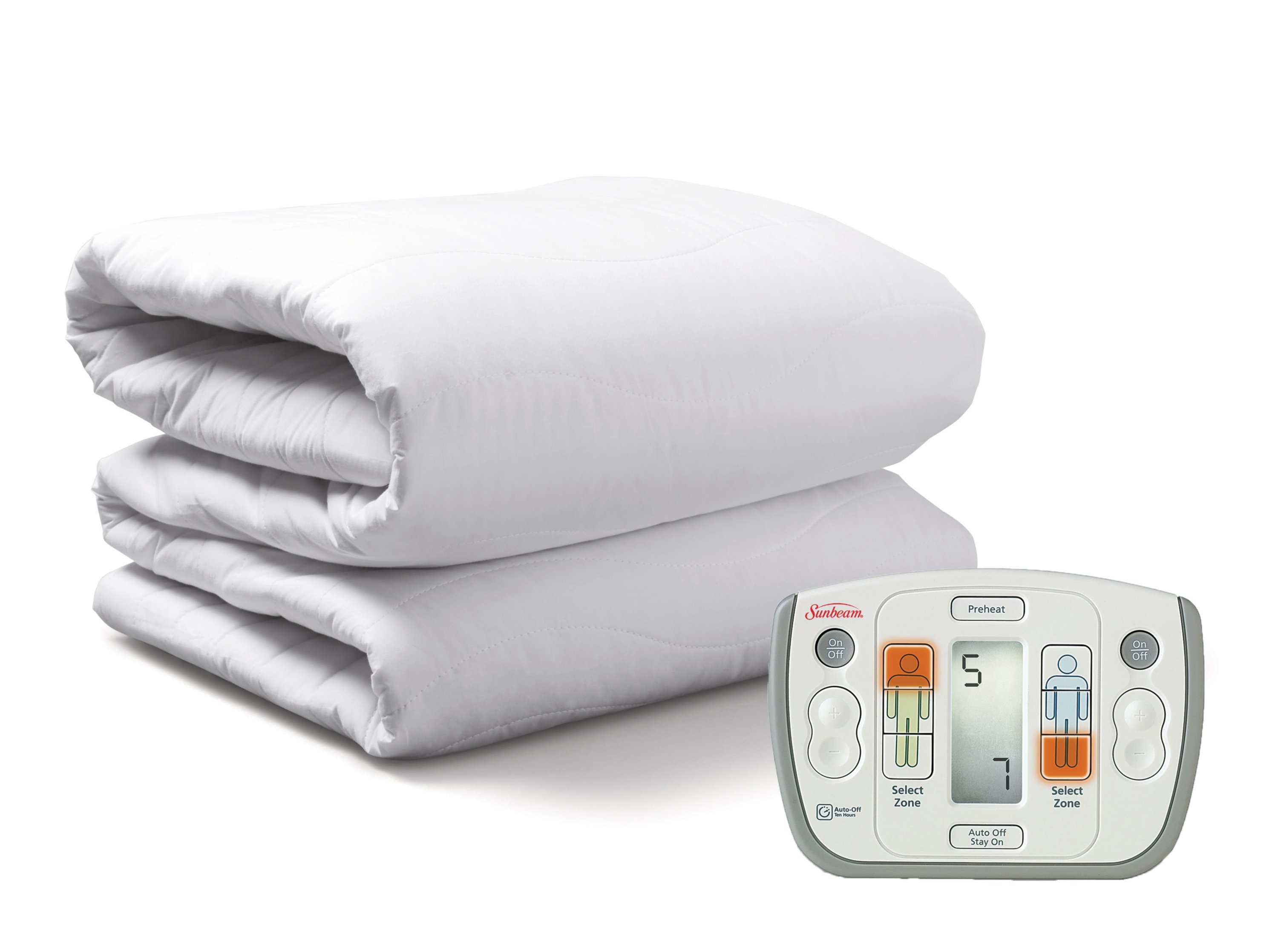 Sunbeam® Zoned Heated Mattress Pad
Final Sale: may not be returned or exchanged
Item currently not available.
Alert
Please select a Size.
Final Sale: may not be returned or exchanged
Product Details
Description
Enjoy soothing relief with the Sunbeam® Mattress Pad with Zoned Heat. The selectable heat zones are designed to provide targeted, low-level heat therapy.
SOFT MATERIAL:100% cotton top with 100% polyester fill. Quilted
FEATURES: Fits mattresses up to 24"
EASY TO USE: Includes Cordless Zoned controller, which provides 10 Heat Settings and 10 Hour Auto-Shutoff for peace of mind. There are 3 heat zones on Twin and Full and 6 heat zones on Queen and King size mattress pads.
FIND YOUR PERFECT SIZE: Twin Size measures 39" x 75", Full Size measures 54" x 75", Queen Size measures 60" x 80", King Size measures 76" x 80"
CARE INSTRUCTIONS: Machine wash in warm water and tumble dry on low setting or hang dry
THERMOFINE® WIRING: Our exclusive warming system senses and adjusts heat to deliver consistent warmth while you sleep
Where to Buy
The following link will take you to a site outside of Sunbeam.
Rated

5

out of

5
by
gyda
from
Best for arthritis pain relief - please make more
I absolutely love this product. I've had it for about 8 years and its been a Godsend for auto-immune arthritis. It keeps morning pain and stiffness at bat....and it finally seems to have stopped functioning. I moved recently and waited until fall to put the pad back on my bed. The remote works, the base has lights for each side, but no heat. I tried the unplug, unconnect, reconnect replug, I tried replacing remote batteries, and reset the base to the remote but no heat. I'm crushed to see this product is not sold anywhere any longer as I'd love to replace the one I have that just doesn't seem to want to work. Please sunbeam, make more of this product :)
Date published: 2021-09-25
Rated

2

out of

5
by
BarbaraDH
from
Just stopped working
I ordered this zone heated mattress pad December 4, 2019. I just moved to a new house, I hand carried this to my new house (I did not have the movers move it), and it will not work. It's getting power, because the lights are coming on in the device that sits under the bed, and the remote is working, but it's not heating AT ALL. I checked the connections, and it is hooked up correctly. Only getting one year of service out of this does NOT make me happy at all. I am a 66 year old disabled widow who is in pain all of the time, and this enabled me to sleep somewhat comfortably.
Date published: 2020-12-30
Rated

1

out of

5
by
Jeannette S
from
Stopped working
Have had for about two years now. For the past year, only the foot zone was working, now the base beeps. Plug is connected properly to the pad, batteries are fresh, have unplugged to reset, nothing works. To top it off, cannot find another pad with zones, everyplace is out of stock. A lot of money to spend on something that stops working.
Date published: 2021-01-02
Rated

1

out of

5
by
BabyGirl1980
from
Quit working
Was working great then suddenly one day it wouldn't turn off regardless of what remote was saying. We unplugged everything took batteries out of remote. But sadly when we plugged everything back in the remote and base quit communicating. Very frustrating. Have not had the mattress pad very long. Loved our previous one we had for years but this has been very disappointing.
Date published: 2020-12-29
Rated

3

out of

5
by
verna2197
from
Awesome Product except
I have RLS and since this mattress cover has the different zones its perfect for me. I took it off my bed and its split down the middle of it. This is terrible. I can not afford to replace this on account of your company not making it right the first time. I really need this for my legs. This one was purchased by my daughter as a gift for me and I know she paid alot for it on account I have been looking at it for quite awhile to purchase.
Date published: 2021-10-14
Rated

4

out of

5
by
KOG1
from
Exactly what we wanted
We're on our second one of the heated pads because we really like them and have had ours (two) over many, many years. The zone heated concept is perfect because each of us has a different heat level need. We're much older now than when we bought the first one with a bit of arthritis and less resiliant to the cold but we can heat the area that needs warming at different temperatures. UNFORTUNATELY, our current one has stopped working consistently, so sometimes we are left with a cold bed, sometimes the heat is only in one area but not the two or three that we prefer. We think perhaps the cordless controller is failing and we would be very happy if we could replace that item but we can't find it in the replacement parts section, NOR can we find a replacement heated pad anywhere. HELP PLEASE.
Date published: 2021-11-27
Rated

2

out of

5
by
Suzannek3
from
Mattress pad rips down center
I have bought two of these and had to return them for warranty over the last three years for the exact same reason every single one of them tear down the center on the back side of the mattress pad and then they don't stay on the bed properly
Date published: 2021-03-28
Rated

1

out of

5
by
Dhelton
from
Great...until it quit working!
I've had the mattress pad for a month and loved the zone heating until it quit working. One side of the pad no longer heats up- tried unplugging, turning off and back on. Concept is great and would give it 5 stars if it worked
Date published: 2020-12-05
bvseo_sdk, dw_cartridge, 18.2.0, p_sdk_3.2.0
CLOUD, getReviews, 0ms
reviews, product
---
<!--begin-bvseo-questions--> <!--begin-questions--> <div id="bvseo-questionsSection"> <div class="bvseo-question-answer" data-questionid="3543533"> <h2 class="bvseo-question"> How do I turn on dual control? There is a black box around each of the numbers on the screen and the zones stay the same number. How to I get the zones to work independently?&amp;nbsp; </h2> <div class="bvseo-question-detail"> </div> <div class="bvseo-author">Asked by: Ashley1991</div> <div class="bvseo-answer" data-answerid="2761540"> Thank you for contacting the Sunbeam&amp;reg; Brand. We value your continued support on our product and we are glad to assist you with your inquiry.&#13;&#10;&#13;&#10;The dual controls operate independently of one another, allowing two people sleeping in the same bed the opportunity to select their individual level of warmth desired for personal sleeping comfort. To accomplish this, the heating element is arranged in two circuits. If your dual control model has the 10-hour auto shut-off feature, this will also function independently from each control.&#13;&#10;&#13;&#10;In using your control: &#13;&#10;-The selected zone will appear outlined on the electronic display.&#13;&#10;-To prevent accidentally changing your selections while the Mattress Pad is on, the remote control and display will &amp;ldquo;lock&amp;rdquo; during periods of inactivity/ To reactivate the control, press any of the zones or the &amp;ldquo;+&amp;rdquo; or &amp;ldquo;-&amp;rdquo; buttons.&#13;&#10;&#13;&#10;Adjusting zones individually:&#13;&#10;1. To adjust any zone individually, press the &amp;ldquo;Select Zone&amp;rdquo; button that corresponds to the zone you want to change (ie. Feet Zone). That zone will become outlines on the display and will be the only zone that changes when you press the &amp;ldquo;+&amp;rdquo; and &amp;ldquo;-&amp;rdquo; buttons&#13;&#10;2. Press the &amp;ldquo;+&amp;rdquo; button to increase or the &amp;ldquo;_&amp;rdquo; to decrease the heat of the selected zone.&#13;&#10;3. To change another zone setting, simply select the zone and adjust its heat level up and down.&#13;&#10;&#13;&#10;Note: after customizing each zone, you may want to reset the &amp;ldquo;+&amp;rdquo; and &amp;ldquo;-&amp;rdquo; buttons to again control all the zones of that side at once. To do this, turn off that side of the Mattress Pad by pressing the ON/OFF button, then turn it back on. Or you can wait 60 seconds until the zone outline disappears, then press the &amp;ldquo;+&amp;rdquo; of &amp;ldquo;-&amp;rdquo; button. Press the ON/OFF button to turn off the side of the mattress pad that you want to reset.&#13;&#10;&#13;&#10;For your reference, we will provide the instruction manual of the Sunbeam&amp;reg; Zoned Heated Mattress Pad. One of our specialists will email you shortly. Take care and have a nice day! <div class="bvseo-author">Answered by: Sunbeam Consumer Care</div> <div class="bvseo-pubdate">Date published: 2021-11-18</div> </div> </div> <div class="bvseo-question-answer" data-questionid="3009458"> <h2 class="bvseo-question"> Had mattress pad for 1 month, abs now base constantly beeps every 10 seconds when plugged into outlet whether wireless controller is on or not and does not heat. Is there a way to fix? </h2> <div class="bvseo-question-detail"> </div> <div class="bvseo-author">Asked by: Jenpdx</div> <div class="bvseo-answer" data-answerid="2429397"> Thank you for reaching Sunbeam&amp;reg; Brand. We are sorry to hear that your heated mattress pad keeps on flashing and not heating. This is certainly not the experience we want you to have. No worries, we are here to help! We suggest you to try the troubleshooting steps below:&#13;&#10;&#13;&#10;1. Turn the blanket control to the &amp;quot;Off&amp;quot; position and unplug the power cord from the electrical connection. Let it rest for 2 minutes.&#13;&#10;2. Check for possible physical damage on the mattress pad and change batteries for the wireless controller.&#13;&#10;3. Hold the power button down and re-insert power cord back into a wall outlet at the same time.&#13;&#10;&#13;&#10;Your heated mattress pad has a 5 year limited warranty. If this doesn&#39;t resolve your issue, we&#39;d like to kindly request that you contact us directly in order to help you get to the best resolution. Have a good day! <div class="bvseo-author">Answered by: Sunbeam Consumer Care</div> <div class="bvseo-pubdate">Date published: 2021-07-22</div> </div> </div> <div class="bvseo-question-answer" data-questionid="2388767"> <h2 class="bvseo-question"> Since the cord is not to be placed between the mattress and the box springs, how are you to tuck the sheet and blankets in under the mattress </h2> <div class="bvseo-question-detail"> </div> <div class="bvseo-author">Asked by: Anonymous</div> <div class="bvseo-answer" data-answerid="2227238"> Thank you for reaching Sunbeam&amp;reg; Brand. We understand that you wanted to more on how to set up your heated mattress pad. Don&#39;t worry! We are here to help. &#13;&#10;&#13;&#10;We recommend to have the controllers lay out of the bed when the mattress is in use. When it is not in use, you may tuck the controllers in the bed just make sure that it will not be laid on. Have a good day! <div class="bvseo-author">Answered by: Sunbeam Consumer Care</div> <div class="bvseo-pubdate">Date published: 2021-09-30</div> </div> </div> <div class="bvseo-question-answer" data-questionid="2546503"> <h2 class="bvseo-question"> Hi, I love my mattress pad but I&amp;rsquo;ve developed a sensitivity to electricity. The warm is nice but the electric currents make my joints ache. I&amp;rsquo;m wondering if I could put a blanket or two over the mattress pad between me and it and it still be safe.&amp;nbsp; </h2> <div class="bvseo-question-detail"> </div> <div class="bvseo-author">Asked by: Alyxana</div> <div class="bvseo-answer" data-answerid="2224176"> Thank you for contacting Sunbeam&amp;reg; Brand. We understand that you wanted to know mpre about how you can use your heated mattress pad. Don&#39;t worry! We are here to help. &#13;&#10;&#13;&#10;We recommend that the electric blanket/ mattress pad is placed underneath a fitted sheet or blankets so the direct heat is not against your skin. We also would like to recommend getting your physician&#39;s advised regarding this matter. Have a great day! <div class="bvseo-author">Answered by: Sunbeam Consumer Care</div> <div class="bvseo-pubdate">Date published: 2021-10-31</div> </div> </div> <div class="bvseo-question-answer" data-questionid="2380561"> <h2 class="bvseo-question"> My base under the bed beeps what is causing that? It&amp;rsquo;s only 1 year old. No message is showing on the controller.&amp;nbsp; </h2> <div class="bvseo-question-detail"> </div> <div class="bvseo-author">Asked by: Petnurse40</div> <div class="bvseo-answer" data-answerid="2143487"> Hi! So if it&amp;rsquo;s just a single beep that may be the 10 hour auto shut off. Each side will shut off on its own 10 hours after the last time it was adjusted. And the 10 hour timer is separate for each side.&amp;nbsp;&#13;&#10;&#13;&#10;For example my hubs turns his on at 10pm. At 8am there will be a beep signaling his side turning off. I turn mine on at 11pm and then adjust the temp at 12:30am. There will be a beep at 10:30am when my side shuts off.&amp;nbsp;&#13;&#10;&#13;&#10;I hope this helps.&amp;nbsp; <div class="bvseo-author">Answered by: Alyxana</div> <div class="bvseo-pubdate">Date published: 2021-07-22</div> </div> </div> <div class="bvseo-question-answer" data-questionid="2390658"> <h2 class="bvseo-question"> My bedframe has drawers underneath. Is it safe to run the base and cords in the space between the drawers and not have base exposed? </h2> <div class="bvseo-question-detail"> </div> <div class="bvseo-author">Asked by: Jamie123</div> <div class="bvseo-answer" data-answerid="2138284"> Hey there! Thanks for reaching out! Yes, you can use the heated mattress pad with a bed with a drawer. Just please make sure that there will be no part of the mattress pad that will be tucked in between spaces. Have a nice day! <div class="bvseo-author">Answered by: Sunbeam Consumer Care</div> <div class="bvseo-pubdate">Date published: 2021-03-01</div> </div> </div> <div class="bvseo-question-answer" data-questionid="2379924"> <h2 class="bvseo-question"> We have a queen size mattress pad with dual control. recently the hand held control unit fell off the head board onto the floor. It still works but the base unit is not lighting up. All the wires are connected .&#13;&#10;Do they need to be synchronized some how? </h2> <div class="bvseo-question-detail"> </div> <div class="bvseo-author">Asked by: Hollis</div> <div class="bvseo-answer" data-answerid="2135193"> Hey there! Thanks for reaching out! The light on the controller might be busted when it fell off the floor. If the controller still let&#39;s you adjust the temperature of the mattress pad fine, then it is still good to use. Have a great day! <div class="bvseo-author">Answered by: Sunbeam Consumer Care</div> <div class="bvseo-pubdate">Date published: 2021-10-31</div> </div> </div> <div class="bvseo-question-answer" data-questionid="2389826"> <h2 class="bvseo-question"> our problem is the remote . It only allows the setting of the green side. green side is assigned to the blue side too. If set on both side on the back the green side controls all temp settings for both.if on 1 side you can only lower blue side. </h2> <div class="bvseo-question-detail"> </div> <div class="bvseo-author">Asked by: dseppmc</div> <div class="bvseo-answer" data-answerid="2135183"> Oh no! This is definitely not the experience we want you to have. Kindly fill-up this form https://www.sunbeam.ca/en_CA/customerservicecontact?cid&#61;contactus and we will get you all taken care of. Have a great day! <div class="bvseo-author">Answered by: Sunbeam Consumer Care</div> <div class="bvseo-pubdate">Date published: 2021-10-19</div> </div> </div> </div> <script type="text/javascript"> if (document.getElementById('bvseo-questionsSection')) { document.getElementById('bvseo-questionsSection').style.display = 'none'; } </script> <!--end-questions--> <!--begin-pagination--> <ul id="bvseo-paginationSection"> <li class="bvseo-paginationItem"><a class="bvseo-paginationLink" href="https://www.sunbeam.com/blankets-bedding/heated-mattress-pads/sunbeam-zoned-heated-mattress-pad/SP_517834.html?bvrrp=Main_Site-en_US/questions/product/2/SP_517834.htm">Sunbeam&reg; Zoned Heated Mattress Pad Questions - page 2</a></li> </ul> <!--end-pagination--> <ul id="BVSEO_meta" style="display:none!important"> <li data-bvseo="bvDateModified">y_2021, m_11, d_30, h_19CST</li> <li data-bvseo="ps">bvseo_bulk, prod_bvqa, vn_bulk_3.0.20</li> <li data-bvseo="cp">cp_1, bvpage1</li> <li data-bvseo="co">co_hasquestionsanswers, tq_32</li> <li data-bvseo="cf">loc_en_US, sid_SP_517834, prod, sort_[SortEntry(order=LAST_APPROVED_ANSWER_SUBMISSION_TIME, direction=DESCENDING)]</li> <li data-bvseo="diagnostics">clientName_sunbeam</li> </ul> <!--end-bvseo-questions--> <ul id="BVSEOSDK_meta" style="display: none !important;"> <li data-bvseo="sdk">bvseo_sdk, dw_cartridge, 18.2.0, p_sdk_3.2.0</li> <li data-bvseo="sp_mt">CLOUD, getContent, 0ms</li> <li data-bvseo="ct_st">questions, product</li> </ul>
product-detail-view
oos-pdp