Sunbeam® Non-Woven Heated Mattress Pad with Dial Controller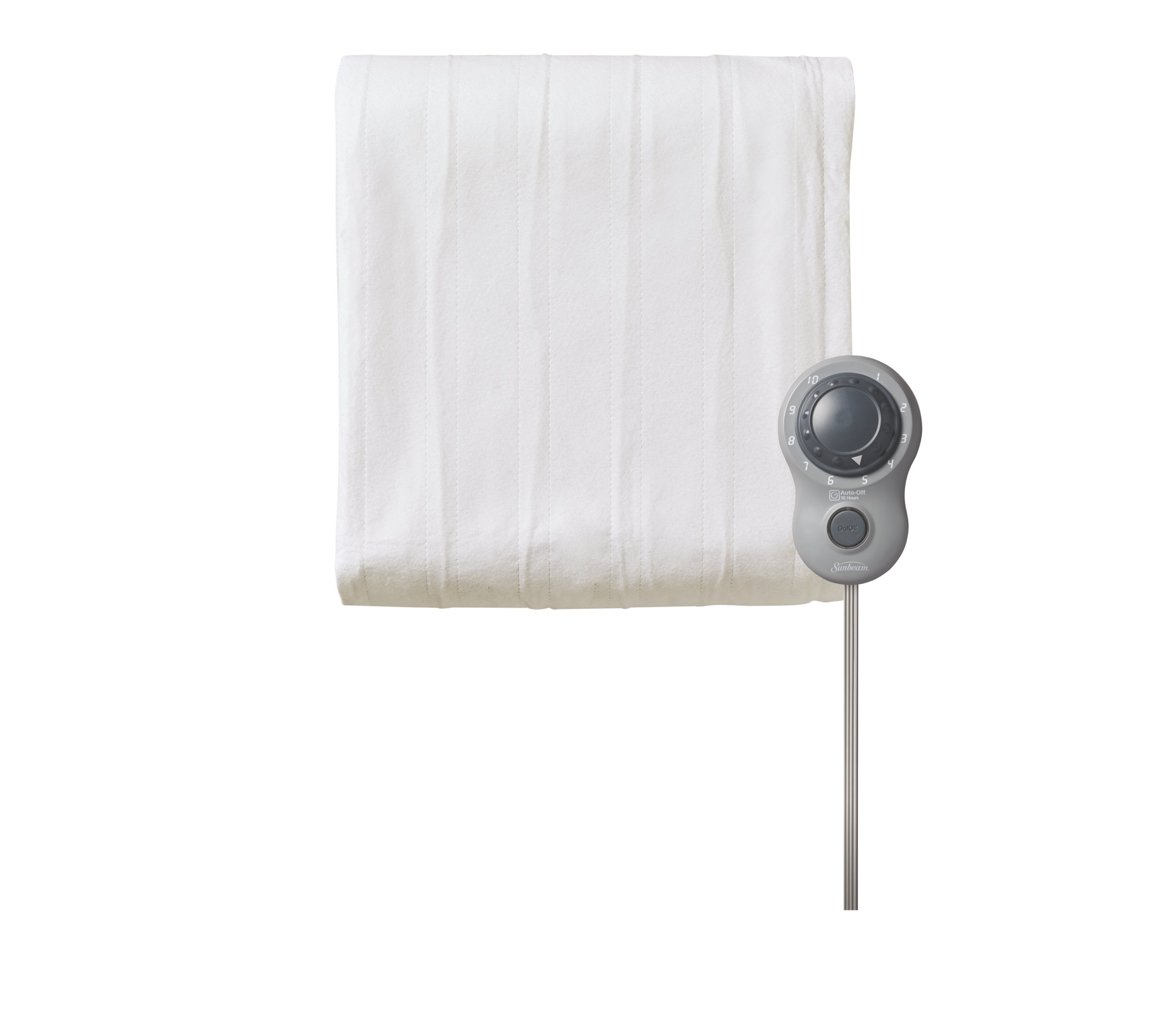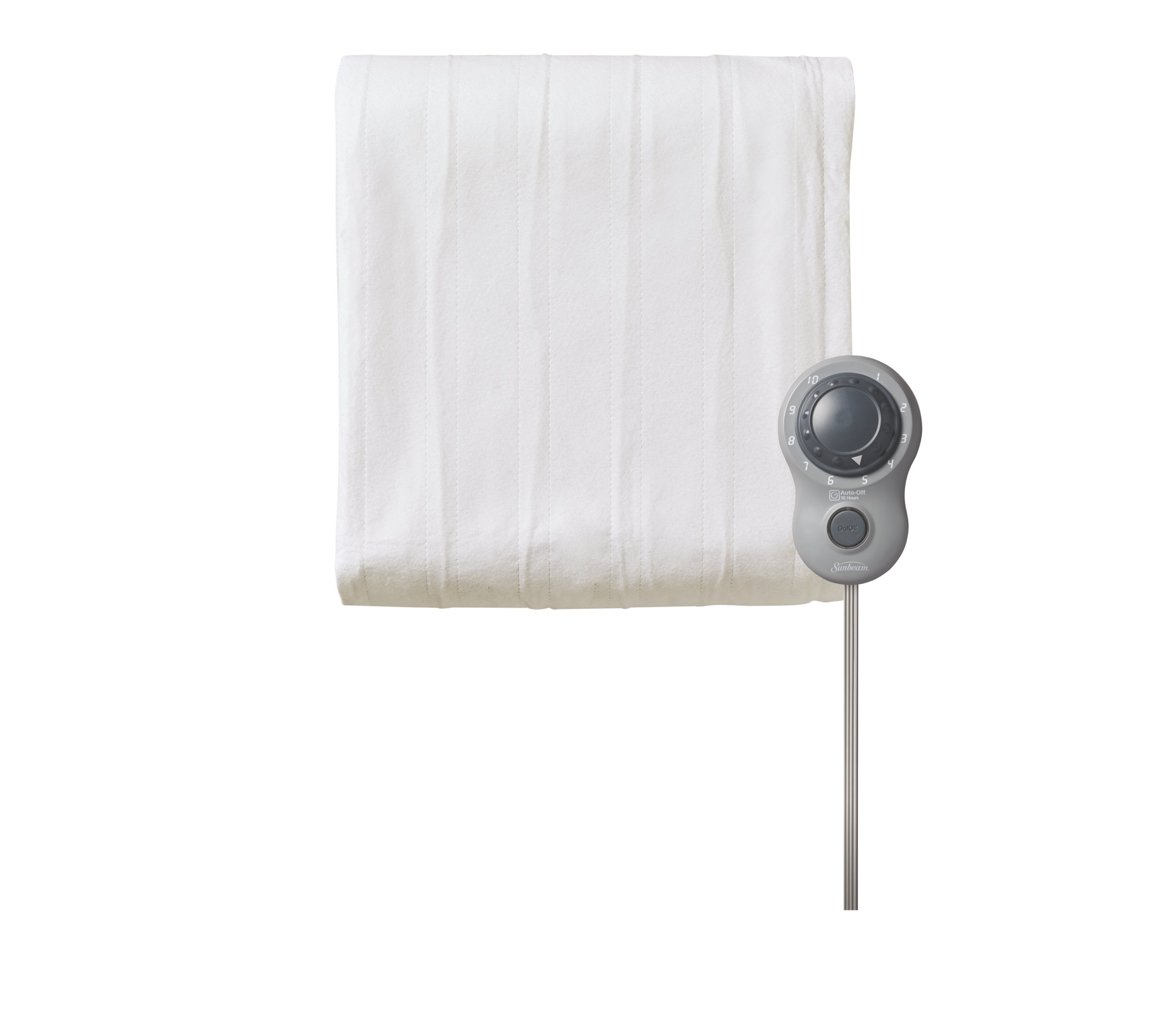 Sunbeam® Non-Woven Heated Mattress Pad with Dial Controller
Final Sale: may not be returned or exchanged
Item currently not available.
Alert
Please select a Size.
Final Sale: may not be returned or exchanged
Product Details
Description
Get the warmth you need during the night while resting comfortably with this extra-soft, quilted heated mattress pad as it gently wraps you in warmth with ThermoFine® technology to auto-adjust for consistent heat control and 10-heat settings and 10 hour auto-off. Machine-washable.
SOFT AND COZY MATERIAL: Polyester, Non Woven. Rest throughout the night with Sunbeam's Heated Mattress Pad, with heat that is gently diffused, soothing troublesome areas. Wake up feeling more refreshed and ready to go.
EASY TO USE: Includes EasySet Pro controller, which provides 10 Heat Settings and 10 Hour Auto-Shutoff for peace of mind (Queen and King sizes include two controllers)
FIND YOUR PERFECT SIZE:FIND YOUR PERFECT SIZE: Twin Size measures 39" x 75", Full Size measures 54" x 75", Queen Size measures 60" x 80", King Size measures 76" x 80"
CARE INSTRUCTIONS: Machine wash in warm water and tumble dry on low setting or hang dry
THERMOFINE® WIRING: Our exclusive warming system senses and adjusts heat to deliver consistent warmth while you sleep
Product Disclaimer
This product must be used in accordance with the Important Safety Instructions found within the Instruction Booklet.
Warranty
5 year limited warranty
Where to Buy
The following link will take you to a site outside of Sunbeam.
Rated

1

out of

5
by
terrym
from
Problems from the start!
From the very first night that we put the mattress pad on the bed, we were having the same issues that many others have written about. The heat level was not all that great, and the controls wouldn't turn off with the on/off button and continued to flash unless the power cord was unplugged. I tried all the suggestions I could find from unplugging the mattress from the bed & outlet to start the process over again to trying in two different wall outlets instead of to a power strip. None of those things helped. Now I have it totally disconnected from use. What do I do now? The product has barely been used, it is paid for, and it is not working.
Date published: 2021-02-26
Rated

2

out of

5
by
JimR
from
Quit working after 2 weeks. Lights blinking
We've had Sunbeam heated mattress pads for many years for several beds. Recently bought this one for our son's queen bed for when he came home from college. It worked well for about a week then the lights on both controllers started blinking and no heat developed. Only way to stop blinking was to unplug the unit. Tried unplugging and reconnecting on both ends but nothing has helped this. My father worked for Sunbeam for 40 years and we have always used their appliances and products for their quality and dependability. I am very disappointed with this problem as I see others have had similar experience.
Date published: 2020-12-31
Rated

1

out of

5
by
disgusted customer
from
Poor Continuing Controller Problem
This heated mattress pad (king) was purchased in late March 2021 to replace another brand that had quit heating after 10 years. Put on mattress 5/3/2021 for 1st time - controller will only blink even after being unplugged from wall and pad itself; tried moving to another wall plug. This seems to be a continuing problem with Sunbeam. Only dual control mattress pad I've owned that used only 1 wall and mattress plug: very odd from such a large company, could this be part of the problem with all the blinking controls. Just provide true dual controls for queen, king, and cal. king sizes.
Date published: 2021-05-03
Rated

1

out of

5
by
JohnJoe
from
Stopped working
On the second use the lights started flashing. Unplugged it several times with lights still flashing. Tried calling the 800 number but the canned listener could not understand when I said "controller flashing".
Date published: 2019-01-16
Rated

1

out of

5
by
cleanfreak
from
must be a defect!
After about 2 years my controls started blinking and wasn't warming. You had to unplug it from the wall to get it to stop. I unplugged it from the bottom and plugged it back in and it stays on but only mildly warm on number 9! Three other people said the same thing on this site under questions and answers. Not a cheap item to buy either. My daughter bought mine.I would not recommend this one!
Date published: 2019-01-12
Rated

4

out of

5
by
OBXTURTLE
from
Must Have
I love this product, yes I have had to buy 3 times over the last ten years. Buti get excited each time. The comfort of this product is amazing. Once you've found your setting, getting into your preheated bed every night is so worth the replacement cost. I always thought it would be to hot for my liking. But my setting is 3.5 out of 10. Look forward every fall to putting it back on the mattress. Never had an issue with the controller I've read so much about. We get a couple of years out of it and then get a new one !!!
Date published: 2020-10-17
Rated

5

out of

5
by
Marley
from
This is the Best Heated Mattress Pad!
I bought three of these heated Mattress Pads in the past few months. I couldn't be happier. I bought two fro another company and they went to shreds when I washed them on delicate. Sunbeam has phenominal products. My mother received a Sunbeam waffle iron for my baby shower 68 years ago. She left it to me, my family gets the best Waffles Every Sunday morning, Cfan't day enough about Sunbeam!
Date published: 2019-07-05
Rated

1

out of

5
by
MNcold
from
Stopped working after 5 months
I bought this on November 1st off of Amazon. It won't last more than five minutes without the controls blinking and the heat turning off. Really big bummer when you live in Minnesota!
Date published: 2019-04-23
bvseo_sdk, dw_cartridge, 18.2.0, p_sdk_3.2.0
CLOUD, getReviews, 0ms
reviews, product
---
<!--begin-bvseo-questions--> <!--begin-questions--> <div id="bvseo-questionsSection"> <div class="bvseo-question-answer" data-questionid="2500175"> <h2 class="bvseo-question"> Can I put a waterproof mattress cover over the heated mattress pad?&amp;nbsp; </h2> <div class="bvseo-question-detail"> </div> <div class="bvseo-author">Asked by: MCeleste</div> <div class="bvseo-answer" data-answerid="2134108"> Hey there! Thank you for reaching out! Yes. Simply layer your mattress protector over the electric blanket, protecting it from spills and stains, along with your mattress. Have a great day! <div class="bvseo-author">Answered by: Sunbeam Consumer Care</div> <div class="bvseo-pubdate">Date published: 2021-02-24</div> </div> </div> <div class="bvseo-question-answer" data-questionid="2325387"> <h2 class="bvseo-question"> My mattress pad won&#39;t heat. The 2 controller lights light up when plugged in but go out within a second or two. The remote doesn&#39;t turn on the pad though it displays the heat number. &#13;&#10;I&#39;ve tried several times to plug and unplug with no luck. </h2> <div class="bvseo-question-detail"> </div> <div class="bvseo-author">Asked by: Ken18</div> <div class="bvseo-answer" data-answerid="2017693"> Oh no! That is definitely not the kind of experience that we want you to have. Our Sunbeam heated mattress pads were made with the highest quality and complete materials and we expect them to last. We aim to provide great quality products and we&#39;d like for you to be completely satisfied with your purchase and get the product&#39;s full benefit. Please give us a call at 1-(800) 892-7684 Monday to Friday 9 AM to 5 PM EST or email us at sunbeamconsumercare@newellco.com and we will help you about your heated mattress pad. <div class="bvseo-author">Answered by: Sunbeam Consumer Care</div> <div class="bvseo-pubdate">Date published: 2020-10-21</div> </div> </div> <div class="bvseo-question-answer" data-questionid="2322388"> <h2 class="bvseo-question"> I have a son theme heated mattress pad and I can&#39;t get it off a high heat and the red light is blinking and it won&#39;t do any changing so what do I do? I love my mattress pad </h2> <div class="bvseo-question-detail"> </div> <div class="bvseo-author">Asked by: Anonymous</div> <div class="bvseo-answer" data-answerid="2017353"> Oh no! That is definitely not the kind of experience that we want you to have. Our Sunbeam heated mattress pads were made with the highest quality and complete materials and we expect them to last. We aim to provide great quality products and we&#39;d like for you to be completely satisfied with your purchase and get the product&#39;s full benefit. Please give us a call at 1-(800) 892-7684 Monday to Friday 9 AM to 5 PM EST or email us at sunbeamconsumercare@newellco.com and we will help you about your mattress pad. <div class="bvseo-author">Answered by: Sunbeam Consumer Care</div> <div class="bvseo-pubdate">Date published: 2020-10-21</div> </div> </div> <div class="bvseo-question-answer" data-questionid="2314860"> <h2 class="bvseo-question"> How do I get a replacement control for unit&amp;nbsp;s85kqa? </h2> <div class="bvseo-question-detail"> </div> <div class="bvseo-author">Asked by: Anonymous</div> <div class="bvseo-answer" data-answerid="2017170"> Hey there! Thanks for reaching us out. As we pursue new pathways to bring our products directly to you, we are relying on our retail partners to offer you the best of Sunbeam products. The Sunbeam replacement controllers are available online and in-store authorized retailers and here&#39;s the complete list: Amazon, Walmart, Target, Bed, Bath &amp;amp; Beyond, Costco Wholesale, Meijer, Macy&#39;s, Kroger, Kohl&#39;s, QVC, Walgreens and The Home Depot. Have a good day! <div class="bvseo-author">Answered by: Sunbeam Consumer Care</div> <div class="bvseo-pubdate">Date published: 2020-10-21</div> </div> </div> <div class="bvseo-question-answer" data-questionid="2325041"> <h2 class="bvseo-question"> Why is one right side controller blinking and doesn&amp;rsquo;t heat the right side of bed? &amp;nbsp;I just received the mattress pad blanket&amp;nbsp; </h2> <div class="bvseo-question-detail"> </div> <div class="bvseo-author">Asked by: Daycare6</div> <div class="bvseo-answer" data-answerid="2016290"> Thank you for reaching us! There are several causes to a flashing control.&#13;&#10;&#13;&#10;1. Product is plugged into an extension cord/surge protector and not plugged into a direct wall outlet. &#13;&#10;2. Product wasn&#39;t plugged in properly. &#13;&#10;&#13;&#10;To fix this problem, do the following to reset your product: &#13;&#10;&#13;&#10;1. Unplug the power cord from the electrical connection. &#13;&#10;2. Unplug the cord from the actual product itself (if your product has a detachable cord) &#13;&#10;3. Re-plug the cord into the product. Make sure the connection is secure and complete.(if your product has a detachable cord) &#13;&#10;4. Re-insert power cord back into a wall outlet. &#13;&#10;&#13;&#10;If these troubleshooting tips are not successful, please contact us via https://www.sunbeam.com/customerservicecontact?cid&#61;contactus. <div class="bvseo-author">Answered by: Sunbeam Consumer Care</div> <div class="bvseo-pubdate">Date published: 2020-10-20</div> </div> </div> <div class="bvseo-question-answer" data-questionid="2284867"> <h2 class="bvseo-question"> I have a twin mattress pad with the 10 hour auto shut off, is there a way you can set the remote for a 15 or 20 minutes to auto shut off? </h2> <div class="bvseo-question-detail"> </div> <div class="bvseo-author">Asked by: tbland2200</div> <div class="bvseo-answer" data-answerid="1998301"> Hey there! Thanks for reaching out. The mattress pad is already programmed for 10-hour auto-shutoff. <div class="bvseo-author">Answered by: Sunbeam Consumer Care</div> <div class="bvseo-pubdate">Date published: 2020-11-07</div> </div> </div> <div class="bvseo-question-answer" data-questionid="1991917"> <h2 class="bvseo-question"> Which remote control the right side of the pad </h2> <div class="bvseo-question-detail"> </div> <div class="bvseo-author">Asked by: Tiner</div> <div class="bvseo-answer" data-answerid="1804731"> Great question! The remote control that controls the right side of the pad is the one nearest to the power outlet. <div class="bvseo-author">Answered by: Sunbeam Consumer Care</div> <div class="bvseo-pubdate">Date published: 2020-05-07</div> </div> </div> <div class="bvseo-question-answer" data-questionid="1715972"> <h2 class="bvseo-question"> Is it okay to put this heated matress pad beneath a regular cotton mattress pad? My mom can&#39;t sleep as she feels the heating elements and it bothers her, even though it is under a fitted sheet. </h2> <div class="bvseo-question-detail"> </div> <div class="bvseo-author">Asked by: ChuckM</div> <div class="bvseo-answer" data-answerid="1777634"> Good question! Yes, you can use a regular mattress pad while using our heated mattress pad. As long as it doesn&#39;t produce electricity. If you need further assistance, you can give us a call at 1-(800)-892-7684 and we will get you all taken care of. For your convenience, we are available Mon-Fri 9am-6pm, EST. <div class="bvseo-author">Answered by: Sunbeam Consumer Care</div> <div class="bvseo-pubdate">Date published: 2020-04-20</div> </div> </div> </div> <script type="text/javascript"> if (document.getElementById('bvseo-questionsSection')) { document.getElementById('bvseo-questionsSection').style.display = 'none'; } </script> <!--end-questions--> <!--begin-pagination--> <ul id="bvseo-paginationSection"> <li class="bvseo-paginationItem"><a class="bvseo-paginationLink" href="https://www.sunbeam.com/blankets-bedding/heated-mattress-pads/sunbeam-non-woven-heated-mattress-pad-with-dial-controller/SP_320371.html?bvrrp=Main_Site-en_US/questions/product/2/SP_320371.htm">Sunbeam&reg; Non-Woven Heated Mattress Pad with Dial Controller Questions - page 2</a></li> </ul> <!--end-pagination--> <ul id="BVSEO_meta" style="display:none!important"> <li data-bvseo="bvDateModified">y_2021, m_11, d_30, h_19CST</li> <li data-bvseo="ps">bvseo_bulk, prod_bvqa, vn_bulk_3.0.20</li> <li data-bvseo="cp">cp_1, bvpage1</li> <li data-bvseo="co">co_hasquestionsanswers, tq_30</li> <li data-bvseo="cf">loc_en_US, sid_SP_320371, prod, sort_[SortEntry(order=LAST_APPROVED_ANSWER_SUBMISSION_TIME, direction=DESCENDING)]</li> <li data-bvseo="diagnostics">clientName_sunbeam</li> </ul> <!--end-bvseo-questions--> <ul id="BVSEOSDK_meta" style="display: none !important;"> <li data-bvseo="sdk">bvseo_sdk, dw_cartridge, 18.2.0, p_sdk_3.2.0</li> <li data-bvseo="sp_mt">CLOUD, getContent, 0ms</li> <li data-bvseo="ct_st">questions, product</li> </ul>
product-detail-view
oos-pdp