Sunbeam® Non-Woven Heated Mattress Pad with Dial Controller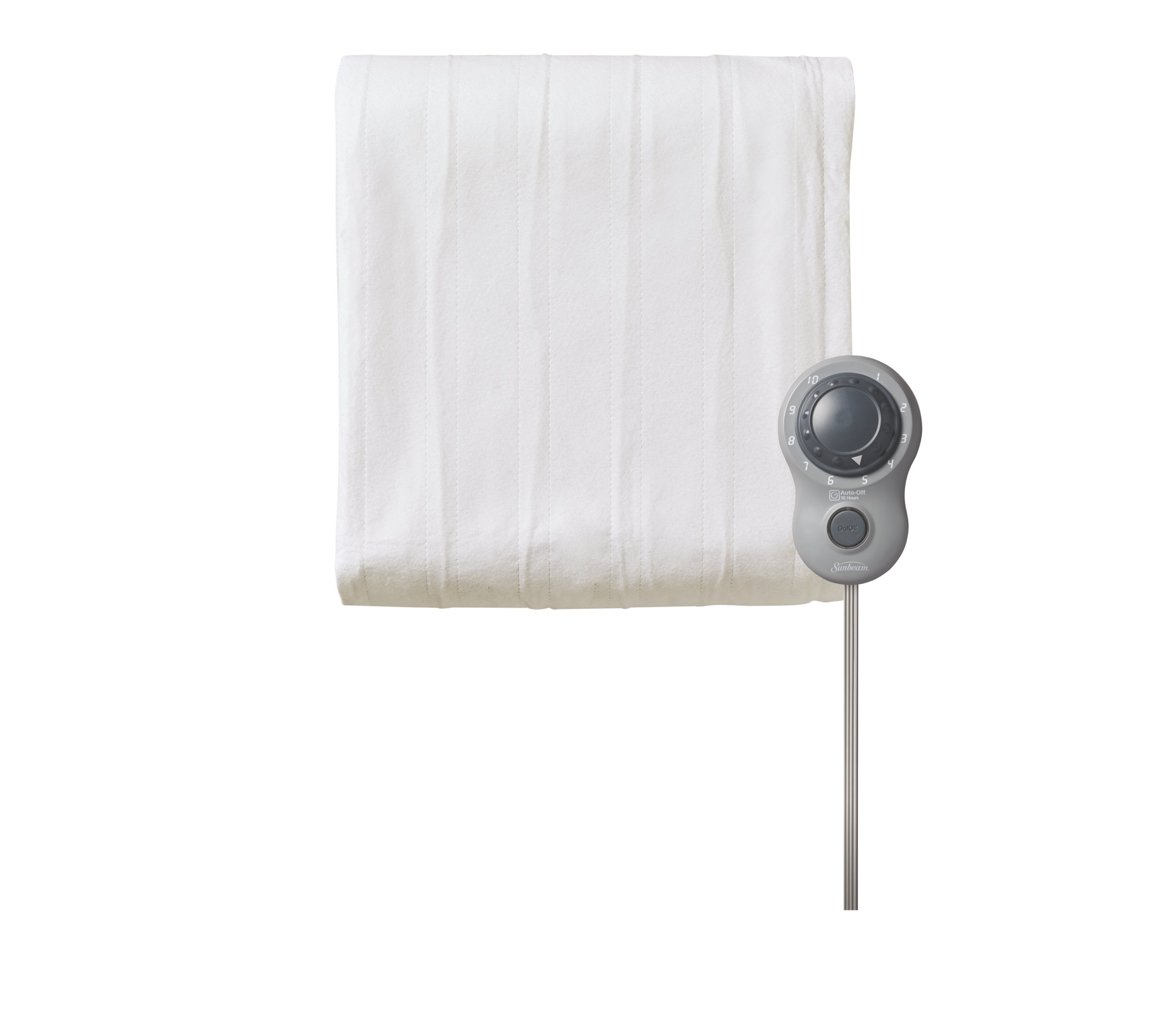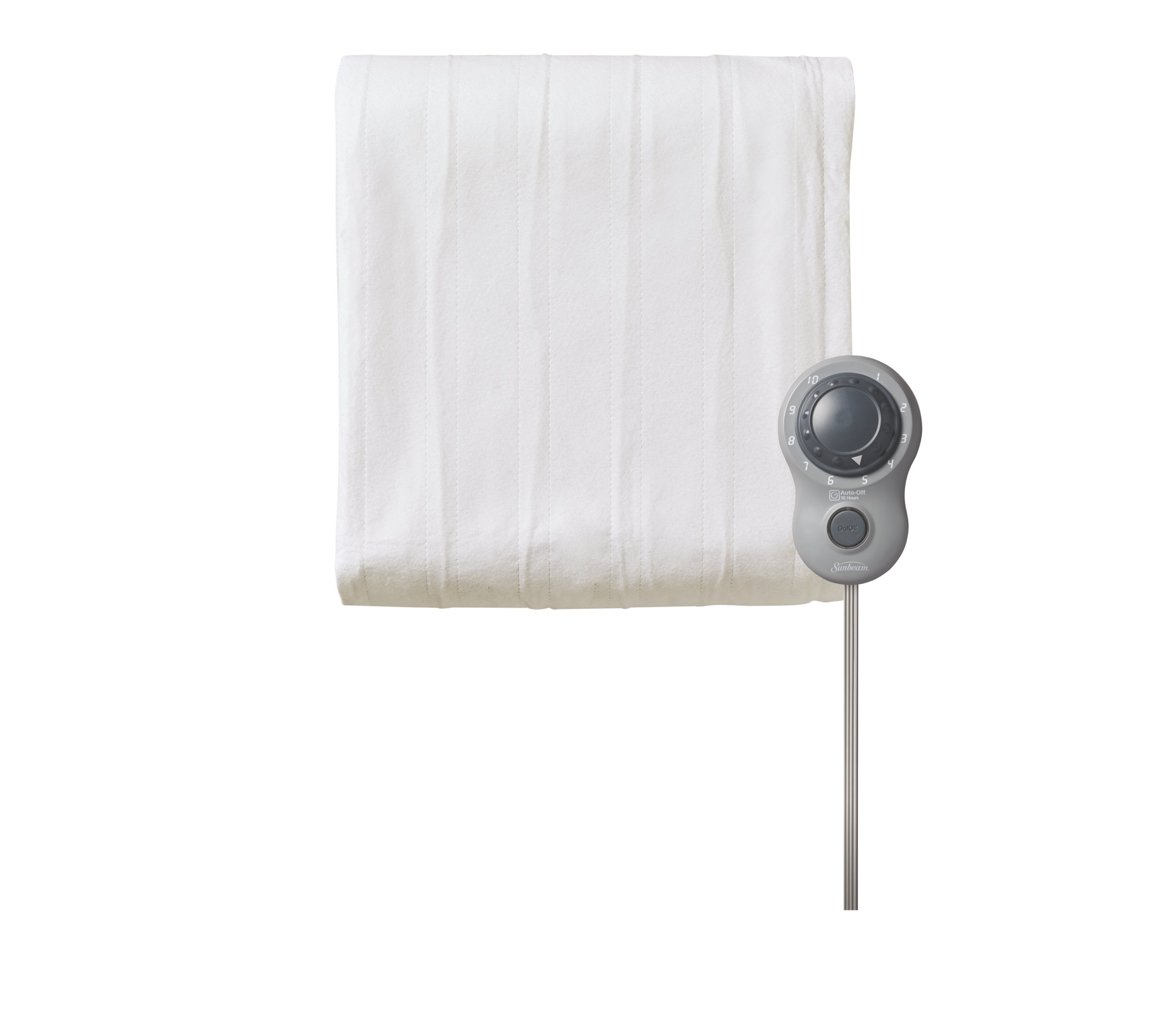 Sunbeam® Non-Woven Heated Mattress Pad with Dial Controller
Final Sale: may not be returned or exchanged
Item currently not available.
Alert
Please select a Size.
Final Sale: may not be returned or exchanged
Product Details
Description
Get the warmth you need during the night while resting comfortably with this extra-soft, quilted heated mattress pad as it gently wraps you in warmth with ThermoFine® technology to auto-adjust for consistent heat control and 10-heat settings and 10 hour auto-off. Machine-washable.
SOFT AND COZY MATERIAL: Polyester, Non Woven. Rest throughout the night with Sunbeam's Heated Mattress Pad, with heat that is gently diffused, soothing troublesome areas. Wake up feeling more refreshed and ready to go.
EASY TO USE: Includes EasySet Pro controller, which provides 10 Heat Settings and 10 Hour Auto-Shutoff for peace of mind (Queen and King sizes include two controllers)
FIND YOUR PERFECT SIZE:FIND YOUR PERFECT SIZE: Twin Size measures 39" x 75", Full Size measures 54" x 75", Queen Size measures 60" x 80", King Size measures 76" x 80"
CARE INSTRUCTIONS: Machine wash in warm water and tumble dry on low setting or hang dry
THERMOFINE® WIRING: Our exclusive warming system senses and adjusts heat to deliver consistent warmth while you sleep
Product Disclaimer
This product must be used in accordance with the Important Safety Instructions found within the Instruction Booklet.
Warranty
5 year limited warranty
Where to Buy
The following link will take you to a site outside of Sunbeam.
Rated

1

out of

5
by
Dina98
from
Worked once
I bought this heated mattress pad on Amazon I put it on my bed turned it on and it was on for about 30-45 min and it was off . I assumed it shut off for a short time so it doesn't over heat. Unfortunately that was not the case I tried later that night and even the next day and still no heat. I unplugged it from the power source and the pad and still no heat.
Date published: 2020-01-26
Rated

1

out of

5
by
Cheryl LWT
from
Doesn't work at first use!
I bought this at the end of last winter for use this year. I just put it on and plugged it in. The controls are flashing, the bed never warmed. I unplugged it an plugged it back in, still flashing. I unplugged the power from the pad, plugged that back in. Still flashing. It doesn't allow me to turn it off. HAVE NEVER USED IT! This is terrible.
Date published: 2019-10-19
Rated

1

out of

5
by
MEDR
from
Heated Mattress Pad
The pad switch only blinks-- has not warmed yet--- Just opened it this morning. Electricity must be working because of the blinking--but not one bit of warmth.
Date published: 2020-01-06
Rated

4

out of

5
by
rred
from
electric heated mattress pad
when it works it's great. Takes long to warm up. Only works for 1-2 winters
Date published: 2019-07-05
Rated

2

out of

5
by
Cristina73
from
Not a good value
I bought this less than a year ago. I had problems with blinking lights on one controller but I would unplug and plug it back in and that seemed to reset until a few weeks ago when it stopped working. I have heat on one side and not the other and I have tried everything, including unplugging it directly from the mattress and leaving it unplugged directly from the surge protector. Not a good return on my investment at all.
Date published: 2021-08-15
Rated

1

out of

5
by
ImCold
from
Short Life
We bought this product back in late January 2021, used it for a couple months until spring. We then just recently put it back on the bed to use it again for fall/winter. It worked for only a few weeks before the right side completely stopped working. The light turns on, but the heat does not. We've checked the connections with no change in performance.
Date published: 2021-11-21
Rated

5

out of

5
by
Applefan
from
does the job
I own three of this Mattress Pads from Sunbeam. So far it does the job well. Like the dual control as well as selection of 6 zones. Easy to setup, however Sunbeam does not provide AAA batteries so make sure to have 3 of them to run the pad. I had to run to nearest CVS when I realized that remote does not have batteries just before the bad time.
Date published: 2019-07-05
Rated

1

out of

5
by
Russ75
from
No Instructions — Won't Heat.
There are no instructions included with the product. For example, which controller goes on which side? What does in mean when the on/off button blinks? Is thus good or bad? I turned one side to "10" for over 30 minutes. So far, no heat either side. What do you do whfn it doesn't heat? How can you sell a product with no use instructions?
Date published: 2020-12-16
Rated

5

out of

5
by
Julita
from
Great Features
This is our third Dual Control Matteress Pad which we rave about besides enjoying it. At the end of the last winter we stored the same and when we reinstalled it last week to use it as the weather sure is changing fast the two controls just blink, attempted unplugging and replugging, one at time and both together with no success
Date published: 2021-10-21
Rated

1

out of

5
by
Melissa 110
from
Very disappointed
I have been suffering with insomnia and now a pinched nerve in my neck. Ordered to help both. Was very disappointed when it didn't work. The lights blink on controllers and never heat up. I was so excited about the sale price and wanting relief so bad that I didn't check reviews which shows similar results.
Date published: 2020-06-13
Rated

1

out of

5
by
Redman2wo
from
Stopped working.
I purchased this from amazon a few months ago, and now I have the blinking lights of freezing cold death. I tried unplugging, I tried making sure it was connected properly. Nothing. I want very badly to give it a five star review, but I can't when it stopped working so quickly.
Date published: 2021-01-22
Rated

5

out of

5
by
rjb1
from
STAY WARM AS TOAST WHEN WINTER ROARS!
The best thing or a bed since...well, you know. When winter came, I was ready, without turning up my thermostat. All I did was prewarm my bed with the heated matress pad, and I slept as well as a hibernating bear, while saving dollars galore on my heating bill.
Date published: 2019-07-21
Rated

5

out of

5
by
JOJO58
from
Perfect for cold winter nights
I bought a king size mattress pad and loved it. We recently purchased a Sleep # slip king and can no long use the heated mattress pad. I gave it to a friend and she loves it. Wish you would make a twin xl for the king split bed.
Date published: 2019-07-20
Rated

1

out of

5
by
Vety
from
get another kind
the controller is wonky. if you turn over at night or move a pillow on top of it, it will TURN OFF the pad. It's not well made (the controller). Also, doesn't heat evenly. One side gets nice and toasty, the other lukewarm.
Date published: 2020-06-06
Rated

1

out of

5
by
Arios
from
Never worked
I ordered this from Amazon. Got it delivered and was excited to use it. Set it all up for it not to even work. I have unplugged it multiple times and it will not work at all. I also emailed just to not get a response back.
Date published: 2021-02-22
Rated

5

out of

5
by
auntiecats
from
better than electric blanket
mom didnt always get the electric blanket back over herself at night so she got cold. with the heat mattress pad she always has a sourse of warmth....lots of settings....she sleeps much better and warmer now.
Date published: 2019-02-22
Rated

1

out of

5
by
KateW
from
Didn't work straight out of the box
Bought Matress pad on line - arrived yesterday - put it on bed last night. Plugged it it in and it doesn't heat up. The controllers continually flash, have unplugged them several times and they still flash.
Date published: 2020-12-03
Rated

3

out of

5
by
jd9631
from
warm a bit to warm
Good product fit well .Every surprise how warm the first setting is I think if on high you could use it as a slow cooker just kidding we use only to warm up bed then shut off oor you are to hot later for us
Date published: 2020-02-25
Rated

5

out of

5
by
Reta Graham
from
Sunbeam Electric Heated Mattress Pad
Taking muscke relaxer? The best medicine for your aching body is sleeping on a Sunbeam Heated Mattress Pad. The heat soothes your entire body
Date published: 2019-07-20
Rated

2

out of

5
by
Daycare6
from
Blinking controller
I bought this the first of October 2020 and the main control just blinks and doesn't heat up, I have tried to call the 800# and get nothing
Date published: 2020-10-21
Rated

5

out of

5
by
clkil
from
waterproof heated mattress pad is awesome!
I have just started using this and it is fabulous for my sciatica and also general aches and pains! Highly recommended!!!
Date published: 2019-07-05
Rated

1

out of

5
by
Ladygray
from
It won't heat
I just purchased this and placed it on my queen size bed. It won't heat and the on off button won't stop blinking!
Date published: 2020-12-11
Rated

1

out of

5
by
Coldness
from
Won't stop blinking
I just opened my box 10 minutes ago 1 side gets hot the other side keeps blinking and doesn't get hot.
Date published: 2021-02-20
bvseo_sdk, dw_cartridge, 18.2.0, p_sdk_3.2.0
CLOUD, getReviews, 0ms
reviews, product
---
<!--begin-bvseo-questions--> <!--begin-questions--> <div id="bvseo-questionsSection"> <div class="bvseo-question-answer" data-questionid="1767127"> <h2 class="bvseo-question"> Do you have in twin long for adjustable beds </h2> <div class="bvseo-question-detail"> </div> <div class="bvseo-author">Asked by: profstan</div> <div class="bvseo-answer" data-answerid="1770415"> Thanks for reaching out! We don&#39;t have one available. <div class="bvseo-author">Answered by: Sunbeam Consumer Care</div> <div class="bvseo-pubdate">Date published: 2020-04-16</div> </div> </div> <div class="bvseo-question-answer" data-questionid="1854274"> <h2 class="bvseo-question"> How hot does it get? What is the surface temperature from the lowest to the highest setting? </h2> <div class="bvseo-question-detail"> </div> <div class="bvseo-author">Asked by: Dipseabootjack</div> <div class="bvseo-answer" data-answerid="1767687"> Thanks for reaching out! We would like to hear more about this so we can explain it further. Please call our Consumer Care Department at 1-800-667-8623 so we can speak to you directly. You can reach us between the hours of 9AM-6PM EST Monday-Friday. Talk to you soon! <div class="bvseo-author">Answered by: Sunbeam Consumer Care</div> <div class="bvseo-pubdate">Date published: 2020-04-14</div> </div> </div> <div class="bvseo-question-answer" data-questionid="1941739"> <h2 class="bvseo-question"> We have a king size heated mattress pad and absolutely love it! Unfortunately we have a spot on the mattress side of the pad at the foot where some of the lining separated and some of the wires are exposed. Can we buy just a replacement pad? Controls r ok </h2> <div class="bvseo-question-detail"> </div> <div class="bvseo-author">Asked by: Silofro</div> <div class="bvseo-answer" data-answerid="1764696"> We&#39;re sorry to hear that our Sunbeam heated mattress pad isn&#39;t living up to your expectations. We believe in the quality of all our appliances and we&#39;d like to turn your experience around so that you are completely satisfied with your product. Please call our Consumer Care Department at 1-(800)-892-7684 or connect with us via Live Chat. For your convenience, we are available Mon-Fri 9am-6pm, EST. We look forward to assisting you! <div class="bvseo-author">Answered by: Sunbeam Consumer Care</div> <div class="bvseo-pubdate">Date published: 2020-04-13</div> </div> </div> <div class="bvseo-question-answer" data-questionid="1430866"> <h2 class="bvseo-question"> can this be put over a mr pillow topper </h2> <div class="bvseo-question-detail"> </div> <div class="bvseo-author">Asked by: lululu</div> <div class="bvseo-answer" data-answerid="1759969"> Good question! Yes, you can put this Sunbeam&amp;reg; Electric Heated Mattress Pad over the topper. <div class="bvseo-author">Answered by: Sunbeam Consumer Care</div> <div class="bvseo-pubdate">Date published: 2020-04-09</div> </div> </div> <div class="bvseo-question-answer" data-questionid="1669596"> <h2 class="bvseo-question"> Can I use a mattress pad topper under the heated mattress pad? </h2> <div class="bvseo-question-detail"> </div> <div class="bvseo-author">Asked by: Lucydarlene</div> <div class="bvseo-answer" data-answerid="1757108"> Good question! Yes, you may definitely do so. <div class="bvseo-author">Answered by: Sunbeam Consumer Care</div> <div class="bvseo-pubdate">Date published: 2020-04-07</div> </div> </div> <div class="bvseo-question-answer" data-questionid="1404477"> <h2 class="bvseo-question"> What does it mean when the control flashes ff ? </h2> <div class="bvseo-question-detail"> </div> <div class="bvseo-author">Asked by: Deany</div> <div class="bvseo-answer" data-answerid="1756671"> Thank you for your question. When the F2 or FF flashes, it means that there is an error on the heat of the blanket or its control. Please try to remove the plug from the wall outlet and try to plug it back again. If there is no improvement, please call our Consumer Care Department at 1-(800) 892-7684. For your convenience, we are available Mon-Fri 9am-6pm, EST. We look forward to assisting you! <div class="bvseo-author">Answered by: Sunbeam Consumer Care</div> <div class="bvseo-pubdate">Date published: 2020-04-07</div> </div> </div> <div class="bvseo-question-answer" data-questionid="1391375"> <h2 class="bvseo-question"> Can I use this with the control at&amp;nbsp;the top rather than the foot of the bed? &amp;nbsp;I tuck in the sheets and the blankets. </h2> <div class="bvseo-question-detail"> </div> <div class="bvseo-author">Asked by: Sue726</div> <div class="bvseo-answer" data-answerid="1756158"> Good question! Yes, you can use it at top of the bed. <div class="bvseo-author">Answered by: Sunbeam Consumer Care</div> <div class="bvseo-pubdate">Date published: 2020-04-07</div> </div> </div> <div class="bvseo-question-answer" data-questionid="1391042"> <h2 class="bvseo-question"> Our new heated mattress pad control device is blinking and we can&amp;rsquo;t get it to quit. &amp;nbsp;Also don&amp;rsquo;t feel like it&amp;rsquo;s heating either. </h2> <div class="bvseo-question-detail"> </div> <div class="bvseo-author">Asked by: E2Me</div> <div class="bvseo-answer" data-answerid="1756093"> That is definitely not the kind of experience that we want you to have. Please try to remove the plug from the wall outlet and try to plug it back again. If there is no improvement, please call our Consumer Care Department at 1-(800) 892-7684. For your convenience, we are available Mon-Fri 9am-6pm, EST. We look forward to assisting you! <div class="bvseo-author">Answered by: Sunbeam Consumer Care</div> <div class="bvseo-pubdate">Date published: 2020-04-07</div> </div> </div> <div class="bvseo-question-answer" data-questionid="1680447"> <h2 class="bvseo-question"> does this mattress pad have dual controls </h2> <div class="bvseo-question-detail"> </div> <div class="bvseo-author">Asked by: Buterfly</div> <div class="bvseo-answer" data-answerid="1751058"> Good question! Yes, this heated blanket has dual controls. It is only available in queen and king sizes. <div class="bvseo-author">Answered by: Sunbeam Consumer Care</div> <div class="bvseo-pubdate">Date published: 2020-04-02</div> </div> </div> <div class="bvseo-question-answer" data-questionid="1796184"> <h2 class="bvseo-question"> Can this be used on an adjustable bed </h2> <div class="bvseo-question-detail"> </div> <div class="bvseo-author">Asked by: Ellie28</div> <div class="bvseo-answer" data-answerid="1749614"> Good question! We advise to avoid using the Sunbeam Electric Mattress Pad in adjustable beds as it becomes a fire hazard with the constant rising and lowering of the bed. It bends the wires/coils over time and makes it dangerous to use. <div class="bvseo-author">Answered by: Sunbeam Consumer Care</div> <div class="bvseo-pubdate">Date published: 2020-04-01</div> </div> </div> <div class="bvseo-question-answer" data-questionid="1735425"> <h2 class="bvseo-question"> Can I put my fitted sheet over the heated mattress pad? </h2> <div class="bvseo-question-detail"> </div> <div class="bvseo-author">Asked by: Patti72</div> <div class="bvseo-answer" data-answerid="1747841"> Good question! We highly suggest to put the mattress pad over the fitted sheet so there won&#39;t be any damages to the wires. Have a nice day! <div class="bvseo-author">Answered by: Sunbeam Consumer Care</div> <div class="bvseo-pubdate">Date published: 2020-03-31</div> </div> </div> <div class="bvseo-question-answer" data-questionid="1790272"> <h2 class="bvseo-question"> what causes the blinking lights? </h2> <div class="bvseo-question-detail"> </div> <div class="bvseo-author">Asked by: CherylC</div> <div class="bvseo-answer" data-answerid="1741925"> Thank you for reaching out to us! There are two causes for the controllers to flash a light:&#13;&#10;&#13;&#10;1. Product is plugged into an extension cord/surge protector and not plugged into a direct wall outlet. &#13;&#10;2. Product wasn&#39;t plugged in properly.&#13;&#10;&#13;&#10;We suggest you to try the troubleshooting steps below:&#13;&#10;&#13;&#10;1. Unplug the system from wall outlet.&#13;&#10;2. Check that the control is well connected to the module.&#13;&#10;3. Plug the power cord into the wall outlet.&#13;&#10;4. Set the control to &amp;quot;&amp;quot;&amp;quot;&amp;quot;on&amp;quot;&amp;quot;&amp;quot;&amp;quot;.&#13;&#10;&#13;&#10;If these troubleshooting tips are not successful, kindly give us a call at (800) 892-7684 and we will get you all taken care of. For your convenience, we are available Mon-Fri 9am-6pm, EST. Have a great day! <div class="bvseo-author">Answered by: Sunbeam Consumer Care</div> <div class="bvseo-pubdate">Date published: 2020-03-26</div> </div> </div> <div class="bvseo-question-answer" data-questionid="1771254"> <h2 class="bvseo-question"> What does flashing FF mean? </h2> <div class="bvseo-question-detail"> </div> <div class="bvseo-author">Asked by: Elizabeth1313</div> <div class="bvseo-answer" data-answerid="1740596"> Thank you for reaching out to us! There are two causes to a flashing control or a control displaying &amp;ldquo;FF, F1, or F2&amp;rdquo;:&#13;&#10;&#13;&#10;1.&amp;nbsp;Product is plugged into an extension cord/surge protector and not plugged into a direct wall outlet.&amp;nbsp;&amp;nbsp;&amp;nbsp;&#13;&#10;2.&amp;nbsp;Product wasn&#39;t plugged in properly.&#13;&#10;&#13;&#10;We suggest you to try the troubleshooting steps below:&#13;&#10;&#13;&#10;1. Follow the instructions on the flag tag attached to the control cord to reset control.&#13;&#10;2. Check the blanket/mattress pad for visual damage.&#13;&#10;3. If no visual damage is found, unplug the system from wall outlet.&#13;&#10;4. Check that the control is well-connected to the module.&#13;&#10;5. Plug the power cord into the wall outlet.&#13;&#10;6. Set the control to &amp;ldquo;On&amp;rdquo;.&#13;&#10;7. If the system does not operate after 2 or 3 times trying to reset, disconnect the power cord.&#13;&#10;&#13;&#10;If these troubleshooting tips are not successful, kindly give us a call at (800) 892-7684 and we will get you all taken care of. For your convenience, we are available Mon-Fri 9am-6pm, EST. Have a great day! <div class="bvseo-author">Answered by: Sunbeam Consumer Care</div> <div class="bvseo-pubdate">Date published: 2020-03-25</div> </div> </div> <div class="bvseo-question-answer" data-questionid="1648028"> <h2 class="bvseo-question"> i washed my mattress cover as per directions on label when its dry i put it on the bed and pluged it in and F2 came up how do i re set it </h2> <div class="bvseo-question-detail"> </div> <div class="bvseo-author">Asked by: sweetson1940</div> <div class="bvseo-answer" data-answerid="1739714"> Thank you for reaching out to us! We suggest you to try the troubleshooting steps below:&#13;&#10;&#13;&#10;1. Follow the instructions on the flag tag attached to the control cord to reset control.&#13;&#10;2. Check the mattress pad for visual damage.&#13;&#10;3. If no visual damage is found, unplug the system from wall outlet.&#13;&#10;4. Check that the control is well-connected to the module.&#13;&#10;5. Plug the power cord into the wall outlet.&#13;&#10;6. Set the control to &amp;ldquo;On&amp;rdquo;.&#13;&#10;7. If the system does not operate after 2 or 3 times trying to reset, disconnect the power cord.&#13;&#10;&#13;&#10;If these troubleshooting tips are not successful, kindly give us a call at (800) 892-7684 and we will get you all taken care of. For your convenience, we are available Mon-Fri 9am-6pm, EST. Have a great day! <div class="bvseo-author">Answered by: Sunbeam Consumer Care</div> <div class="bvseo-pubdate">Date published: 2020-03-24</div> </div> </div> <div class="bvseo-question-answer" data-questionid="1879951"> <h2 class="bvseo-question"> What is the power consumption in Watts or Amps for the different sizes. </h2> <div class="bvseo-question-detail"> </div> <div class="bvseo-author">Asked by: Marble</div> <div class="bvseo-answer" data-answerid="1737477"> Good question! Listed below are the corresponding wattage for their specific size:&#13;&#10;&#13;&#10;Twin - 180 watts &#13;&#10;Full - 180 watts &#13;&#10;Queen - 135 watts/side &#13;&#10;King - 180 watts/side <div class="bvseo-author">Answered by: Sunbeam Consumer Care</div> <div class="bvseo-pubdate">Date published: 2020-03-23</div> </div> </div> <div class="bvseo-question-answer" data-questionid="1661991"> <h2 class="bvseo-question"> Why is control flashing and other than unplugging it how do you turn it off </h2> <div class="bvseo-question-detail"> </div> <div class="bvseo-author">Asked by: Bene</div> <div class="bvseo-answer" data-answerid="1735838"> Thank you for reaching out! These controls are designed to notify you in the event that a problem has been discovered by flashing the light on the control. Follow instructions on the flag tag to reset control.&#13;&#10;&#13;&#10;1.) First, check the heated product for visual damage. &#13;&#10;2.) If no visual damage is found, unplug the system from wall outlet. Check that the control is well-connected to the module.&#13;&#10;3.) Plug the power cord into the wall outlet and turn the control On. &#13;&#10;&#13;&#10;If you have tried all of the solutions above and the heated product still doesn&#39;t work, stop using it immediately, disconnect the power cord and please give us a call at 1-(800)-892-7684. You can also contact us through chat and/or email by visiting our website, www.sunbeam.com. Looking forward in assisting you. <div class="bvseo-author">Answered by: Sunbeam Consumer Care</div> <div class="bvseo-pubdate">Date published: 2020-03-20</div> </div> </div> <div class="bvseo-question-answer" data-questionid="1865834"> <h2 class="bvseo-question"> We have your dual control heating pad that we purchased at Costco. It has worked fine for some times. However, the last time we changed the sheets and disconnected it, my side shows &amp;nbsp;blinking &amp;ldquo;F2&amp;rdquo; - while the other side works fine??&#13;&#10;&#13;&#10;Can you help?? </h2> <div class="bvseo-question-detail"> </div> <div class="bvseo-author">Asked by: Gully1</div> <div class="bvseo-answer" data-answerid="1733638"> We suggest you to try the troubleshooting steps below:&#13;&#10;1. Follow the instructions on the flag tag attached to the control cord to reset control.&#13;&#10;2. Check the mattress pad for visual damage.&#13;&#10;3. If no visual damage is found, unplug the system from wall outlet.&#13;&#10;4. Check that the control is well-connected to the module.&#13;&#10;5. Plug the power cord into the wall outlet.&#13;&#10;6. Set the control to &amp;ldquo;On&amp;rdquo;.&#13;&#10;7. If the system does not operate after 2 or 3 times trying to reset, disconnect the power cord.&#13;&#10;&#13;&#10;If these troubleshooting tips are not successful, kindly give us a call at (800) 892-7684 and we will get you all taken care of. For your convenience, we are available Mon-Fri 9am-6pm, EST. Have a great day! <div class="bvseo-author">Answered by: Sunbeam Consumer Care</div> <div class="bvseo-pubdate">Date published: 2020-03-19</div> </div> </div> <div class="bvseo-question-answer" data-questionid="1477694"> <h2 class="bvseo-question"> I have two of your heated mattress pads. The reason I get Sunbeam is because of your 10 hour cutoff. I need to wash these pads but could not read the washing instructions because the print is so light. Where can I get washing instructions? Thank you. </h2> <div class="bvseo-question-detail"> </div> <div class="bvseo-author">Asked by: Lynn 2343</div> <div class="bvseo-answer" data-answerid="1732922"> Excellent question! Taking care of your heated bedding product is easy and safe. If you need more information you can check this link : https://www.sunbeam.com/blog/archive/categories/garment-care/bedding-care-and-cleaning/bedding-care-and-cleaning.html. Hope this helps. Have a great day! <div class="bvseo-author">Answered by: Sunbeam ConsumerCare</div> <div class="bvseo-pubdate">Date published: 2020-03-18</div> </div> </div> <div class="bvseo-question-answer" data-questionid="1460841"> <h2 class="bvseo-question"> Are mattress pads zoned for warmer at feet </h2> <div class="bvseo-question-detail"> </div> <div class="bvseo-author">Asked by: Marcie12</div> <div class="bvseo-answer" data-answerid="1729714"> Great Question! It&#39;s zoned for the entire mattress pad and should also produce heat at the feet area. Hope this helps. Have a great day! <div class="bvseo-author">Answered by: Sunbeam ConsumerCare</div> <div class="bvseo-pubdate">Date published: 2020-03-16</div> </div> </div> <div class="bvseo-question-answer" data-questionid="1702332"> <h2 class="bvseo-question"> Can you use the heated mattress pad with a 4 inch mattress topper&amp;nbsp; </h2> <div class="bvseo-question-detail"> </div> <div class="bvseo-author">Asked by: Deedee1120</div> <div class="bvseo-answer" data-answerid="1620294"> Sure you can, the only thing that might happen is your memory foam pad might get super soft but it won&#39;t hurt it any, even in the long term! <div class="bvseo-author">Answered by: Gladding</div> <div class="bvseo-pubdate">Date published: 2019-11-24</div> </div> </div> <div class="bvseo-question-answer" data-questionid="1373887"> <h2 class="bvseo-question"> What does it mean when the setting is blinking? It&amp;rsquo;s not warming as well.&amp;nbsp; </h2> <div class="bvseo-question-detail"> </div> <div class="bvseo-author">Asked by: MmzchinaRight</div> <div class="bvseo-answer" data-answerid="1607370"> I think most issues with blinking here are due to people not fully engaging plugin to pad. Even the side clips were engaged to hold it in place, it appears to be fully plugged in... but you really must hold part in mattress pad and other and force them together. Mine move in another 1/4&amp;quot; than i thought they would. Boom, works great now. <div class="bvseo-author">Answered by: MsGiggles</div> <div class="bvseo-pubdate">Date published: 2021-03-24</div> </div> </div> <div class="bvseo-question-answer" data-questionid="1376189"> <h2 class="bvseo-question"> Our heated matress pad is blinking and have followed all suggestions. What to do? Not heating. </h2> <div class="bvseo-question-detail"> </div> <div class="bvseo-author">Asked by: wenjabo</div> </div> </div> <script type="text/javascript"> if (document.getElementById('bvseo-questionsSection')) { document.getElementById('bvseo-questionsSection').style.display = 'none'; } </script> <!--end-questions--> <ul id="BVSEO_meta" style="display:none!important"> <li data-bvseo="bvDateModified">y_2021, m_12, d_1, h_19CST</li> <li data-bvseo="ps">bvseo_bulk, prod_bvqa, vn_bulk_3.0.20</li> <li data-bvseo="cp">cp_2, bvpage2n</li> <li data-bvseo="co">co_hasquestionsanswers, tq_30</li> <li data-bvseo="cf">loc_en_US, sid_SP_320371, prod, sort_[SortEntry(order=LAST_APPROVED_ANSWER_SUBMISSION_TIME, direction=DESCENDING)]</li> <li data-bvseo="diagnostics">clientName_sunbeam</li> </ul> <!--end-bvseo-questions--> <ul id="BVSEOSDK_meta" style="display: none !important;"> <li data-bvseo="sdk">bvseo_sdk, dw_cartridge, 18.2.0, p_sdk_3.2.0</li> <li data-bvseo="sp_mt">CLOUD, getContent, 0ms</li> <li data-bvseo="ct_st">questions, product</li> </ul>
product-detail-view
oos-pdp