Sunbeam® Cotton Top Premium Quilted Heated Mattress Pad with Digital Display Controller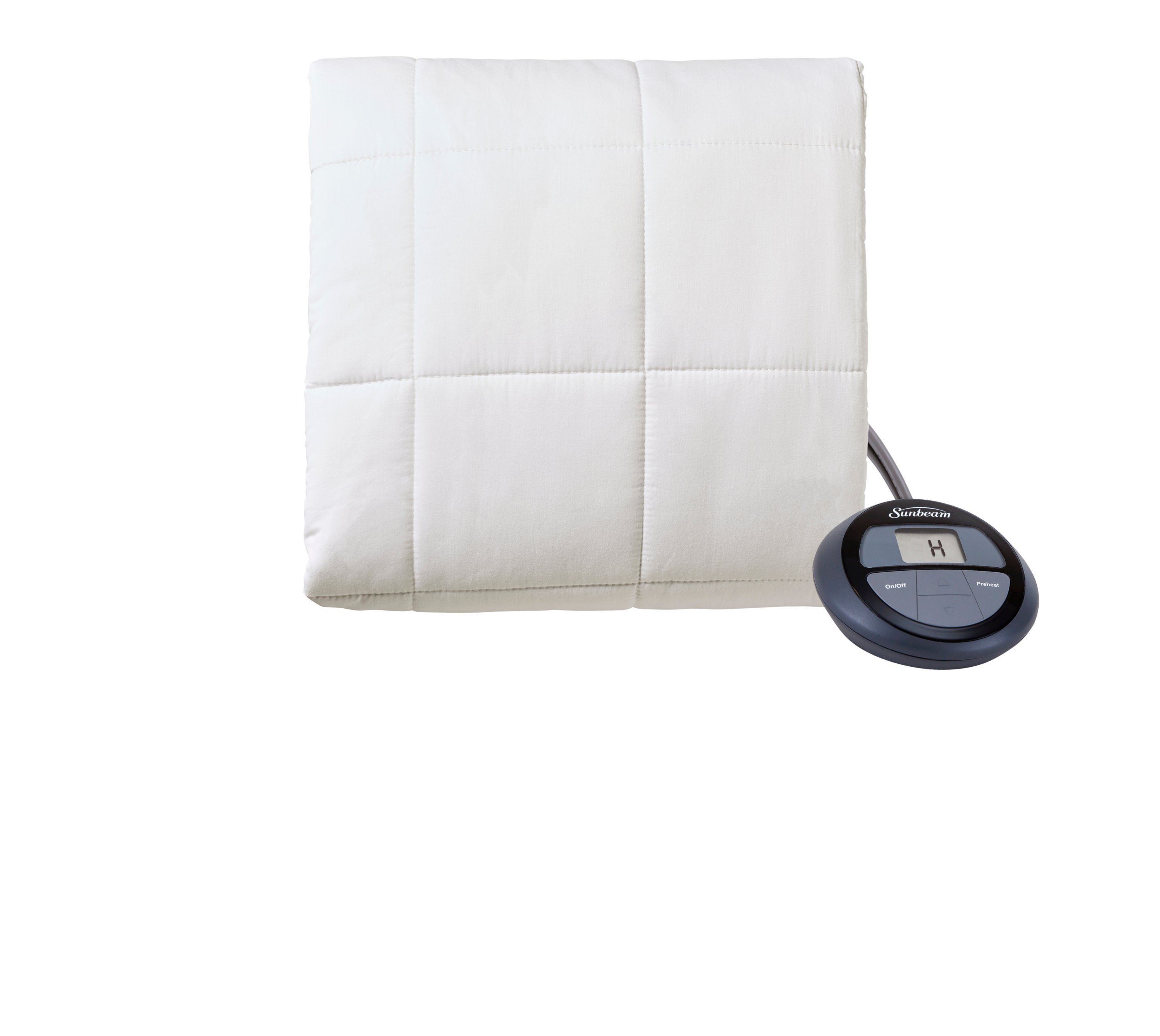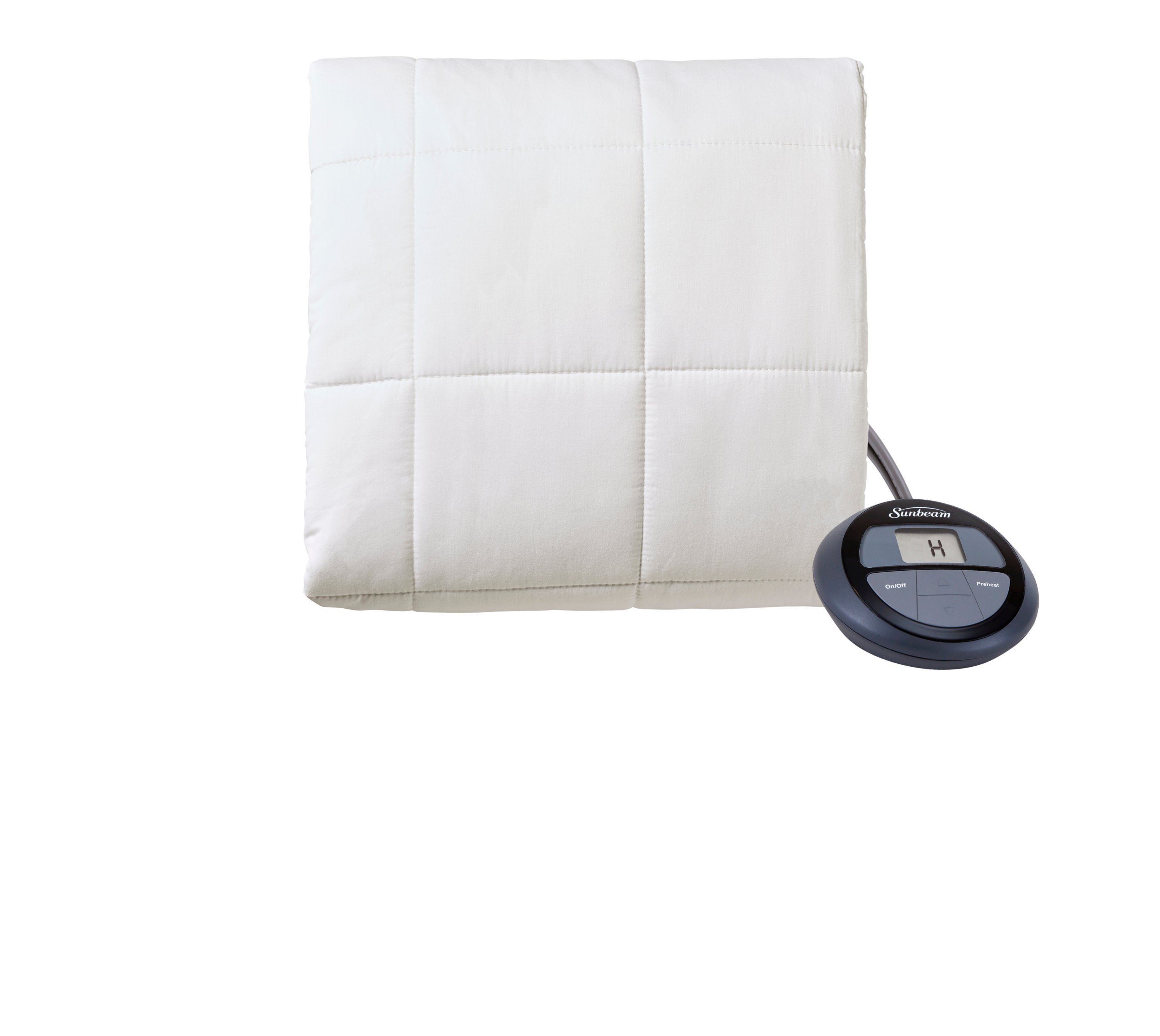 Sunbeam® Cotton Top Premium Quilted Heated Mattress Pad with Digital Display Controller
Final Sale: may not be returned or exchanged
Item currently not available.
Alert
Please select a Size.
Final Sale: may not be returned or exchanged
Product Details
Description
Experience a warm, gentle slumber with the Sunbeam® Quilted Heated Mattress Pad. ThermoFine® technology to auto-adjust for consistent heat control and 10-heat settings. Preheat setting warms up your bed so you can slip into toasty comfort at bedtime. Machine-washable .
SOFT AND COZY MATERIAL: 100% Cotton, 200 Thread Count, Box Quilting. Indulge in a restful, warm night's sleep with a Sunbeam® Premium Heated Mattress Pad. Personalized warmth and quilted comfort combine to deliver a relaxing sleep experience.
EASY TO USE: Includes SleekSet controller, which provides 10 Heat Settings with 10 Hour Auto-Shutoff and LCD Display for peace of mind (Queen and King sizes include two controllers)
FIND YOUR PERFECT SIZE: Twin Size measures 39" x 75", Full Size measures 54" x 75", Queen Size measures 60" x 80", King Size measures 76" x 80", California King Size measures 72" x 84"
CARE INSTRUCTIONS: Machine wash in warm water and tumble dry on low setting or hang dry
THERMOFINE® WIRING: Our exclusive warming system senses and adjusts heat to deliver consistent warmth while you sleep
Specifications
Wattage:

T: 135 F: 180 Q: 110 K/CK: 135
Care & Maintenance
The detachable controller allows for the blanket to be machine washable. Hang to dry.
Product Disclaimer
This product must be used in accordance with the Important Safety Instructions found within the Instruction Booklet.
Warranty
5 year limited warranty
Where to Buy
The following link will take you to a site outside of Sunbeam.
Rated

1

out of

5
by
Misha
from
Very disappointed.
I bought this for my 95 year old dad's birthday. He's cold all the time and I thought I had bought the ultimate gift but.......IT'S NOT FITTED! It balls up underneath the sheet and he can't use it. I have NEVER even seen a non fitted mattress pad or cover. I don't understand why you didn't include that little tidbit of information in the description. I got it through Amazon and I left a review there as well. He can't physically return it and I don't live in the same state as he does. That's what I get for assuming this thing was "Premium". HA!
Date published: 2021-01-28
Rated

5

out of

5
by
CT and VT
from
Toasty
We are on our 4th Sunbeam heated mattress pad in 13 years. We have 2 homes in the Northeast. I even use it in the summer when the house is a bit too chilly due to the AC!! Yes, after a few years they don't work as well, especially after washing. The best way to use this product is turn it on high 30 minutes before bed. It works best if you use a down comforter on top. It's like crawling into a warm envelope. They are a great product and clearly, after reading all the reviews, Sunbeam has excellent customer service.
Date published: 2021-07-01
Rated

4

out of

5
by
Let it snow
from
Heats quickly
It is a luxury to get into a toasty bed. The mattress pad heat quickly and is very warm. Unfortunately, there is not a setting to allow it to Automatically turn off in less than 10 HOURS, nor can I pair with an Echo Dot. .
Date published: 2020-12-11
Rated

3

out of

5
by
Unhappy123456
from
One side not working
I bought this about 5 months ago worked great in the beginning now I one side doesn't work. I did everything that was previously mentioned and still nothing I want a new product or know how to fix the problem. This seems to be a problem that happens often maybe it is a defective product.
Date published: 2021-02-11
Rated

3

out of

5
by
Dollarsnsense
from
Great, at first
After a few uses, one side quite heating . Checked all the plugs and cords, nothing wrong. What do I do now? Otherwise, quite nice and comfy.
Date published: 2020-12-18
Rated

2

out of

5
by
DB4444
from
Great until error messages start flashing.
We've had this mattress pad for two years. Just plugged it in and an F2 error message won't stop flashing, and it's not working. We've unplugged, plugged back in and made sure the cable is tightly connected to the blanket. Still have an F2 error. Still no heat.
Date published: 2021-11-04
Rated

2

out of

5
by
MissyAnn
from
Disappointed
Ive owned several Sunbeam electric mattress pads. I do not like the wire configuration on this version. I pull on my control, it pulls the other one off the nightstand. Previous version had two sets of wires/controls, one for each side, so I could adjust mine all day long and the other would stay put. I also HATE the control itself. You can't see it at night at all. I preferred the dial version I previously had with the bright red numbers. Definitely not an upgrade…the cost cutting measures did not enhance this at all.
Date published: 2021-11-24
bvseo_sdk, dw_cartridge, 18.2.0, p_sdk_3.2.0
CLOUD, getReviews, 0ms
reviews, product
---
<!--begin-bvseo-questions--> <!--begin-questions--> <div id="bvseo-questionsSection"> <div class="bvseo-question-answer" data-questionid="3350900"> <h2 class="bvseo-question"> It keeps saying f2 I tried unplugging it all together and It keeps saying f2 </h2> <div class="bvseo-question-detail"> </div> <div class="bvseo-author">Asked by: idk4</div> <div class="bvseo-answer" data-answerid="2643389"> Thank you for contacting the Sunbeam&amp;reg; brand! We sincerely appreciate your time reaching out and giving us your honest feedback and experience about your heated mattress pad.&#13;&#10;&#13;&#10;We are sorry to hear that it&#39;s not heating. Our bedding products were made with the highest quality materials and we expect them to last. That is not the experience that we want you to have. We will be more than happy to rectify this. Please try to perform the troubleshooting technique below.&#13;&#10;&#13;&#10;Make sure the product is not plugged into an extension cord/device. This can cause a fault.&#13;&#10;&#13;&#10;1. Turn the mattress pad control to the &amp;quot;Off&amp;quot; position and unplug the power cord from the electrical connection. Let it rest for 2 minutes.&#13;&#10;2. Check the bedding product plug connection that directly plugs into the bedding product. Make sure the connection is secure and complete.&#13;&#10;3. Hold the power button down and re-insert the power cord back into a wall outlet at the same time. &#13;&#10;&#13;&#10;If the 3 steps above are not followed in order, the bedding product will not properly reset.&#13;&#10;&#13;&#10;If troubleshooting techniques won&#39;t work, please contact us directly in order to determine the best resolution.&#13;&#10;&#13;&#10;Have a great day! <div class="bvseo-author">Answered by: Sunbeam Consumer Care</div> <div class="bvseo-pubdate">Date published: 2021-10-14</div> </div> </div> <div class="bvseo-question-answer" data-questionid="2540998"> <h2 class="bvseo-question"> Is the twin heated pad fitted on the sides? My spouse and I have totally different temp. and he will NOT sleep with a heated pad on his side which will NEVER be turned on. If you don&#39;t please think about making one, I am sure I am not the only one... </h2> <div class="bvseo-question-detail"> </div> <div class="bvseo-author">Asked by: LucyA</div> <div class="bvseo-answer" data-answerid="2585184"> If it is a king sized pad there are two controllers, so you hubbie could just not turn his on. <div class="bvseo-author">Answered by: ebskye</div> <div class="bvseo-pubdate">Date published: 2021-09-22</div> </div> </div> <div class="bvseo-question-answer" data-questionid="2387028"> <h2 class="bvseo-question"> How much fill (ounces) is in the cotton top premium quilted heated mattress pad? </h2> <div class="bvseo-question-detail"> </div> <div class="bvseo-author">Asked by: JK99</div> <div class="bvseo-answer" data-answerid="2258119"> Thank you for reaching Sunbeam&amp;reg; Brand. We understand that you wanted to know more about your Sunbeam&amp;reg; Cotton Top Premium Quilted Heated Mattress Pad. Don&#39;t worry! We are here to help. Experience a warm, gentle slumber with the Sunbeam&amp;reg; Ultra Premium Heated Mattress Pad featuring 9 oz. fill. Enjoy the cozy comfort of heated bedding for chill-free nights of sleep. Have a great day! <div class="bvseo-author">Answered by: Sunbeam Consumer Care</div> <div class="bvseo-pubdate">Date published: 2021-09-22</div> </div> </div> <div class="bvseo-question-answer" data-questionid="2707422"> <h2 class="bvseo-question"> Is this pad cordless? </h2> <div class="bvseo-question-detail"> </div> <div class="bvseo-author">Asked by: Sister911</div> <div class="bvseo-answer" data-answerid="2239891"> Thank you for contacting Sunbeam&amp;reg;! Our Sunbeam&amp;reg; Cotton Top Premium Quilted Heated Mattress Pad with Digital Display Controller is not cordless. <div class="bvseo-author">Answered by: Sunbeam Consumer Care</div> <div class="bvseo-pubdate">Date published: 2021-05-04</div> </div> </div> <div class="bvseo-question-answer" data-questionid="2387000"> <h2 class="bvseo-question"> Why does my Sunbeam electric mattress pad with dual controllers get hot on both sides, even if one controller is off?&#13;&#10;&#13;&#10;My husband is cold all the time, and I&#39;m way too hot. We bought this because of the dual controls, but my side is as hot as his! </h2> <div class="bvseo-question-detail"> </div> <div class="bvseo-author">Asked by: Ahorn66</div> <div class="bvseo-answer" data-answerid="2216626"> Thank you for contacting Sunbeam! Please try to unplug the controller from the electric mattress pad and from the outlet itself for few minutes so it it will be reset. <div class="bvseo-author">Answered by: Sunbeam Consumer Care</div> <div class="bvseo-pubdate">Date published: 2021-04-23</div> </div> </div> <div class="bvseo-question-answer" data-questionid="2370035"> <h2 class="bvseo-question"> Which model of heated mattress pads have an AUTOMATIC ON timer? to program it to automatically go on at a certain time each night. </h2> <div class="bvseo-question-detail"> </div> <div class="bvseo-author">Asked by: MarkTG</div> <div class="bvseo-answer" data-answerid="2195234"> That&#39;s a good question! There is no automatic on feature on any of the heated mattress pads that we have. For all of them, you need to manually turn it on with the controller. <div class="bvseo-author">Answered by: Sunbeam Consumer Care</div> <div class="bvseo-pubdate">Date published: 2021-09-22</div> </div> </div> <div class="bvseo-question-answer" data-questionid="2521613"> <h2 class="bvseo-question"> Can the California King pad safely be rotated 180 degrees so that the connector is at the head of the bed rather than at the foot? </h2> <div class="bvseo-question-detail"> </div> <div class="bvseo-author">Asked by: jahgreen</div> <div class="bvseo-answer" data-answerid="2138204"> Thanks for reaching out! Yes, you may use the heated blanket the other way around. Have a nice day! <div class="bvseo-author">Answered by: Sunbeam Consumer Care</div> <div class="bvseo-pubdate">Date published: 2021-09-22</div> </div> </div> <div class="bvseo-question-answer" data-questionid="2360127"> <h2 class="bvseo-question"> can a sunbeam heated mattress pad be used on an adjustable bed? If so, what ones? </h2> <div class="bvseo-question-detail"> </div> <div class="bvseo-author">Asked by: northern chill</div> <div class="bvseo-answer" data-answerid="2134424"> Hey there! Thank you for asking. Mechanical or Adjustable bed are not recommended for heated mattress pads since they have pinch points which are likely to cut or damage the cord set of the wiring in the mattress pad. Also, it becomes a fire hazard with the constant rising and lowering of the bed. It bends the wires/coils over time and makes it dangerous to use. Have a great day! <div class="bvseo-author">Answered by: Sunbeam Consumer Care</div> <div class="bvseo-pubdate">Date published: 2021-02-24</div> </div> </div> </div> <script type="text/javascript"> if (document.getElementById('bvseo-questionsSection')) { document.getElementById('bvseo-questionsSection').style.display = 'none'; } </script> <!--end-questions--> <!--begin-pagination--> <ul id="bvseo-paginationSection"> <li class="bvseo-paginationItem"><a class="bvseo-paginationLink" href="https://www.sunbeam.com/blankets-bedding/heated-mattress-pads/sunbeam-cotton-top-premium-quilted-heated-mattress-pad-with-digital-display-controller/SP_320526.html?bvrrp=Main_Site-en_US/questions/product/2/SP_320526.htm">Sunbeam&reg; Cotton Top Premium Quilted Heated Mattress Pad with Digital Display Controller Questions - page 2</a></li> </ul> <!--end-pagination--> <ul id="BVSEO_meta" style="display:none!important"> <li data-bvseo="bvDateModified">y_2021, m_11, d_30, h_19CST</li> <li data-bvseo="ps">bvseo_bulk, prod_bvqa, vn_bulk_3.0.20</li> <li data-bvseo="cp">cp_1, bvpage1</li> <li data-bvseo="co">co_hasquestionsanswers, tq_22</li> <li data-bvseo="cf">loc_en_US, sid_SP_320526, prod, sort_[SortEntry(order=LAST_APPROVED_ANSWER_SUBMISSION_TIME, direction=DESCENDING)]</li> <li data-bvseo="diagnostics">clientName_sunbeam</li> </ul> <!--end-bvseo-questions--> <ul id="BVSEOSDK_meta" style="display: none !important;"> <li data-bvseo="sdk">bvseo_sdk, dw_cartridge, 18.2.0, p_sdk_3.2.0</li> <li data-bvseo="sp_mt">CLOUD, getContent, 0ms</li> <li data-bvseo="ct_st">questions, product</li> </ul>
product-detail-view
oos-pdp