Sunbeam® Microplush Heated Blanket with Dial Controller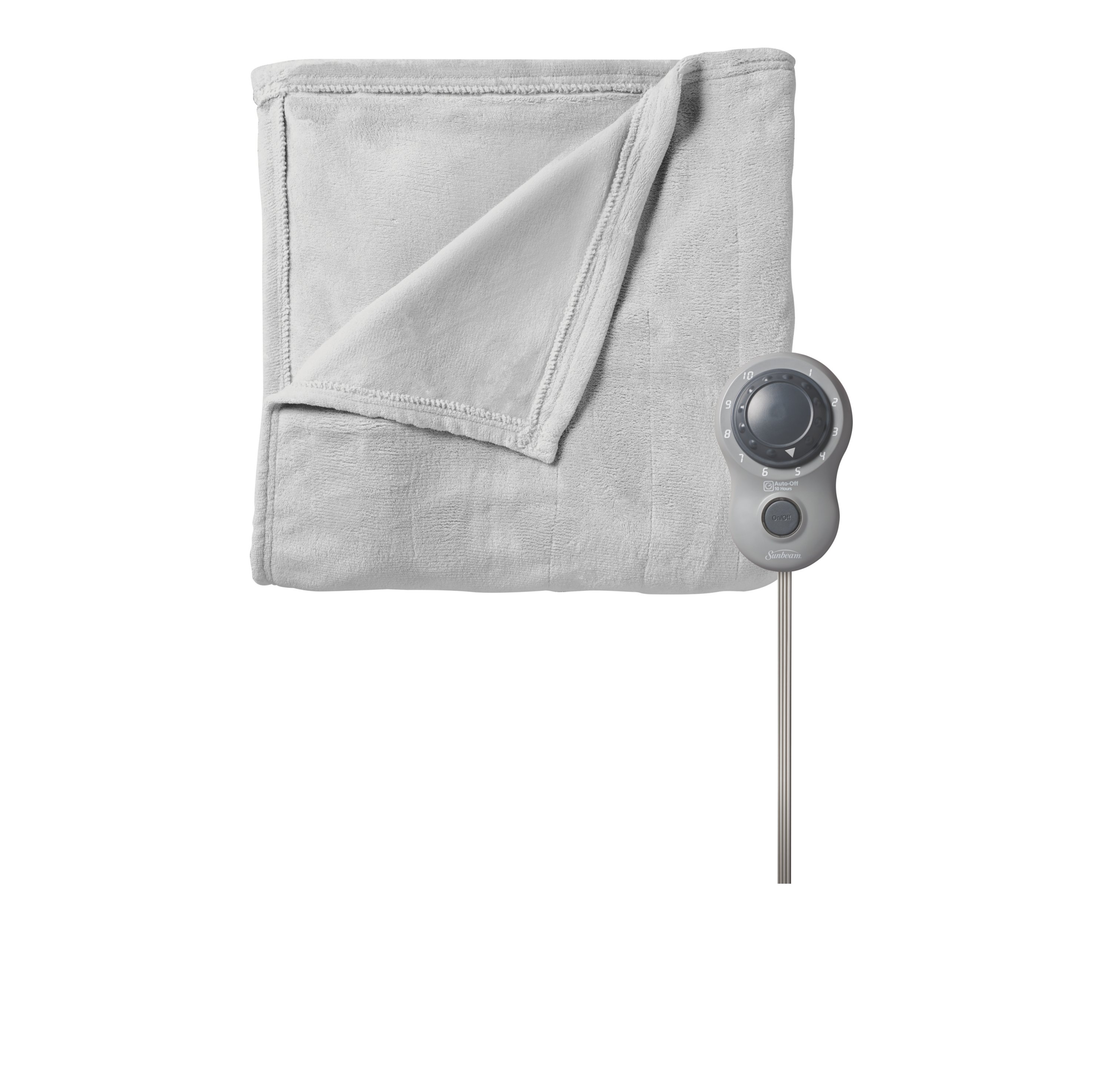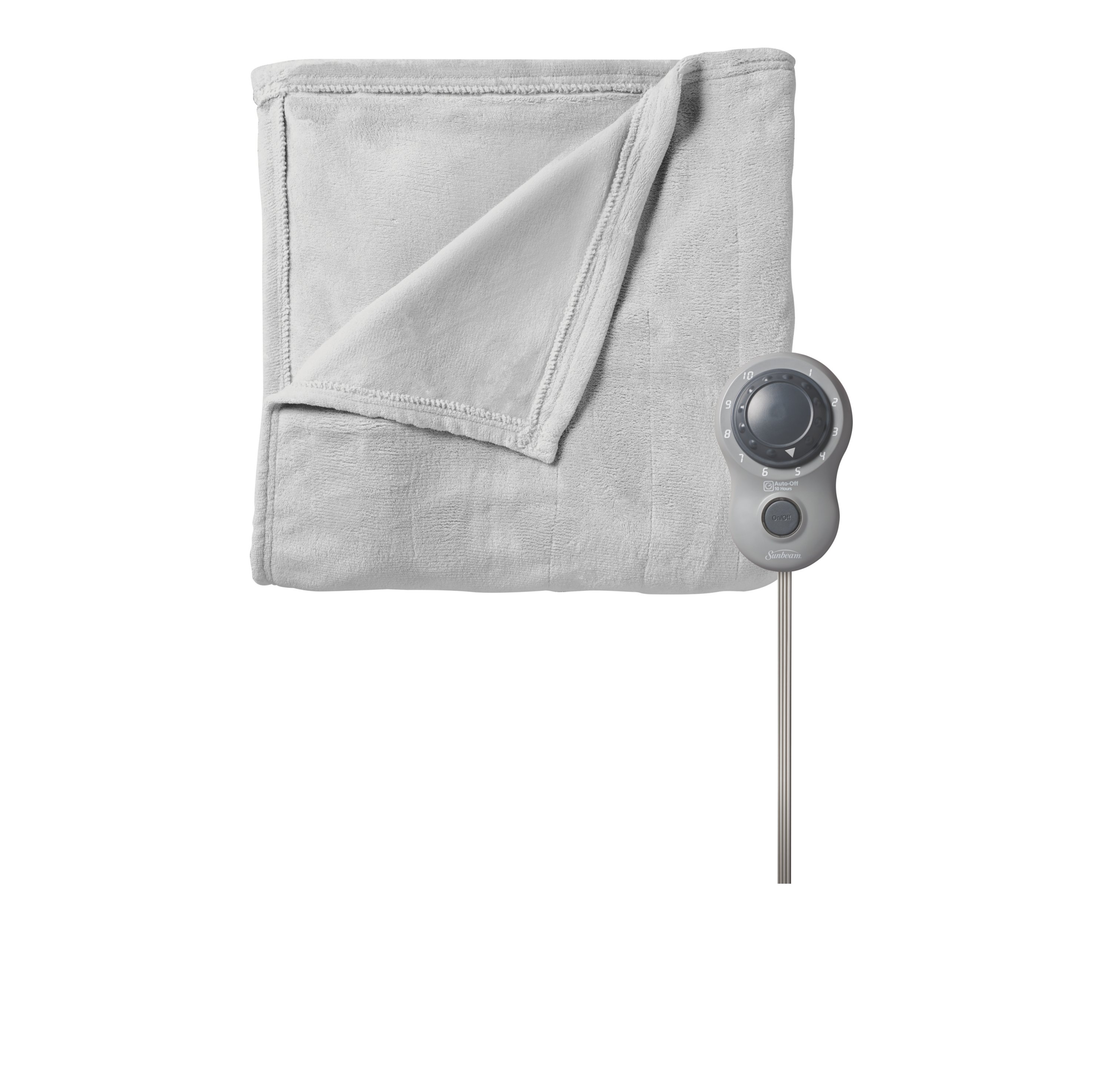 Sunbeam® Microplush Heated Blanket with Dial Controller
Final Sale: may not be returned or exchanged
Selection will refresh the page with new results.
Item currently not available.
Alert
Please select a Size.
Final Sale: may not be returned or exchanged
Product Details
Description
Indulge in the rich softness of a Sunbeam® Microplush Heated Blanket, wrapping you in luxurious warmth throughout the night. With personalized heat settings and an array of stylish colors that compliment your décor, prepare for a restful night of soothing comfort and sophisticated elegance.
SOFT AND COZY MATERIAL: Indulge yourself with ultra soft Microplush, wrapping you in warmth throughout the night or as you relax.
EASY TO USE: Includes EasySet Pro controller, which provides 10 Heat Settings and 10 Hour Auto-Shutoff for peace of mind (Queen and King sizes include two controllers)
FIND YOUR PERFECT SIZE: FIND YOUR PERFECT SIZE: Twin Size measures 62" x 84", Full Size measures 72" x 84", Queen Size measures 84" x 90", King Size measures 100" x 90"
CARE INSTRUCTIONS: Machine wash in warm water and tumble dry on low setting or hang dry
THERMOFINE® WIRING: Our exclusive warming system senses and adjusts heat to deliver consistent warmth while you sleep
Specifications
Additional SKUs:

BSM9GQS-R879-25J45
Product Disclaimer
This product must be used in accordance with the Important Safety Instructions found within the Instruction Booklet.
Warranty
5 year limited warranty
Where to Buy
The following link will take you to a site outside of Sunbeam.
Rated

1

out of

5
by
NotSunny
from
3rd Winter, 3rd Blanket
For the past 3 winters, I have bought a new Sunbeam electric blanket. Each blanket only lasted one season. I assumed this was due to me using it every night. This season, I again bought a new blanket. However, this time it didn't even last half the season. After some online research I learn this is a common factor with other customers of the same blanket. Like everyone else, I unplugged from the wall and the blanket. I plugged everything back in, making sure all connections were secure. This blanket will be on the high setting and it feels like it's at the lowest setting. I buy the king-size blankets because of our king-size bed. These aren't cheap at over $100 per blanket. I am very frustrated at this point. I grew up with Sunbeam. They used to produce a quality product. Buyer beware.
Date published: 2020-12-20
Rated

1

out of

5
by
KK1976
from
NEED NIGHT VISION!
We just received our blanket yesterday and used it last night. Can't say it really gets warm, however, I was really disappointed with the controls. They do not display the temp of the blanket and I can't see in the dark, therefore, have to turn on the light to check the temp setting. Who knew you had to pay more for this feature. I thought they all came displayed, like a vehicle with seat belts!!!! I have been buying electric blankets for the past 45 years and never had one I couldn't read the temp setting in the dark. Very disappointed, but can't be bothered boxing it up and returning it because I already threw out my semi working one I was using.
Date published: 2021-02-08
Rated

1

out of

5
by
Grossly Disappointed
from
Worked for two nights
Bought this and used for three nights. First two nights it worked great. Heated up quickly, stayed on all night. Third night would not warm up, even when set to highest setting. For what I paid this product should last for years. Very disappointed in this product. I was hoping the reviews I read about the same problem, on multiple websites, were isolated, but this item really is garbage.
Date published: 2021-01-06
Rated

1

out of

5
by
hebroots
from
Expected more from Sunbeam
I bought this at Walmart one week ago. I thought it seemed OK at first but after a few tries it seems really weak on heat, even FULL. I read some reviews and it seems typical of this product, in spite of all the nice sounding words from customer care. For 180 watts it should perform better, my 50 watt smaller heating pad is way more powerful. Only 2 things to do with it, plug in the cord at the bottom and make sure the clips catch, then plug it into a wall outlet (not a power surge or strip). I have tried different ways; blanket on top of me, blanket under me, with and without a sheet or additional blanket. Just does not perform, sorry. I can easily return to Walmart but am I going to get more of the same or will another one be better? Yes it is also very thin. Too lightweight to use without top blanket. I am in Florida, not really Arctic but we get our cold waves. I have the FULL size blanket in beige.
Date published: 2020-12-10
Rated

1

out of

5
by
NYET
from
Cold in Fargo
I bought this blanket today. To figure out which controller controlled which side of the blanket, I turned one controller to just above nine, the other to just above one. Neither side got at all warm, even after more than an hour. Both buttons had blinking background lights. I suppose that meant something was wrong. but I'll never know because there is no manual. The web address given for it was non-existent. Sunbeam's no-such-page-handler made sure that I could not just back up to check for a typo. My next attempts used copy and paste, so I am sure I copied it correctly. When I feel calm enough to talk to a human, I am going to call customer service to get my money back. I'd give it zero stars if I knew how.
Date published: 2021-11-27
Rated

1

out of

5
by
Tye13
from
No stars for you sun beam
This is true . I bought a throw for my elderly mother it stopped working after 2 weeks I got a queen size electric blanket was great for 2 weeks stopped working then her new throw stopped working . I had to get her one fast it was snowing hard to find but Walmart had one sunbeam throw I bought for her and I had to barrow my daughters electric blanket for myself since my sunbeam queen blanket stopped working after 2 wks. What going on Simneam ? This is ridiculous
Date published: 2021-01-29
Rated

1

out of

5
by
Crystalheaven
from
No great features
I bought this blanket for my son and it didn't last in season I DO NOT recommend this blanket for anyone for the money that was paid this blanket is junk I just paid 80.00 for a BIDDEFORD And he loves it
Date published: 2021-01-12
Rated

1

out of

5
by
BeckyT
from
Great until it stopped
I bought this blanket December 1. The heating was amazing and unlike other electric blakets I have purchased, the connector did not detach overnight. After 5 weeks, the highest setting felt like the lowest. I can return it to Walmart, but they have no more in stock for me to replace it with. I come here to this website, and followed YOUR advice to unplug and disconnect the cord (very tight fit, not easy to do). VERY BAD ADVICE because now it has NO HEAT AT ALL! I have grown accustomed to having to replace my electric blanket each season (ridiculous but thats the way it is). But 5 weeks for a $80 blanket, and to stop heating altogether after completing YOUR TROUBLESHOOTING ADVICE? Question is, will you be sending me a replacement or am I out of luck?
Date published: 2021-01-17
bvseo_sdk, dw_cartridge, 18.2.0, p_sdk_3.2.0
CLOUD, getReviews, 0ms
reviews, product
---
<!--begin-bvseo-questions--> <!--begin-questions--> <div id="bvseo-questionsSection"> <div class="bvseo-question-answer" data-questionid="3602654"> <h2 class="bvseo-question"> I have the same problem as those in this thread. I have called the number you provided 3 times. I am on hold right now and it has been 30 minutes or more. I bet you wouldn&#39; have issues with customer service if you made a product that was high quality. </h2> <div class="bvseo-question-detail"> </div> <div class="bvseo-author">Asked by: So dissattisfied</div> <div class="bvseo-answer" data-answerid="2780300"> Thank you for reaching out to Sunbeam&amp;reg;. We really appreciate the time you took to let us know your difficulty with your Sunbeam&amp;reg; Microplush Heated Blanket with Dial Controller.&#13;&#10;&#13;&#10;This isn&#39;t the experience that we want you to have. We strive to ensure every customer is satisfied with our products and services, and we apologize for any way in which we may have inconvenienced you.&#13;&#10;&#13;&#10;Just in case you need further help - you may also fill our warranty form&#13;&#10;https://www.sunbeam.com/support/contact-us&#13;&#10;&#13;&#10;Thanks again and have a great day. <div class="bvseo-author">Answered by: Sunbeam Consumer Care</div> <div class="bvseo-pubdate">Date published: 2021-11-23</div> </div> </div> <div class="bvseo-question-answer" data-questionid="2434229"> <h2 class="bvseo-question"> Read a lot of comments with the same problem as ours. Reset doesn&#39;t work. Flashing light that won&#39;t stop until you unplug it. Then sometimes it will work only 2 hours and start flashing again. Once it actually made it almost all night. </h2> <div class="bvseo-question-detail"> </div> <div class="bvseo-author">Asked by: DebbbS</div> <div class="bvseo-answer" data-answerid="2082422"> We are sorry to hear that the reset doesn&#39;t work. Sunbeam has been producing high-quality products to ensure customer satisfaction. Allow us to turn this experience into a positive one. Please call us at 1-800-892-7684. For your convenience, our product specialist is available Mondays - Friday from 9:00 AM to 5:00 PM, EST. We look forward to assisting you! <div class="bvseo-author">Answered by: Sunbeam Consumer Care</div> <div class="bvseo-pubdate">Date published: 2020-12-29</div> </div> </div> <div class="bvseo-question-answer" data-questionid="2398232"> <h2 class="bvseo-question"> Same issue as below. F2 flashing after multiple attempts at different wall plugs in my home. Can I get a replacement? </h2> <div class="bvseo-question-detail"> </div> <div class="bvseo-author">Asked by: Spoffy</div> <div class="bvseo-answer" data-answerid="2066781"> Hey there! We are sorry to hear that the reset didn&#39;t work. To further assist you with replacement, please give us a call at 1-(800)-892-7684 or connect with us via Live Chat. For your convenience our Consumer Care team is available Mon-Fri 9am-6pm, EST. We look forward to assisting you! Have a great day! <div class="bvseo-author">Answered by: Sunbeam Consumer Care</div> <div class="bvseo-pubdate">Date published: 2021-02-14</div> </div> </div> <div class="bvseo-question-answer" data-questionid="2396229"> <h2 class="bvseo-question"> The blanket I have only half of it heats up. </h2> <div class="bvseo-question-detail"> </div> <div class="bvseo-author">Asked by: Sneed</div> <div class="bvseo-answer" data-answerid="2063509"> Hey there! We are sorry to hear that only half of your heated blanket heats up. We recommend to reset it by unplugging it, and plug it back in. Kindly make sure that the cord is tightly connected. <div class="bvseo-author">Answered by: Sunbeam Consumer Care</div> <div class="bvseo-pubdate">Date published: 2021-02-16</div> </div> </div> <div class="bvseo-question-answer" data-questionid="2398579"> <h2 class="bvseo-question"> Our blanket will not heat. &amp;nbsp;We have each of the two controllers set on High, but it is still not working. &amp;nbsp;We disconnected the controls from the blanket and we&#39;ve unplugged it and plugged it in again, but still no response.&amp;nbsp; </h2> <div class="bvseo-question-detail"> </div> <div class="bvseo-author">Asked by: RonR</div> <div class="bvseo-answer" data-answerid="2063408"> Hey there! We are sorry to hear that your heated blanket will not heat. Sunbeam has been producing high-quality products to ensure customer satisfaction. Please call us at 1-800-892-7684. For your convenience, our product specialist is available Mondays - Friday from 9:00 AM to 5:00 PM, EST. We look forward to assisting you! <div class="bvseo-author">Answered by: Sunbeam Consumer Care</div> <div class="bvseo-pubdate">Date published: 2021-03-30</div> </div> </div> <div class="bvseo-question-answer" data-questionid="2382191"> <h2 class="bvseo-question"> Heating blanket won&amp;rsquo;t work it keeps saying f2 flashing it&amp;rsquo;s plugged in correctly and into a wall outlet. But won&amp;rsquo;t turn on or heat </h2> <div class="bvseo-question-detail"> </div> <div class="bvseo-author">Asked by: Need heat30</div> <div class="bvseo-answer" data-answerid="2052235"> Hey there! We are sorry to hear that the control keeps flashing. There are several causes to a flashing control or a control displaying &amp;quot;FF, F1, or F2&amp;quot;:&#13;&#10;&#13;&#10;1. Product is plugged into an extension cord/surge protector and not plugged into a direct wall outlet.&#13;&#10;2. Product wasn&#39;t plugged in properly.&#13;&#10;&#13;&#10;To fix this problem, do the following to reset your product:&#13;&#10;&#13;&#10;1. Unplug the power cord from the electrical connection.&#13;&#10;2. Unplug the cord from the actual product itself (if your product has a detachable cord)&#13;&#10;3. Re-plug the cord into the product. Make sure the connection is secure and complete.(if your product has a detachable cord)&#13;&#10;4. Re-insert power cord back into a wall outlet. <div class="bvseo-author">Answered by: Sunbeam Consumer Care</div> <div class="bvseo-pubdate">Date published: 2021-10-21</div> </div> </div> <div class="bvseo-question-answer" data-questionid="2380373"> <h2 class="bvseo-question"> My remote control just flashes when I turn it on and the blanket won&amp;rsquo;t heat up .&amp;nbsp; </h2> <div class="bvseo-question-detail"> </div> <div class="bvseo-author">Asked by: D K B</div> <div class="bvseo-answer" data-answerid="2050864"> Hey there! We are sorry to hear that the control is flashing and the blanket won&#39;t heat up. There are several causes to a flashing control or a control displaying &amp;quot;FF, F1, or F2&amp;quot;:&#13;&#10;&#13;&#10;1. Product is plugged into an extension cord/surge protector and not plugged into a direct wall outlet.&#13;&#10;2. Product wasn&#39;t plugged in properly.&#13;&#10;&#13;&#10;To fix this problem, do the following to reset your product:&#13;&#10;&#13;&#10;1. Unplug the power cord from the electrical connection.&#13;&#10;2. Unplug the cord from the actual product itself (if your product has a detachable cord)&#13;&#10;3. Re-plug the cord into the product. Make sure the connection is secure and complete.(if your product has a detachable cord)&#13;&#10;4. Re-insert power cord back into a wall outlet. <div class="bvseo-author">Answered by: Sunbeam Consumer Care</div> <div class="bvseo-pubdate">Date published: 2021-10-11</div> </div> </div> </div> <script type="text/javascript"> if (document.getElementById('bvseo-questionsSection')) { document.getElementById('bvseo-questionsSection').style.display = 'none'; } </script> <!--end-questions--> <ul id="BVSEO_meta" style="display:none!important"> <li data-bvseo="bvDateModified">y_2021, m_12, d_1, h_19CST</li> <li data-bvseo="ps">bvseo_bulk, prod_bvqa, vn_bulk_3.0.20</li> <li data-bvseo="cp">cp_1, bvpage1</li> <li data-bvseo="co">co_hasquestionsanswers, tq_7</li> <li data-bvseo="cf">loc_en_US, sid_SP_332411, prod, sort_[SortEntry(order=LAST_APPROVED_ANSWER_SUBMISSION_TIME, direction=DESCENDING)]</li> <li data-bvseo="diagnostics">clientName_sunbeam</li> </ul> <!--end-bvseo-questions--> <ul id="BVSEOSDK_meta" style="display: none !important;"> <li data-bvseo="sdk">bvseo_sdk, dw_cartridge, 18.2.0, p_sdk_3.2.0</li> <li data-bvseo="sp_mt">CLOUD, getContent, 0ms</li> <li data-bvseo="ct_st">questions, product</li> </ul>
product-detail-view
oos-pdp