LoftTec™ Wi-Fi Connected Heated Blanket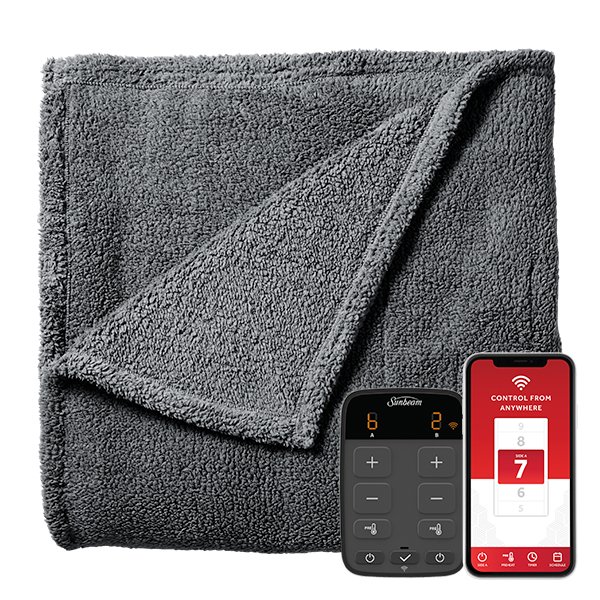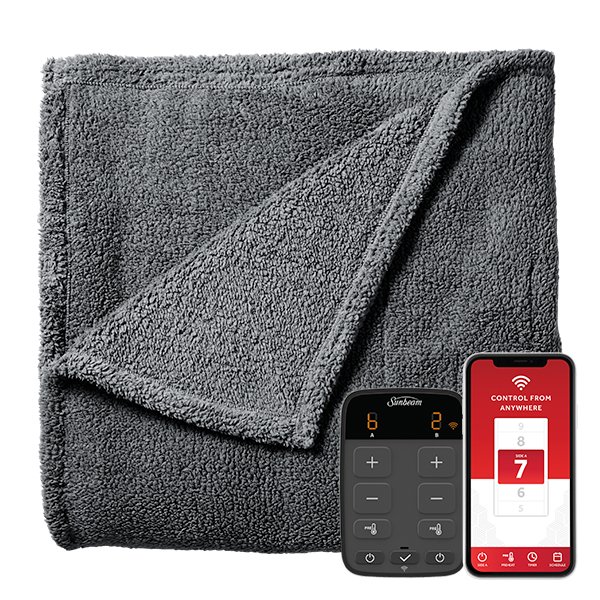 LoftTec™ Wi-Fi Connected Heated Blanket
Final Sale: may not be returned or exchanged
Selection will refresh the page with new results.
Item currently not available.
Alert
Please select a Size.
Final Sale: may not be returned or exchanged
Product Details
Description
Experience smarter heated bedding with the Sunbeam® LoftTec™ Wi-Fi Connected Heated Blanket. Control this queen-size heated blanket from anywhere using the Sunbeam app, voice assistants, or wired digital controller. Pair with the Sunbeam app to select your ideal settings and schedule ahead of time, or preheat remotely right on your phone so you can crawl into a warm and cozy bed. Use voice activation with Amazon Alexa and Google Assistant for hands-free comfort control, even in the dark. Customize settings at the push of a button with the wired digital-display controller, with independent control for each side of the bed for customized warmth ComfortSLIM™ heating technology is Sunbeam's thinnest and most flexible wire that senses temperature and adjusts for consistent heat through the night. The blanket's thick, deluxe LoftTec fabric wraps you in fluffy warmth, with 10 heat settings for customized comfort. Includes 10-hour auto-off and a 60-minute safety confirmation for peace of mind.
Control the Heated Blanket from anywhere using the Sunbeam app, voice assistants, or wired digital controller
Pair with the Wi-Fi-enabled Sunbeam app to power on, select heat settings, and preheat your bedding from anywhere
The Sunbeam app enables you to set a selectable auto-off timer for up to 10 hours and a scheduling option so you can get warmth when you want it
Use with Amazon Alexa or Google Assistant voice-enabled devices for easy use, even in the dark
The backlit digital display controller provides easy-to-reach bedside access to power on/off, select heat settings, preheat, and independently control each side of the bed for customized warmth
ComfortSLIM heating technology is our thinnest and most flexible wire that senses temperature and adjusts for consistent heat through the night
Surround yourself with the thick and deluxe warmth of premium LoftTec fabric
The removable cord and controller allow the blanket to be washer- and dryer-safe with durable fabric that stays soft, wash after wash
Specifications
Additional SKUs:

BSL9EQS-R825-21J45
Care & Maintenance
The detachable controller allows for the blanket to be machine washable. Hang to dry.
Product Disclaimer
This product must be used in accordance with the Important Safety Instructions found within the Instruction Booklet.
Warranty
5 year limited warranty
Where to Buy
The following link will take you to a site outside of Sunbeam.
Rated

5

out of

5
by
Candi03
from
Best Blanket Ever!
This heated blanket is amazing. I love using it while I'm cozy on my couch. It warms up evenly and is soft to the touch. It allows me to keep my heat low in my home if I want to save a few dollars on my heating bill. Such a wonderful gift to give during the holidays.
Date published: 2021-11-28
Rated

5

out of

5
by
Evan91
from
Super cool technology and so warm!
At first I wasn't sure if I would use the app technology much but it is so convenient because I also have my phone with me. So if I want to get the bed or couch warm before I even go in the room this makes it so nice. Currently I keep it on my couch because i'm more cold there then in my bedroom. The cords are my only nuisance but I keep them plugged into the side of the couch I don't use as much which makes me not notice them as much. It heats up super fast and stays warm as long as you select. Love the different heat settings I usually keep it mid level and stay super warm. Bonus the blanket is super soft and you can wash it.
Date published: 2021-11-23
Rated

5

out of

5
by
Ashley_0115
from
Smartest and softest blanket I've ever owned!
The Sunbeam Loftec Slate Queen heated blanket is the smartest blanket I've ever owned. It's as soft as can be and can be App controlled, voice controlled and also has a connected digital remote control as well. The blanket has 10 heat settings and can be remotely controlled from anywhere to preset and heat up your bed so it's nice and comfy cozy when you get home! Most heated blankets I've used have these thick wire cords inside them that you can feel when using the blanket, this blanket is not like that. The wire has comfort slim technology and is very flexible and can barely be felt or a bother to one when using this blanket.
Date published: 2021-08-17
Rated

5

out of

5
by
Kyoung0618
from
Cozy Blanket
This was my first time in maybe 20 years that I've tried an electric blanket. This blanket does not feel like it's full of wires. It's nice, soft, sorta fuzzy, and very comfortable. Now this blanket comes with its own app that you can download on your phone to program your blanket when to warm up. Honestly, this blanket warms up pretty quick so you don't really need to preheat. The controller is very easy to use and learn. Cord to blanket is a nice length and fits nicely on the end of blanket. Your also able to machine wash and dry the blanket with no issues. All in all this is a nice electric blanket.
Date published: 2021-11-25
Rated

5

out of

5
by
klouvierre
from
This blanket is a God-send!
My husband and I are VERY opposite in our temperature regulation. He is basically a human radiator and I am a popsicle most of the time. Our bedroom is in our finished basement, which stays a few degrees colder than the rest of the house, so I'm typically in winter clothes all year round when we're sleeping. This blanket has been great - on really cold nights, my husband can set his to a lower setting and I can set mine a bit higher without it bothering him. The fact that I can regulate the blanket on my phone is another plus so that I don't have to disturb my husband's sleep to try to find a button, etc.
Date published: 2021-08-13
Rated

5

out of

5
by
Tm20
from
Best around!
This is absolutely everything you could ever want in a heated blanket. First off, it's incredibly soft. I just love to run my hand over it. The grey color matches bedroom decor wonderfully. I love that the blanket is washable. I've always been a little leery about washing electric blankets , but this one washed up great. It also heated up quickly using the connected remote control. You can also control it by using the app and voice control such as Alexa, Hey Google, etc. There are 10 heat settings as well as 2 heating zones which is perfect for me and my husband as he feels the cold a lot worse than I do.
Date published: 2021-09-01
Rated

5

out of

5
by
irishup1
from
Smart & Comfy Blanket!
So far this blanket has proven to be just what I need on those cool nights when I want some extra warmth. The blanket is soft to the touch and very comfortable with or without the heat on. I usually use the lower settings and have found the blanket heats up quickly and the temperature was consistent on every setting I tried. With simple, easy to use controls and multiple settings. You also get all the benefits of this being a "smart" blanket when using in conjunction with the app. With the blanket also being washable I don't know what else I could possibly expect from an electric blanket. Very nice!
Date published: 2021-11-23
Rated

5

out of

5
by
Komal Sodhi
from
Best Heated Blanket
The Sunbeam Connected Heating Bedding is the best heating blanket I have ever owned. The blanket itself is fantastic even without the heat. It is soft and so comfortable. When you add the heat, it makes for the ultimate comfort. The bedding heats up so fast. It also has a preheat setting where the bedding will heat on the highest setting for 30 minutes and then go back down to the last heat setting. You can also control each side of the bedding independently. You can also download an app to get additional features such as changing when your bedding will turn off.
Date published: 2021-10-06
bvseo_sdk, dw_cartridge, 18.2.0, p_sdk_3.2.0
CLOUD, getReviews, 0ms
reviews, product
---
<!--begin-bvseo-questions--> <!--begin-questions--> <div id="bvseo-questionsSection"> <div class="bvseo-question-answer" data-questionid="3594732"> <h2 class="bvseo-question"> Can I use this blanket and put another blanket on top? </h2> <div class="bvseo-question-detail"> </div> <div class="bvseo-author">Asked by: Charlie50</div> <div class="bvseo-answer" data-answerid="2780807"> Thank you for contacting the Sunbeam&amp;reg; Brand. We value your interest in our products and we are glad to answer your question about our newly released bedding, the Sunbeam&amp;reg; LoftTec Connected Heated Blanket.&#13;&#10;&#13;&#10;We do not recommend the use of a Sunbeam warming product with the use of any other mattress pad, blanket or beddings. This is just a precautionary and safety measure. Also, no electronic devices should be used in conjunction with the blanket/ mattress pad heated throw.&#13;&#10;&#13;&#10;Sunbeam&amp;rsquo;s blankets, mattress pads and heated throws are a real advancement in comfort control technology. They sense and adjust to body and room temperatures. To ensure that the bedding product will work properly, we recommend only using one bedding product in one bed / at a time.&#13;&#10;&#13;&#10;Hope this information is useful. Have a great day! <div class="bvseo-author">Answered by: Sunbeam Consumer Care</div> <div class="bvseo-pubdate">Date published: 2021-11-24</div> </div> </div> <div class="bvseo-question-answer" data-questionid="3537455"> <h2 class="bvseo-question"> What is the power draw (wattage) when set on the highest setting? </h2> <div class="bvseo-question-detail"> </div> <div class="bvseo-author">Asked by: aerobear109</div> <div class="bvseo-answer" data-answerid="2757004"> Thank you for reaching out to Sunbeam&amp;reg;. We appreciate your interest with our product. Please see the wattage list per size below for the heated blanket.&#13;&#10;&#13;&#10;Twin - 180 watts &#13;&#10;Full - 180 watts &#13;&#10;Queen - 135 watts/side &#13;&#10;King - 180 watts/side &#13;&#10;&#13;&#10;Hope this helps. Have a nice day! <div class="bvseo-author">Answered by: Sunbeam Consumer Care</div> <div class="bvseo-pubdate">Date published: 2021-11-17</div> </div> </div> <div class="bvseo-question-answer" data-questionid="3518795"> <h2 class="bvseo-question"> I would love this in beige or brown </h2> <div class="bvseo-question-detail"> </div> <div class="bvseo-author">Asked by: DJuana</div> <div class="bvseo-answer" data-answerid="2745034"> Thank you for reaching out to Sunbeam&amp;reg;. We appreciate your interest in our product. The Sunbeam&amp;reg; Connected bedding can be purchased through our partner retailers.&#13;&#10;&#13;&#10;Here is a list of our partners: Amazon, Walmart, Target, Bed, Bath &amp;amp; Beyond, Best Buy, Costco Wholesale, Meijer, Macy&#39;s, Kroger, Kohl&#39;s, Sam&#39;s Club and The Home Depot. ​&#13;&#10;&#13;&#10;You may visit our website and click on where to buy for you to be routed into a page of our authorized retailers list. &#13;&#10;&#13;&#10;Please be advised that prices may vary, and we cannot guarantee the availability of all our products since stock levels may change rapidly.&#13;&#10;&#13;&#10;We hope this helps! Have a great day. <div class="bvseo-author">Answered by: Sunbeam Consumer Care</div> <div class="bvseo-pubdate">Date published: 2021-11-15</div> </div> </div> <div class="bvseo-question-answer" data-questionid="3477445"> <h2 class="bvseo-question"> If I buy 2 of the wifi connected blankets in the house for different rooms, can I control them separately through the app and also through google home or Alexis? </h2> <div class="bvseo-question-detail"> </div> <div class="bvseo-author">Asked by: RR222</div> <div class="bvseo-answer" data-answerid="2718151"> I think so. Just make them different things. I&amp;rsquo;m about to buy one for downstairs and leave the other in my upstairs bedroom. You can also have multiple on the app if they are the loft Tec ones. Or you can just buy smart plugs and do it that way <div class="bvseo-author">Answered by: HarperEva</div> <div class="bvseo-pubdate">Date published: 2021-11-08</div> </div> </div> <div class="bvseo-question-answer" data-questionid="3447805"> <h2 class="bvseo-question"> Am I able to purchase a replacement remote for this blanket?&amp;nbsp; </h2> <div class="bvseo-question-detail"> </div> <div class="bvseo-author">Asked by: KateF</div> <div class="bvseo-answer" data-answerid="2711135"> Thank you for contacting the Sunbeam&amp;reg; Brand. We appreciate your interest with our product. and we would be glad to assist you with your Sunbeam&amp;reg; LoftTec Connected Heated Blanket.&#13;&#10;&#13;&#10;Controls are engineered as part of a complete system for heated bedding and undergo extensive quality and safety testing. &#13;&#10; &#13;&#10;We encourage you to please contact us for information on how to replace your unit. &#13;&#10; &#13;&#10;If you have any questions about the warranty or want to get warranty service, please contact us directly or fill in the &amp;quot;Contact us&amp;quot; link provided below and we would be glad to assist you with your inquiries. Have a nice day!&#13;&#10; &#13;&#10;https://www.sunbeam.com/support/contact-us <div class="bvseo-author">Answered by: Sunbeam Consumer Care</div> <div class="bvseo-pubdate">Date published: 2021-11-04</div> </div> </div> <div class="bvseo-question-answer" data-questionid="3436557"> <h2 class="bvseo-question"> What does F mean </h2> <div class="bvseo-question-detail"> </div> <div class="bvseo-author">Asked by: Electric</div> <div class="bvseo-answer" data-answerid="2711090"> Thank you for contacting the Sunbeam&amp;reg; Brand. We appreciate your time and effort for bringing this to our attention and we would be glad to assist you with your Sunbeam&amp;reg; LoftTec Connected Heated Blanket.&#13;&#10;&#13;&#10;If you have a digital control, it is designed to flash &amp;quot;FF&amp;quot; OR &amp;ldquo;F&amp;rdquo; on the display to notify you that a problem may have been discovered. Gradient controls and warming throw controls use a blinking indicator light for this purpose.&#13;&#10;&#13;&#10;Follow the instructions on the flag tag to reset the control or follow the steps below:&#13;&#10;&#13;&#10;-Unplug the system from the wall outlet.&#13;&#10;-Check that the control is well connected to the module.&#13;&#10;-Plug the power cord into the wall outlet.&#13;&#10;-Set the control to &amp;quot;on&amp;quot;.&#13;&#10;&#13;&#10;If these measures won&#39;t work or if the same problem happens, we&#39;d like to kindly request that you contact us directly or fill out the contact us link provided below so we can provide a better resolution. Have a great day!&#13;&#10;&#13;&#10;https://www.sunbeam.com/support/contact-us <div class="bvseo-author">Answered by: Sunbeam Consumer Care</div> <div class="bvseo-pubdate">Date published: 2021-11-04</div> </div> </div> <div class="bvseo-question-answer" data-questionid="3225868"> <h2 class="bvseo-question"> Where can I purchase Sunbeam&amp;reg; LoftTec&amp;trade; Wi-Fi Connected Heated Blanket Sunbeam Model#: 2142832? </h2> <div class="bvseo-question-detail"> </div> <div class="bvseo-author">Asked by: bob180</div> <div class="bvseo-answer" data-answerid="2564742"> Thank you for reaching out to Sunbeam&amp;reg;! We appreciate your interest with our Sunbeam&amp;reg; LoftTec&amp;trade; Wi-Fi Connected Heated Blanket. All our products including replacement parts and accessories can be purchased from our legitimate in-store/online retail partners: ereplacementparts.com, Bed, Bath &amp;amp; Beyond, Kohl&#39;s, Macy&#39;s, Amazon, Target, Walmart, Meijer, QVC, Costco, Kroger, The Home Depot, BestBuy, and Sam&#39;s Club. Prices and availability may vary depending on the retail store.&#13;&#10;&#13;&#10;Hope this helps! <div class="bvseo-author">Answered by: Sunbeam Consumer Care</div> <div class="bvseo-pubdate">Date published: 2021-10-04</div> </div> </div> </div> <script type="text/javascript"> if (document.getElementById('bvseo-questionsSection')) { document.getElementById('bvseo-questionsSection').style.display = 'none'; } </script> <!--end-questions--> <ul id="BVSEO_meta" style="display:none!important"> <li data-bvseo="bvDateModified">y_2021, m_11, d_30, h_19CST</li> <li data-bvseo="ps">bvseo_bulk, prod_bvqa, vn_bulk_3.0.20</li> <li data-bvseo="cp">cp_1, bvpage1</li> <li data-bvseo="co">co_hasquestionsanswers, tq_7</li> <li data-bvseo="cf">loc_en_US, sid_SP_1246977, prod, sort_[SortEntry(order=LAST_APPROVED_ANSWER_SUBMISSION_TIME, direction=DESCENDING)]</li> <li data-bvseo="diagnostics">clientName_sunbeam</li> </ul> <!--end-bvseo-questions--> <ul id="BVSEOSDK_meta" style="display: none !important;"> <li data-bvseo="sdk">bvseo_sdk, dw_cartridge, 18.2.0, p_sdk_3.2.0</li> <li data-bvseo="sp_mt">CLOUD, getContent, 0ms</li> <li data-bvseo="ct_st">questions, product</li> </ul>
product-detail-view
oos-pdp